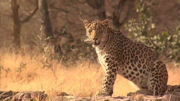 In the Spirit of Laxmi, a documentary short about an extraordinary wildlife encounter in Rajasthan, India, has been shortlisted by the prestigious Tribeca Film Festival, it was announced this week.

One of just 60 films chosen from close to 3,000 entries, In the Spirit of Laxmi follows the story of Laxmi, an injured and abandoned leopard cub nursed back to health and re-released into the wild by the former Aman-i-Khas general manager Gerhard Wiehahn.


The short, which will screen at the Tribeca Film Festival (April 20-May 1, 2011) as part of the "One for All" Documentary Series, traces the relationship developed between Laxmi and Gerhard, her human "mother" who carries Laxmi in his mouth as a cub, teaches her how to hunt and stalk, and spends weeks out in the wild with her. Spanning their 16-month journey together from Laxmi's initial discovery on the outskirts of Ranthambore National Park, where she was abandoned and injured, through her "moment of freedom," the 30-minute short was directed by Meghan Shea and Michael Rogers and executive produced by Trina Dingler-Ebert, Executive Director of Amanresorts.
Screening times for the "One for All" Documentary Series, including In the Spirit of Laxmi, at the Tribeca Film Festival, are as follows:
• Friday, April 22, 2011 at 6:30pm at Clearview Chelsea Cinemas (260 West 23rd Street between 7th and 8th Avenues)
• Wednesday, April 27, 2011 at 3:45pm at Clearview Chelsea Cinemas
• Friday, April 29, 2011 at 3:30pm at Clearview Chelsea Cinemas
• Sunday, May 1, 2011 at 4pm at Tribeca Cinemas (54 Varick Street at Laight Street)
• Special Press Screening: Thursday, April 28, 2011 at 10:30am at Clearview Chelsea Cinemas
For more information about screenings of In the Spirit of Laxmi at the Tribeca Film Festival, please go to
www.tribecafilm.com
. For more background on the documentary, please go to:
www.inthespiritoflaxmi.com
and for more information on
Aman-i-Khas