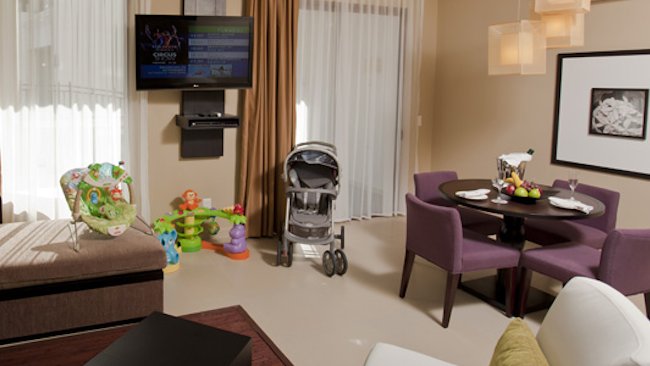 Azul Hotels by Karisma, a premier collection of family-focused, Gourmet Inclusive properties offering the best in food and service, is pleased to unveil Fisher-Price® Family Suites, a new room category that will be available spring 2013 at Azul Beach Hotel, Azul Sensatori Hotel, and Azul Fives Hotel.

Expanding upon Azul Hotels' longstanding partnership with Fisher-Price, the oversized suites will welcome children into the world of Little People®, inviting them to vacation surrounded by their favorite characters while enjoying Little People toys, décor, and exclusive activities.

Upon arrival, guests of the new Fisher-Price® Family Suites will find a customized welcome voicemail inviting them to meet beloved Little People costume characters, Eddie™ and Mia® for breakfast. Vacationing little ones will then have a chance to participate in a photo session with their families and Eddie and Mia.

Back in their rooms, families will enjoy Fisher-Price® Family Suites decked out in Little People décor from top to bottom, including pillows so kids can fall asleep and wake up next to their favorite characters. What's more, the Fisher-Price suites will be equipped with pre-selected Fisher-Price toys, CDs, and DVDs based on the children's ages. Whether guests are fans of Eddie or Mia, little ones will love snuggling up in Little People branded bathrobes, which will be provided in-room.

Ideal for families, the Fisher-Price® Family Suites will offer a private bedroom with a king-sized canopy bed, a separate area with a full-sized sofa bed, spacious sitting area with a twin sofa bed, and oversized outdoor terrace. Fisher-Price® Family Suites connect to a lazy pool at Azul Beach Hotel and feature pool and garden views at Azul Sensatori Hotel. Suites are designed in a contemporary Caribbean style with dark wood accents and come equipped with a marble bathroom complete with hydrojet Jacuzzi, rainforest showerhead and double vanity, two 32-inch plasma TVs, DVD player, an iPod™ docking station, amenity kit, once daily stocked mini bar, and deluxe bathrobes.

As a part of the Little People® program, guests of the Fisher-Price® Family Suites will be presented with a daily schedule of activities including skits, games, storytelling, Spanish lessons, dance and exercise lessons, weekly piñata parties, and photo sessions. Each activity takes place at various locations throughout each Azul Hotels property, including the Azulitos Play House.

The Little People brand started as the Play Family line in the 1950s; small peg figures in a school bus and later a farm. Over the years they became better known as Fisher-Price® Little People® characters, complete with individual personalities, accessories and entire worlds for children to discover and bring to life. The Little People® figures evolved from wood to plastic, selling over two billion figures since their introduction in 1959.

With the Gourmet Inclusive experience, Azul Hotels by Karisma provide indulgent pampering for families and couples with unparalleled personal services complete with champagne and smoothie check-ins, full-service concierge, 24-hour room service, premium alcoholic and non-alcoholic beverages, Fisher-Price toys and programs, My Gym Children's Fitness Center activities, gourmet a la carte dining, and Pack & Play, which includes Gourmet Gerber baby food, strollers, cribs, spa robes and baby bottle warmers for infants and toddlers.

Rates for the new Fisher-Price® Family Suites begin at $311 per person, per night and $67 per person, per night for kids ages three to 13 for double occupancy including the Gourmet Inclusive experience. With the Rock Bottom Savings promotion, guests can enjoy more than 46 percent off regular rates and kids under 13 stay free for travel now – April 30, 2013. Reservations can be booked through a GI Vacation Consultant, or by calling Azul Hotels at 1-866-527-4762, or by visiting www.karismahotels.com.