- By David J. Latt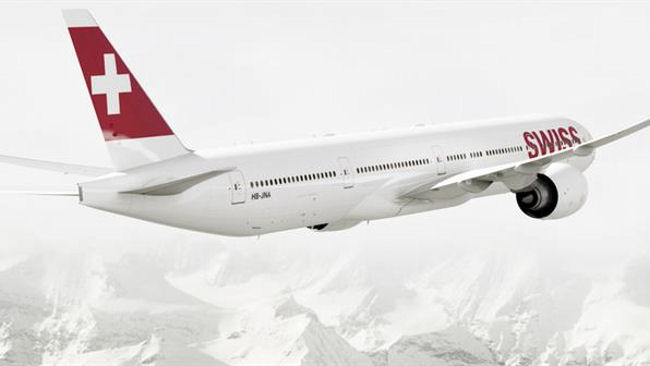 I love to fly. I am still amazed by the elegance of a sleek airplane taking to the air and gliding above cities, mountains, grassy plains and vast oceans. Flying on a new airplane, one that is beautifully appointed and well designed is one of life's great pleasures.

And so it was that I was very pleased to be able to fly on SWISS International Air Lines' new Boeing 777-300ER on the Los Angeles/Zurich route.

As part of a fleet upgrade, SWISS purchased nine of the long haul, fuel saving, twinjet 777-300ERs for destinations in the United States, Canada, South America, Asia and the Middle East.

Affectionately referred to as the Triple Seven, the planes are currently flying nonstop routes from Zurich to and from Montreal, Bangkok, Hong Kong, Sao Paulo, and Los Angeles. During the remainder of 2016 and early 2017, the planes will be deployed on routes to San Francisco, Miami, Singapore and Tel Aviv.

The Boeing wide body is admired by many for its distinctive engineering and design features. The fuselage has a flattened oval appearance with two large engines slung on the underside of its massive wings. Inside, the Triple Seven is spacious, with higher ceilings, larger windows and a wider body than the Airbus A340 it replaced.

Travelers don't usually think about fuel efficiency, but the Triple Seven uses less fuel, giving it a smaller carbon footprint and a lower cost-to-operate. That fuel efficiency helps the planet and SWISS International's bottom line, which in turn helps the airline's ability to deliver quality service at affordable prices.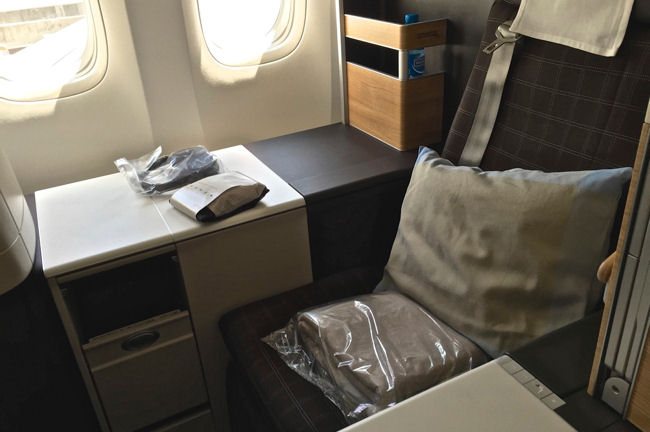 An Upgraded Business Class Cabin

The SWISS seating configuration for the Triple Seven is 8 first class, 62 business and 270 economy seats.

Business class is divided into two areas. Two rows of seats in a smaller, more intimate section are located behind the first class compartment. The larger compartment with eleven rows has an open feeling because of the high ceiling and recessed lighting.

The seats are firm and plush, providing good support on long distance flights. Complimentary over-the-ear headphones all but cancel out interior aircraft noise.

With easy-to-work controls, when it is time for sleep, the seat transforms into a lie-flat, single sized bed with a comfortable, firm mattress. A near-standard sized pillow in a light green cotton cover and a herringbone-lined blanket add to the creature comfort of the lie-flat bed.

In business class, the 5-seat across configuration alternates between 1-2-2 and 2-2-1. Passengers in the 2-seat middle row and single seats have easy aisle access. In the 2-seat configuration, window seat passengers have to step over their seatmates in order to reach the aisle.

To keep their compact seat area tidy, passengers make use of the handy garment hooks and personal storage compartments. Each seat has three conveniently placed, high intensity lights so it is easy to read in any seating position, even lying down.

On my flight I requested one of the single or solo window seats. I had work to do and so appreciated the side tables on either side of the seat with almost as much work space as I would have in an office.

The much sought after single seats have one disadvantage. While there is double the work space in the seated position, when the seat reclines into the lie-flat position, I discovered that the foot and leg space was half that of the other seats. That is because the solo seat is located in the space behind two seats. For some passengers that limited space can be uncomfortable.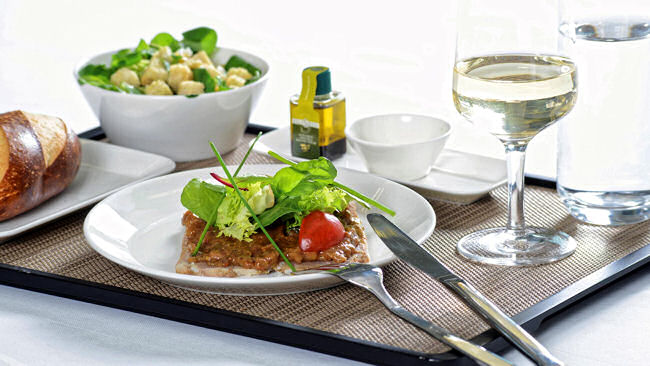 In-flight meals

Before beginning the meal service, the cabin attendant transformed my seat back tray into a dining table, with a cotton tablecloth, stainless steel cutlery, a cloth napkin, a wine and a water glass.

The wine-paired meal began with an aperitif and a snack. With six wines available for dinner, the flight attendant asked if I wanted to try any of the wines before the dinner service. Whenever I am in Switzerland, I focus on the local wines which are rarely exported. The Swiss love their wines so much, there is very little available for export.

On my flight, wines from the French-speaking Neuchâtel region were featured. I tried the refreshingly dry Blanc Neuchâtel AOC 2015 (Caves de la Béroche – St-Aubin-Sauges) made with Chasselas grapes. The red wine was a Pinot Noir Cuvée Réservée 2014 AOC Neuchâtel (Caves du Prieuré de Cormondréche – Cormondréche). The flight attendant suggested I also taste her favorite, an Argentine Caterna Zapata 2014 (Bodega Caterna Zapata – Luján de Cuyo, Mendoza), which was very good.

The business class dinner includes an appetizer, main course, cheese plate, dessert and hot beverages with choices for each course. Several of the dishes are from the popular SWISS program called the Taste of Switzerland.

Designed as a culinary introduction, the Taste of Switzerland invites a notable chef to prepare signature dishes from the chef's restaurant. On my flight, that chef was Jean-Marc Soldati. His restaurant, Hôtel-Restaurant du Cerf in the village of Sonceboz is in the canton or state of Jura, a hilly region on Switzerland's northwest border with France.

For the menu, Soldati prepared a trout timbale first course and main course choices of beef tenderloin with a red wine sauce, potato gratin and spring vegetables or a chicken breast stuffed with spinach and cheese, served with polenta and ratatouille. I happily chose the beef tenderloin, which paired well with the Neuchâtel Pinot Noir.

Included on the menu there is always a vegetarian dish created by Hiltl, the oldest vegetarian restaurant in Europe. The hugely popular restaurant opened in 1898. On my flight the Hiltl dish was a gnocchi puttanesca with tomato, capers, basil, olives and pepperoncini.

After enjoying dinner, I watched a film and fell asleep. I had five very restful hours and awoke to the second meal service.

A steward offered a choice of sandwiches from a wicker basket. With a Nespresso machine in the gallery, I asked for an espresso. Dessert was a hot fudge sundae, a special treat on an airliner at 35,000 feet.

To stretch my legs, I walked around the cabin. Some passengers were asleep. Others were reading or watching movies. There were a dozen kids on board. If they weren't sleeping, they were playing video games or watching shows on their iPads.

Shortly before landing, there was a small plate meal. The choice was a hot tofu and rice dish or a tossed green salad with a chopped tomatoes bruschetta. And, finally, as part of the Taste of Switzerland culinary tour, chef Soldati had prepared a cherry clafloutis with cream, served with more espresso drinks and tea. To complete our tour of Switzerland boxes of Lindt chocolates made the rounds of the cabin. The attendants encouraged everyone to take two or three.

In preparation for landing, we raised the windows and light poured into the cabin. The Triple Seven taxied to the gate and everyone packed up their belongings. Fully caffeinated and recharged with savory and sweet tastes, I was ready to disembark to deal with passport control and customs at LAX.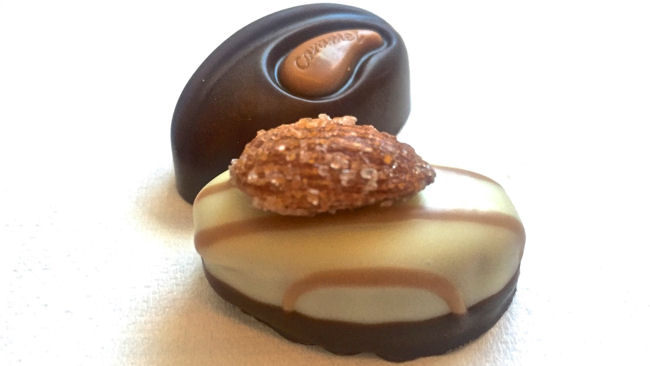 With a Business Class Ticket Comes Access to the Premium Lounges

Flying first or business class means passengers have access to the premium lounges at Los Angeles International Airport (LAX) and Zurich International Airport.

In Zurich, the recently opened third floor Business Class and Senator lounge is located near gate 35 in Terminal E. The efficient lounge has complimentary Wi-Fi and dedicated areas with different uses. For travelers who need to work while they wait for their planes to depart, there is a work station room. For anyone who needs to rest, there is the no-phone, no-talking Quiet Room with comfortable recliners and dimmed lighting. Shower suites are also available, as is an open-air balcony overlooking a runway.

Accommodating leisure travelers with children, the buffet area is well-supplied with kid friendly snacks including a Swiss favorite, Mövenpick ice cream bars and cups, and a good supply of gummy bears.

In addition to a cold table with green salads, fruit cups, snacks and sweets, a large open kitchen faces the main dining room. Two chefs take orders and, on the day I was traveling, for the lunch service they prepared to order spaghetti with salmon in a tomato sauce and polenta with a choice of sauces. A delicious potato soup had half a dozen garnishes, including croutons and finely chopped chives.

For beverages there was a self-serve specialty coffee machine, a good selection of teas, fresh juices, sodas, wines and spirits.

At LAX, the offerings are greater and the lounge is larger because SWISS shares the facility with more than two dozen airlines in the Star Alliance. Size does matter in this case because the LAX Business Class lounge has eight shower suites, several living room style lounges with large screen TVs, a long bar, an indoor terrace looking down on the retail promenade and a spacious outdoor terrace with a view of the Hollywood sign.

The Star Alliance Lounge lacks a made-to-order chef's counter but there is a large buffet table with cold, hot, savory and dessert selections.

All in all, the combination of the creature comforts in the Business Class lounges in both cities and the spacious interior and gracious service of SWISS International's Triple Seven make traveling internationally an exceptionally pleasant experience.

Visit website: www.swiss.com