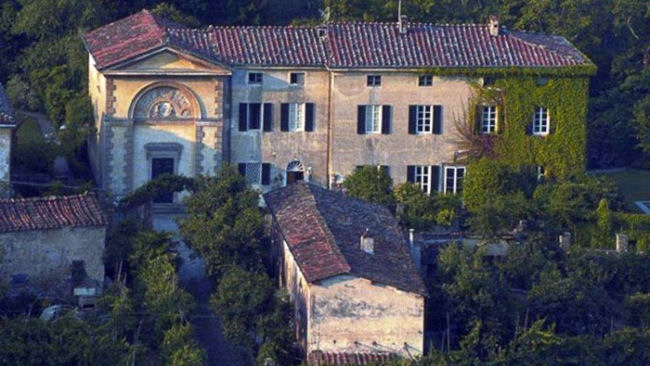 Nestling in 50 acres of olive groves, pine clad hills and gardens, Villa Michaela is a Magnificent 18th century villa in the Lucca foothill village of Vorno with 12 large double bedrooms for rent for two nights or longer.

Children are welcome. There are wonderful views and a 12 metre pool with separate children's pool, outside dining area, tennis court, central heating, air conditioning, cable TV, and an American pool table.

The house is luxuriously furnished in the style of an English country house. All bathrooms have showers and the main bedroom, Dante, has a double jacuzzi bath with spectacular views of the sunsets over Vorno church.


The main dining room with its impressive frescoes and chandeliers seats 36 to 80 and is perfect for birthdays, anniversaries, wedding parties, family re-unions, film shoots and product launches.
Vorno is a celebrated village and has the unique distinction of being the home of the inventors of the internal combustion engine, Matteucci and Barsanti. Every few years this is celebrated in Vorno with an exhibition of the prototype and original photographs and documentation of their design – last time this took place in the chapel at Villa Michaela.
The village is also well known for its beautiful clear spring water and its summer climate with a lovely evening breeze which floats down from Monte Pisano and Monte Zano. For non-drivers there is a regular bus service from the village square to the centre of Lucca.
Lucca station (5 km) from where you can get anywhere on the efficient and cheap Italian rail system . There is a charming village grocery shop , family run trattoria and bar all in the same ownership just 5 minutes walk from the villa as well as an excellent butcher for all those barbecues.
The trattoria 'Il Bimbotto' is open every evening and has wonderful pizzas, beef steak Fiorentina and other famous Tuscan dishes. The bar hosts wild karaoke evenings in the summer season.
There are many events which take place all through the year in Lucca which was voted by Forbes magazine as the second most agreeable and desirable place in the world to live and visit.
The most famous of these is the July music festival which is outside in Piazza Napoleone in the middle of the city and every year in the summer has many legendary performers such as Elton John, Joan Baez, Lionel Richie, Paul Simon, Leonard Cohen, Jamiroquai and Mark Knopfler, previously of Dire Straits.
For antique lovers there is the diverse and picturesque antique market spilling over in every little square and alleyway in the city centre which takes place every third weekend throughout the year and for music and opera lovers there is a concert every day of they year in a deconsecrated church in Lucca, (San Giovanni) of the music of Lucca's most famous son, Giacomo Puccini. For more information, please click here.
In August there is the full scale Puccini opera festival at Torre del Lago , and of course in February there is the world famous Viareggio carnival – both 25 minutes drive from Villa Michaela.
Of course cycling the 3 km mediaeval walls of Lucca is an experience never to be forgotten – whether on a summers day with the sunlight dappling through the plane trees or in the autumn with the burnt gold and orange hues of the changing of the season. For the more adventurous cyclist there are wonderful 25 kilometre rides along the River Serchio where you can also do white water rafting.
For further information, please see our website
www.villamichaela.com