No one likes to have noisy neighbors when they're staying at a hotel. Nor is it good to be near messy, greedy eaters who hog all the food if that kind of selfish, disruptive behavior came from humans, it might ruin a stay. But it's the kind of thing you come to Anantara Elephant Camp & Resort hoping for. From our hilltop room and the hotel's restaurant, we often hear the trumpeting of an elephant down in the valley, and sitting out on our balcony, we get to watch the giants as they break branches, strip the leaves and munch down their massive meals.
Elephants are the main attraction at this 61-room hotel, up in the Chiang Rai region in the north-east of Thailand. Around 25 of the animals live in the 160-acre grounds around the hotel, along with their mahouts (owners) and the mahouts' families.
We drive up to the reception, passing still ponds and colorful Lanna murals with scenes of figures smoking opium, the illicit drug trade for which this area, known as the Golden Triangle, used to be famous. Nearby, close to the entrance, there's a pair of golden elephant sculptures. There are more elephant statues and sculptures inside, with golden elephant patterns decorated columns and walls in the high-ceilinged lobby. The main bar, across from the reception, is called the Elephant Bar, a lounge area with comfy seating, a fireplace and metal sculptures of elephants arranged on columns. You quickly get the picture...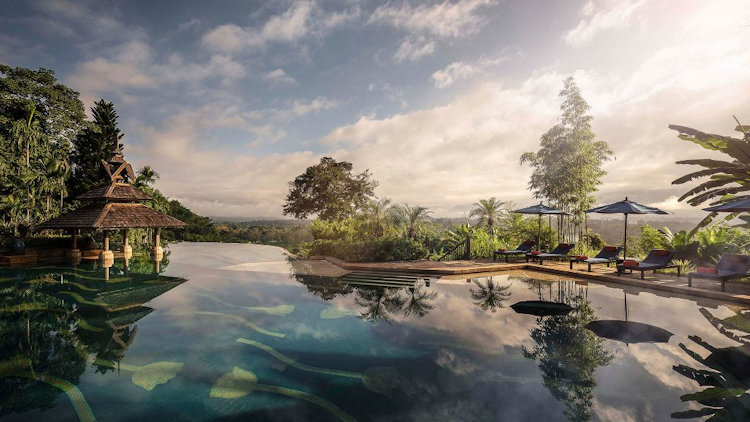 Even without the elephants, this would be a remarkable place to stay. The hotel is on a hillside, looking out over the Ruak River, which marks the border with Myanmar, while the more distant forested peaks we can see are across the Mekong in Laos. That's three countries visible from this one location. After check-in, we take a stroll through the Elephant Bar to the infinity pool, which looks out onto the valley and thick greenery. There aren't many pools where you can swim and see three countries, or watch elephants from the edge.
We're shown to our room, noticing a little 'car' by the pathway for giving rides to children, shaped like a blue elephant. Inside the room, there are wooden floorboards, white walls and a comfy white bed. There's a writing table in one corner and a large TV on the wall opposite the bed, set within a dark wooden frame. Sitting on top of the TV frame shelf? A statue of an elephant, with a little mahout figure on top. The towels in the room are folded into a trio of white elephants. The wooden slot outside the front door for newspapers to be placed each morning has an elephant sculpture on top. Sitting on a table, there's also a little jar of shortbread biscuits cut into the shape of elephants.
Our bathroom is spacious, with a ceramic bathtub and a powerful hot shower. The best part of our room though is the balcony, with a three-country view across parts of Thailand, Myanmar and Laos. Here, you can spend hours looking out onto the forest, ponds and rivers below, often watching passing elephants or hearing their calls.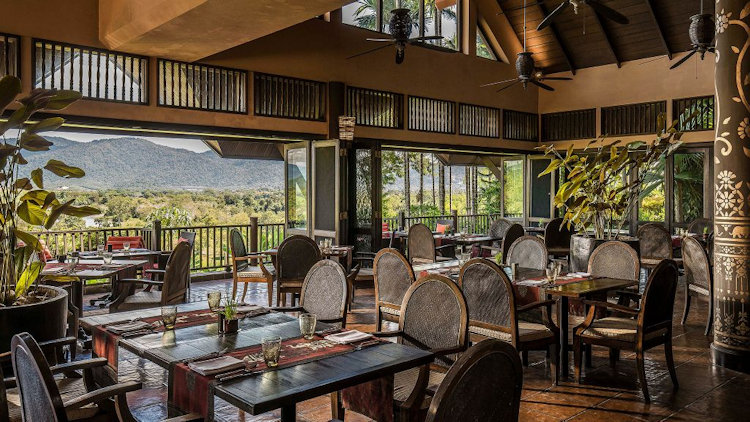 In the evening, after drinks around a firepit, we eat dinner at one of the hotel's two restaurants, the central Sala Mae Nam, with a balcony that also looks out onto the zone where Thailand, Myanmar and Laos meet. The selection of Thai food in the buffet is extensive and appetizing, from minced prawn skewers and spring rolls to fried noodles and pork curry. Service is friendly and quite formal, a waiter making helpful suggestions for a few a la carte selections, including prawns fried in garlic and a creamy, spicy Penang fish curry. Afterwards, we order a selection of cheeses, including a good brie, which goes down well with our wine, a Merlot/Shiraz blend that, surprisingly, comes from vineyards in northern Thailand.
In the morning, we wake to the sound of distant trumpeting and look out onto the mist-covered hills and forests. Stepping out of our room, a mahout rides an elephant along the pathway. We make our way back to Sala Mae Nam where the buffet is as diverse than the previous night's That selection, from cereals and juices to pastries. There's an omelette station and a separate station for Asian dishes, with a chef ready to prepare soups or noodles with spice levels to order. Interestingly, there are also some tasty Chiang Rai cheeses.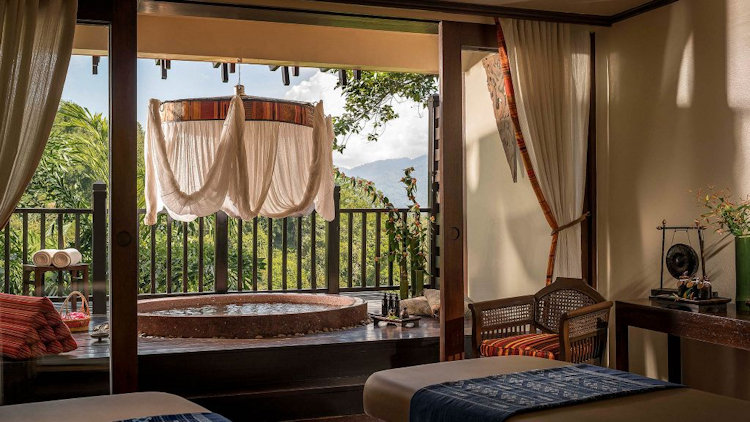 After breakfast, we hit the spa, which is quite busy in the reception area, with hanging, swinging seats by the window looking out over the green valley. I go for the Thai massage, which is very different from standard Swedish oil massages, the therapist working pressure points and stretching my limbs. Sometimes, she climbs onto me, working me with her knees and feet, bending my back, arms and legs, before sitting me up and massaging my back and shoulders. It's quite a workout, with firm pressure applied, but it does a good job of loosening my shoulders and relieving pain from too much time at my laptop.
After a quick lunch in Sala Mae Nam, we make our way to the lobby to meet our guide for our Walking With Giants experience. Anantara offer guests several Signature Experiences, mostly involving elephants. Elephant rides are a contentious issue in Thailand and across Asia, criticized by animal welfare charities and no longer offered to travellers by many travel companies. Anantara do offer elephant rides to guests. We meet John Roberts, who works with Anantara and also founded the Golden Triangle Asian Elephant Foundation (GTAEF), which has helped rescue many elephants from situations where they were being mistreated. The hotel doesn't buy the elephants, but instead makes an attractive offer to the mahout and his family to live and work at Anantara. Elephant rides themselves aren't the problem, Roberts argues; the issue is whether the animals are cruelly treated or poorly looked after, which is why, he says, Anantara still offer elephant rides to guests, only with the elephants well cared for and not forced to work all day.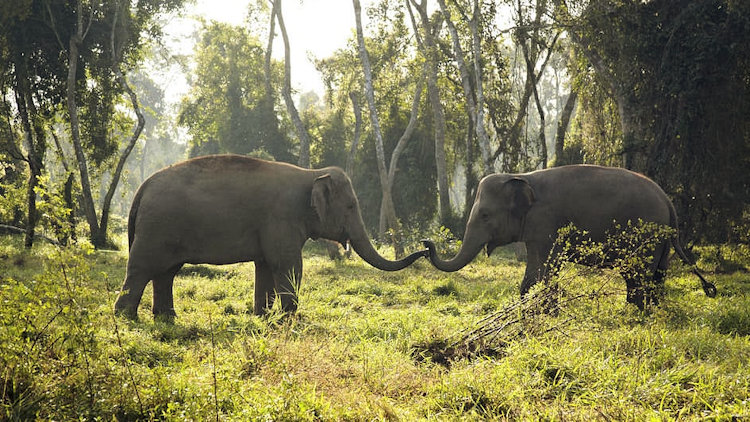 We don't ride any elephants during our stay, but instead go down to the Dara Camp down in the valley, which is set up like a traditional mahout village, and spend time learning about the animals, first with a close-up encounter with several elephants, feeding sugarcane to them, and a short presentation. We learn about the threats elephants face in Thailand, including loss of habitat, exploitation and ivory poaching. The Dara Elephant Camp and the Golden Triangle Asian Elephant Foundation were set up in 2003; to date, they've rescued more than 60 elephants from Thailand's city streets, where elephants are often made to perform and beg.
Then, we set out for a long walk with the calm, lumbering beasts. Walking with elephants is much more common across Thailand now than riding them; it's seen as a way for elephants and their mahouts to be looked after and to continue working in tourism, without the need for rides.
Along with our guide, we walk along the road with three elephants, two females and one old male with big tusks, each accompanied by their mahout. Occasionally, an elephant holds up the procession by stopping to pull down branches and feed. It's a memorable feeling to walk beside such incredible behemoths. We're close enough to smell them, to see the big wrinkles in their skin and to look them in their long-lashed eyes.
We watch two of the elephants take a cooling bath in a pond, while the youngest stays firmly on the road. "This one is not going for a bath because she's a teenager and she's behaving badly," our guide laughed. "Every elephant has it's own character. If it's hot, they sometimes get grumpy. If it rains at night and they don't sleep, they can be in a bad mood, just like a human. They use the trunk to communicate, like shaking hands for humans. They are all different, just like humans."
Later in the evening, we head to the hotel's Baan Dahlia restaurant, going through heavy wooden doors with Lanna illustrations into a room of bare brick, a little like a large wine cellar, serving Italian food. We order and share a Caprese salad and bowls of rich creamy parmesan spaghetti and rigatoni with shrimp and pesto. For dessert, we also share a 'vesuvius' warm chocolate mousse. The wine, a fruity Shiraz, comes again not from Italy, but from Thailand.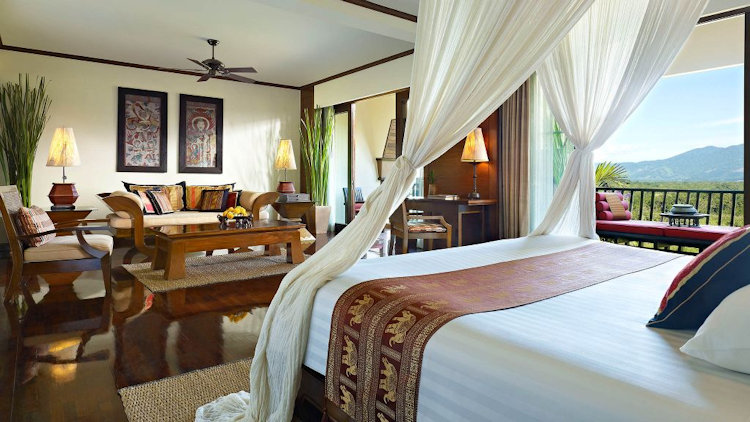 We spend our final morning sitting on the balcony outside our room. It's a final chance to take in the view and enjoy the peacefulness of this three-country corner of Asia, even if that peace is occasionally interrupted by the trumpeting of a noisy neighbour.
Anantara Golden Triangle Elephant Camp & Resort, 229 Moo 1, Chiang Saen, Chiang Rai 57150, Thailand
+66 2 365 9110
www.goldentriangle.anantara.com
Rates for a Golden Triangle Discovery Package for a room or suite per night start from $1,335 for a Deluxe Three Country View Room, including all meals, plus one choice per day from a list of signature experiences, including Walking With Giants, as well as roundtrip transfers from and to Chiang Rai Airport in a private limousine with refreshments.
For more on the work of the Golden Triangle Asia Elephant Foundation (GTAEF), see https://www.helpingelephants.org/.