The origin of this city resulted from the discovery of gold and silver in the mountains surrounding it. The mines were so rich that the city was one of the most influential during the colonial period and was named a World Heritage Site in 1988. Guanajuato is...well…different, unique and special; thanks to the honor bestowed on it by UNESCO, its singular charm will remain unchanged.
The streets follow the extreme irregularity of the terrain with small alleyways and staircases that wind up steep hillsides, giving Guanajuato a distinctly European flavor. And, it is chock-a-block with tunnels, tunnels running under the entire town! Fair warning to claustrophobics: these tunnels are narrow, low, with lots of traffic and, I kid you not, parking lots. They are also surprisingly fun and definitely not to be missed. As Guanajuato is set in a narrow valley, the hills are alive with houses painted in the most luscious colors imaginable: banana yellow, bubble-gum pink, shocking chartreuse, orange creamsicle and cherry red. A fantasy city, and yes, I am, indeed, dreaming in color!
Frida & Diego Et Al
Our guide to the city was one Professor Salvador Santacruz - charming, with a deep, intimate knowledge of all things Guanajuato, and a delight to tool around town with. His love of this place was infectious. Prof. Santacruz's tour included the
Museo Diego Rivera
. It was in this house that the painter was born and spent his early childhood. We saw splendid period furniture and other items from the late 19
th
century; also about 100 paintings of Rivera's early, little-known works. The museum has workshops for the arts, literary events, film showings and other cultural activities.
On to another museum - the Mask Museum - named
Another Face of Mexico.
That it is. Curator Bill LaVasseur has spent more than 25 years acquiring an extraordinary collection of more than 600 Mexican ceremonial masks through his visits to remote indigenous communities. The museum opened in 2006 and is a mystical, enchanted place. In addition to wondrous masks, there are photos and videos showing more than 40 different dance ceremonies. All the masks in the collection have been worn in ethnic performances and thus considered authentic. Captivated by countless mask faces, both animal and human, I knew I had to take one home but how to choose
the
one? There were clown-like faces, sweet faces, truly scary faces. Finally in a corner I spied a dusky face of – what? A cow, a pig? I knew not but its eyes were piercing and its wide grin slightly mischievous. Yes, that was the one. It now hangs prominently on a wall in my den and we've become friends. It's now a cherished memento of the Mask Museum, an experience like no other.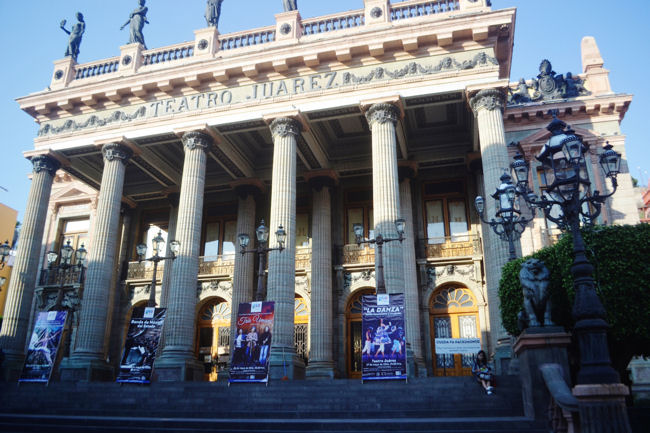 Neoclassical Wonder
We visited the handsome
Teatro Juarez
in the Jardin de la Union, a pretty park buzzing night and day with activity, people strolling, munching ice cream cones, or just relaxing on a bench people-watching. The theater is located near the striking San Diego Church in the city's center and is considered one of the most beautiful buildings in the country. Neoclassical in style with a façade containing nine sculptures depicting the muses of Greek mythology, the auditorium has eclectic Arabesque details throughout. We learned that a ballet performance would be performed that very evening and we were lucky enough to score tickets. Artistic Director Mariella Messina directed works inspired from, among others, choreographers Petipa and Fokine; selections from Giselle, Swan Lake and Don Quixote were beautifully performed.
Sweet Endings
We were eagerly awaiting our final visit – to Chef Jonathan Martinez's chocolate workshop and it didn't disappoint. We sampled scores of chocolate nibbles filled with various delicacies. It was only once I'd popped a pretty offering into my mouth and totally enjoyed it that I was informed it contained
grasshopper.
Oh well, a first time for everything, right?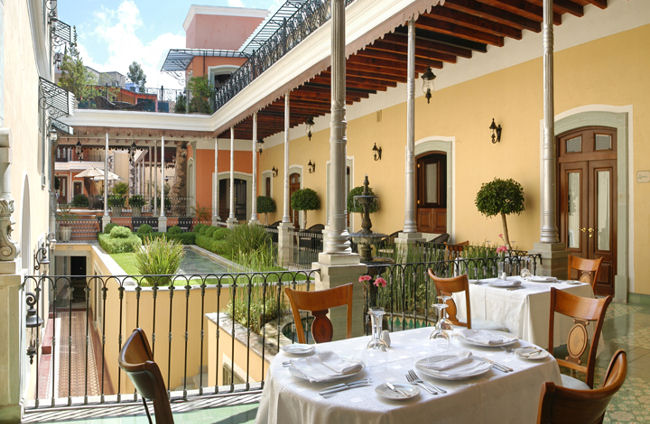 Checking into the
Hotel Villa Maria Cristina,
a Relais & Chateaux property, was sweet as well – the ideal spot for some R&R in the lap of luxury. This grand estate is of the 18
th
century with walled gardens, reflecting pools, and a sprawling terrace featuring a king-size bed and hot tub under a pergola! I took afternoon tea in this charming outdoor dining area and cocktail hour found me back again, watching all the lights of the city twinkle on.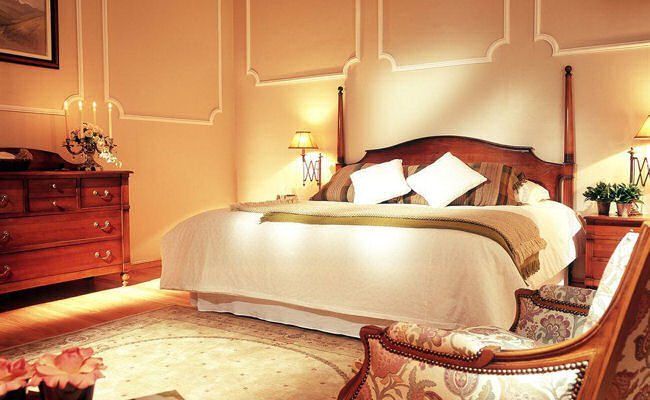 What is one of the most sought-after qualities we all look for in a boutique hotel? Peace and solitude, of course. At the Villa Maria Cristina it's here in abundance. There are thirty-three sumptuous and spacious suites distributed around this aristocratic house, guaranteed to insure that utmost luxury: privacy. The rooms have ceilings that are up, up and away, seeming to soar heaven-ward. The windows are oversized, the floors are terra cotta and my room was furnished in the Roche Bobois French style – warm, dark tones creating subtle sophistication. When I opened the door to the bathroom my mind said a resounding "
Yes!"
All sparkling white marble, a Bang & Olufsen sound system and the
piece de resistance,
my very own whirlpool tub. Evenings here are frequently chilly so I welcomed a table by the fireplace in the cozy Cristina's restaurant that served a wide variety of both Mexican and international dishes. Day's end found me being pleasantly pampered in the hotel's oasis-like spa, relaxing in the sunken Roman-style pool and then allowing myself to be pummeled by countless Swiss shower jets – just enough of a wake-up to get me back to my room and into my cloud-like bed where my dreams patiently awaited.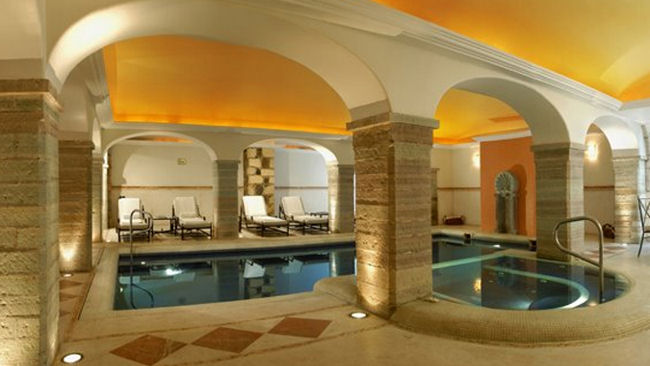 Travel Alert
The U.S.State Department has just come out with a European travel alert advising of the risk of potential terrorist attacks throughout Europe. Well I for one have no desire to hop across the pond anytime soon. But think: one can visit Guanajuato in Mexico! Inimitable, irreplaceable, utterly exceptional – and
safe!
How lucky are we!
Adios
Mexico. On second thought, no goodbyes; I prefer
hasta la proxima
– insuring that I'll be back.
IF YOU GO
Hotel Villa Maria Cristina,
www.villamariacristina.net
Cristina Restaurant at Hotel Villa Maria Cristina,
www.relaischateaux.com/us/mexico/cristina
TO DO
Museo Anahuacalli (Diego Rivera)
www.museoanahuacalli.org.mx
Chocolate Tasting,
www.hotelesmision.com.mx/guanajuato_colorada.php
La Capellina
www.lacapellina.com
Mask Museum
www.maskmuseumsma.com
Teatro Juarez,
www.cultura.guanajuato.gob.mx/teatro
Mexico Lindo y Sabroso,
www.mexico-lindo-y-sabroso.com