Imagine a visit to the Napa Valley where a red carpet unfurls beneath your every step. Where access is granted to the most revered wineries and sought-after restaurants in the country. Where you can hone your viticultural knowledge by tasting wines with an award-winning winemaker. Where you can enjoy an evening aperitivo or digestif with members of an honored and respected wine country family.
What If you were chauffeured to and from winery after winery in a stately Bentley, allowing you to sniff, swirl and sip to your heart's content? What if you could enlist a personal maître d'étage to arrange an itinerary best suited to your tastes and preferences: buttery chardonnays or estate-made Cabernet? The best fried chicken in town, or a prix fix seasonal, daily changing menu by a Michelin starred chef? What if when you return to your hotel in the evening your favorite late night snack awaits, a warm bath has been drawn, and your favorite movie is cued and ready for viewing?
If Only you could merge Napa's viticultural history with the best in modern luxury to create an urbane home away from home where your every desire is realized. Where the best finishes surround you and the finest linens envelope you. Where the kitchen is stocked with the treats and beverages that you most desire. A place where you are utterly pampered.
Make this dream a reality with a stay at The Ink House, located off of Napa's Hwy 29 in St. Helena. This two-story Italianate inn, lovingly restored by Castellucci Napa Valley, a family-run wine and hospitality luxury lifestyle business launched by siblings Maria and Marco Castellucci, was originally built in 1885 by Napa Valley pioneer Theron H. Ink as his family residence. The Napa Valley landmark has seen many incarnations through the years, and its current manifestation is undoubtedly its most stunning. Reimagined by Howard Backen of Backen, Gillam & Kroger Architects with interiors by Sarahliz Lawson Design, The Ink House's 6,000 square feet features a welcoming state room, an expansive open kitchen, a third-floor 360° view observatory dubbed 'The Ink Well,' (each pictured below) and four sumptuous guest rooms, each drawing on inspiration from the past with nods to Theron Ink and his wife Harriet.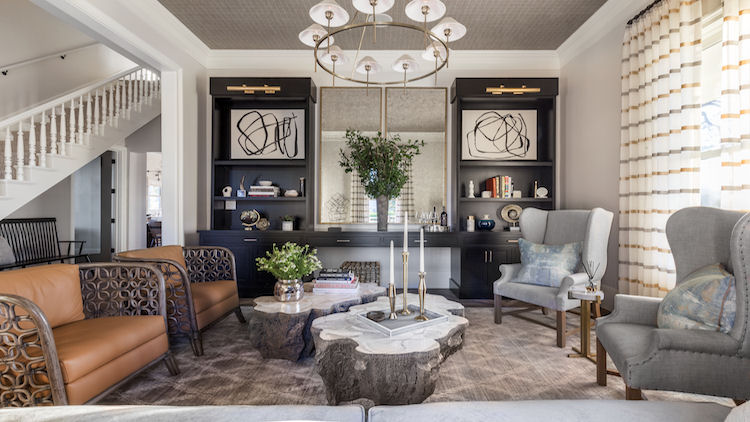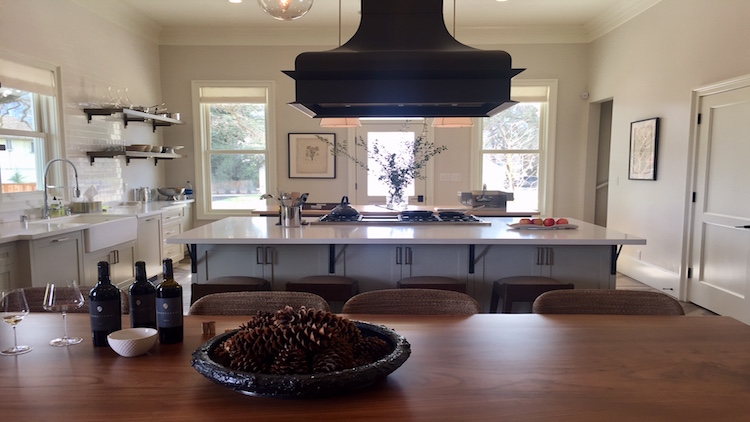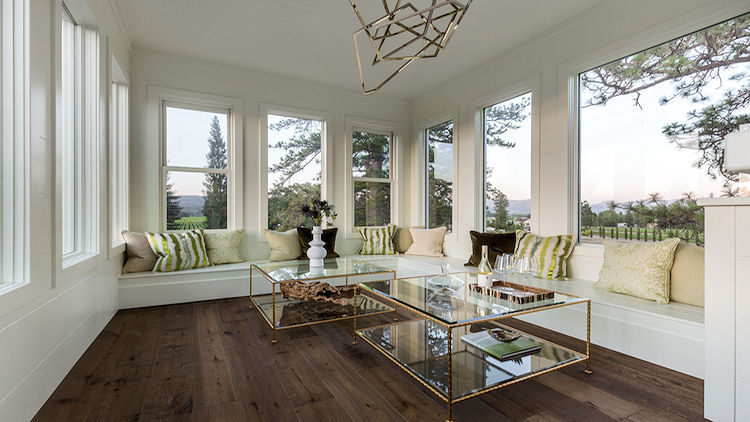 The Theron Room boasts southwest views of the property's historic barn and the Mayacamas mountains and features warm leathers, natural textures, and masculine lines. Pin-striped linen drapery and deep velvety accent pillows add sophistication, and a soaking Jacuzzi tub and Eastern King bed with custom Anichinni Fine Linens ensure a good night's sleep. The graceful Harriett Room enjoys northwest views of the same barn and mountain range and features luxurious feminine detail such as a curved settee, green velvet California King bed and an organically shaped bronze chandelier. A four-poster Eastern King bed takes center stage in the the Helios Room (named for Ink's working ranch and pictured below) which features a blend of old and new; tall ceilings and a spacious floor plan open to a private north facing portico with access to the lavender gardens. A striking modern chandelier cascades above and is juxtaposed by a basket weave floor pattern. The Elvis Room (also pictured below) – so named for the King's extended stay at the residence in 1960 during filming of his movie Wild in the Country - features sweeping views of neighboring vineyards and a dose of whimsical Hollywood charm. A collage of black and white photos of Elvis and his Wild in the Country cast takes center stage next to a blue suede headboard and houndstooth pillows, natch. Lush gardens, flowing fountains, and a bocce ball court surround the historic property.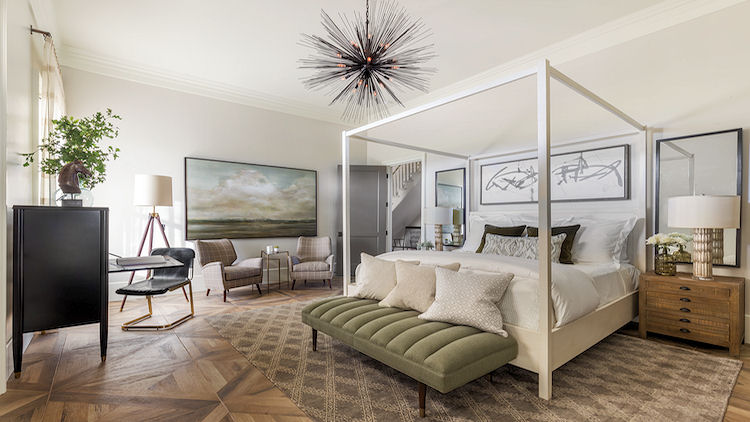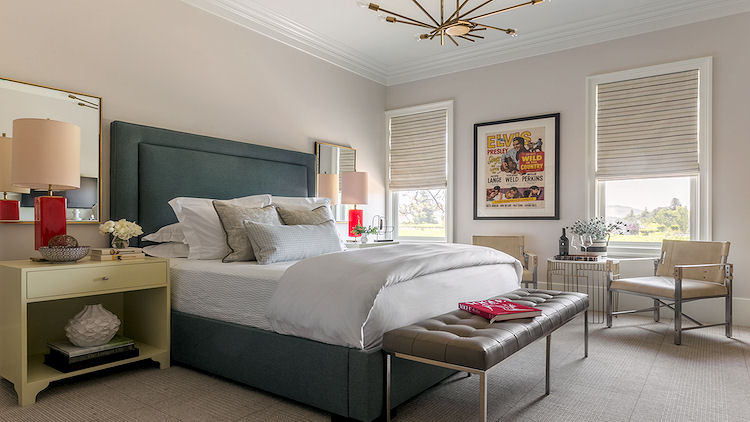 And while sumptuous furnishings and textiles are indeed a lure, what sets The Ink House apart from other luxury properties in the Valley is service. Director of operations and maître d'étage Brian Woolery brings to The Ink House more than 15 years of Napa Valley hospitality experience and a rolodex of esteemed connections that he skillfully mines to create exceptional guest experiences. From spa services, to restaurant reservations, to wine tastings, Woolery has the access to create one-of-a-kind itineraries suited to each guest's tastes. If you're a wine novice seeking a bit of knowledge, Woolery knows just the winery to get you up to speed. A fan of estate vineyard Cabernet Sauvignons? Describe your favorite flavor palate and he'll arrange a private tasting with one of the Valley's most esteemed vintners. Woolery and his staff also whip-up a delicious custom curated European breakfast each morning, keep the refrigerator and pantry stocked with your favorite beverages and snacks, and will chauffer you from spot to spot in the house Bentley. Need packing and unpacking service? The staff will take care of that too. At The Ink House Napa Valley, your every wish is their command.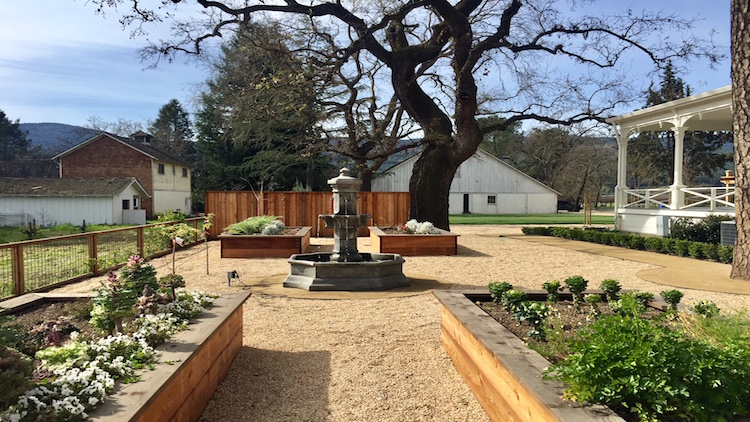 Photos by David Duncan Livingston