A new Chablé comes with expectations. The original Chablé Resort & Spa, which opened in 2017, has been receiving awards left, right and center not only as one of the best hotels in Mexico or Latin America, but one of the world's best, not least for its creative modern design blended with the crumbled remains of a colonial-era hacienda. Hamak, the Mexican hotel group, behind Chablé, also recently opened Cartesiano in the city of Puebla, another hotel that combined modern art and design with a historic Mexican building, and also have the remote beachfront retreat Mukan in their portfolio, deep in the Sian Ka'an Biosphere Reserve beyond Tulum. These are some of the coolest, most original and sophisticated hotels in Mexico.
The new Chablé Maroma is on the Maroma beachfront in the Riviera Maya, between the two busy popular resort cities of Playa del Carmen and Cancun. The hotel, which opened in September 2018, is less than an hour from Cancun airport, making it easily accessible for beach breaks. But it also serves as one part of a twin-stop trip for anyone wanting some beach time before or after a stay at the more away-from-it-all Chablé Resort & Spa, which is 3.5 hours from Cancun airport or 45 minutes outside the city of Merida. If you do arrange a stay at both hotels, happy days are ahead.
Unlike the original Chablé, Chablé Maroma is a new construction, rather than a hotel built from old ruins. But they share plenty of elements, including a spa, exceptional staff, and restaurants with innovative, Mexico-inspired menus created by chef Jorge Vallejo of the renowned Mexico City restaurant Quintonil, which regularly appears in the 'World's 50 Best Restaurants' list.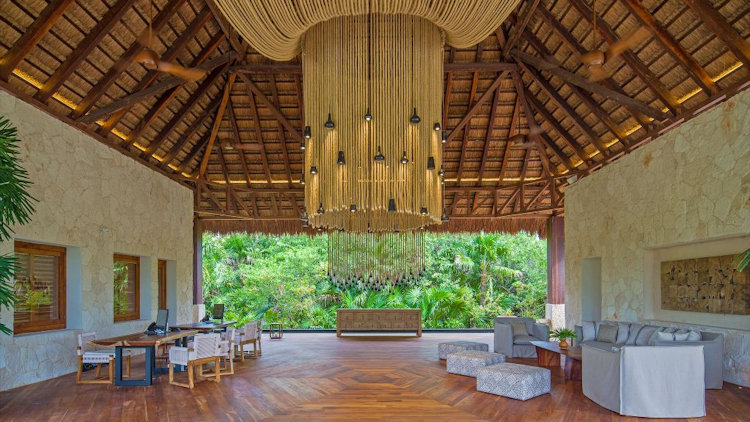 We make our way off the main highway and down a rocky track to reach the hotel's open-air lobby, with large rope chandeliers and a high thatched roof. After a fast check-in, we're shown to our villa or casita. There's a bright, modern feel to the smart, straight-edged, blocky buildings, including 70 villas and the restaurants, all whitewashed and featuring white galarza stone. White pathways cut through the thick greenery of mangrove trees, palms and banana trees, lizards scurrying away from their basking spots as we approach.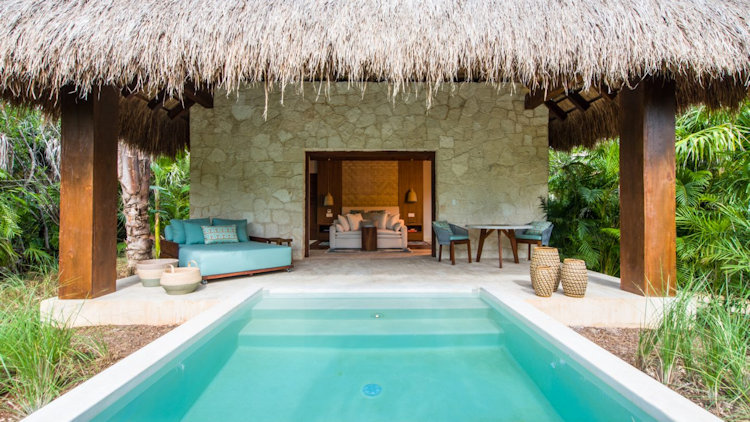 Our villa has its own small private plunge pool outside, next to a white deck with a green lounging bed. Pulling open heavy wooden doors, the villas are reminiscent of those at the main Chablé, with predominantly white décor and touches of colour, including Mexican embroidery on the white sofa's pillows. The bedroom has a thick white and green rug on chocolate brown wooden floors, with a comfy white bed at the center. There's a big TV on the wall in one corner, with a speaker beneath that connects to phones and iPads, and a fridge below that's stocked with drinks. A large window, taking up almost a whole wall, looks out onto the surrounding jungle greenery, with electric blinds scrolling up and down with a switch.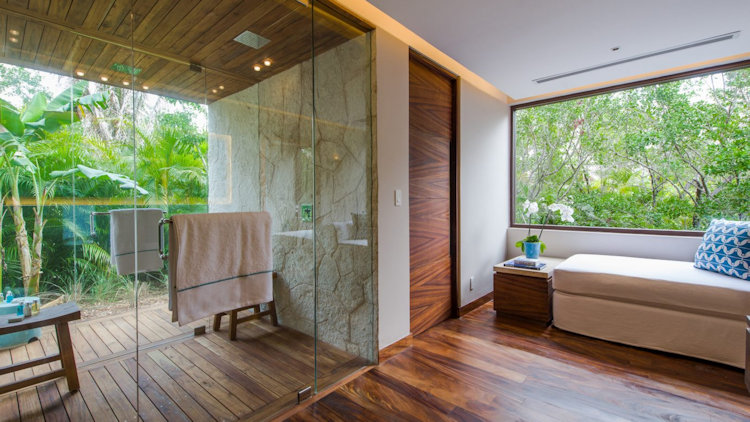 The bathroom's just as large as the main living space, with a wide mirror running above two opal-colored round sinks, and another full-length mirror alongside, a bird-shaped lamp perched on top. There are two good, powerful rainshowers inside a glass shower room, another door leading to a deck for outdoor showers, surrounded by more greenery for privacy.
We start our weekend up at Raw Bar, one of the hotel's three restaurants, a rooftop terrace with views out over the Caribbean ocean, palm trees and the fine white sand beach, as well as the hotel's long, light blue swimming pool. The deck's one of the best places in the Riviera Maya to have a cocktail, with parasailers and speedboats occasionally passing by, and views far across the ocean to the island of Cozumel. Local appetizers, including chili sunflower seeds, chapulines (grasshoppers) and a type of worm, are served, while the menu focuses on seafood, including ceviches, lobster tacos and oysters. We order seafood empanadas, which come with a spicy habanero sauce, and get stuck into immaculately presented, tasty cocktails, including mezcalitas (mezcal margarita with red fruit).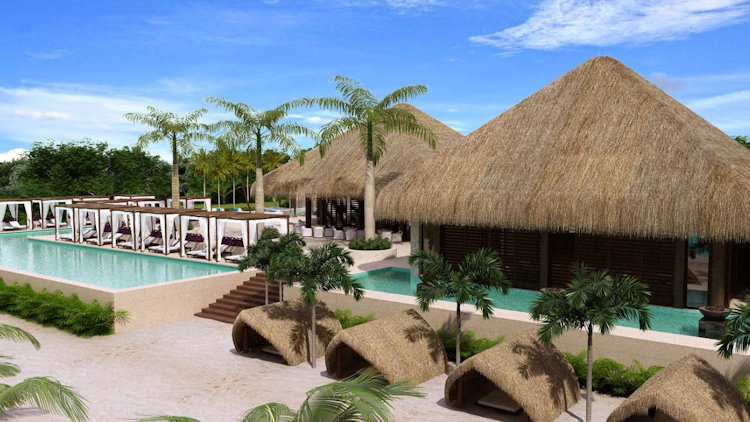 Before dinner, I make my way to the spa, another clean white building with a thatched roof. Inside a quiet courtyard, there's a hot tub, a cold pool and a swimming pool with hydrotherapy fountains. I spend time in the white stone steam room before my massage. Helped along by the afternoon's cocktails, the treatment's incredibly relaxing, a flowing, firm oil massage with hot towels applied to shoulders, face and neck, while flute music plays on the stereo.
The food at each of Chablé Maroma restaurants is outstanding. Of the three, the signature restaurant Bu'ul is the most 'fine dining', though the dress code is still casual. The name means 'beans' in Mayan and there are beans on the menu, including a small plate of warm dark refried beans served with salsas and black corn tortillas as an amuse bouche, but the restaurant is not as humble as the name suggests. We sit inside, the wooden doors opened onto the beach and palm trees. Waiters encourage is to try to the tasting menu, choosing any six courses, two each from starters, mains and desserts. We start with lobster salbut, an infladita (a ball-like fried tortilla) stuffed with spiced seafood, then a second starter, a refined take on the classic Mexican tamal containing pine nut and served on a little pool of Jerusalem artichoke purée.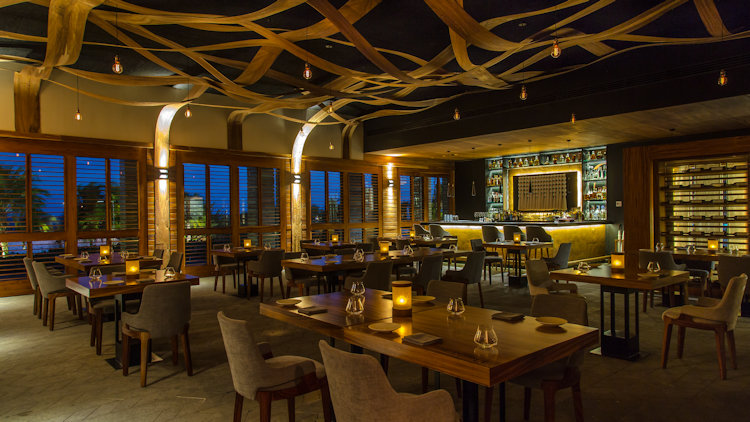 For mains, I opt first for the fish barbacoa in a grasshopper adobe, while my girlfriend goes for beef tongue with manchamanteles sauce, plantain purée and pineapple. Both of us choose the rice with Ocosingo cheese and pipian sauce, one of the meal's best courses, a simple-looking plate of what looks like risotto that's creamy and packed with flavor. There's a good international wine list. We choose a bottle of Nebbiolo from Mexico's renowned Guadalupe Valley, which has plenty of flavor to match the rich rice and desserts, including pumpkin with local melipona bee honey and spiced yogurt ice cream. The best of the two desserts is the Oaxacan chocolate pot, a fondant with a runny chocolate sauce center served in a stone baked pot with a spoonful of corn ice cream. There are Mexican ingredients and ideas throughout the meal, each dish original and satisfying. It makes for a great celebratory evening.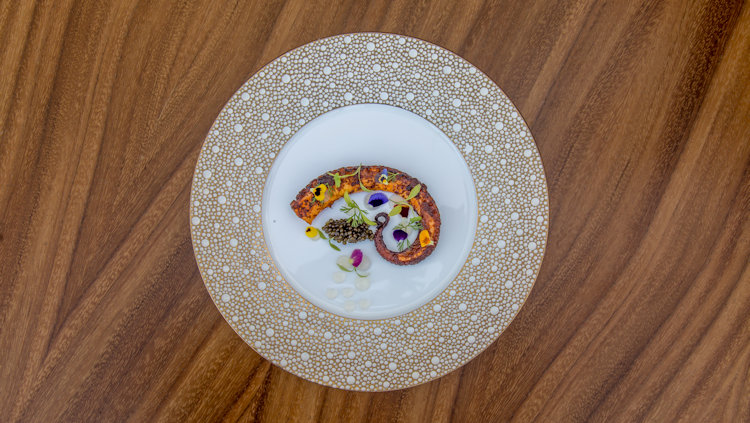 After a good night's sleep, a delivery of tea, coffee and pastries to our villa starts the day. We make our way down to the third restaurant, Kaban, for breakfast, close to the pool and the beach, with soul music coming from the speakers. Friendly staff serve coffee and tea in blue pots, and a waiter brings round a tray of croissants, pastries, sweetbreads and doughnuts. There's no buffet, just a menu to pick from, including plenty of Mexican dishes. We order orange and green juices, avocado toast and Rancheros eggs, with fried eggs, a gently spiced red sauce, crunchy fried tortilla, avocado and sour cream, a waiter delivering pots of salsas for additional flavor and heat.
Far from the more crowded beaches of Cancun and Playa, this is an easy place to relax. We take a walk on the beach, then spend most of our day in and around the pool, reading, swimming, kicking back. For lunch, we're back up at Raw Bar, this time drinking in the view and enjoying fish tacos al pastor and plump garlic shrimp on a bed of tomatoey rice and vegetables and fish tacos al pastor, plus cocktails called Chak Ja, a big refreshing pink drink with mezcal, watermelon juice, ginger and basil.
In the evening, as the sun sets, we're back in Kaban for dinner. There's an international menu, but including Mexican classics, such as my starter, a tortilla soup. For mains, my girlfriend goes for the mushroom pasta with plenty of cream and cheese, while I take the Catch of the Day, a grouper fillet wrapped in green Hoja Santa leaves that give a herby flavor to the fish, along with sweet potato purée, rice and vegetables. Too full to order desserts, we go for another glass of Chable's own Cabernet Sauvignon instead, also from the Guadalupe Valley.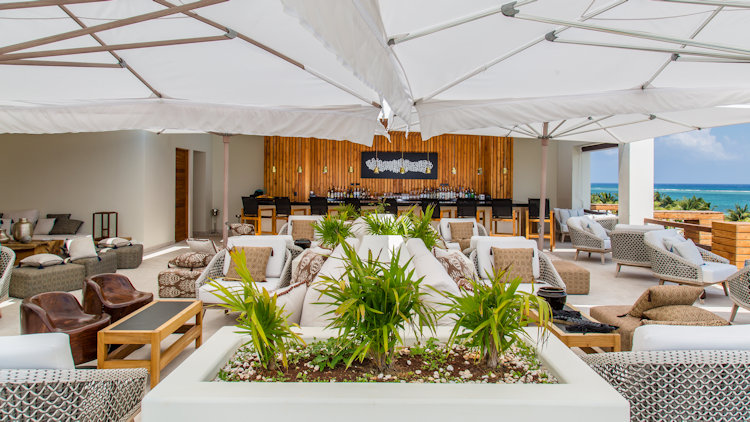 The next day before checkout there's more of the same: excellent food, friendly waiters who remember our drink preferences and help us set up by the poolside, plus a walk on the quiet stretch of white sand and a few lengths in the pool.
Before we leave, we make a quick final visit up to Raw Bar and take up our position on comfy white chairs at the front, overlooking the ocean. There's just time to fit in one last refreshing mezcal cocktail, one of many tastes of Mexico here, ending our stay in much the same way as we started.
Chablé Maroma, Quintana Roo, Mexico. For more, see https://chablemaroma.com or call +52 998 387 0044 or 1 844 562 7662. Prices per room per night start at $775.00 USD, plus 19% taxes + 10% resort fee. For more on Hamak hotels, see https://www.hamakhotels.com/.
Graeme Green is a journalist and photographer. See www.graeme-green.com. Follow him on Instagram at graeme.green (https://www.instagram.com/graeme.green/).