Blessed with balmy weather, stunning architecture and miles of sandy beach, bustling Barcelona – stretching along the Mediterranean Sea in northeast Spain – has long attracted tourists looking for "sun, fun and Sangria." Now, with the emergence of nineteen Michelin-starred restaurants, ritzy hotels, fabulous stores, and fascinating museums, the festive city famous for the swirling buildings of Antoni Gaudi is fast becoming a destination for high-end travelers as well.
Marina Port Vell, one of the world's largest and most stunning marinas for superyachts, is a further magnet that is luring travelers who seek culture, luxury, beauty and Mediterranean cuisine whether on land or sea.
With a history that stretches back thousands of years – ancient Romans landed their ships on these shores – the modern Marina Port Vell recently underwent massive renovations – transforming it into one of the most popular mooring spots not only for superyachts but gigayachts up to 190 meters or 623 feet – almost twice the length of a football field.
Currently boasting 151 berths, 60 of which are for superyachts, the marina's upcoming renovations will make it the largest port in Europe for these head-turning vessels, and thanks to its location in the city center, yachters can dock and merely cross the street to find fifty restaurants. Among the very finest for those who adore seafood and artful presentations: tiny and awesome Estimar.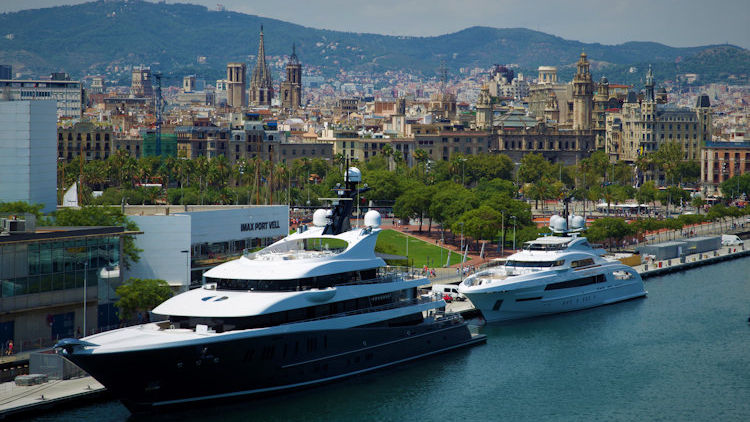 Located at the nexus of three of Barcelona's liveliest neighborhoods – Barceloneta, Born and the Gothic Quarter -- Marina Port Vell is just across the street from dozens of fabulous restaurants and terrace bars that offer breathtaking views of the port. Photo credit: Marina Port Vell.
While famous jaw-dropping yachts such as Walmart heiress Nancy Walton's 361-foot, six-deck KAOS often moor here, Marina Port Vell is also site of a lively yacht charter business. Last week, nearly a thousand nautical brokers descended on Barcelona for the MYBA Charter Show to tour 18 of handsome vessels that may be rented by the week -- plenty of time to hit destinations such as Palma de Mallorca or the French Riviera.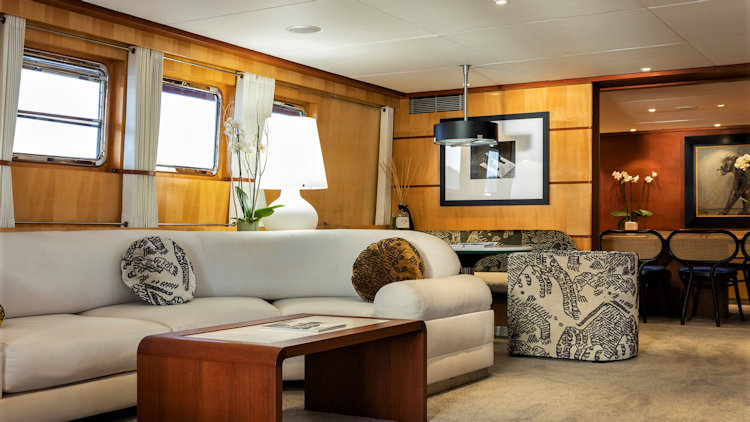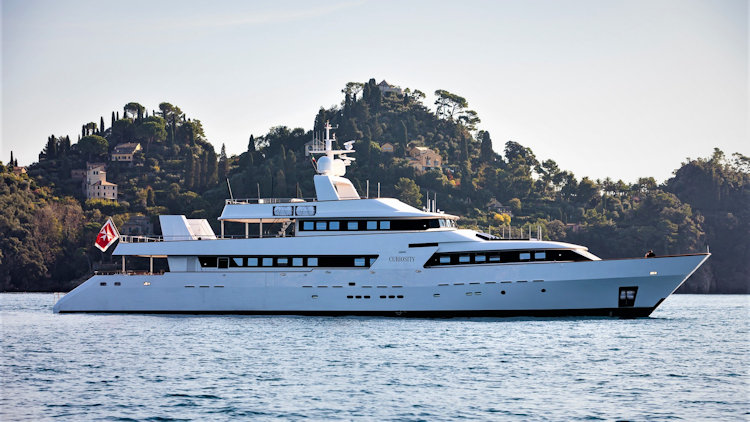 The 148-foot, 6-stateroom CURIOSITY, inside and out: one of the superyachts at last week's MYBA show at Marina Port Vell. Photo credits: Fraseryachts.com
Be forewarned: luxury boating is addictive and even short-term renting of yachts, which come complete with their own crew, is often the first step to buying one, said Captain Ross Palmer aboard the fetching luxury sailing yacht Mes Amis, which boasts 5 cabins and a slew of inviting nooks and outdoor areas, suitable for drinking, dining or just kicking back with a book. "People often start out chartering," Palmer said, "then they buy a second-hand yacht. Then they buy one that's custom-made" – although with soaring demand for custom superyachts, wait times may be up to five years, he added.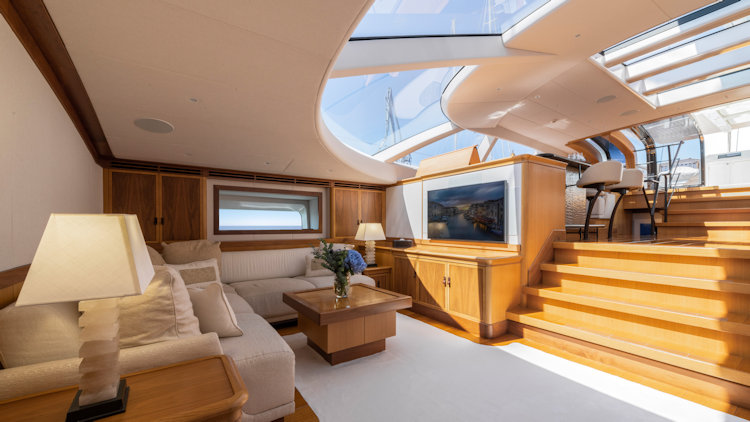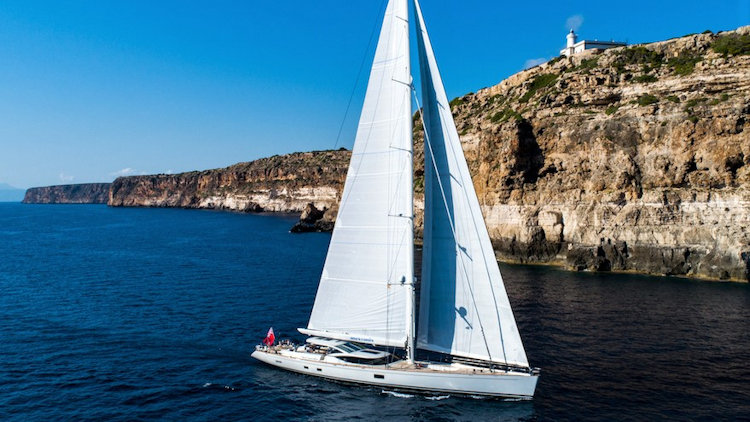 The luxury sailing yacht MES AMIS boasts plenty of comfy nooks. Photo credits: Christopher Scholey
Even those who don't wish to actually set sail can yacht-watch and drink in the marina's stunning views from nearby terrace bars and restaurants. Two of the best for taking in the fabulous marina vista: The Serras Rooftop, a gourmet Catalan restaurant which sits atop a five-star boutique hotel, and Sagardi's 1881, a fourth-floor terrace above the Catalan History Museum in a 19th-century building that once served as a warehouse for marine traders.
Three miles to the west, the view from the 6th-floor terrace of Hotel Casa Fuster is so sweeping, one can see all the way down to the marina, specifically the cable cars crossing it, the sail-shaped W Hotel soaring above it and the sea beyond. But the view is not the only reason to check in at the plush 5-star Casa Fuster, formerly a private palace that showcases the striking designs of Catalan architect Lluís Domènech i Montaner; when constructed in 1908, it was said to be the most expensive home in the city. Hotel Casa Fuster also occupies prime real estate, rising over Barcelona's most-famous street, Passeig de Gracia, site of two of the fantastical, dizzying and much-toured buildings of Gaudi, including the gargantuan Casa Milà, now an apartment building, and Casa Batlló, where the undulating rooftop is the frequent site of concerts.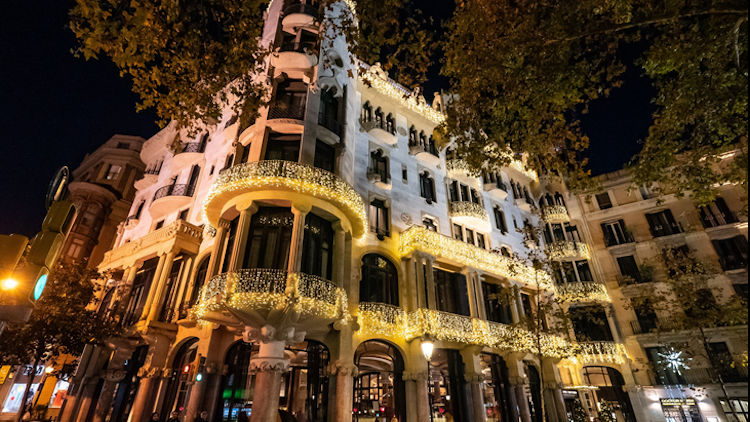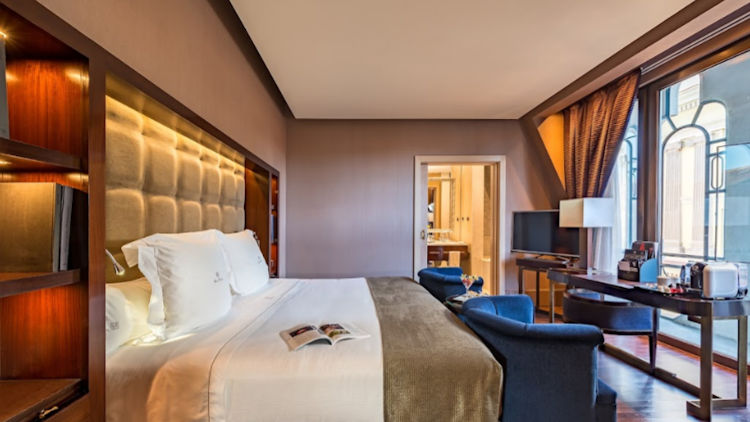 Hotel Casa Fuster: A former palace in Barcelona's unique modernisme style. Photo credits: Hotel Casa Fuster.
Passeig de Gracia isn't revered solely for its amazing architecture, however. It's also adored for its shopping possibilities, being considered the Fifth Avenue of Barcelona, boasting well-known stores from Chanel to Jimmy Choo. Among the highlights along this popular strip: Santa Eulalia, a fashion lover's must-see. With a history stretching back to 1843, Santa Eulalia brings together international luxury brands but also features up-and-coming designers in the multi-floor space where men can order bespoke shirts and women will swoon over the store's custom-made Santa Eulalia perfumes. Upstairs there's even a wine bar and a terrace restaurant.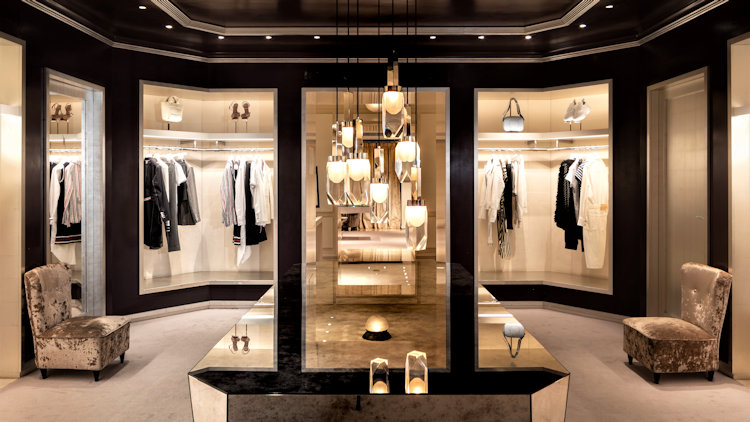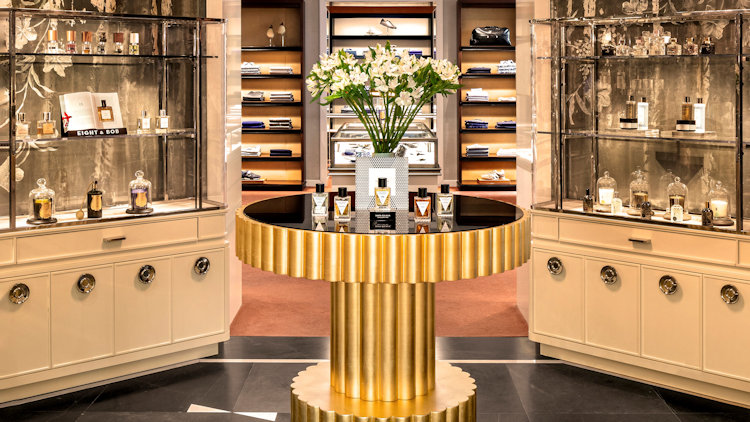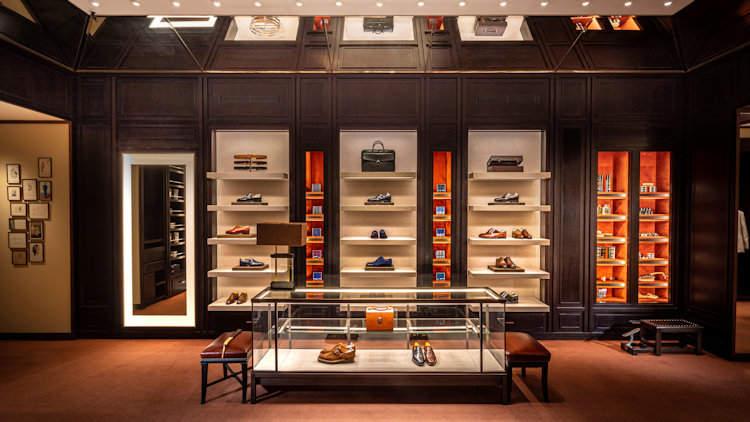 Understated elegance is the theme in Santa Eulalia. Even the wine bar, showing store posters from the 1930s, is fetching. Photo credits: Santa Eulalia.
Across the street, next to Casa Milà, stands the strikingly designed jewelry store Rabat, famous for watches and its beautifully displayed mix of luxury brands with its own exclusive lines, that make it a destination for A-listers.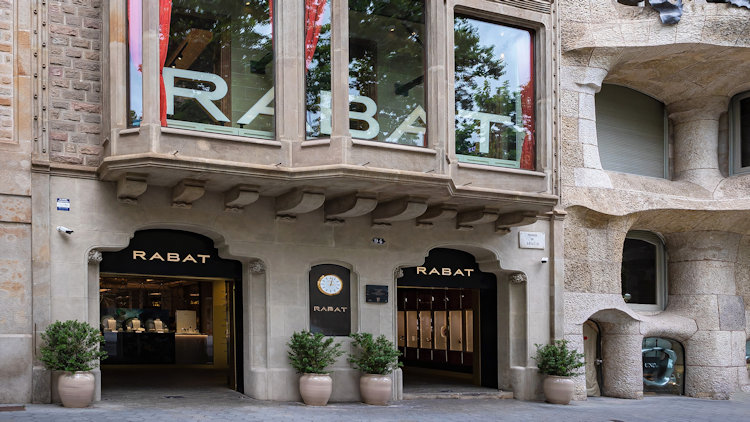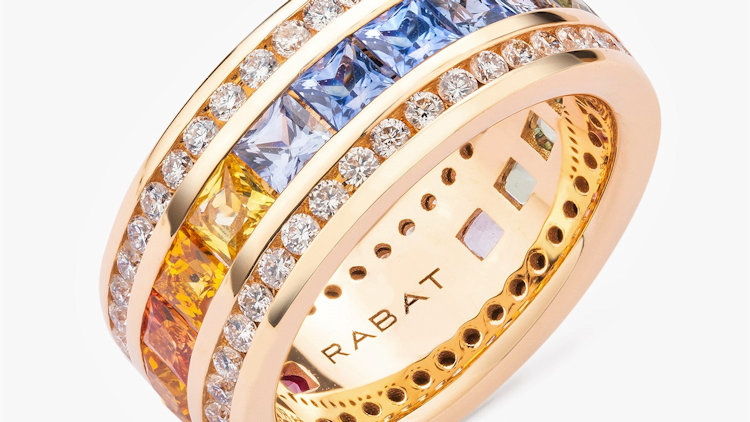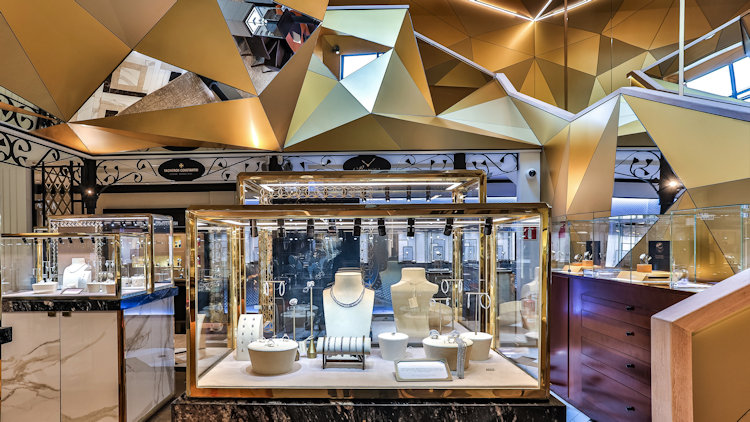 Rabat is stunning from the minute you arrive at the door. Then there's the jewelry. Photo credits: Rabat.
Another novel jewelry experience lies closer to the marina in the Gothic Quarter: Hàbit, an arched stone cave of sorts, with sparkling jewels displayed on trilobytes. Here you'll find the big and bold designs of Miquel Barberà, a mystically-inclined geologist, gemologist and master jeweler, who travels the world seeking rare stones for his one-of-a-kind pieces, made in the subterranean atelier. His pieces, too, end up flashing from the necks and arms of those on red carpets.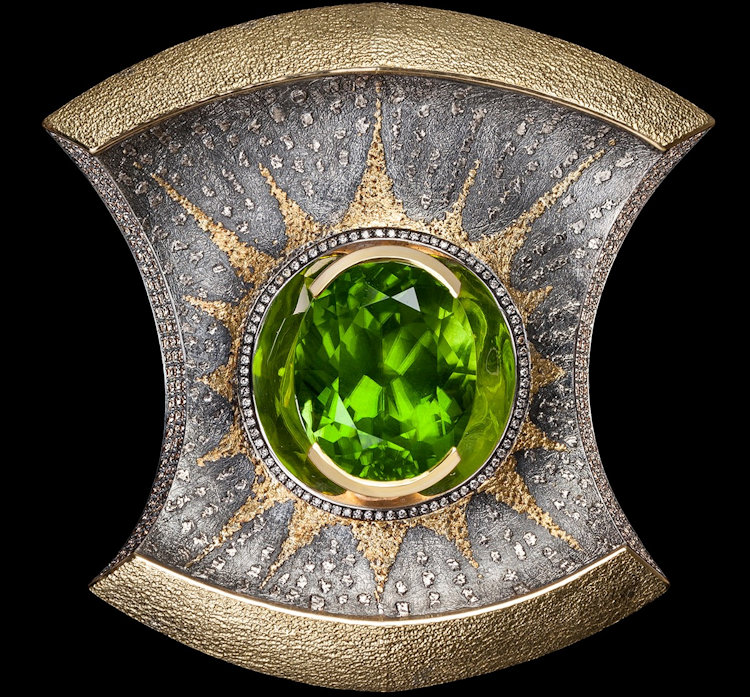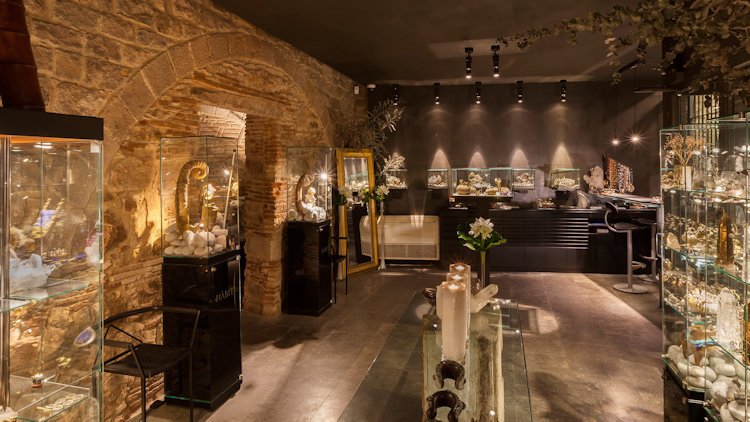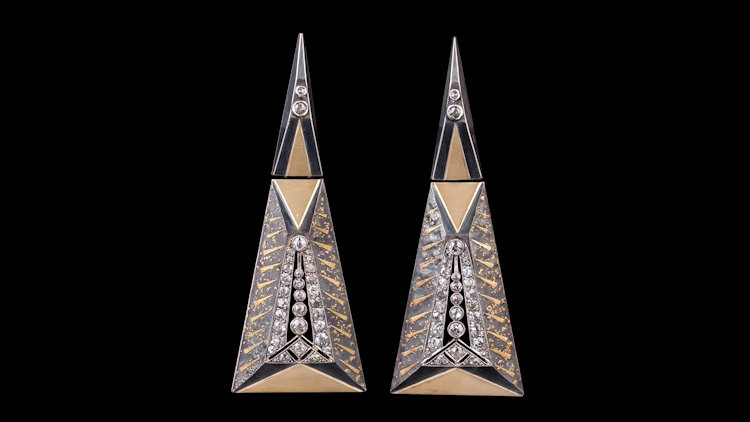 Hidden in the heart of the Gothic Quarter, Hàbit is a magical space filled with mystical one-of-a-kind jewelry.
One dare not leave Passeig de Gracia, however, without at least a peek into gorgeous El Nacional – a high-ceilinged gastronomic food court, divided into sections – a seafood restaurant, a steak restaurant, a tapas bar, an oyster bar, even a corner devoted solely to desserts.
For an over-the-top culinary experience, head further uptown for dinner at ABaC, where the 14-course tasting menu, mostly creative takes on delicacies of the sea, will set both mind and palate aswirl. Combining unusual ingredients – say, red prawn with braised hazelnut juice – with contrasting textures and colors, the astounding and swoon-worthy dishes at this 3-Michelin-starred restaurant are served on arty plates designed specifically for each course. The service is also impeccable as is the sommelier and unusual wine selection. We recommend the Dominio Del Águila Blanco 2016, the rare Ribera del Duero that is white.
One word of caution: whether dining at ABaC, sipping cocktails on the deck of a superyacht, or shopping on Passeig de Gracia, Barcelona can be such a whirlwind of sensual and visual luxury that regardless of how many photos you take and how many notes you make, it's unlikely you'll be able to remember it all. Which is why those who leave this gorgeous city and its remarkable port, vow that they'll soon be back.
Article by Melissa Rossi, an award-winning veteran journalist who has penned articles for Newsweek, Newsday, Esquire, George, MSNBC, The New York Observer, and wrote a regular column for National Geographic Traveler. She has written extensively about Europe, Asia, and the Middle East, and has lived abroad for many years.