Known for its iconic properties, the Fairmont brand of hotels and resorts never fails to please. A stay at Vancouver's Fairmont Empress, the Fairmont Banff Springs, or Fairmont San Francisco, for instance, is sure to be memorable due to the Fairmont's commitment to excellence, authenticity, and to capturing sense-of-place. This is true no more so than on the Big Island of Hawaii where the Fairmont Orchid reigns over the beautiful Kohala Coast.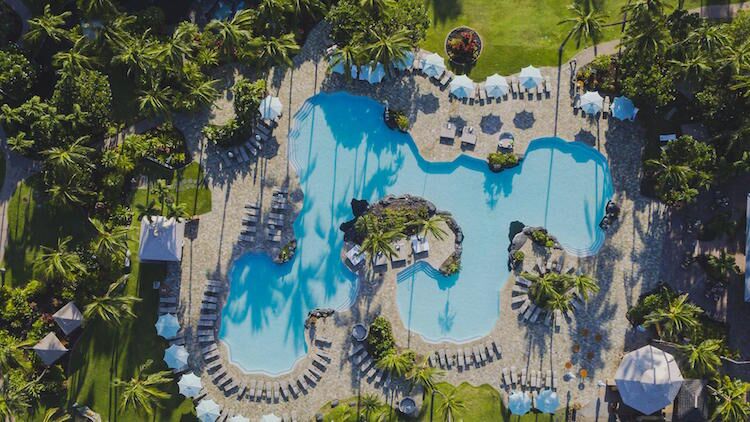 Serene and elegantly relaxed, the resort has claimed this corner of the greater Mauna Lani development since 2000. Two unobtrusive room towers surround a central lobby that overlooks the 10,000 square foot heated swimming pool and the Pacific Ocean. Nearly all of the 540 rooms offer a peek at the waves, and even when at full capacity, the property's expanse provides room to breathe, and plentiful lounge chairs on which to linger. This is a place to rest, rejuvenate, and recalibrate in the manner of the ancient Hawaiian royals who once gathered here for the same reasons. The mood is set upon arrival with a Kukui nut lei greeting, and is further enhanced by the initial lobby view – that of swaying palms, white capped waves, and maybe a whale sighting or two. Allow the concierge to help you plan your stay. Dinner at Brown's Beach House is a must, as is a treatment at the unconventional Spa Without Walls. Try a paddleboard lesson on the the calm waters of Pauoa Bay, or simply enjoy the tranquility of your lanai. At Fairmont Orchid, the options are plentiful. Here's how to make the most of your stay: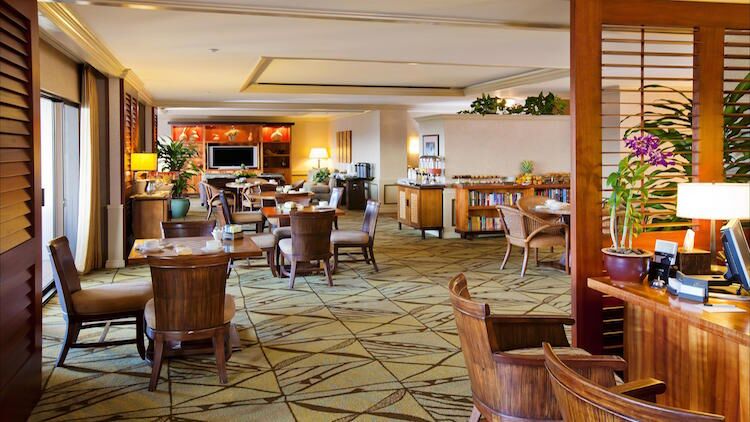 Fairmont Gold
A stay at Fairmont Orchid is alone an indulgence. An upgrade to Fairmont Gold makes your stay extravagant, and oh, is it worth it. One of only 37 Fairmont resorts worldwide to offer this exclusive lifestyle hotel experience, the Fairmont Orchid Gold program is akin to a 'hotel within the hotel.' Only a handful of the resort's rooms are relegated Gold, yet the experience is available to any registering guest. Included is private check-in (you'll skip the lobby reservation desk and head straight to the exclusive 6th floor), friendly and helpful concierge services, a bountiful buffet breakfast, afternoon tea, evening canapes, an honor bar, and 24-hour snacks and non-alcoholic beverages. Guests also enjoy complimentary newspapers, DVDs, CDs, games, and books. The private and comfortable Fairmont Gold Lounge provides a cozy gathering spot for friends and family and the sixth floor terrace allows for commanding views of the lush gardens and golden sunsets.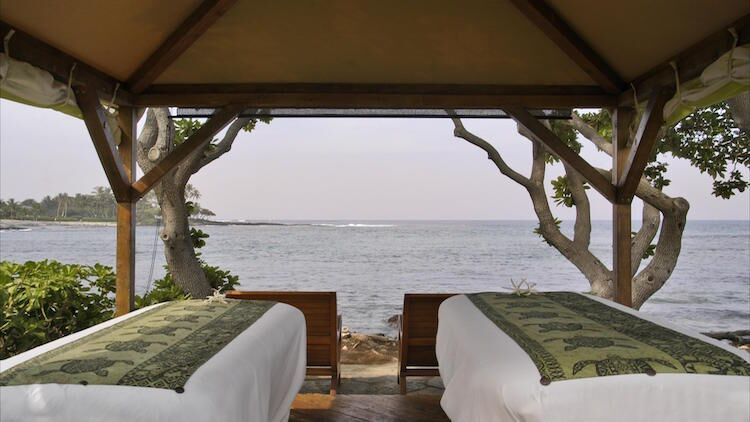 Spa Without Walls
The name says it all. Though you'll enter Fairmont Orchid's Spa Without Walls within an interior building, the majority of treatments take place in the open air. Choose to enjoy your massage or facial within one of eight outdoor hales (huts) located near the garden's central waterfall, within six oceanfront cabanas, or within one of the three indoor rooms. Our choice? The 80-minute HAWAII LOVE couples' treatment, enjoyed in an oceanfront cabana where the soothing ocean breezes and the dulcet sound of lapping waves were every bit as therapeutic as the treatment itself. Combining traditional Hawaiian massage with the aromatic healing of locally sourced passion fruit and coconut oil, this side-by-side massage conjured island bliss we had never before experienced.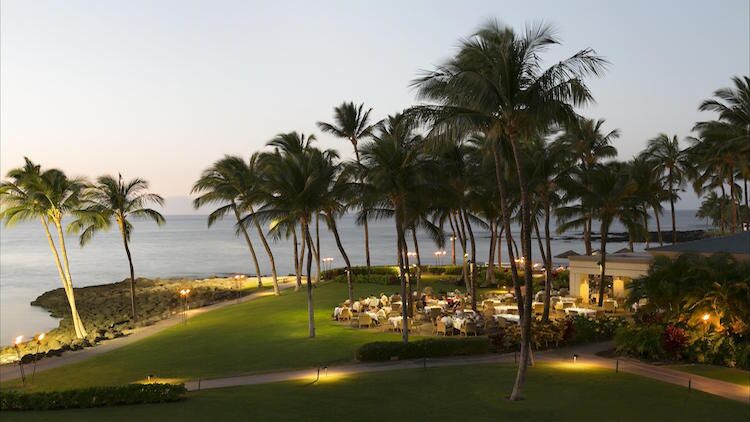 Dining
Every Big Island guest, whether staying at Fairmont Orchid or not, should enjoy a meal at the resort's signature restaurant, Brown's Beach House. Delicious, hyper-local cuisine aside, the outdoor dining terrace overlooking Pauoa Bay provides one of the island's most stunning sunset vistas. Live music nightly, tiki torches, and floral-bedecked mai tais further set the scene. Named for Francis Hyde Ii Brown, the first to develop the area on which the resort resides, this restaurant is unsurprisingly a AAA Four Diamond award winner.
For something a bit more casual, head to Hale Kai, where you'll feel the sand under your feet. Adjacent to the ocean, this relaxed outdoor dining spot is beloved for its fresh ahi tuna poke and its house made ginger ale. Families will enjoy the Ohana Family Happy Hour, when from 4 – 5pm daily, children 5 and under eat for free from the Keiki Menu, and those 6 – 12 receive 50% off when accompanied by an adult.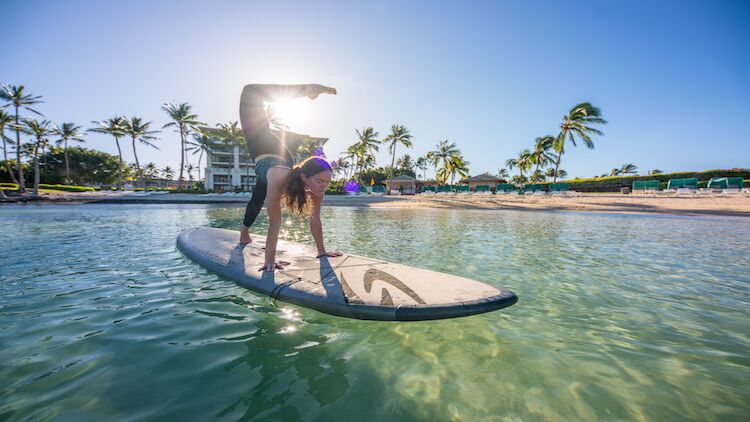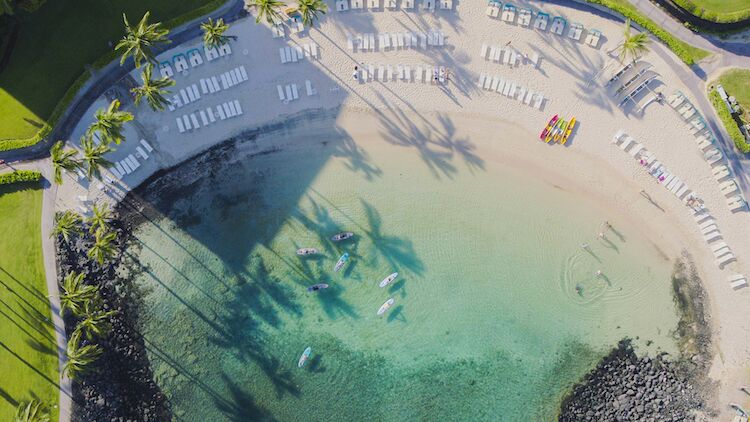 Activities
Yoga and meditation are perfect compliments to a Hawaiian respite, and Fairmont Orchid offers a number of classes in which to maintain or kick-start your practice. Classes are $20 each, but a Paradise Within Class Card allows for five classes at a reduced rate. Enjoy Seaside All Levels Yoga, Seaside Flow Yoga, Floating Yoga on stand-up paddle boards, Mindfulness Training, Introduction to Meditation, and Gentle Yoga/Meditation.
The calm waters of the resort's Pauoa Bay offer one of the island's best spots for ocean swimming, snorkeling, paddle boarding, and kayaking. Enjoy all of these activities by purchasing a Fun & Sun Activity Pass which allows for open use, during your entire stay, of all of the equipment necessary for these and other recreational ventures.
Miles of jogging and walking trails, world-class golf, a ten-court tennis center, shopping, and the Keiki Aloha Children's Program for those 5 – 12 years of age ensure that the Fairmont Orchid enchants each and every one of its guests with the spirit of aloha.