Today the city of spires still retains this bustle and energy, even as planes have replaced boats, and the international glitterati becomes a more common sight than Ottoman royalty.
Divided by the Bosporus into Asian and European neighborhoods, Istanbul straddles these dual cultural heritages with destinations ranging from traditional spice markets to Parisian-inspired haute couture boutiques. Istanbul has also recently become home to a thriving art scene, with over
117 galleries
, multiple art fairs, and countless cultural offerings year-round. One of the most famous is the
Istanbul Arts + Culture Festival
, a three-day celebration of film, fashion, art, design, music, and cross-continental exchanges, which recently finished its 6
th
iteration. The event, which brought hundreds of creatives and big name artists to the city, featured screenings by TED Prize winning artist JR, panels and workshops at the futuristic Vakko Fashion Center, and a tea ceremony held by Wes Anderson film star Waris Ahluwalia in the lobby of a grand palace by the water. Istanbul, over the last decade, has become a true global culture capital for the 21
st
century, offering something for everyone from tech-savvy jet setters to slow-luxury aficionados.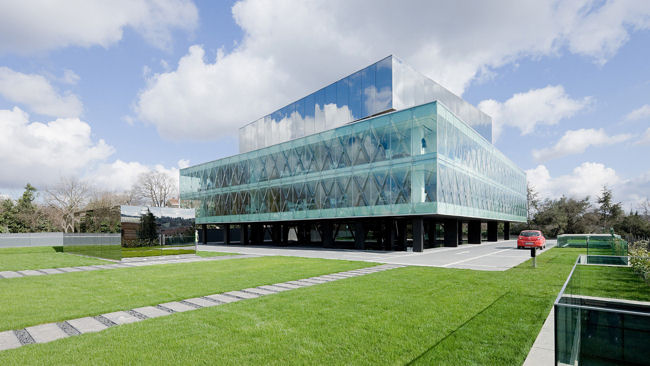 Vakko Fashion Center
If you happen to be in town for one of the art fairs this coming year, or are simply an art lover, the absolute first place to start is the
Pera Museum
, considered one of the most important cultural institutions in the city. The Pera fuses traditional Turkish design with contemporary international art stars like Grayson Perry and Cecil Beaton, and is located in the hip Beyoglu district, the "Soho of Istanbul." For something a little more low-key and chic, take a quick walk and visit the
ISTANBUL'74 GALATASARAY
space in the uber-hip
Karaköy arts district
. Run by the folks at Istanbul74 Studio, it's guaranteed to have something interesting on exhibition, from cutting-edge photography to breathtaking sculpture. If you're a little more interested in relaxing with a strong tea while you get your art fix, visit the
Müzedechanga
at the
Sakip Sabanci Museum
. The restaurant's lush gardens and delicious food, a meshing of fresh, organic small plates and traditional eastern fare, helped it win Wallpaper Magazine's prestigious 'Best New Restaurant Award' in 2007. The Müzedechanga is located in a Scandinavian-themed 'glass box' building, furnished by award winning Turkish design duo, Autoban.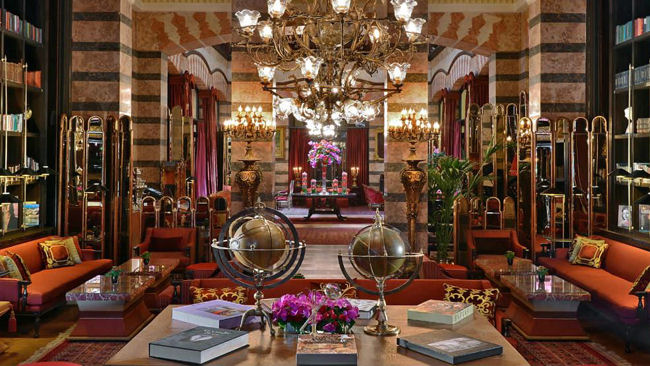 Pera Palace
After a long day of art and sightseeing, we recommend grabbing a drink at
The Pera Palace Hotel
's lavish
Orient Bar
. Founded in 1892, it was once an exotic, sultry watering hole for icons like Ernest Hemingway and Alfred Hitchcock, and today features a comprehensive drink list including fine wines, spirits and cocktails from across the globe. You can also book a room inside Pera Palace, widely known as one of Istanbul's most iconic buildings, which fuses old world glamour with "genuine Turkish hospitality." Its 115 rooms and suites have retained much of the décor and touches of the 19th century, and offers a traditional, 280 square meter Hammam, unparalleled afternoon tea in the opulent Kubbeli Lounge, and a Terrace featuring one of the best spots in the Beyoglu district to relax in the shade with a drink. In addition, the on-premise Patisserie de Pera offers Turkish coffee and cakes throughout the day.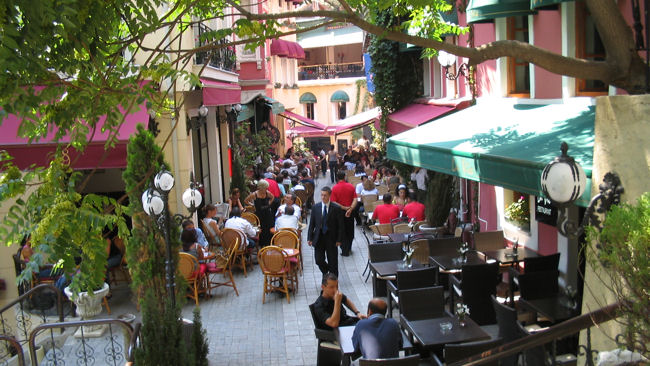 Beyoglu district
For understated glamor, stay at the
X Flats
Pera, located on the same street as the Pera Palace, where the accommodations are more accessible but no less luxurious. Here the décor is a mix of downtown Tribeca loft with Eurasian exotic, and features full balconies overlooking the city and rustic wood detail.
If you are traveling on business, need to set up a meeting, or simply want to mingle with other professionals in an informal setting, nearby is the
Soho House Istanbul
, which offers charmingly refined business meeting areas, a lovely breakfast buffet overlooking the city, and an on-premise "speak easy" style bar built into the inside of what was once the former US Embassy.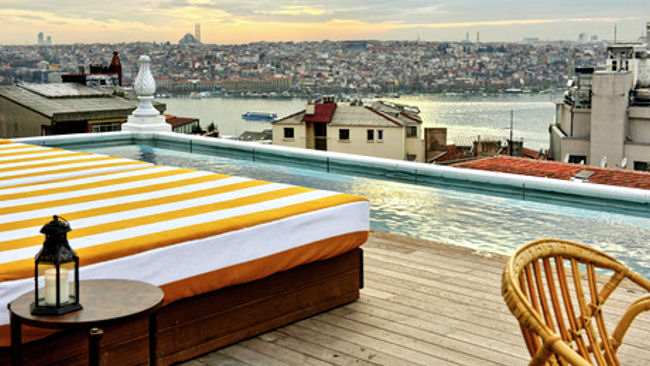 Soho House Istanbul
In need of spiritual rejuvenation? A short walk away is the whirling dervish Sufi educational center and courtyard, the Galata Mevlevi Museum, the oldest whirling dervish hall in Istanbul. Informative, it also provides a leafy and romantic spot to stop and relax. Stay in the area and take a walk down Galata Street, one of the city's bustling arteries, where you can sample fresh-squeezed juices, pick up porcelain and blown glass pieces, and taste the city's famous sautéed stuffed mussels, a rare gourmet street cart delicacy. Those hoping to catch a bit of Istanbul's history can take a tram from the base of Galata across the river to old Istanbul, where heritage locations like the
Blue Mosque
,
Hagia Sofia
, the
Grand Bazaar
, and
Egyptian spice market
are located.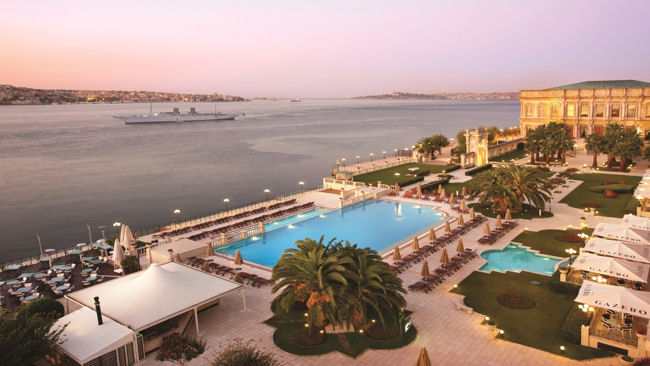 At night, take a romantic trip down the Bosporus with one of the city's many luxury cruises. If you stay at the
Ciragan Palace Kempinski
, where the likes of Bill Clinton and Oprah Winfrey relaxed near the salty sea air, a concierge can arrange a sunset trip on the river that will give you chills. Afterwards, take a light dinner at
Tugra
, the formal dining room in the Cıragan Palace Kempinski hotel, which was a 19th-century royal residence. Tugra has tasteful live music and elegant fare, with a menu that's half traditional Ottoman-palace dishes and half contemporary fusion food. If the Palace is packed, dine at the
Park Flora Ortaköy
, an elegant fish restaurant that serves platters of grilled fish and meze to the tables on its Bosporus terrace. If you're not tired, we recommend the nightclub
Reina
a spacious bar with 5 restaurants and several dance floors. Considered the "pearl of the entertainment world" in Turkey, in the past it's hosted icons like U2, Uma Thurman, Daniel Craig, and Naomi Watts.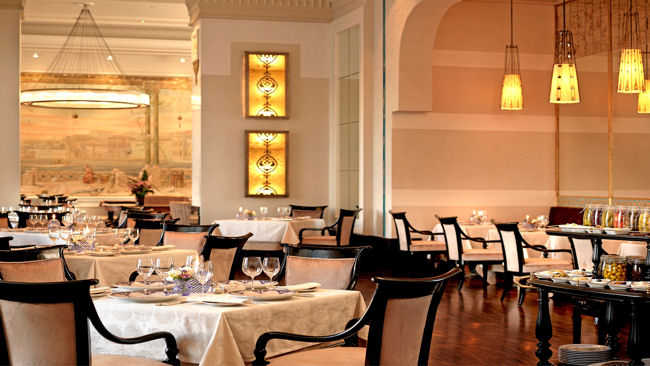 Tugra restaurant
These are just a few of the many, many things you can do in this fascinating city this vacation season. However, we strongly recommend visiting from September to November when the weather is mild and the summer crowds have thinned. Just don't forget to pack your sweet tooth for all of that delightful Turkish taffy.