Today, ordinary vacationers take to cruising in search of a different experience from the endless resort choices. However, back in the golden days of cruising, this type of holiday was far more exclusive, reserved for the well-heeled looking to get away from the crowds and explore hidden coastal gems, whilst enjoying some luxury and the ease of having your hotel suite travel with you. For those still seeking the more exclusive cruise from days of old, an alternative exists in the form of a private yacht charter.
Ok, so typically one might expect it to be prohibitively expensive to charter a private yacht with similar luxuries and facilities of a modern cruise ship (or you might imagine that you could only afford to bob around on a small sail boat, suffering from claustrophobia and sea sickness!) This is where Yacht "KOI" fills a niche….a private yacht which, at only 35 in length, is considered to be a "pocket super yacht" by today's standards, but nonetheless a steel expedition vessel, with incredible interior volume offering the highest level of comfort and luxury. Facilities and equipment are identical to that found aboard the typical modern 40-50m super yacht which can cost up to five times as much to charter.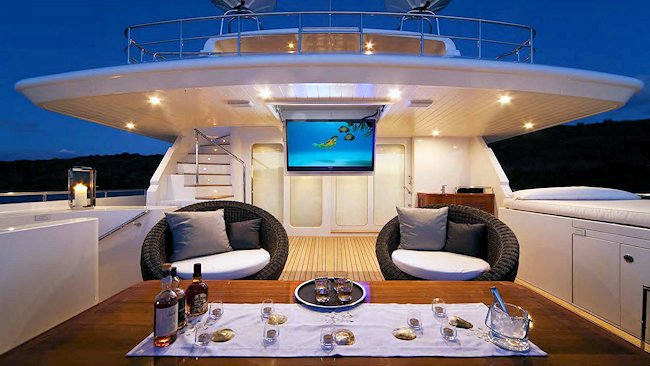 Luxury accommodation for 9 guests aboard KOI is in four very generous en-suite staterooms (including one large triple cabin, ideal for the youngsters). A crew of 7 English professionals are led by captain Will Robinson (formerly of the world famous 75m private sailing yacht MIRABELLA V) who ensure that all the guests receive the highest level of personal service throughout their stay aboard KOI. The chef is ex. Michelin star restaurant, and the dining room features a 300 bottle floor-to-ceiling wine cave.
Outdoors, it is the capacious deck areas, perfect for entertaining that all guest absolutely love…ther is dining for 10 on the sundeck with wet bar, fully cushioned lounging and sun bathing area forward. Down to the Gym deck (which features a fully equipped indoor gym with panoramic views) again you will find fully cushioned seating and sunbathing areas; plus a large drop down TV turns this deck into an open-air cinema! Water sports in endless, from deep sea diving, to high powered custom jet skis, water skiing, wakeboarding, and deep sea fishing… There are two large jet tenders ideal for exploring, or simply to get ashore in style and comfort.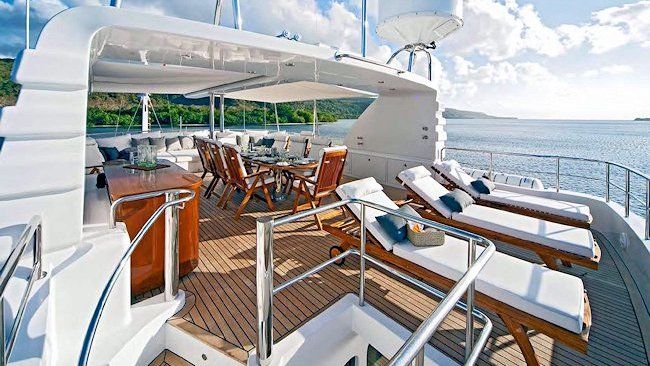 The yacht is steeped in culture - KOI is named after the Koi Carp, considered in Japanese culture to be one of the most exuberant fish, which swims against the flow…The symbolism is intended to reflect the spirit of the yacht, going against the flow and offering something truly unique to its travellers who really do want something totally exclusive. Scattered around the yacht guests will enjoy choice pieces of priceless Japanese art which reinforce the KOI culture.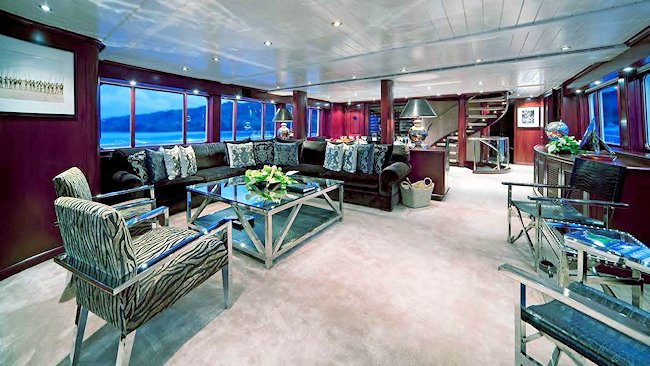 Where can you reach on a yacht of this size? A typical itinerary aboard KOI for a week's cruise might take you from the south of France down to Sicily, whilst stopping off in Elba, Corsica, Sardinia, and the Amalfi coast en-route. Just like a cruise ship, the yacht will sail during the night allowing you to wake in a different port each and every day. The big difference with a private yacht is that YOU get to choose which port! Or if you find a particularly nice restaurant, lively bar, or a beach from heaven, then you can always change your plans at the last minute and stay an extra night! A private yacht gives you the freedom to set your own itinerary.
So, how much does it all cost? By way of comparison, a top end suite on a luxury cruise ship will cost over € 10,000 Euros per cabin (2 guests) so multiplied up that is the equivalent of € 45,000 for 9 guests….For a 40-50m yacht offering similar facilities, one would expect to pay in the region of € 200,000 per week, significantly more…. KOI however is available for only € 75,000 per week, which is definitely worth serious consideration against a luxury cruise ship…the freedom of choice and the exclusive touch is definitely worth the extra.
By Daniel Barber, Director of
AquaCruise Luxury Yacht Charter