In Paul McClean's new book, McClean Design: Creating the Contemporary House, the Irish-born architect takes us behind the scenes of twenty-four of his ultra-modern homes completed in the past fifteen years.
The reader is granted access to McClean's vision for each project, from design strategies to sketches. McClean's stunningly luxurious homes grace every page of this 240-page book, allowing readers to be swept into a world of not only sleek contemporary architecture, but also of lavish features such as champagne vaults, wine cellars, cigar rooms and movie theaters. Follow along McClean's journey to prominence from his Bird Streets home in the Hollywood Hills to the Bel-Air home of Beyoncé and Jay Z. Take note of the spectacular views along the way.
Design is not just a job for Paul McClean. It is a dream realized from his childhood. It is his passion. This is evident in every one of his visionary custom-built residences. His firm's projects reflect an interest in modern living and a desire to connect their clients to the beauty of the surrounding natural environment.
The incorporation of water and the elimination of the barrier between indoors and outdoors are hallmarks of McClean's designs. His firm makes extensive use of glazing systems to maximize views and provide a warm light-filled contemporary space. With his designs, McClean strives for simplicity with expansive views.
He places an emphasis on texture and natural materials with the homes he creates, and his firm is committed to environmentally sustainable design practices.
McClean Design continues to strive for excellence in design and to push the boundaries of imagination in creating extraordinary spaces they hope will provide enjoyment for many years to come. McClean's eponymous firm has become one of the leading contemporary residential design firms in Southern California, with a reach that can be felt as far as British Columbia.
Buy book on Amazon.com: McClean Design: Creating the Contemporary House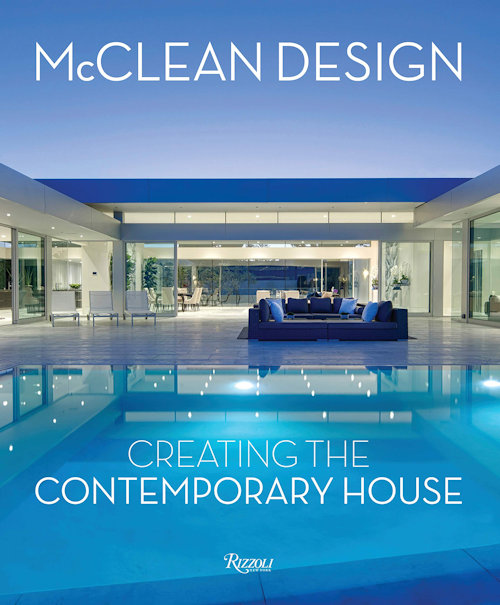 Photos © McClean Design by Philip Jodidio, Rizzoli Electa, 2019.
BOOK SPECS:
McClean Design: Creating the Contemporary House
Written by Philip Jodidio, Contribution by Paul McClean, Foreword by ValerieMulin and Niall McCollough
Hardcover / 9 ½" x 11 ½" / 240 pages / 100 illustrations
$75.00 U.S., $100.00 Canadian, £55.00 U.K.
ISBN: 978-0-8478-6350-1 / Rizzoli Electa / Release date: April 2019