As guests sit in the luxurious Petit Salon sipping various blends of teas and enjoying an assortment of pastries and desserts, it seems like the chaos of the city just outside the hotel's doors is hundreds of miles away. In fact, it is quite a jolt to your system upon returning to the city's streets after 90 minutes of solitude.
Afternoon tea enthusiasts can savor the opening course of delicate homemade finger sandwiches, including smoked salmon on pumpernickel bread, cucumber with a hint of mint and cream cheese spread on olive pan bread, and smoked sturgeon salad with fennel on multi grain bread, while soothing sounds of a harpist who once graced the stage with the Boston Pops fill the acoustically friendly dining room. Eye catching murals of Psyche, the Greek Goddess of The Soul, could not be more appropriate as this is a soulful experience that dates back to 1904 and which has become a very special ritual for generations of families.
Indeed, Afternoon Tea here is a time honored custom that is passed down as an heirloom from one generation to the next. There is perhaps no better Manhattan venue for friends to share some quality time. For an hour or more, guests can actually carry on a conversation while enjoying each other's company. Perhaps because people are craving quality time
together, Afternoon Tea has never been more popular as tea rooms in lavish hotels from Maine to Oregon offer guests brimming cups of black, green, white, oolong, and herbal teas.
Originally a medicine, tea's popularity can be traced to the T'ang Dynasty (618-907 A.D.), when it spread from royalty to clergy to nomads. Not to be confused with High Tea – which is presented around six in the evening and consists of a full dinner – Afternoon Tea is offered mid afternoon as a casual or social activity and is normally served with warm scones and delectable finger sandwiches. Today, innovative chefs often add their own special touch to the fare, providing flavored iced teas with fresh-baked pastries and breads. Health conscious tea lovers will delight in such recipes as applesauce tea loaf, spicy nut-tea stir fry, and tea-steeped prunes. All in all, Afternoon Tea is the perfect sensory combination of textures and
tastes.
Of course, the tea is the star attraction, and tea enthusiasts will find 23 different brands at the St. Regis. Our favorite black teas were the St. Blend, combining Keemun and Ceylon with Blackcurrant and the Essence of Bergamot, and the T Blend, which infuses the best tea characteristics from the four corners of the world. Other tea varities include Pear Tree, a green blend from China perfumed with the essence of freshly plucked ripe pears, Osmanthus Oolong, delicately scented with rare Osmanthus flowers, and Jasmine Pearl, a highly prized white tea that consists of tops buds and leaves only. Tea is served piping hot in individual Sterling Silver tea kettles with matching cream containers and tea strainers on fine china designed exclusively by Tiffany's. To complement the finger food, plain and plum raisin scones, almond pineapple tea cakes, and assorted petits fours are served on a three tier silver stand. Each is baked daily at the hotel. Toppings for the scones include a very creamy English Double Devonshire Cream, lemon curd, and a selection of seasonal
jams.
Whether taking a break from the rigors of shopping or meeting with business colleagues, Afternoon Tea has become a focal point of the day for many people. In fact, the St. Regis has seen it evolve to the point where it has -- in many cases -- replaced the martini lunch. According to the affable maître d', more and more businessmen and women are meeting over Afternoon Tea as opposed to martinis, since this experience allows them to relax and conduct business while talking with a clear head.
A Champagne Tea is also available for those special occasions with a glass of Taittinger, Cuvee Prestige. Want to truly indulge yourself? Caviar Tea with Veuve Clicquot, non vintage, American Caviar, Wild Sturgeon, Lake Trout, Yellowstone River Spoonbill, and served with the traditional garnishes, is offered. Tables can be reserved from 3 to 5 p.m. With an ambiance that includes plush cushioned chairs and a very attentive staff, the St. Regis pampers their guests with a time-honored tradition. However, don't be misled by the lavish exterior. This is not a stuffy experience. On the contrary, Afternoon Tea here is an unencumbered New York City tradition that every visitor to the Big Apple should put on their "must do" list.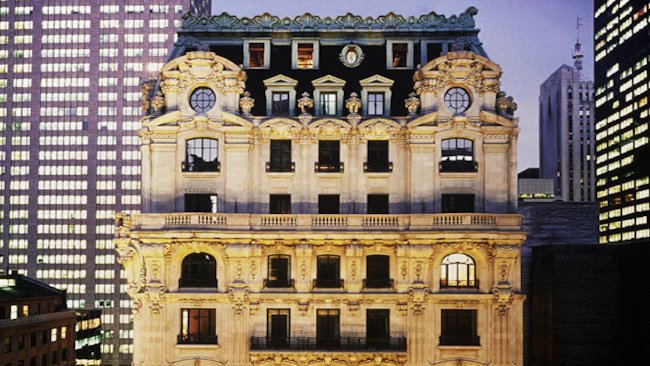 About:
The St. Regis New York