Recognizing the law of supply and demand, luxurious resorts are rolling out the red carpet for tennis lovers. In fact, resorts that once offered guests nothing more than a can of balls and a few hard surfaced courts now provide an array of tennis options. Tennis travelers can choose clay -- and even grass -- courts along with a variety of special tennis packages such as "find a partner" services. Also, "mixed doubles mixers" at resorts have been known to spark a romance or two for the single tennis traveler.
U.S. vacationers don't need to travel to such renowned tennis resorts as La Manga in Spain or the Four Seasons in Nevis in order to experience tennis travel luxury. Numerous North American tennis resorts offer both luxury and superb tennis facilities that are sure to please even the most discerning tennis traveler. Based on a number of factors, including tennis facilities and programs, accommodations, dining, and amenities, Luxury Travel Magazine has named the top five tennis resorts in North America.
This is a fluid list and can surely change from one year to the next. Notably -- perhaps shockingly -- it doesn't include any resorts from the popular tennis states of South Carolina and Florida. When all was said and done, these five luxurious resorts have stood out for the tennis crowd for their overall attention to detail and exquisite environment.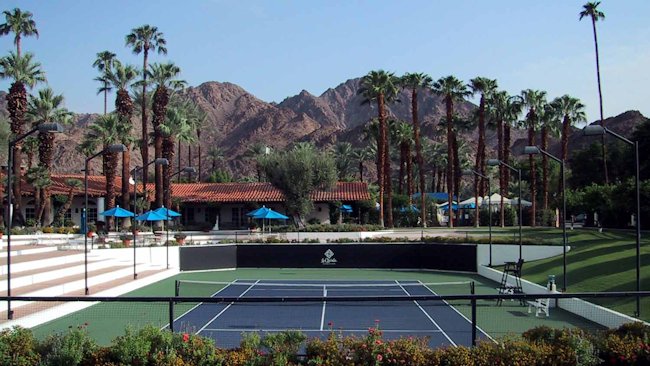 1. La Quinta Resort & Club, La Quinta, California
The term "lap of luxury" immediately comes to mind when one thinks of the La Quinta Resort & Club. Recent accolades came from none other than Rafael Nadal, the superstar tennis pro who played at the resort's BNP Paribas Tennis Open. Nadal raved about the facilities along with the pristine atmosphere of this desert oasis which transports you to a wonderful sense of tranquility. An original desert hideaway at the foot of the spectacular Santa Rosa Mountains, La Quinta Resort & Club has been the personal refuge for Hollywood luminaries and travelers from around the world since 1926. Remarkably secluded and personal, the resort's masterful layout and hand-crafted hacienda style architecture feel all at once like a charming village and a luxury destination. While you could easily spend a week lounging in the sun beside one of 41 pools that sit just steps from your guestroom door, the lush 45-acre resort offers so much more. Tennis is serious business at La Quinta and its 23 courts, which have been graced by some of the top players in the game, feature a mix of hard, grass and clay surfaces. Not too many resorts can boast that claim, and guests have the opportunity to experience the playing surface of all four Grand Slam tennis events. The tennis center is set in the heart of the resort, which is full of flowering pathways, lush landscaping, California citrus trees, colorful year-round gardens and 800 accommodations arranged in single-level Hacienda-style clusters, most within steps of a swimming pool. Tennis is within very easy walking distance of the spa, fitness center, several pools, shopping and resort restaurants.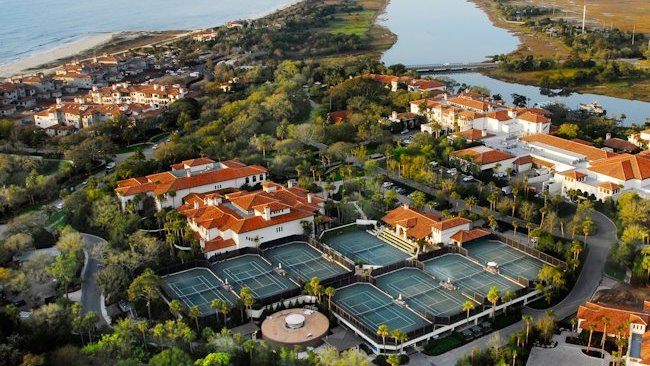 2. Sea Island, Sea Island, Georgia
Sea Island, situated on Georgia's Golden Isles, is a Forbes Five-Star resort that boasts world-class accommodations including The Cloister and The Lodge, a multitude of fine dining options, including the Five-Star Georgian Room, three championship golf courses and a world-class spa. The Cloister at Sea Island -- the grand centerpiece of the resort -- has been defined by legendary elegance since its inception in 1928 and extends into lush, captivating gardens while rising boldly at river's edge. Tennis players will embrace the experience at The Sea Island Tennis Center, which includes The Cloister and Retreat Tennis Centers, as well as eight Har-Tru courts. In addition to your accommodations, the Classic Package combines two daily instructional sessions and court time each day with reduced prices in the Tennis Center shop. USPTA professional instructors provide a full-service program of year-round instruction, which can be customized for skill level, clinics, round robins, and partner matching. The pro shops are filled with the latest equipment, accessories, and active wear fashions. The Platinum Package combines instructional sessions – including private instruction with former pros Murphy or Luke Jensen each day -- with daily personal fitness training, unlimited court time and a $50 resort credit for purchases in the Tennis Center shop.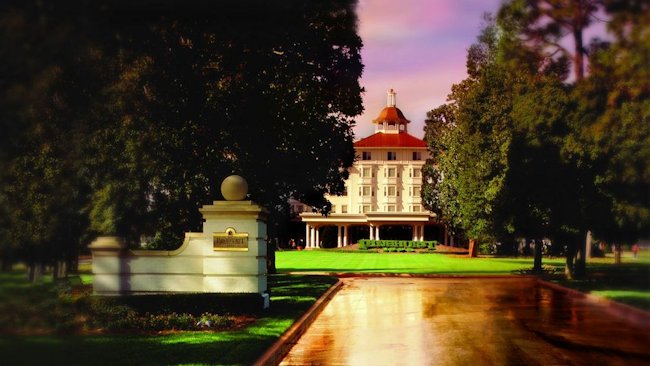 3. Pinehurst Resort, Pinehurst, North Carolina
This renowned southern resort is more than one of the world's top golf retreats, home to eight unique courses. Nestled among the Sandhills of North Carolina, Pinehurst's southern hospitality, elegant accommodations, spa facilities, family recreational activities, and gourmet dining options combine to offer a vacation that's on par with the exclusive resorts of the world. The Pinehurst Tennis campus includes 24 courts (18 clay and 6 hard surface), many open for night play. The tennis center received the prestigious honor of being named the site for the 1994-96 U.S. Clay Court Tournament. Annual tennis events include the USTA Men's Nationals. Equipment, lessons, ball machine and pairing service with a Pinehurst Tennis Club member are available. With over 450 members at the Pinehurst Tennis Club, the tennis staff can always arrange a singles or doubles game for you at your level. Few resorts can provide this quality of pairing service.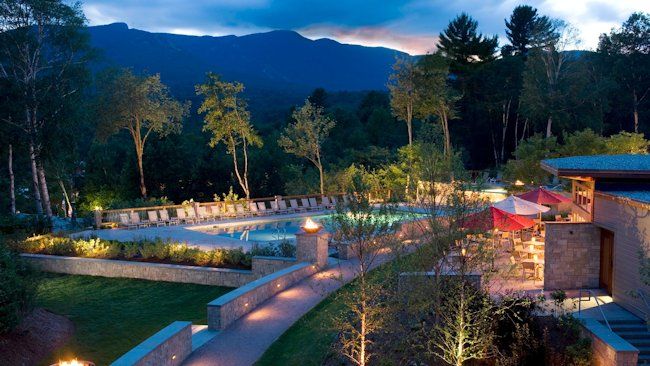 4. Topnotch Resort and Spa, Stowe, Vermont
There are many people, including tennis fans, who are surprised to learn that a "top notch" tennis resort exists in Vermont, home to some of the country's best skiing. An idyllic country retreat set in an awe-inspiring Vermont setting, Topnotch Resort and Spa is a gracious escape where guests experience a tradition of New England luxury resorts, and where hospitality plays front and center. From an extensive tennis menu that satisfies both the competitive and club player, to world class instruction that will propel anyone's game to the next level, Topnotch Resort and Spa is a haven for tennis aficionados. Six seasonal outdoor courts (four Har Tru) and four indoor hard courts, with over 30 programs for all ages and levels of play, ensure that the tennis traveler will be well served. Certified instructors employ the unique Play-to-Win teaching method, and the newly refurbished Tennis Center facilities include cutting-edge technologies like an intelligent ball machine and Dartfish video analysis. All of this takes place in the exhilarating setting of the Green Mountains.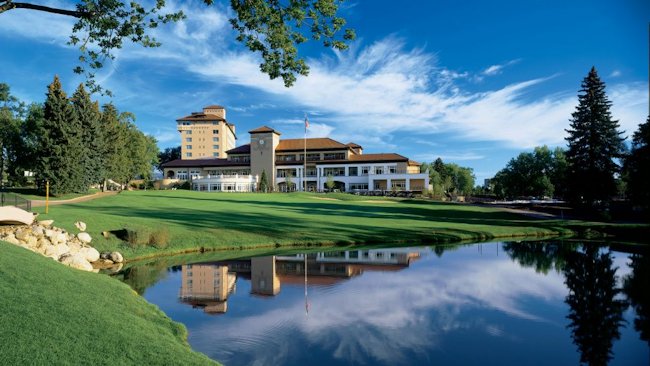 5. The Broadmoor, Colorado Springs, Colorado
Simply put, The Broadmoor is exquisitely elegant. This venerable resort has been at the forefront of timeless luxury since it first opened its doors in 1918. As the longest-running consecutive winner of both the AAA Five-Diamond and Forbes Travel Guide Five-Star awards, the Broadmoor has long offered guests a unique way to experience the beauty of the American West. The resort features six tennis courts, including four new cushioned hard courts and two new Har-Tru courts. Two of the hard courts are covered by an illuminated, heated bubble during the winter months, allowing for year-round enjoyment. Depending upon the season, The Broadmoor's Tennis Staff can help arrange singles, doubles or mixed-doubles matches with players of comparable ability. This is the ideal way to test your skills against players of the same level while meeting new friends who enjoy similar interests. The Broadmoor's professional tennis staff is rated fifth best in the country by Tennis Magazine and offers top-rate instruction for all skill levels and ages of players. Their fundamental teaching philosophy is shared by the entire teaching staff, providing consistency and excellence in all lessons and programs at the famed Colorado Springs resort.