At just over 100 feet, Julia Dorothy is the perfect vessel for cruising around the Bahamas. There's simply no better way to explore deserted islands and crystal clear waters than from the comfort of this luxury yacht with her impeccable charter record.
Start your weeklong escape to paradise in Nassau where you'll meet your energetic and accommodating crew. Your captain is never short of recommendations for secluded swimming holes, hot on-shore destinations, and pristine beaches! And your private chef is always ready to whip up whatever your heart desires.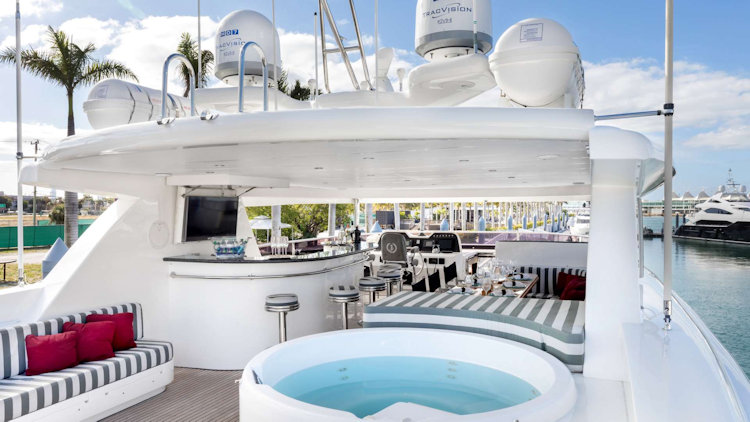 Julia Dorothy features beautiful furnishings throughout and can accommodate up to eight guests in four luxury suites: one king master suite, one queen VIP suite, and two twins.
During the week, you will anchor in some of the region's top spots: Allan Cay with its famous indigenous iguanas, Norman Cay where you can snorkel around a sunken plane wreck, and secluded little islands where you can drop anchor, play on the beach and relax where your footprints are the only ones in the sand.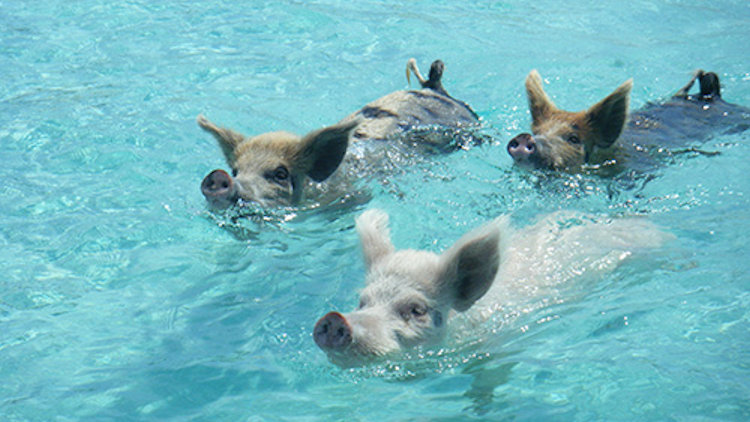 Don't forget about feeding the famous swimming pigs at Big Major Cay, visiting James Bond's Thunderball Grotto, and enjoying cocktails under the stars in your private jacuzzi. If toys are your thing, Julia Dorothy comes fully equipped with wave runners, water slides, paddle boards and more!
There's no official itinerary so if you fall in love with a spot you can stay there all day enjoying food, cocktails, and the sun. Or you can be on to the next place without a moment's notice. You're limited only by the horizon… and your sense of adventure.
Sound like your kind of vacation? The travel ambassadors of OceanScape Yachts are standing by to help you make this dream vacation a reality. Click here to start the booking process.