I was awake yet was, most definitely, in a dream – the SeaDream Yacht to be precise. Cruising along the Amalfi Coast of Italy, heading toward ports I'd only fantasized about, it was a pinch-myself moment. Yes, this was true life. Let the dreaming begin!
Splendidly Spoiled
This year marks the 15th anniversary of the SeaDream Yacht Club, whose motto is "It's yachting, not cruising." That it is. Vive La Difference! It's a family owned company, conceived by Norwegian entrepreneur Atle Brynestad with a maximum of 112 guests on board and catered to by an award-winning crew of 95, insuring that you will receive the most incomparable, inclusive service at sea, bar none. The service onboard is comfortably transparent, like the way the bartender knows your name and what you're drinking to the waiter surprising you with your favorite dessert. In fact, Conde Nast Traveler magazine recently ranked SeaDream number one in the category of small ships with a higher score than any other cruise ship regardless of category.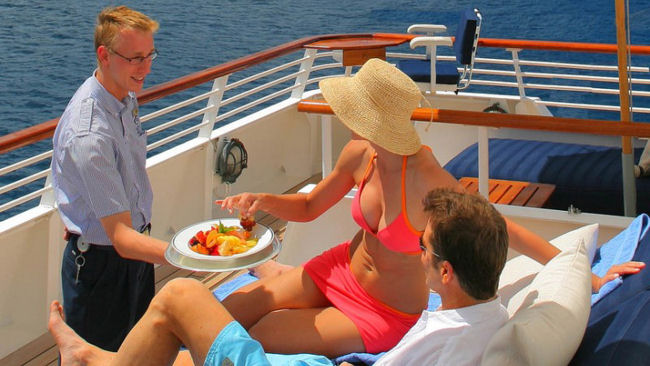 The Great Equalizer
Cruising is my favorite mode of travel, and in that I'm not alone; even the esteemed Sir Francis Drake said "It isn't that life ashore is distasteful, but life at sea is better." Think about it: cruising lets you share a front porch with a billionaire, your view the very same beautiful sea, blue sky and if you're lucky, cavorting porpoises and the occasional leaping whale. The boarding process always puts fluttering butterflies inside me, and being greeted before mounting the gangplank by a handsome crew member proffering a celebratory glass of champagne set exactly the right tone. It just gets better from there when, upon boarding, you step into a festive cocktail party hosted by the Captain.
Window on the World
Every stateroom has a large window with stunning ocean views and the room's color scheme echoes that scene with navy, white and beige. My bathroom was taupe-colored marble, and my bed was dressed in white Belgian linen. There was champagne cooling in a silver bucket, a comfy sofa and a large flat screen TV. On board, the SeaDream has a host of amenities and fun activities. Yoga is offered daily, there's a well-equipped fitness center, and a Thai-themed spa, the only one of its kind at sea.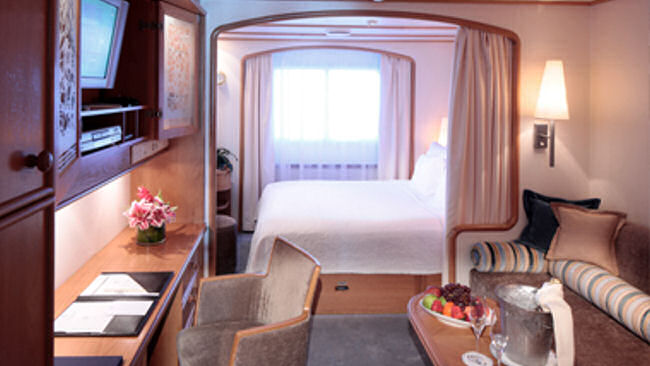 Feeling Friendly
From the moment you rise, dining is going to be a fine gourmet experience. Each morning I looked forward to dining al fresco on the pretty upper deck, and evenings, as I entered the dining room, I was asked if I wished to be alone or if I felt a bit sociable. I usually chose the latter and had the opportunity to meet my attractive and appealing neighbors. After dinner, one typically saunters up to the Top of the Yacht Bar where you're serenaded with favorites by a piano or guitar. When in port, you have a selection of custom-designed land adventures. If you stay on board, a water sports platform can be lowered to avail yourself of many sea toys such as glass bottom kayaks, paddle boards, water skis, tubes and snorkeling gear.
Starry, Starry Night
Another distinctive feature of this yacht is their luxurious on-deck Balinese Dream Beds. Each afternoon, this is where I could be found. I'd raise the bed for an unobstructed view and simply gaze at the sea, a favorite libation close at hand. At night, one has the option of sleeping under the stars on a bed made with a fluffy down comforter and pillows. "Fly me to the moon and let me play among the stars…." Voila: your own private star-studded playground, an oasis of perfect tranquility and an experience like none other.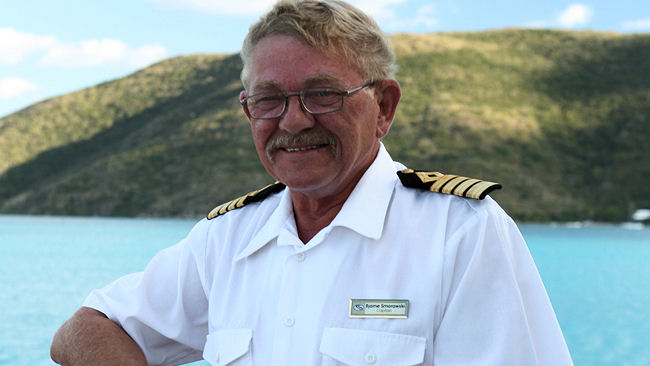 Captain Bjarne Smorawski
Up, Up and Away
In true yachting fashion, SeaDream cruises take you from the Mediterranean, the Black Sea, Northern Europe and the Caribbean to Costa Rica and the Panama Canal, visiting intimate harbors where large vessels cannot go; and the line has now added 17 exceptional voyages throughout Asia. On my cruise, I visited Positano with its Flavio Gioia Square and the Church of Our Lady of the Assumption housing a Byzantine black Madonna with Child. Another port was the mythical island of Sardinia. In Corsica, its rugged mountains and lakes of glass offered breathtaking photo ops. From Amalfi's harbor, a car took us up narrow, twisting and winding, white-knuckle roads to Ravello, one of the most famous spots on the Amalfi Coast and home in the past to Greta Garbo, Gore Vidal and D.H. Lawrence. Romantic Sorrento offered a high-point lookout where one could spy the ruins of Pompeii. Finally, one day a crew member sang out: "Here comes Capri!" Now I ask you, can there ever be a happier, more thrill-producing call?
John Steinbeck once said "The Amalfi Coast bites deep. It is a dream place that isn't quite real when you are there and becomes beckoningly real after you have left." One can say the very same of the SeaDream Yacht. Aboard, the experience seems not quite real but once you've debarked, its siren call of style, quality and casual perfection beckons you back – again and again.
Visit website:
www.SeaDream.com
All images courtesy of SeaDream Yacht Club