On the first Thursday of each month, La Bauhinia will present a special five-course vegetable-focused menu and invite one of the hotel's exceptional French market purveyors to meet with diners. To further enhance the evening, La Bauhinia will be transformed by a nature-inspired decor and a DJ will create a celebratory atmosphere.
A 100% Green menu
Shangri-La Hotel, Paris Executive Chef Christophe Moret has been cultivating his nature-driven cuisine since his arrival at the hotel in January 2015. As the grandson of a market gardener, it was natural for him to imagine a "Rooted in Nature" menu that placed vegetables at the forefront without sacrificing taste and pleasure. Guided by values that are dear to his heart – freshness, local, transparent, and ethical – the chef will create each Thursday a different green menu full of vibrant and complex flavours such as Tomato Bloody Mary and Spring Rolls made from watermelon stuffed with soup herbs; Kasha and Green Vegetables En Cocotte with almond milk; Turnips and Red Beetroots roasted in a wood-burning oven and Tofu Ravioli with borsch vinaigrette; Strawberries scented with Sangria, and coconut and lime sorbet. Guests can also enjoy market-driven dishes daily on the a la carte menu at La Bauhinia.
Special drinks and cocktails
To accompany this unique menu, Head Sommelier Cédric Maupoint has chosen wines produced through biodynamic agriculture, specific teas, coffees and non-roasted cocoa beans, all hand-picked and distributed through fair-trade channels. Even the choice of sugar has been carefully considered, with Panela produced from organic sugar cane, agave syrup and coconut sugar.
The cocktail menu receives an energy boost with the addition of a shot of cucumber, kale, celery and ginger juice.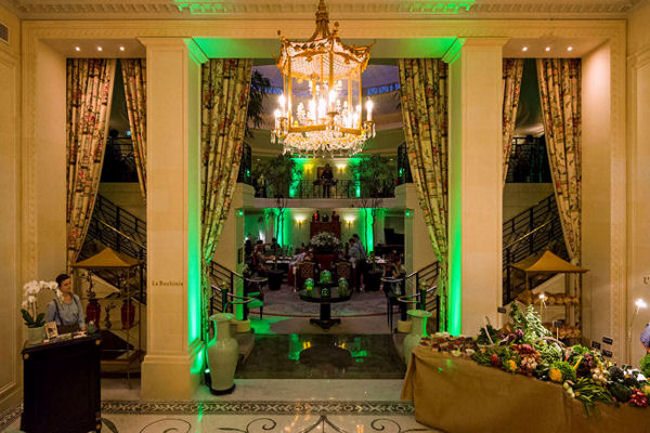 Photo credit ©Roméo Balancourt
Special rendez-vous every first Thursday of the month
Sharing this wish to promote terroir products in a new way, Shangri-La Hotel, Paris' suppliers will join these celebratory events to meet La Bauhinia's customers. Every first Thursday of the month, a market gardener, wine grower or farmer will explain his approach and how the seasons affect his work while also learning about the preferences and tastes of La Bauhinia's diners. By creating an opportunity for dialogue between the farmers, the chefs, and the restaurant's patrons, Chef Moret hopes to highlight the extraordinary quality, variety and taste of France's vegetables, fruits, and flowers.
Green Dinners at Shangri-La Hotel, Paris will be served every first Thursday of the month. A five-course menu is priced at €68, excluding drinks.
Upcoming dates are Thursday, 9 July, and then the first Thursday of each month from September to December.
Visit website:
www.shangri-la.com/Paris
Top Photo credit ©Roméo Balancourt