Two new discreet luxury retreats are offering just that, and are helping to redefine the philosophy that 'Privacy is the New Luxury'.
Located less than 200 kilometres apart in the Gulf of Thailand, Soneva Kiri, in Koh Kood, Thailand and Alila Villas Koh Russey in Cambodia represent two of the best examples of private island luxury lifestyle, both within a three-hour flight from Hong Kong, and are being introduced at the CBRE Luxury Resort Property Exhibitionin Hong Kong from November 30 - December 1, 2013.
Two different design concepts developed for a luxury property investment opportunity, in two of Southeast Asia's most stunning destinations; combining discreet, idyllic tropical surroundings with innovative design, a sustainable luxury lifestyle, attractive returns, and long-term value growth.
BAREFOOT LUXURY ON AN UNSPOILED THAI ISLAND PARADISE
Soneva Kiri
Eva and Sonu Shivdasani require little introduction as the founders of Soneva Kiri, where 34 vast private homes remain for sale in this resort - voted 'Best Development' in the Thailand Property Awards 2011 – and prices start at US$ 1.33 M for a one-bedroom pool villa and up to US$ 15M for a six-bedroom villa.
Since developing Soneva Fushi, the first 'castaway' resort as well as their home in the Maldives in 1995, their intensely personal vision of locally crafted, environmentally responsible lifestyle formed the basis of a successful collection of world-class resorts and spas. They pioneered the trend for back-to-nature luxury resorts.
Koh Kood, an unspoilt island to the east of the Gulf of Thailand, is a destination with few equals; perfect beaches, a lush tropical landscape, dramatic waterfalls and crystal clear waters. Soneva Kiri is the perfect hideaway on this unspoiled island 20 minutes by boat from Koh Chang Marine National Park.
And the Soneva Private Residences represent the ultimate expression of the signature experience and style for which Soneva has become world renowned; understated design and luxuriously spacious accommodation, uncompromising quality and service, and environmental sensitivity.
Built with materials from sustainable sources, they tread lightly on the earth by applying construction techniques that are adapted to preserve the integrity of the environment and local communities that surround them, remaining true to the Soneva values of SLOW LIFE (Sustainable, Local, Organic, Wellness, Learning, Inspiring, Fun, Experiences) and the brand mission of Intelligent Luxury.
Substantial in size, the villas occupy a built-up area of up to 840 sqm, on up to 6,250 sqm of land to ensure privacy. Purchasers can choose between one to six-bedroom Beach, Hill, or Cliff villas, for which each individual site has been selected with great care to combine seclusion and panoramic sea views, all with easy access to the resort's facilities.
With abundant natural light amid verdant foliage, the villas comprise detached living areas joined by walkways. The sumptuous accommodation includes a master bedroom suite, guest suites, dining, seating and relaxation areas, steam room, spa suite, gym, pool (some with water slides), and spacious bathrooms with indoor and outdoor showers. Bose sound systems are installed throughout and subtly hidden, while plasma screens are discreetly hidden in leather trunks at the bottom of king size beds. State-of-the-art technology provides efficient communication.
Each villa is fully serviced, including a 24/7 Mr./Ms Friday butler service.
Villa owners benefit from the resort's services and amenities, which include a world-class spa, state-of-the-art gym, a myriad of water sports, and top quality restaurants. Electric buggies and bicycles are the mode of transport within the resort, which is landscaped with pathways lined with palm trees, lemon grass and local fauna right down to the pristine beach.
Discounted transfers to and from Soneva Kiri are by the resort's private aircraft, just an hour's flight from Bangkok to an island that feels like the Thailand of a bygone era.
David Simister, Chairman CBRE Thailand and Cambodia comments: "Soneva Kiri is undiscovered Thailand, Ancient Siam as it should be. Amid 150 acres of untouched tropical rainforest fringed with pristine beaches and enchanting mangroves, Soneva Kiri is, quite simply, the ultimate Thai escape and barefoot luxury at its best".
A managed rental scheme means owners can earn income when not in residence, so the villa could prove to be a tax-efficient long term investment with no capital gains or acquisition tax.
With secured property ownership laws and a growing residential market, overseas purchasers can invest with even greater confidence and benefit from the lifestyle associated with it. These benefits begin the moment owners disembark at Bangkok International Airport, greeted by Soneva Kiri's private airport representative, and escorted to the First Class Lounge to refresh and relax while customs facilities are taken care of. Owners or guests then board the private transfer to Koh Mai Si, Thailand's only private resort airport, to be greeted with a smile by their Mr./Ms. Friday.
"With attractive returns, in addition to a range of owners' privileges, Soneva Kiri has already sold over 15 private residential villas", added CBRE's Mr Simister.
Villa owners also benefit from a 20% discount on all resort facilities and services, as well as membership of the Soneva Club, its exclusive global private members only club.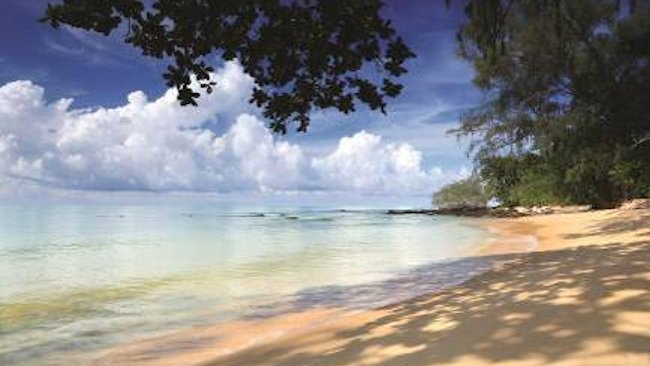 Koh Russey
CAMBODIA'S FIRST PRIVATE ISLAND BRANDED RESIDENCES
Alila Villas Koh Russey
Alila, voted the coolest hotel brand since 2011 and rated in the top 40 global luxury brands in 2012, will be making its foray into Cambodia with Alila Villas Koh Russey. Having pioneered lifestyle investment projects with its crafted luxury branding for Alila Villas in Bali, its Villa Residences are home to the rich and famous. Both its Alila Villas projects in Bali have sold-out since it was first launched in the market.
Cambodia's resort market only opened three years ago with the launch of Song Saa Private Island, a 45-minute boat ride from Sihanoukville in Asia's newest tropical destination. The original villas launched in 2010 were sold out and prices doubled from launch to completion.
Now with the first luxury branded resort residences on Koh Russey under development, less than 25 minutes to Sihanoukville Airport and 15 minutes by speedboat from the Cambodia Coast/Sihanoukville town, this pristine private island on the deserted coastal archipelago is primed to be the next most sought after investment.
Framed by the emerald waters of the Gulf of Thailand, Alila Villas Koh Russey offers a rare and unparalleled location for an exclusive lifestyle experience, uniquely positioned as the only internationally branded resort and villa development along this coastline in the heart of the new Cambodian Riviera.
Managed by Alila Hotels & Resorts, this exclusive island development will feature 48 hotel suites, and a range of one, two- and four-bedroom pool villas for private ownership where owners can enjoy usage of their properties and maximise the rental income potential through a professionally managed rental programme operated by Alila.
Prices start from US$480,000 one-bedroom pool villas of 116 sqm, rising to US$770,000 for two-bedroom pool villas (209 sqm) and four-bedroom pool villas (620 sqm) at US$2 million. Additional two-bedroom duplex units (156 sqm) will be launched at a later stage, from US$480,000.
In a spectacular location amid Cambodia's Koh Rong archipelago, the island paradise is a haven of tranquillity, embracing powder sand beaches, tropical forests, pristine bays, and dramatic headlands.
The development occupies an expansive 25 hectares, nestled between the Western Cape and a 2-km long bay, south of the island, assuring magnificent vistas and absolute privacy for residents and guests.
The master plan by renowned Singaporean architect Chioh-Hui Goh of Studiogoto is for a low-density villa community incorporating design elements sensitive to the Khmer Culture. With its adherence to Alila's 'Environs' sustainability policy, Chioh-Hui's architecture will similarly adopt the principles of Earthcheck's benchmarking and certification criteria to minimise impact on the environment.
Chioh-Hui Goh , Principal Architect of Studiogoto states: "When you design for a destination, it is important to understand its geography, history, and culture - not to mimic, but to interpret with an architecture that enhances the essence and contextual relevance and yet remain timeless".
Each villa features 75% of open space with terraces, a private pool, and garden. Considerable attention has been given to the location and aspect of each villa, maximising vistas and privacy with landscaped breaks between them.
The villas offer the luxury of private open space, with land plots ranging from 400 sqm to 3,500 sqm for the four-bedroom villas.
The entire hotel and villa project has a low building density of only 15% to total site utility, resulting in an abundance of natural and landscaped green space, which underlines the ecological credentials of the development.
"Alila Villas Koh Russey offers a rare opportunity to own one of the most beautiful residences imaginable, with timeless, ecological design, influenced by the Khmer culture and professionally managed by a well respected hospitality brand", says David Simister, Chairman CBRE Thailand and Cambodia.
"The partnership with Alila Hotels & Resorts ensures that owners maximise their rental income potential, whilst enjoying the personal use of their villas. Obviously, renting attracts highest returns in peak holiday seasons".
The two-bedroom pool villas embrace space and tropical resort living with over 200 sqm of built area in a 720 sqm land plot, enjoying stunning ocean and cape vistas, whilst the four-bedroom pool villas afford generous indoor and outdoor living areas set in over 600 sqm. Designed to accommodate families and guests, each of the villas feature a large living area, contemporary kitchen, sumptuous master bedroom, three guest bedrooms and an expansive outdoor terrace and pool area. Surrounding landscaping ranges from 1,800 to 3,500 sqm, with each villa orientated to capture the stunning land and ocean scapes. These Residences at Alila Villas Koh Russey compare to the best of Phuket and Bali, at a fraction of those prices.
Ownership of the two-bedroom and four-bedroom villas offers the flexibility to tailor for personal use and rental of the property, while benefiting from a range of à la carte hospitality services from Alila Villas Koh Russey.
Backed by an award-winning design team of architects, designers and artisans, Alila Villas is designed, built and operated to EarthCheck standards, integrating the natural, physical and cultural elements of the enviroCityStar concept.
"Alila Villas represent a new generation of ultra-luxurious yet sustainable developments in some of the most spectacular locations, set apart by an unprecedented level of private space, design and architecture, personalised hospitality and destination experiences", concludes Mr Simister of CBRE.
"It is a unique opportunity for those wanting to secure a 'first in market' investment opportunity, with access to world-class facilities in a spectacular location, and benefit from the peace of mind of a professionally managed rental programme".