Much like the company's chartered luxury cruise ships, the Golden Eagle passenger train, which hosts all five of the excursions, allows guests to unpack just once and enjoy an ever-changing view out their window. The train features state-of-the-art amenities, including remote-controlled heating and air conditioning, en suite bathrooms and beautiful restaurant cars with meals prepared by the train's executive chef. The Golden Eagle's first-class service also includes a personal cabin attendant available at all times.
"These incredibly-designed itineraries are a wonderful mix of history and culture and they take you to places where infrastructure is lacking, making them difficult to reach by other means," says Barbara Banks, director of marketing and new trip development for Wilderness Travel. "This is literally a rolling hotel room that opens up the doors to East in ultimate luxury."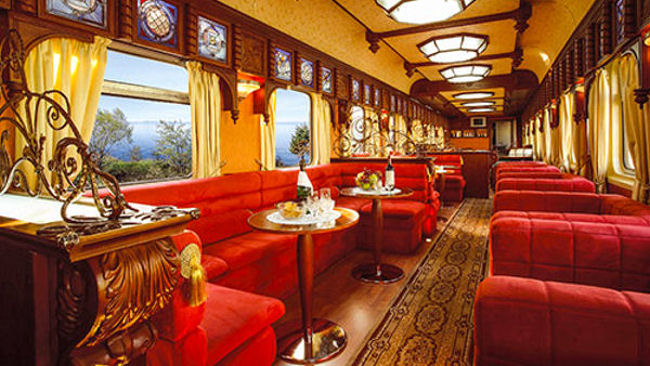 The Cruise by Rail journeys include:
A Taste of the Silk Road
, 13 days
Retrace the Silk Road, an ancient trading route, from Moscow through the "Stans" -- Kazakhstan, Uzbekistan and Turkmenistan -- exploring both ancient and modern sites. The trip includes talks on the history of the Silk Road, opportunities to explore World Heritage Sites, a visit to a burning gas crater known to locals as the "Door to Hell," a cable car ride with views of the Tien Shan Mountains, as well as plentiful palaces, museums and cathedrals. Pricing starts at $16,995 per person double occupancy with departures Sep. 22 and Oct. 4, 2017.
Caspian Odyssey
, 16 days
Journey through six countries along the Caspian Sea, including Armenia, Georgia, Azerbaijan, Turkmenistan, Uzbekistan and Kazakhstan on this 16-day train ride. Guests will stop at various Silk Road outposts, enjoy a performance of Georgian polyphonic singing, discover prehistoric rock engravings in Azerbaijan and explore a monastery with churches and tombs cut out of rock. Pricing starts at $21,495 per person double occupancy with one departure Oct. 17, 2017.
Trans-Siberian Express
, 15 days
Take the famous journey along the Trans-Siberian Railway, cutting across Russia from east to west aboard the Golden Eagle, exploring the country's jewels of art, music, architecture and cuisine. Highlights of this classic trip include time to explore Moscow, a private concert of opera singer Feodor Chaliapin's music in Kazan, traversing the Ural Mountains, an opportunity to put one foot in Asia and one in Europe, a day in Mongolia and visits to Lenin Square, the "Paris of Siberia," and the deepest lake in the world. Pricing starts at $15,895 per person double occupancy with one departure each in May, June, July and August.
Sicilian Odyssey
, 12 days
Discover the ruins of Pompeii, the romance of Venice and the hidden jewel of Cremona on this train trip that starts at the top of Italy, passes through the toe of "the boot" and ends on the island of Sicily. Take in the sights of Italy's coast, Mt. Etna and rolling countryside via the train car window with daily jaunts through picturesque towns like Bologna, Rimini and Palermo. The trip is filled with Italy's classic cuisine from olive oil tastings to the country's famous Torta Tre Monti, or "Cake of the Three Towers." Pricing starts at $12495 per person double occupancy with one departure date on September 14.