It's hard to know where to start when listing why the Ladera Resort on the island of St. Lucia captures your heart. Do you mention the international hospitality awards, the engaging staff, or do you gush about this luxury resort's rarified architectural approach?
Perhaps you look back on Ladera's historic opening in 1992. Or do you share how guests are delighted with the exquisite handcrafted woodwork in their suites? Maybe you state how Ladera's restaurant offers locally sourced cooking and delivers dramatic views of St. Lucia's main drawing card, The Pitons.
Then again, there's the serenity of walking in the resort's gardens that makes you feel like you're in paradise. Should you tell the world about Ladera's latest amenity, and what will become St. Lucia's most grand spa? We'll need to start somewhere, so why not begin with Ladera's best of the best…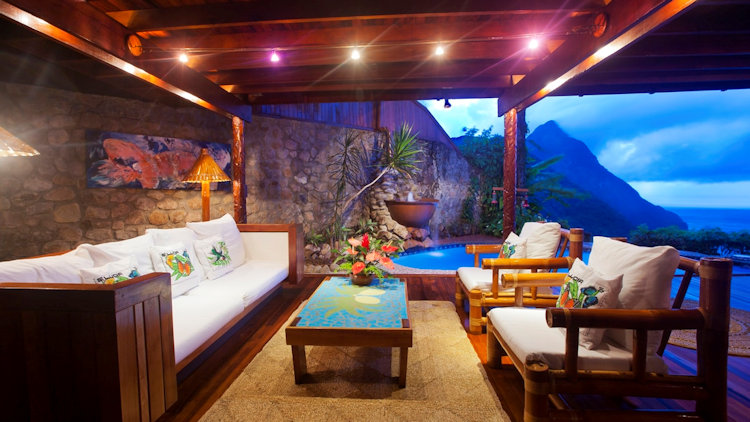 Ladera's Three-Walled Accommodations
Yes, you read correctly. What makes Ladera famous and what thrills their legion of guests is their three-walled suites.
Not only is your fourth wall exposed to nature, Ladera's open concept is heightened by a private plunge pool and your bedroom's amazing views of The Pitons. This setting and what guests experience is so unique, Ladera is the only hotel in St. Lucia located on a Unesco World Heritage site.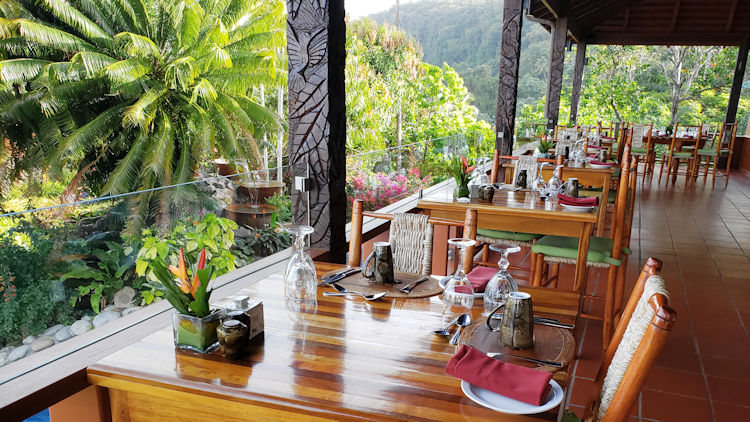 Dasheene Restaurant – Great Food, Even Better Views
For over 20 years, Chef Nigel Mitchell has treated Ladera guests to delicious St. Lucia farm to table cuisine. The Ladera property grows much of what guests enjoy on the Dasheene menu including the many fruits, vegetables, and herbs, as well as homemade breads, pastas, and ice cream. Sea food lovers also choose Dasheene for its fresh catch of the day provided by local fishermen.
Authentic Interiors – Wood, Tile, and Atmosphere
Ladera's team of 140 employees bring something extra to your Caribbean guest experience. Ladera's 37 suites all feature hand-carved wooden doors, cabinetry, tables, chairs, swings, and four-poster beds. Guests so love their authentic interiors, Ladera receives requests to export these wood items back home. The tile in the flooring, showers, and pool areas is also designed and created by Ladera staffers.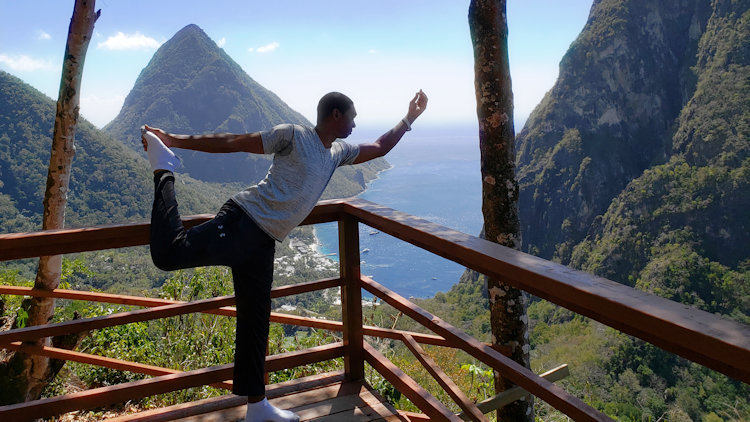 Getting Fit with a View
Whether you're working out in the gym, or participating in morning yoga, expect to be inspired by amazing views of the Pitons and Caribbean Sea. The Pitons are never out of sight or mind when vacationing at Ladera.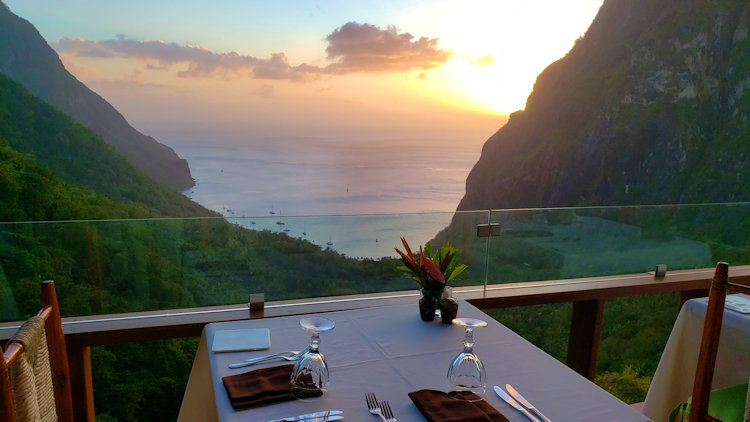 Sunsets at Happy Hour
Happy hour means glorious sunsets at Ladera Resort. Guests gather at either the Dasheene Restaurant, the infinity pool, or in the privacy of their spacious suite.
With your favorite cocktail in hand, witnessing a sunset flanked by the 2,400-foot Pitons is an unforgettable memory.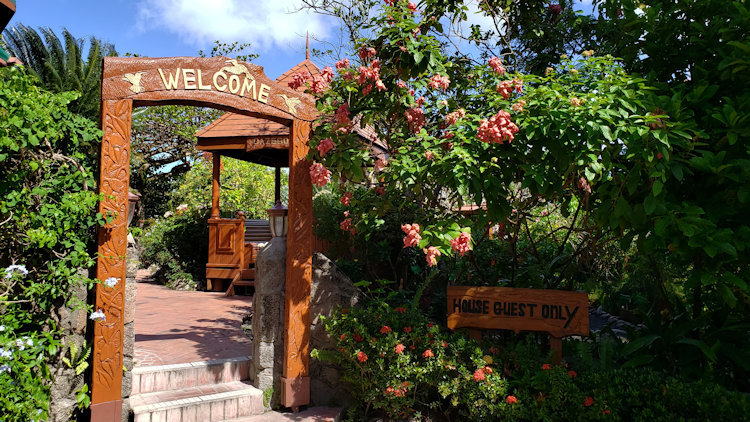 A Walk Through the Tropical Gardens
Ray, Ladera's long-time Master Gardener, has created an oasis within Ladera's 15-acre property. Ladera is a haven for hummingbirds, and you'll discover a rainbow of flowers, and exotic plants.
The gardens also grow bananas, mangos, pineapples, starfruits, vegetables and herbs featured in the Dasheene Restaurant's homegrown menu. Ray is honored to take guests on a tour along the tiled walkway that shows off his colorful gardens.
A Walk to the Top of the World
Eustace, Ladera's longest-tenured employee, carved out a nature trail that leads guests to 1,100-foot elevation and another amazing view of The Pitons and Caribbean Sea.
This vantage point is also home to Ladera's two picturesque yoga platforms.
At night, Ladera's clear sky comes alive with stars and the moon. To take advantage of their amazing evening setting, Ladera will soon include a telescope conservatory.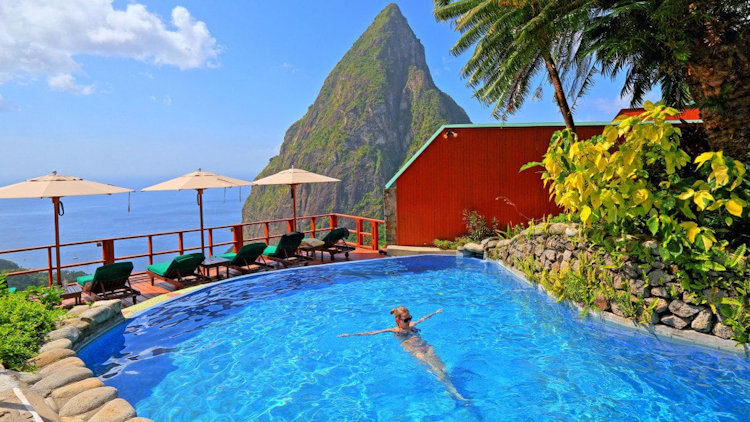 Indulge at the Spa
Never one to rest on their laurels, Ladera always has something new on the horizon. Ladera's latest addition is a 3,500-foot spa. Guests will thrill to an environment of waterfalls, stonework, wood carvings, and bamboo. Spa services will include massage treatments, manicures, pedicures, steam room, sauna, and swim-up bar.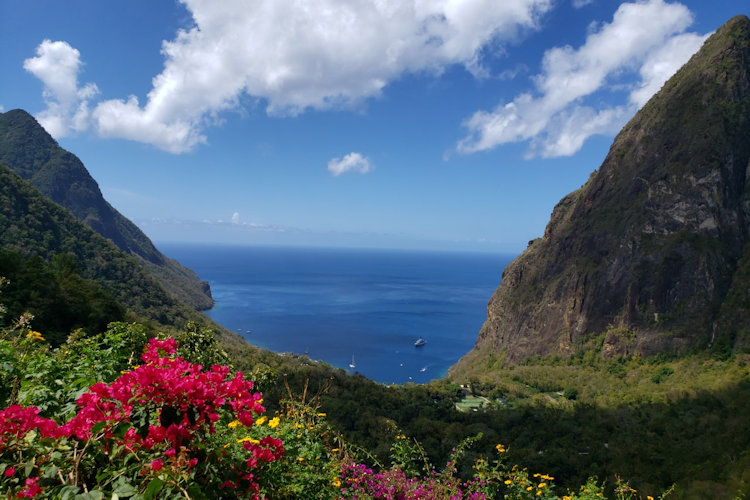 Experience St. Lucia
The Ladera concierge team is happy to arrange your choice of excursions throughout beautiful St. Lucia. Choose from catamaran rides, mud baths, zipline adventures, fishing tours, and snorkeling.
365 Days of Romantic Luxury
If you were to ask a Ladera employee to describe their resort in just three words, you'd hear, "A romantic paradise."
Ladera's dramatic suites, epic views, quiet environment, and connection with nature make these three words the perfect description for sharing your St. Lucia resort experience.
10 Best and One More Thing
Once you've viewed the Pitons from your three-walled luxury suite, you may not want to leave. For those wishing to savor every precious moment from within your one-of-a-kind three walled suite, it's good to know that Ladera offers 24-hour room service.