Here,
The Good Hotel Guide
reviews ten hotels from their collection of
Amalfi Coast hotels
that will take your breath away – not only because of the views (although they all have them) but because they offer something more: often family owned and run for generations, they all have a history as well as elegant rooms and superlative customer service.
1.
Le Sirenuse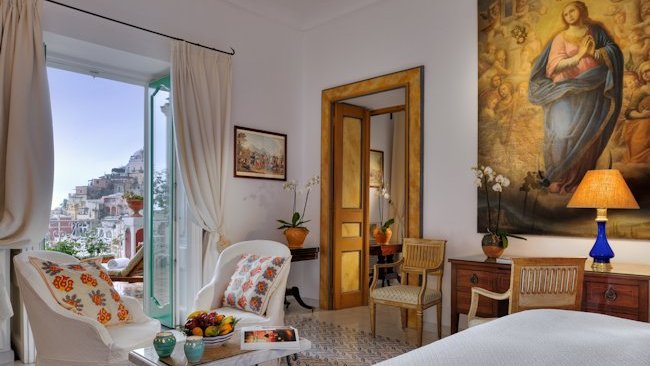 © Le Sirenuse
An 18th century palazzo belonging to the Sersale family,
Le Sirenuse
was turned into a hotel in 1951 and has built up a reputation for traditional, refined luxury ever since. Suites at the top afford the best views, but most of the rooms have dazzling views of Positano Bay (avoid the courtyard ones that don't). They are elegant and spacious, with Vietri tiles, antique furniture, vaulted ceilings and shuttered French doors opening out onto balconies. A lift takes guests down to the swimming pool, complete with sun loungers, a terrace for lunch overlooking the sea, and the Michelin-starred restaurant, candlelit at night. Another terrace features a champagne and oyster bar. An Aveda spa and complimentary boat trips are offered.
2.
Belmond Hotel Caruso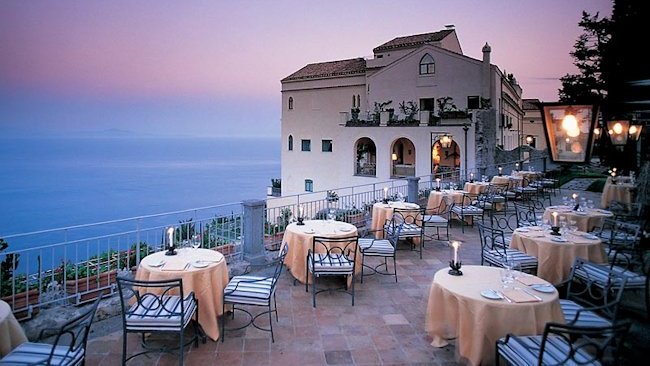 © Belmond Hotel Caruso
A palazzo was first built here in the 11th century, and the present palace, dating from 1600, retains original architectural details such as vaulted ceilings and ancient walls.
Belmond Hotel Caruso
is said to be one of the most expensive hotels on the Amalfi Coast, and it's not hard to see why: service is impeccable, and the elegant rooms feature classic Italian furniture, hand-painted majolica floor tiles, marble bathrooms and private terraces offering views of Ravello town, the hotel's lush gardens, or the sea. Suites have panoramic terraces, private gardens and private dining areas. The real jewel in the hotel's crown, however, is the infinity pool: set at the highest point on Ravello, the water's edge merges almost seamlessly with the horizon.  
3.
Villa Brunella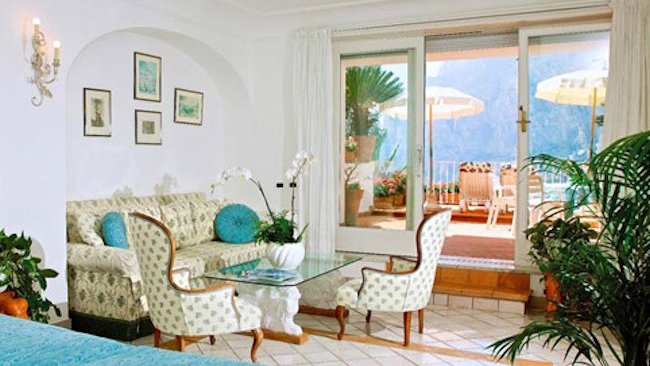 © Villa Brunella
Owned and run by the Ruggiero family, the
Villa Brunella
on Capri is built on a series of terraces cascading down a steep hillside and ending with a swimming pool and sundeck surrounded by flower-filled gardens. You'll need to climb lots of steps, but the views make it worthwhile. Bedrooms are decorated in traditional Amalfi style, with pretty bedspreads, lots of plants, marble bathrooms and private balconies or patios; the junior suites, on the top level of the hotel, have the best views. There's a restaurant with views on three sides, and the food here is almost as perfect as the sunset.  
4.
Monastero Santa Rosa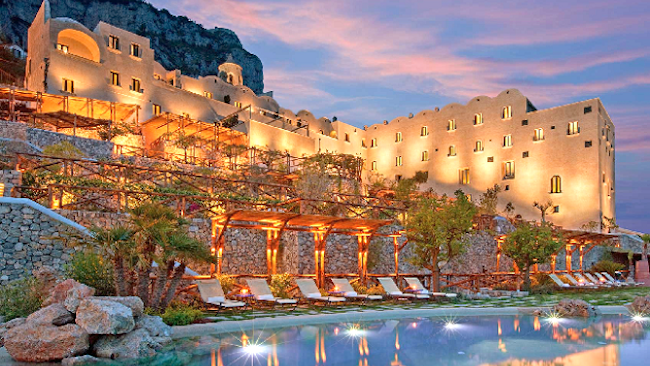 © Monastero Santa Rosa
A 17th-century monastery has been painstakingly restored to form
Monastero Santa Rosa
, an exclusive hideaway with only 20 rooms in the fishing village of Conca dei Marini. Four levels of terraced gardens with sun loungers offer secluded corners to relax in, and the infinity pool at the bottom level has spectacular panoramic views. Rooms still are furnished with timeless Italian antiques; they all have sea views. The Rosa suite has a curved staircase leading to a loft sleeping area and large balcony. Guests can dine in a classic formal dining room or on a terrace; an a la carte menu is available but personalized dining options can be arranged. A library, bar and full service spa complete the amenities. 
5.
Palazzo Avino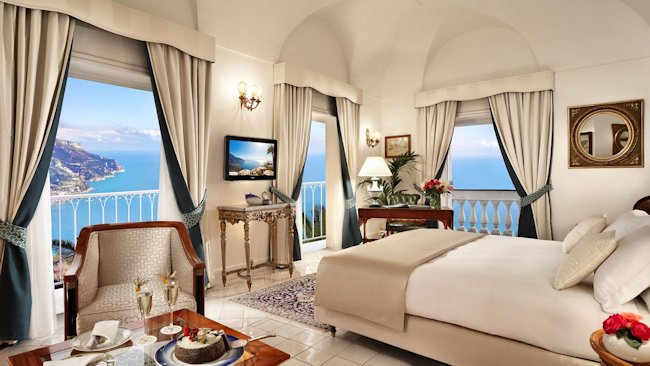 © Palazzo Avino
Originally built in the 12th century in the aristocratic quarter of Ravello, this medieval baroque-style villa opened as the luxury
Palazzo Avino
in 1997 and has been gaining accolades ever since. The stylish rooms are furnished with genuine antiques and most have sea views. Dining options are varied: there's a formal restaurant for dinner, a casual terrace restaurant offering light meals, a piano bar with comfortable lounge seating and a decadent lobster and martini bar. This hotel really is all about the views: even the gym and solarium have them, and the swimming pool has an underwater window offering an ocean vista. There are also beautiful flower-filled gardens to relax in.
6.
Palazzo Murat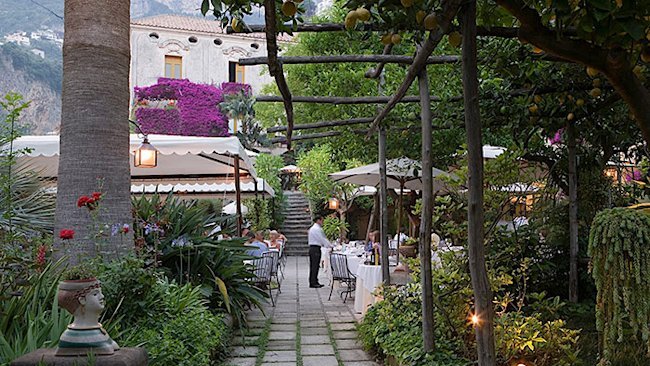 © Hotel Palazzo Murat
Originally a 17th century palazzo chosen as a summer residence by the King of Naples in 1808, the
Palazzo Murat
has been in the Attanasio family for three generations. A highlight of this peaceful hotel is the restaurant, set in botanical gardens with rare plants and scented flowers. Rooms in a modern annexe have terraces, antique furnishings and traditional ornate headboards; deluxe rooms in the original palazzo have four-poster beds and wrought-iron balconies but side views of the sea. The restaurant uses produce from the hotel's own garden, and marmalade made from the orange trees is served at breakfast. There's also a pool, a cocktail bar and the use of a boat.
7.
Hotel Marincanto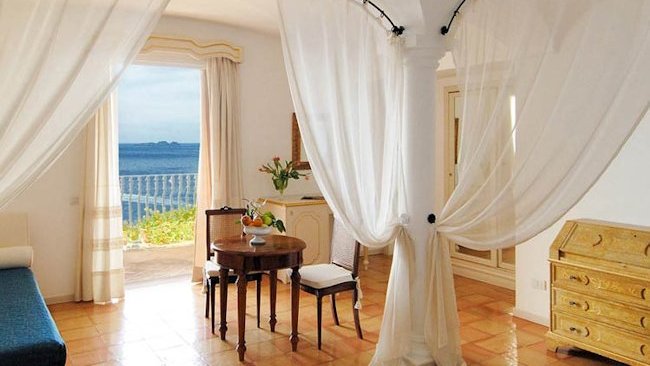 © Hotel Marincanto
Founded by Giuseppe Vespoli, at one time the mayor of Positano,
Hotel Marincanto
is now run by his grandchildren. The hotel's many terraces and expansive lounges have views out onto Positano Bay, and highlights include an infinity pool and direct beach access (but beware the many steps). Rooms are simply but elegantly furnished, with tile floors and vaulted ceilings. Junior suites have whirlpool tubs on private terraces, and the two suites offer the largest terraces, whirlpool tubs and direct views over the sea. A restaurant specializes in seafood and organic produce, and there's a small wellness center with spa treatments.
8.
Santa Caterina Hotel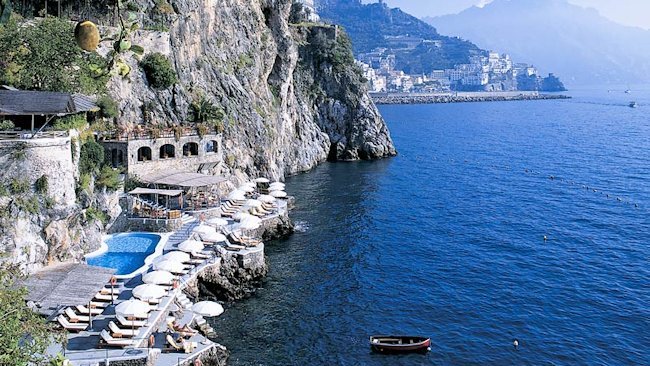 © Santa Caterina Hotel
A 19th century villa with art deco touches,
Santa Caterina Hotel
has been in the same family for generations. Rooms are elegantly furnished in classic Amalfi style, with ornate headboards, antique furniture and majolica floor tiles (some strikingly all blue or green). Suites in an annexe have luxurious bathrooms and private gardens filled with olive groves, fruit trees and vibrant bougainvillea, and there are two honeymoon suites at sea level with sunken whirlpool tubs, private terraces and large windows. The hotel has two restaurants, a formal option in the main building and a more casual lunch spot at the "beach bar", a heated salt-water pool at sea level accessible by glass lifts cut into the rock face.
9.
La Minerva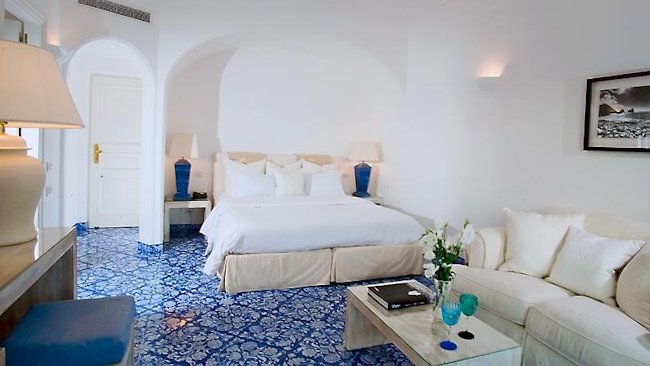 © La Minerva
With only 18 rooms,
La Minerva
has an unbeatable location in the center of Capri. Once inside the property you feel as if you're in an exclusive haven, however. The lobby, swimming pool and all of the rooms have sea views, as does the rooftop terrace (naturally). Rooms are on five floors sloping down towards the sea and are decorated in a light Mediterranean style. The two deluxe rooms are the largest, with walk in wardrobes, terraces, and bathroom whirlpool tubs. The swimming pool is surrounded by landscaped gardens and there's a restaurant for light lunches and cocktails. No restaurant, but there are many options a short stroll away. There's also a gym close by which is free for guests to use. 
10.
Casa Buonocore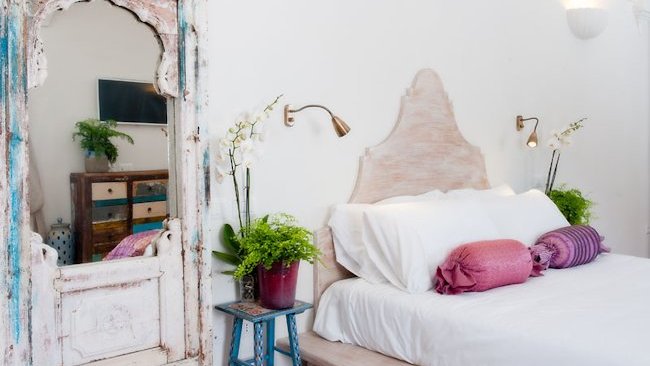 © Casa Buonocore
Originally a holiday home in the centre of Positano,
Casa Buonocore
was turned into a boutique B&B hotel in 2012. Not only does the villa have views of the town, mountains and the sea, but the interiors are worthy of a glossy magazine, with country-chic furnishings, antiques and artefacts picked up by the Buonocore family on their world travels. There are only six rooms, making the place feel more like a home than a hotel; the best are the Superior and Deluxe rooms, as they both have panoramic terraces (standard rooms have balconies overlooking the garden) and the Deluxe has a separate seating area. Free soft drinks are included, and superior reservations include flowers, fruit and cake every day. The beach is a short stroll away.
For more Italian hotels, see the collection here
www.goodhotelguide.com/hotels-in-italy