Hambleton Hall, Rutland
The perfect place to find yourself utterly spoiled, Hambleton Hall in Rutland is a spectacular country house hotel where owners Tim and Stefa Hart provide a warm and friendly ambience and food that's a joy. The turn-down service is meticulous. and the Michelin-starred chef Aaron Patterson continues to win acclaim for his wonderful modern dishes, all surrounded by elegant, stately design.
Lewtrenchard Manor, Devon
Once home to the Duke of Albemarle, Lewtrenchard Manor is a beautiful house where everything is uniformly excellent. The historic hotel in Devon is welcoming and hospitable thanks to proprietors Sue and James Murray. With rooms overlooking the surrounding parkland, little luxuries are part of the charm, such as reclining in a roll top bath at the end of the day. Of course, the food is second to none thanks to Chef Matthew Peryer.
Lime Wood, Lyndhurst
Super stylish and completely stunning, Lime Wood is a country house hotel and spa in the middle of the New Forest. A Regency manor house surrounded by a collection of lodges and cottages, Lime Wood is one of the most decadent places you could go for wellbeing. Meanwhile, chefs Angela Hartnett and Luke Holder deliver superb Italian influenced food featuring ingredients from the garden, and children are made very welcome with bikes and trikes available to borrow.
Hotel Endsleigh, Devon
Built for Georgiana, Duchess of Bedford, Hotel Endsleigh was once a fishing lodge. It stands in a 'magical' landscape of grottoes and follies created by Humphry Repton, on the banks of the Tamar, while inside interior designer Olga Polizzi contrasts rustic simplicity with antiques, hand-painted wallpaper and modern artwork.
The Scarlet, Cornwall
An incredibly luxurious eco-friendly hotel and spa in Cornwall, The Scarlet has a reputation for all things beautiful. A low-tech, high-spec stylish hotel on a Cornish bay, the design is ultra modern, the food is spectacular and the views are unparalleled as glass walls bring the wild Atlantic almost indoors.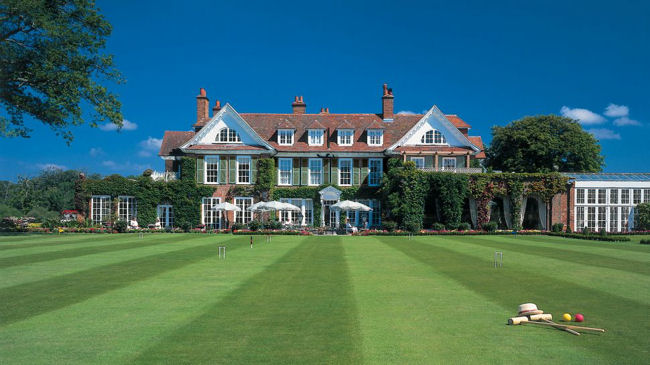 Chewton Glen, Hampshire
From the spa to the food, Chewton Glen is all about luxury in every way, shape and form. The literal height of decadence at this Hampshire hotel is the treehouse suites. They are built on stilts in a secluded forest setting, and each suite has floor-to-ceiling windows, a wood-burning stove, a whirlpool tub, a kitchenette, and a breakfast hamper delivered to the door.
Langar Hall, Nottinghamshire
High standards are faultlessly maintained at this hotel in the Vale of Belvoir. The hotel was run with spirit by Imogen Skirving, the well-loved chatelaine, until her sudden death in 2016, and has been in the family since 1860. Guests are welcomed into the stately abode with warmth and kindness, and there is a jovial atmosphere which, despite the luxury of the place, welcomes children to play on the swings and trampoline outside while you enjoy afternoon tea.
Burgh Island Hotel, Devon
An Art Deco hotel where you arrive by sea tractor Burgh Island Hotel is famed as a filming location and source of inspiration for Agatha Christie, as well as for its luxurious and unique location. On a tidal island at the end of Bigbury beach, the location is magical, and dinner has a reputation for excellence. Breakfast is served with an outstanding view, and at the end of the day what could be better than to walk round the island with a gin and tonic as the sun sets, before sitting by a roaring fire late into the evening.
Barnsley House, Gloucestershire
A romantic but relaxed 17th century gabled stone manor house, Barnsley House was once home to the garden designer Rosemary Verey. As a result, you can imagine how beautiful the grounds are; the parterres and topiary, the laburnum walk and the ornamental fruit garden for example. In addition to the beauty of the hotel itself, a winding path leads to the modern spa, outdoor hydrotherapy pool and a 30-seat cinema to enjoy before lingering over dinner in the hotel restaurant.
The Capital, London
Wonderfully located in central London, The Capital has a reputation for old school service and hospitality. Launched by Scotsman David Levin more than 45 years ago, it has the best pedigree in the industry - perhaps that's why head concierge Clive Smith has been there for 25 years. Single rooms and spacious suites are all available, and when it comes to dining it's a Michelin-star experience courtesy of chef Nathan Outlaw.
Find out more:
http://www.goodhotelguide.com/10-luxury-hotels-in-england/