Whether you're traveling with small children or teenagers, New Zealand is regarded as one of the most exciting and fun-filled places to visit as a family. There are tons of family holiday packages to choose from, so once you book your trip to Kiwi land, it's time to plan the details of your epic family adventure. Packed with wildlife, beautiful coastlines, and bustling cities, there's so much for the family to see and do in this amazing country — it's really the gift that keeps on giving! Without further adieu, here are fifteen awesome things to see and do in this spectacular country down under.
See the famous Kiwi bird
Children generally adore animals — and nothing excites them more than getting up close and personal with nature! The Kiwi is a flightless bird that can be rather elusive — unless, of course, you pay a visit to Rainbow Springs in Rotorua. Children can see the Kiwi bird here and also up close and personal with several other animals such as the Tuatara, the prehistoric reptile, and the Kea, the world's only alpine parrot. This is an exciting and fun-filled day trip that promises to keep the children occupied from start to finish, while also having a ton of educational value. And make sure to bring your camera — pictures with these rare animals will capture a once-in-a-lifetime moment!
Head to One Tree Hill
There's nothing that children love more than a good adventure, and few places in New Zealand are better for this purpose than One Tree Hill, otherwise known as Maungakiekie by the indigenous Maori people. With views over Auckland, this volcanic peak will leave kids amazed once they get to the top. While there's no longer a tree at the top, there is a monolith that commemorates the Treaty of Waitangi which played a significant role in the history of New Zealand. There is also an observatory and a planetarium which give children the chance to indulge in some stargazing. All things considered, One Tree Hill is probably one of the most family-friendly destinations in New Zealand and an essential part of the cultural experience of this country.
Let them run wild at the beach
Children crave freedom — and what better way to give it to them than by spending the day at the beach! New Zealand is known for its wonderful coastlines and beaches, so it would behoove you check out at least one of these amazing spots for a family adventure. During the summer, the Golden East Coast Beaches near Auckland or the Coromandel Peninsula are perfect for swimming, playing on the golden sands, or simply basking in the sun. Children will enjoy spending hours playing in the sea as well as the chance to explore all that they have before them. Even in colder weather, the beauty of the coastal regions might be enough to entice you to head outside and take some great-looking pictures.
Te Papa: The National Museum of New Zealand
If you find yourself in Wellington, then the Te Papa Museum is an absolute must. With its well-curated and interactive exhibits, kids can learn a lot about the history of New Zealand as well as its geography, people, cultures, and art. One of the favorite items for the younger visitors is the earthquake simulator — but it may be a good idea to have an adult nearby because it's quite realistic! The sheer volume of the exhibits is so great and their appeal so unique that you may end up spending hours exploring this gem of a museum!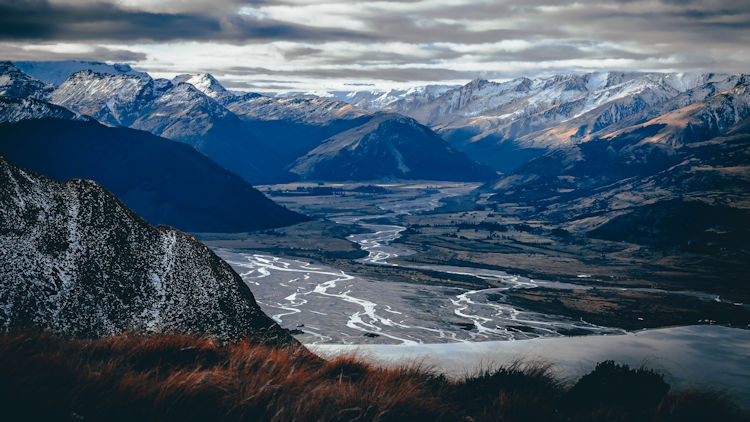 Explore the wonders of Queenstown
Some parts of New Zealand are far more interesting to visit than others, and the resort town of Queenstown on the Southern Island is one of the best! If you're staying in Queenstown or the surrounding area, you'll never run out of outdoor activities for the family — especially if you have active kids who love to be on the move. Fun never stops around here no matter the time of the year, as you can try quad bike tours or a jet boat ride in the summer, or opt for skiing and snowboarding during the winter months.
Camp near Lake Pukaki
This glacial lake is located in the South Island and features some truly spectacular scenery that kids will be in awe of. Take them to a picnic at this amazing location to create memories that last a lifetime. Of course, there is no reason to limit your visit to Lake Pukaki to just one day. With so many campsites nested around the eastern shore of the lake, it won't be too hard to find a great spot where you can stay a few days and enjoy the untouched nature. What better way to spend some time in the close vicinity of your loved ones than sitting by the fire and watching the lake waters touch the horizon?
Have a learning experience at the Te Awamutu Space Centre
Many children are curious and easily impressed by scientific achievements. If your youngsters fit this type, Te Awamutu Space Centre should definitely be on your agenda when you visit New Zealand. This facility has tons of space-themed attractions, including artifacts brought from space missions, a live feed video directly from the space station, and interactive screens that allow kids to learn at their own pace. It's suitable for kids of any age, although school children and young teenagers are probably going to enjoy it more than toddlers. Still, this is a great place to stop by for a few hours if you find yourself near the small town Kihikihi on the North Island.
Discover great art at the Sculptureum
It can be a bit inconvenient to visit art museums with children — unless that museum is located under the open sky! That's exactly the case with the target="_blank">Sculptureum in Matakana on the North Island, which holds three sculpture gardens in addition to six art galleries. Many of the sculptures represent themes from nature, and children will without a doubt be fascinated by the large replicas of dolphins and flowers. To make things even better, there are live rabbits for the kids to play with, while the afternoon can end with a delicious meal at the restaurant that serves a selection of locally produced wines.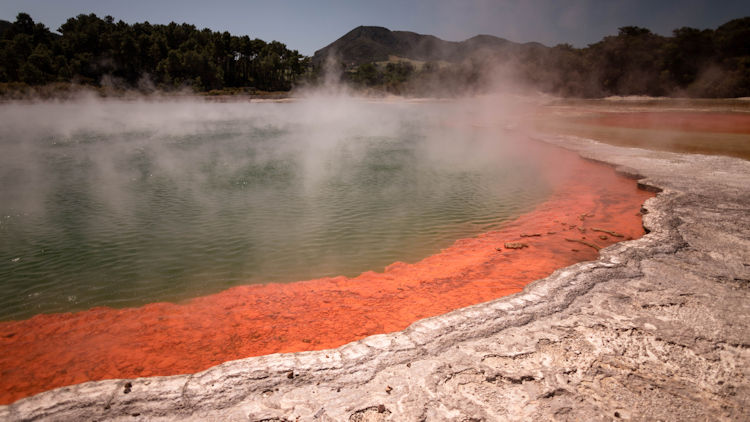 Splash away at the natural hot pools
Due to its unique tectonic history and volcanic activity, New Zealand is extremely rich in geothermal energy. This means that naturally occurring hot pools are present throughout the country. Kerosine Creek and Waiotapu Stream near Rotorua are great examples of such spots that attract a lot of tourists, while Hell's Gate is the only place where you can find geothermal mud baths. Other options include the Hot Water Beach in the Coromandel peninsula, where you and your kids can dig holes in the sand to reach the spa water, as well as the Hanmer Springs on the South Island. A tour of hot pools around the country will give the entire family some relaxing downtime between all the exciting adventures.
Stargazing at night
The sky over New Zealand is one of the greatest tourist attractions in itself, but it may be necessary to find a suitable place to enjoy stargazing to the fullest. Mount Cook is perfect for this purpose, and was in fact declared an international Dark Sky Reserve. If you're residing on the North Island, you could try the Carter Observatory located just outside Wellington. Another great option is to watch the stars from the Great Barrier Island, which is also considered a Dark Sky Sanctuary. Finally, if you're visiting New Zealand in winter, you might be able to catch a glimpse of Aurora Australis from multiple locations including Queenstown, Lake Tekapo, and Stewart Island.
Take your kids on a fabulous canoe ride
Canoeing is a popular outdoor activity that you can safely practice in many places in New Zealand. One of the most popular locations for this type of family fun is the Whanganui River on the North Island, which was historically used for raft racing and has a rich canoeing tradition. You could also ride a kayak in the sea, and Hahei in the Mercury Bay is a place where such activities are available. It's safe to say that most children will immensely enjoy the experience of spending a day in a canoe, while parents might be able to use a bit of paddling to improve their fitness. It's a real win-win situation!
Go hiking along the Te Araroa Trail
Exploring parts of the Te Araroa Trail is a fantastic way to slowly soak up the authentic spirit of New Zealand. The name of this hiking trail literally means "The Long Trail", and it runs around the entire country, spanning more than 3,000 kilometers and including many individual paths. While it may not be feasible to walk the entire length with kids (this feat takes 3 to 6 months for an adult), even a short portion can provide a nice family challenge. Since the trail goes around both islands, it won't be hard to access it, no matter where in New Zealand you might be staying. Access to the trail is free, but hikers who make donations can gain a range of benefits including a place to sleep.
Travel back in time at the Omaka Aviation Heritage Center
Many youngsters are absolutely fascinated by airplanes, so a visit to the Omaka Aviation Heritage Center in Blenheim is a sure bet to keep them occupied for at least a few hours. This facility has a huge collection of historical aircraft from World War I and World War II periods, some of which are still in good condition to fly. There's also an aviation theatre, where the adventures of the exhibited planes are presented with spectacular special effects. Coming here is similar to taking your kids to the movies — only they get to interact with the scenes! And if they learn something about the history of New Zealand while there, then the visit will be a smashing success.
Relive history in Whitestone City
Located in Oamaru on the South Island, this amazing museum brings the Victorian Era back to life with an amazing dedication to detail. The museum is housed in an original 19th century building situated in a well-preserved neighborhood that looks very similar as it did during Australia's colonial past. The experience is interactive, and visitors are allowed to dress up in period costumes, touch the artifacts, and play a variety of fun games. This is the right place to teach your kids how to behave like true gentlemen and ladies while also allowing them to have a lot of educational fun at the same time.
Have a dream day at the Margaret Mahy Family Playground
Some places are kid-friendly, while others are designed specifically for kids. This amazing playground in Christchurch belongs to the latter category, and features a range of things that children adore, from sandboxes to trampolines to swings. A designated area for water-play is available, so the playground is even better during the warm months. Parents arriving in this part of New Zealand should schedule a whole day here, and the kids will keep talking about their experience for the rest of the trip!
Family holiday packages are a great way to get out and about and explore all that the beautiful country of New Zealand has to offer. With good guidance, it's not hard to find plenty of amazing activities for kids of all ages and families of all sizes on both the North and South islands. We hope the list above will help you put together an itinerary that your kids will be thrilled to go along with. Thanks for reading and start planning your amazing trip!