The Kimberleys is an area located in northwest Australia known for its vast and rugged landscape. While it's best known for its outdoor adventures, The Kimberleys also offers plenty of luxurious experiences for those looking to enjoy a more pampered vacation. Whether you're interested in nature, history, or adventure, there's something for everyone in this stunning part of the world!
Here are 16 of the best luxurious experiences in The Kimberleys:
Cruising The Kimberley Coast
The Kimberley Coast is one of the most beautiful and pristine coastlines globally, and what could be more luxurious than cruising along with it on a luxury yacht? You can experience crystal-clear waters, rugged cliffs, and diverse wildlife with Kimberley cruises.
Dining At The Kimberley Club
The Kimberley Club is a world-class restaurant that offers exquisite fine dining in a beautiful setting. With views of the Kimberly Coast and the Bungle Bungles, The Kimberley Club is the perfect place to enjoy a romantic evening or any special occasion.
Staying At El Questro Wilderness Park
El Questro Wilderness Park is one of Australia's most luxurious and exclusive resorts, and it's easy to see why. With its stunning location in the heart of The Kimberleys, luxury accommodations, and range of activities, El Questro is perfect for those who want to experience the best that this region has to offer.
Hiking At The Bungle Bungles
The Bungle Bungles are one of Australia's most iconic natural landmarks, and hiking through them is a must-do experience for any visitor to The Kimberleys. These unique sandstone formations are home to various wildlife, including kangaroos, wallabies, and birds of prey.
Hot Air Ballooning Over The Kimberleys
For a truly unforgettable experience, hot air ballooning over The Kimberleys is hard to beat. With views of rugged canyons, pristine waterways, and snow-capped mountains, this is an adventure that you'll never forget.
Take A Scenic Helicopter Flight Over The Kimberley Coast
Soar over the turquoise waters and rugged cliffs of the Kimberley Coast on a scenic helicopter flight. You'll get to see some of the most beautiful sceneries in Australia from a whole new perspective!
Diving Or Snorkeling In The Buccaneer Archipelago
This chain of islands is known for its crystal-clear waters and abundance of marine life. Whether you're a seasoned diver or just dipping your toes in, the Buccaneer Archipelago is a must-see!
Golfing At Purnululu National Park
This world-famous golf course is located in the heart of the Bungle Bungles and offers stunning views of this unique landscape. Purnululu National Park is a must-play for any golfer with challenging holes and varied terrain.
Exploring Ancient Aboriginal Cave Paintings
The Kimberleys is home to some of the oldest and most impressive aboriginal cave paintings globally. These ancient works of art are a fascinating glimpse into Australia's past.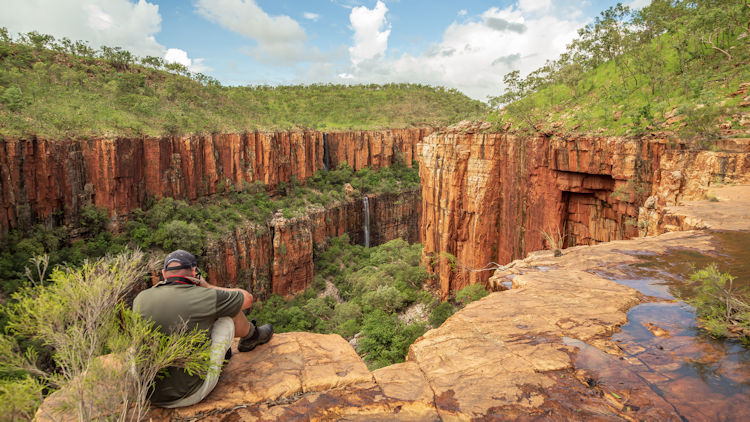 Visiting The King Leopold Ranges
These rugged mountains are home to some of Australia's most beautiful and remote landscapes. If you're looking for an adventure off the beaten track, the King Leopold Ranges is the place for you.
Riding The Gibb River Road
This 650-kilometer road winds its way through the heart of The Kimberleys, offering up fantastic views at every turn. Be sure to take your time and enjoy the journey!
Staying In A Luxury Safari Camp
If you're looking for an unforgettable African safari experience, look no further than The Kimberleys. These luxury camps offer all the amenities and creature comforts you could want, plus incredible views of the wildlife.
Swim With Dolphins At King Sound
This sheltered bay is home to a pod of friendly dolphins, making it the perfect place for a swimming adventure. Don't forget your camera!
Soak In Natural Hot Springs
The Kimberleys is home to some of the world's most serene and beautiful hot springs. Whether you're looking for a relaxing soak or an invigorating massage, you'll find what you're looking for here.
Kayaking Down The Ord River
This gentle river is the perfect place for a peaceful kayaking excursion. Glide past towering cliffs, pristine wetlands, and rolling hills on your way down the river.
Go On A Camel Safari Through The Bushlands
Take a journey through the Australian outback on the back of a camel. You'll get to see some of the most remote and rugged areas of The Kimberleys, and you might even catch a glimpse of some native wildlife.
No matter your interests, The Kimberleys have something to offer you! With its stunning landscapes, rich history, and abundance of outdoor activities, it's a perfect destination for anyone looking for an adventure.