The iconic Manhattan restaurant and bar will be serving up delicious cocktails as a nod to the roaring twenties and prohibition era within which it was founded.
'21' Club's 1920s Inspired Cocktails:
Lavender Lime Rickey: a twist on Fitzgerald's favourite tipple, the light and refreshing Gin Rickey, the Lavender Lime Rickey has been created with a mix of gin, lime juice and lavender-infused syrup, bringing a contemporary touch to this beloved classic.
Mint Julep: one of the most popular drinks amongst the bar's regulars, it is easy to imagine Daisy, Tom and Gatsby doing the same at some of the blowout party scenes of the book. This reviving concoction of bourbon, sugar, water and fresh mint captures the moment perfectly and relives the heyday so accurately portrayed in the novel.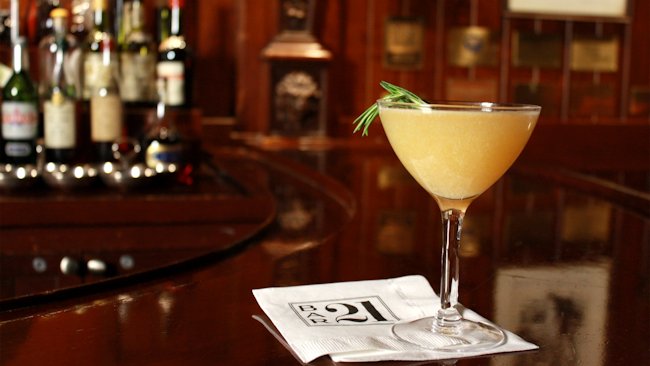 Beautiful Fool
The Beautiful Fool: a cocktail directly inspired from a line in the novel, the "Beautiful Fool", is a combination of gin, lemon juice, crème cocoa white and a splash of crème de violette. The '21' Club sets the scene perfectly and transports guests to a place of glamour, shimmering dresses and jazz, all of which Fitzgerald had a reputation of enjoying himself.
The '21' Club also offers an array of fine champagnes, including Moet Chandon Grand Vintage, bringing alive the opulence of The Great Gatsby, as party goers relax and enjoy a glass of bubbles while listening to smooth jazz sounds.
With its Art Deco environment, there can be no better place to celebrate The Great Gatsby than '21' Club, which started its days as a speakeasy founded by two college students, Jack Kriendler and Charlie Berns. In the days of Prohibition, New York's most glamorous and powerful made '21' the hottest speakeasy in town and the location of choice to celebrate their most special occasions. During this time, the "wettest block on the street" was 52nd Street between 5th and 6th Avenues – also known as "Swing Street" – where there were at least 38 speakeasies, including '21'. The legendary '21' Club survived the end of Prohibition in 1932 and has gone from strength to strength, evolving with New York's constantly changing styles. No longer is '21' a place to buy an illegal drink, i nstead customers come for its famous food and atmosphere as its moved into the ranks of New York's top restaurants, while retaining a reputation as the most sophisticated bar in town.
For those who want to create the "Beautiful Fool" at home please see the recipe below:
Ingredients:
44ml Greenhook Gin
22ml St. Germain
22ml Chamomile Simple Syrup
22ml Fresh Lemon Juice
14ml Grapefruit Juice
Preparation:
• Place all ingredients and ice in a shaker and stir.
• Strain into a chilled Coupe glass. Serve up
• Garnish with a piece of rosemary
All the cocktails mentioned above are priced at $15, the Lavender Lime Rickey and "Beautiful Fool" are available at the '21' Club from now until the end of the Summer.
www.orient-express.com