Hollywood legend Clint Eastwood once lived in Oregon and worked in a lumberyard before a work-related incident almost took his life, prompting him to quit. Today, this state attracts domestic and foreign travelers with its scenic mountain ranges, waterfalls, and coastlines, among other tourist attractions that would leave one wanting to move there.
Known for its excesses, Oregon's capital, Portland, has more than 60 breweries -- the highest in any city in the world. It's also home to the Humongous Fungus— a honey mushroom touted as the world's biggest living thing. The best tours in Portland include a 'Flightseeing Tour to Mount Hood', to a 'Food Carts, Pods & Patios Tour' and many more interesting places.
If you're planning to have an adventure-packed trip complemented by breathtaking views of majestic land masses, water formations, and an overall unparalleled fun experience, check sites like Visit Oregon so that you know what to expect in this amazing place.
Points of Interest in Oregon
Whether you prefer scaling the majestic mountains or kayaking through rough and calm waters or everything else in between, you'll love these major attractions that Oregon has to offer.
Cannon Beach: The National Geographic lists Cannon Beach as one of "The World's 100 Most Beautiful Places" and for good reason. This scenic beach is home to world-famous shoreline rock formations, including the Haystack Rock which, at 235 feet high is the world's third largest coastal monolith.
Dozens of public beaches provide passage to Cannon Beach where you can have a romantic stroll, ride a bike with your family, or build a campfire with your friends. Cannon Beach is likewise close to other interesting destinations.
Arcadia Beach State Recreation Site. This ideal picnic area is located just two miles south of Cannon Beach. It's known for its "singing sands", a phenomenon caused by the grinding of sands when humid.
Hug Point. This sits close to Arcadia Beach and serves as an access route to caves, a mini-waterfall, and the historic remains of an old roadway. During low tide, you can reach Arch Cape, located, at least, one mile from Hug Point.
Ecola State Park. Another famous tourist attraction, this park is perfect for outdoor adventurers, with its sightseeing and recreation activities that include surfing, picnicking, and tide pooling.
Oswald West State Park. Just a few minutes off the southern part of Cannon Beach is this 2,500-acre park that's dotted with hiking trails to thrill beginners and veterans alike. The beautiful cove of Short Sand Beach can be easily accessed, as well as the elevated ocean viewpoints from the highway on the edge of Neahkahnie Mountain.
Museums and Specialty Shops. Walking through the downtown portion of the Cannon Beach takes you to specialty shops, art galleries, and restaurants. Bike enthusiasts ready to spend six days traversing the scenic coasts of Oregon can enjoy a great tour package too.
Wallowa Mountains. Also known as the "Little Switzerland", this area is mostly taken up by the Eagle Cap Wilderness and has, at least, 31 peaks that rise above 9,000 feet. Ranches and glacial lakes also surround this scenic location which is dotted with interesting sites.
Eastern Oregon Brews Byway. Sip some beer while enjoying the breath-taking landscapes of Oregon at Baker City's Barley Brown's and the Eastern Oregon Brews Byway.
The Oregon Trail. Take a trip down memory lane at National Historic Oregon Trail Interpretive Center. The place features the original ruts carved by the pioneer wagons that braved through the 2,000-mile journey to Oregon in the 1800s.
Ghost Towns. These are former gold mining communities in the 19th century, and there's a place called Idiotville. It's not clear how the place got its name, but it's probably why no one wants to live there anymore.
Joseph. It's a haven for arts and spirits connoisseurs. Explore Joseph Art Walk to see life-sized bronze sculptures and visit Stein Distillery tasting room. If you have children with you, enjoy a dark chocolate mocha from the Arrowhead Chocolates and take some salted caramels to go. They make perfect snacks for your little ones on the road.
Wallowa Lake Tramway. Not afraid of heights? Take the Wallowa Lake Tramway to scale Mt. Howard's Peak measuring 8,150 feet. See the Indian country high desert and the Hells Canyon that runs through the state borders of Washington and Oregon. Make sure you plan your trip on a summer as the tramway operates mid-May to September only.
Hells Canyon. This 10-mile canyon is divided by the Snake River and runs deeper than the Grand Canyon. It's a great place for an adventure with family and friends, where you can go camping, fishing, rafting, and boating. You can even go on a scenic road trip through the Wallowa via the Hells Canyon Scenic Byway.
Willamette Valley. There are many things to see and do in this breathtaking location. For one, Willamette Valley is home to more than 700 vineyards where more than 70 different varieties of wine are produced regularly. This wine-growing area runs from Portland to Eugene and can easily be cruised in a day.
Cone Peak Trail blooms with wildflowers bursting in different bright colors around June and July. Walking further will take you to Iron Mountain Trail for a scenic view of the Cascades.
Another prominent peak along Oregon's Coast Range, Mary's Peak sits at 4,097 feet and offers a breathtaking view of the Pacific Ocean.
Columbia River Gorge. As one of Oregon's top tourist attractions, Columbia River Gorge is North America's second largest river which boasts of waterfalls and lush fields of wildflowers. Highlighting your Columbia River Gorge experience is seeing the 620-foot Multnomah Falls. Hiking eastward takes you to Mosier Plateau where a waterfall, a cemetery, and wildflower meadows greet you in the summer.
Mount Hood. A dormant volcano, Mt. Hood is Oregon's highest peak at 3,400 meters high. It's the second most scaled mountain in the world and is capped by 11 glaciers. It hosts the only ski resort in North America that's open the whole year round.
Smith Rock State Park. It's often said that sport climbing in the US was born in Smith Rock. The place is great for extreme sport adventurers, but hikers can enjoy the Misery Ridge trail too.
Painted Hills. Another tourist-drawer, seeing Painted Hills make you feel like you've stepped into another planet, with the layers of gold, yellow, red, and black in its soil. They're quite similar to Peru's Rainbow Mountain and are Instagrammable in the late afternoon or before sunset. You can reach the hills via a scenic drive or a short hike.
Crater Lake National Park. An ancient volcano was key to the formation of USA's deepest lake more than 6,500 years ago. Ringed by Cascade Mountains, the Crater Lake is known for its crystal-blue waters. Majestically sitting at its center is a volcanic cone named Wizard Island. Don't hesitate to explore this majestic location via hiking, cross-country skiing, or boating. You may also stop by Oregon's tallest lighthouse, the Yaquina Head Lighthouse in Newport.
Depoe Bay is a place where you can go whale-watching with your kids.
Tillamook Cheese Factory is the largest cheese factory in the world and a hit for all ages.
Astoria is the oldest city located west of the Rocky Mountains.
International Rose Test Garden. Portland is known as the "City of Roses", and the International Rose Test Garden stands as a living proof. More than 10,000 roses dot the place which attracts thousands of visitors from all over the world.
Portland Japanese Garden. Traditional Japanese culture takes center stage at the Portland Japanese Garden. Tourists can enjoy scheduled activities and performances in the Atsuhiko and Ina Goodwin Tateuchi Foundation Courtyard.
Powell's City of Books. Established in 1971, Powell's City of Books is considered as the world's largest independent bookstore, selling new and used books. Bookworms can get lost in the venue's 68,000 sq. feet and 3,500 sections. Take your kids there every Saturday at 11 a.m. for some story time.
Voodoo Doughnut: If you're a certified sweet tooth, this haven will satisfy your cravings and more. Doughnut lovers will find delight in the fact that the place is open 24 hours daily to accommodate a huge throng of people lining up to get a taste of these famous sugary treats.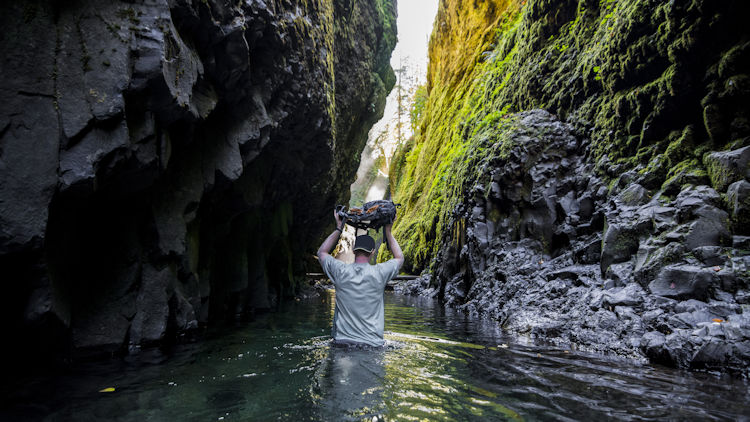 When is the best time to visit Oregon?
Oregon has Truffle and Cheese Festivals, as well as the world class gustatory celebration simply called Feast Portland happening in the months of January, March, and September, respectively.
But, if you're in for more than just food, visit Oregon during the summer, from June to August, when the weather is conducive to outdoor activities, and the fields are bursting with colorful wildflowers. Skiers and winter sports enthusiasts better set their sights on Mount Hood in the cooler months however.
If you want to plan ahead, mark your calendars and choose the right time for you to hit the road. Note these other festivals as well:
PDX Jazz Festival (February)
KidFest Northwest (February)
Portland Winter Light Festival (February)
Portland Seafood & Wine Festival (February)
Portland International Film Festival (February-March)
Portland Dining Month (March)
POW Film Fest (March)
Wooden Shoe Tulip Fest (March-May)
Portland Cinco de Mayo Fiesta (May)
Portland Rose Festival (May-June)
World Naked Bike Ride (June)
Waterfront Blues Festival (July)
Oregon Brewer's Fest (July)
Oregon Zoo Concerts (July)
Pick-a-thon Music Festival (August)
Time-Based Art Festival (September)
Portland Queer Film Festival (September-October)
Portland Fashion Week (October)
The Northwest Food and Wine Festival (November)
Holiday Ale Festival (November-December)
Christmas Ships Parade (December)
In Oregon, there are many things to do and see all-year round. You'll never go wrong.