Is there a special occasion marked on your calendar this year? Are you keen to treat yourself and your loved ones to a luxury escape? There are thousands of exclusive resorts in stunning destinations around the world. The choice can be overwhelming — so where do you start?
Nothing says luxury like something a little out of the ordinary. A unique resort that offers an experience few others can provide. From a Dubai holiday with striking architecture to Maldives holidays where you can sleep right above the sea. We've put together our top four luxury resorts to visit this year. Each has something special to offer.
Stunning Architectural Design at the Jumeirah Beach Hotel, Dubai
The iconic Jumeirah Beach Hotel is truly breathtaking to look at. The resort's wave design has made it instantly recognizable and it cuts an impressive figure on the skyline. Located on the world-famous gold sands of Jumeirah Beach, this modern building is constructed almost entirely of glass and gleams in the year-round sunshine.
The hotel officially opened in 1997. It's striking design, prestigious location and five-star facilities have earned it the reputation of being one of the most luxurious hotels in the world. The ingenious wave-design affords all 618 rooms a sea view through floor-to-ceiling windows.
The building is huge. Guests can choose from 20 different restaurants including Latin American, seafood, Pan-Asian and contemporary British cuisines (to name a few). Our favorite place for a post-dinner cocktail is the Uptown Bar which has amazing views of the city.
Other facilities are second to none, with a private beach, five swimming pools, kid's clubs, a spa and a dizzying array of watersports. The hotel underwent a major refurbishment in 2018 and rooms and suites are now even more opulent, new restaurants have been added and the lobby has been transformed. If a Dubai holiday at the Jumeirah Beach Hotel wasn't already top of your luxury resort list, it certainly should be now.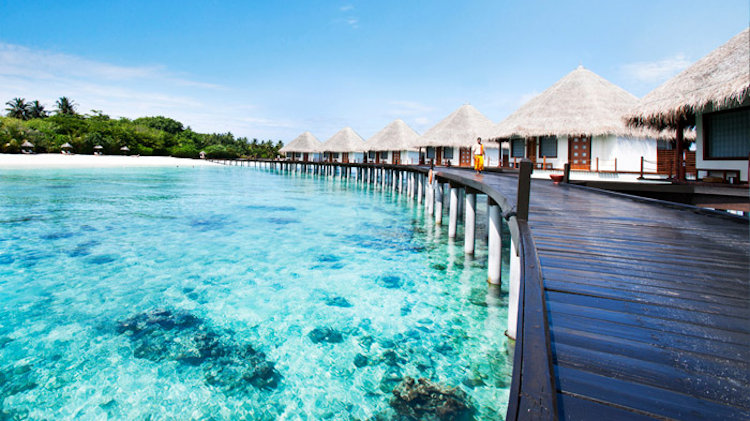 Exclusive Accommodation Right above the Ocean at Adaaran Prestige Water Villas, Maldives
For many people, a Maldives holiday is the dream escape. What could be more luxurious than a visit to this beautiful collection of islands with their white sands and fantastic weather? Try a stay at the exclusive Adaaran Prestige Water Villas.
If your idea of the perfect luxury holiday is sun, sea and sand, you couldn't be closer to the beach life than sleeping right above the ocean in one of the Adaaran resort's gorgeous water villas. The Adaaran resort was one of the first to be developed in the area and it leads the way in luxury holiday accommodation. Each villa has an exquisite wooden interior and a glass-bottomed sun deck. Imagine watching the sunset over the water right in front of you!
Hop straight from the deck for a swim in the ocean, or relax in your villa's private jacuzzi with a glass of champagne. The villas are thoughtfully appointed with all the facilities you need to create an oasis of relaxation, including satellite television, an espresso machine and a mini bar. Adaaran Prestige Water Villas are the perfect setting for a romantic holiday or honeymoon.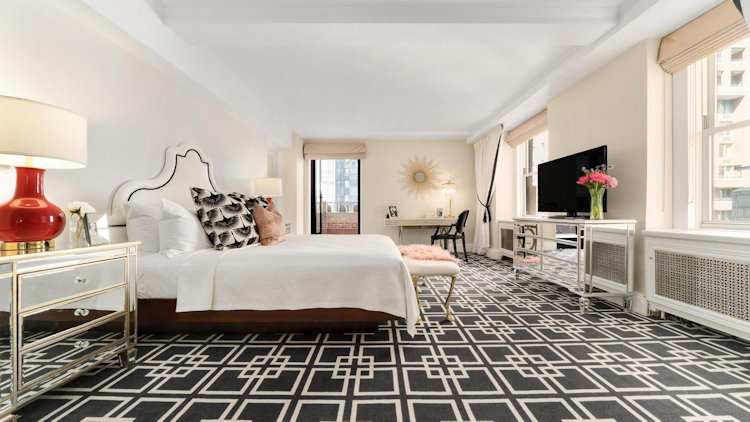 Celebrity Spotting at The Lexington, New York City
The Lexington Hotel opened in 1929 at the height of the jazz era. General Kincaid, the president of the American Hotel Corporation at the time, promised "a thoroughly modern house of refined atmosphere and exceptional service". The hotel has an established history of celebrity guests, attracted by this atmosphere and service — including Marilyn Monroe and Joe Di Maggio who lived in suite 1806 for the duration of their brief marriage.
As a testament to its popularity with celebrities, five of the hotel's suites were redesigned with celebrity themes as part of a two-year $30 million renovation in 2018. Guests can now choose to stay in The Lady Ella suite, so named for Ella Fitzgerald, The Norma Jean Suite, The Hemingway Suite, The Arthur Godfrey Suite or The Hawaiian Room. There's also an impressive art collection to enjoy.
Beyond the hotel's deluxe decor and exemplary facilities, Manhattan's exclusive East-side lies right on the doorstep. From Grand Central Station to the Rockefeller Centre, guests can enjoy all this vibrant city has to offer with only a few steps from their luxury suite.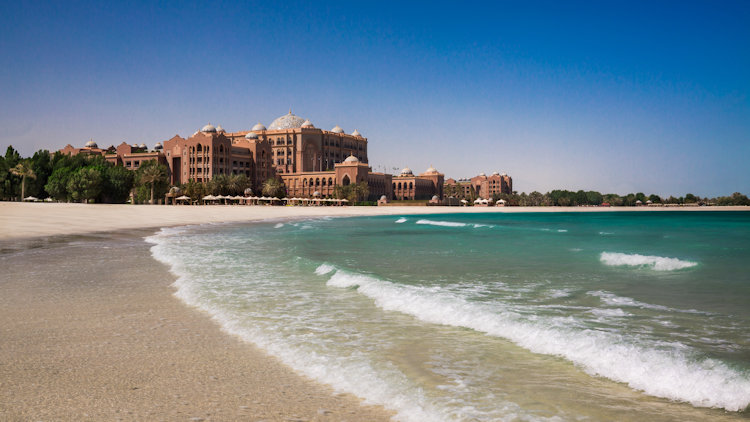 Pure Opulence at the Emirates Palace, Abu Dhabi
The Emirates Palace has become a landmark in Abu Dhabi, known for its stately exterior, opulent interiors and five-star facilities. Every year, this hotel receives countless awards for its hospitality, gastronomy and spa. In 2019, the Emirates Palace has already been awarded the Middle East's Leading Luxury Hotel award. And it's not hard to see why.
Located in the heart of Abu Dhabi, The Emirates Palace offers 394 luxurious rooms and suites to choose from. The hotel claims to be "the definition of an unrivaled and Arabian fantasy". It certainly provides a magical experience to all those who are fortunate enough to visit. Guests enjoy exclusive access to 1.3km of perfect sands and crystal clear waters. There are nine exquisite restaurants, world-class leisure facilities and a menu of activities that would be almost impossible to rival. From swimming pools to spa treatments — the Emirates Palace offers the ultimate Arabian hospitality experience.
If you're planning a very special occasion, upgrade to a Diamond room and you'll have panoramic views of the Arabian sea and 24-hour personal butler service. The Emirates Palace offers a truly unique and unforgettable luxury holiday experience.
How to Choose Your Perfect Luxury Holiday
Each of these resorts offers something unique and exciting. So, with so much choice — how do you choose? It's simple. You don't have to.
There's plenty of time to tick off a new luxury hotel each time you go away. Why not combine two unique resorts in one trip? A twin-centre holiday is a great way to squeeze as much luxury into your break as possible. Combine a stay in the city of Abu Dhabi or Dubai with a relaxing visit to the Maldives. Or live it up in Manhattan before escaping to a Jamaican beach for some sun, sea and sand. You can create a perfect luxurious and unique holiday this year.

Photo credit: WKK Architects