While Memphis is celebrating its 200th birthday this year, the city feels anything but antiquated. Led by the transformation of the South Main District's iconic 105-year-old transportation hub into The Central Station, a new luxury boutique hotel opening in September 2019, the city's diverse neighborhoods and historical museums have been undergoing a massive revival. Memphis' revamped infrastructure, in conjunction with the city's historical charm (it is the birthplace of blues, barbecue and rock 'n' roll after all!) and creative atmosphere with dozens of makers and musicians, has created a hidden gem in the Southeast – perfect for a quick weekend getaway.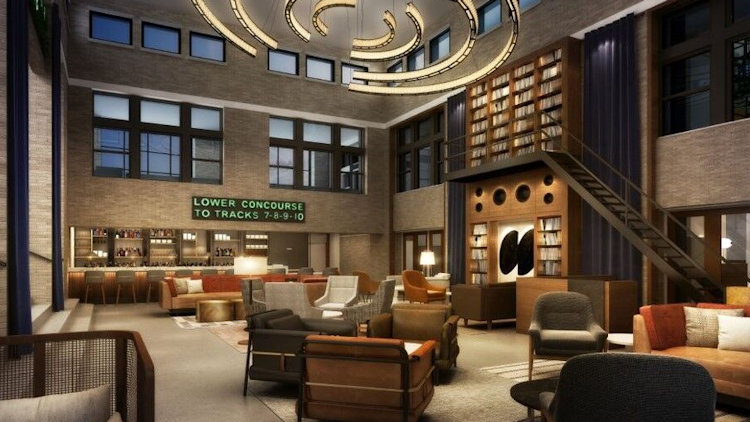 DAY ONE
A Stay at The Central Station
A visit to Memphis isn't complete without a stay at The Central Station (opening in September 2019). Centrally located in South Main, the eight-story, music-inspired hotel is situated in the heart of Memphis' arts district. The hotel captures the city's spirit with stunning mid-century architectural design, a community style restaurant and bar, a world-class curated music experience and captivating local art. The rooms feature large windows with striking views of the Mississippi River and the city's lush oak trees. Bonus: the train station's "Grand Hall" is preserved for gorgeous ballroom.
Breakfast at The Arcade
Fuel up with breakfast at The Arcade, the city's oldest restaurant, located just steps away from The Central Station. Famed for its appearance in movies like Elizabethtown, Walk the Line and Mystery Train, the 50s style diner used to count Elvis Presley amongst its regulars.
Visit Big River Crossing
Walk on water with a jaunt across Memphis' mile-long pedestrian bridge that connects the city to Arkansas. With the Mississippi River rushing beneath you, you can stand in two states at once on the bridge! Walk further along the river to snap a scenic picture with floating river cruises as your backdrop at Tom Lee Park.
Tour Old Dominick Distillery
Tennessee is often synonymous with whiskey, and the city's Old Dominick Distillery is a perfect way to get a taste of the famous spirit. The 100-year-old distillery offers 60-minute tours, so guests can see and learn about the entire grain to glass process.
Lunch at Central BBQ
It wouldn't be a proper trip to Memphis without Memphis style ribs! Central BBQ is a staple in the city, known for its special "rib rub" recipe. The barbecue joint has three locations, so you can get your woodfired fix wherever you are in the city!
Tour Graceland
Spend the afternoon touring Elvis Presley's palatial estate. In addition to The King's mansion, the grounds offer several exhibits that feature accolades and memorabilia that pay tribute to Elvis' legacy, as well as a few shops and restaurants (yes, they serve up Elvis' peanut butter and banana sandwiches!).
Experience The Central Station's Listening Lounge
Paying homage to Memphis' rich music history, the hotel's intimate Listening Lounge will host an expansive collection of vinyl records. The lounge will showcase the legendary craftsmanship of Memphis-based EgglestonWorks speakers, and provide guests and locals with a world-class audio experience through carefully curated playlists that reflect the spirit of the city.
Dinner at Catherine & Mary's
Indulge in Chefs Andy Ticer and Michael Hudman's award-winning concept restaurant. Just a quick trolley ride away, Catherine & Mary's rustic, but refined menu serves up Tuscan and Sicilian dishes inspired by the chefs' grandmothers. Hog & Hominy and Gray Canary are Catherine & Mary's highly-acclaimed sister restaurants, too!
Experience Beale Street
Just blocks away from The Central Station, Memphis' Beale Street is lit up with restaurants and clubs. One of the most famous streets in the world, Beale Street's neon lights, fun drinks and talented live musicians are not to be missed!
DAY TWO
Shelby Farms Park
Spend a morning outdoors in 4,500 acres of natural beauty. Shelby Farms Park offers kayak, paddleboard, boat and bike rentals, as well as horseback riding and ziplines. Outdoor enthusiasts can also opt for the miles of paved and unpaved trails, and yogis can find their zen with the park's weekly free yoga class on the green.
Lunch at Gus's World Famous Fried Chicken
After a morning outdoors, treat yourself to a Memphis staple: Gus's World Famous Fried Chicken. Known for its famous family recipe, the eatery serves up hot and spicy chicken that's worth breaking any diet for.
Visit the National Civil Rights Museum
A few blocks away from The Central Station, the Civil Rights Museum is a renowned cultural and educational institution that underwent a recent renovation that added more than 40 interactive-media and educational components, covering everything from slavery to Jim Crow laws to the Civil Rights movement. The museum also added the Lorraine Motel where Martin Luther King, Jr. was assassinated to its property.
Visit Stax Museum of American Soul Museum
Learn about the pioneers of American soul at the Stax Museum. The museum offers high-tech listening stations, an in-house dance floor and memorabilia from stars like Ike and Tina Turner, Carla Thomas and Isaac Hayes.
Explore Cooper Young
Take a stroll around Memphis' most eclectic neighborhood – Cooper Young. The area is known for its up-and-coming bars and restaurants, as well as its street art (don't forget to peek into alleys on your walk for a peek at art!). Grab a bite at The Beauty Shop, a whimsical bar and restaurant, or DKDC, an irreverent bar that turns into a live music venue later in the evening.
Wiseacre Brewery
Toast to your final Memphis evening with a beer from Wiseacre, a local craft brewery committed to top quality, uniquely flavored beers. The brewery releases seasonal, specialty beers that incorporate local ingredients in the brewing process.
Earnestine & Hazel's
Steps away from The Central Station, enjoy a Soul Burger from the famous haunted bar. The jukebox joint's burger features a special "Soul Sauce" that elevates the dish from a typical diner burger. Insider tip: the joint is most popular after midnight, so we recommend going for a nightcap or after another evening on Beale Street.