No longer the preserve of ladies on a shopping trip or families celebrating a special occasion, afternoon tea has become a favorite pastime enjoyed by anyone and everyone, an up-to-the-minute sociable thing to do. The synergy of design, fashion, and food has had a wonderful impact and resulted in an exciting new genre, with afternoon teas on offer suited to every generation and to people from all walks of life. If you are a visitor to the capital, what better time-honored British tradition could you choose to experience, and for the local, what better excuse could there be to leave the hustle and bustle of everyday life behind for a few hours? Afternoon tea is about treating yourself, your friends, and your family, either informally or in luxurious style, so find a venue that strikes your fancy and enjoy yourself.
The Berkeley, The Collins Room
The Collins Room at The Berkeley is light and bright even on a wet winter's afternoon and is a glorious, elegant place in which to relax and enjoy a very special and unusual afternoon tea. Maybe you have had a hard day shopping or sightseeing; perhaps you want to catch up with some friends; or maybe you simply want to celebrate. Whatever your reason for visiting The Berkeley, the renowned Prêt-à-Portea tea is sure to please.
Address: Wilton Place, Knightsbridge, London SW1X 7RL
Tel: +44 (0)20 7107 8866
Email: dining@the-berkeley.co.uk
Web: www.the-berkeley.co.uk
Afternoon tea served: daily 1.30pm–5.30pm
Set teas: Prêt-à-Portea, Champagne Prêt-à-Portea, Couture Champagne Prêt-à-Portea. Gluten and nut free can be catered for, but please give 24 hours' notice.
Dress code: elegant smart casual; no shorts, vests, sportswear, flip-flops, ripped jeans, or baseball caps
Nearest underground stations: Knightsbridge, Hyde Park Corner
Places of interest nearby: Harvey Nichols, Harrods, Hyde Park, Green Park, Sloane Street and Knightsbridge designer shopping, Natural History Museum, Science Museum, Royal Albert Hall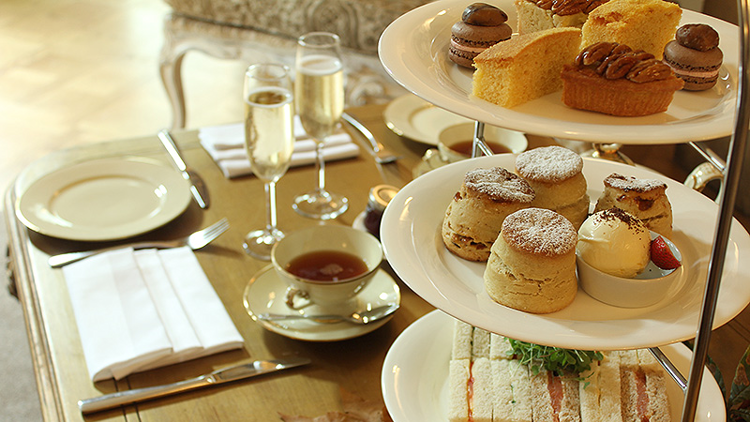 11 Cadogan Gardens
Just a short walk from Sloane Square, stroll along a leafy street of grand terraced houses, and once you've conquered the curious numbering system, you'll find 11 Cadogan Gardens. Behind the Victorian façade is one of London's best-kept secrets, a gem of a destination for afternoon tea. Quintessentially English, the interior is dramatic, eclectic, and quirky, and whilst the furnishings are traditional, they have a distinctively modern twist to them
Address: 11 Cadogan Gardens, Chelsea, London SW3 2RJ
Tel: +44 (0)20 7730 7000
Email: reservations@11cadogangardens.com
Web: www.11cadogangardens.com
Afternoon tea served: daily 2.30pm–6.00pm
Set teas: champagne afternoon tea, seasonal special teas. Dietary requirements including vegetarian, vegan, and gluten free can be catered for; advance notice is preferred. Advance booking is highly recommended.
Nearest underground stations: Sloane Square
Places of interest nearby: Sloane Street shopping, Saatchi Gallery, Royal Hospital Chelsea, Ranelagh Gardens, Chelsea Physic Garden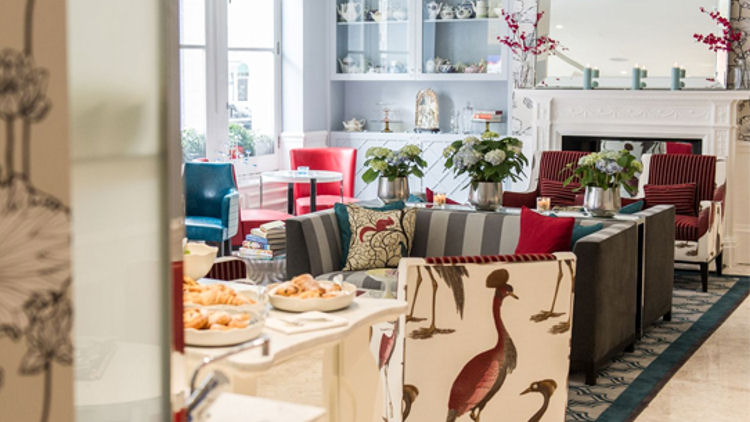 The Ampersand
Just minutes away from three of London's most famous museums, the light and airy Drawing Rooms within Kensington's Ampersand Hotel are the perfect place for an excellent afternoon tea inspired by the Science Museum. The stylish décor is a combination of English drawing room and salon de thé, with richly upholstered deep sofas and comfortable armchairs, and helpful, friendly staff will guide you through the menu and the teas on offer.
Address: 10 Harrington Road, South Kensington, London SW7 3ER
Tel: +44 (0)20 7591 4414
Email: drawingrooms@ampersandhotel.com
Web: www.ampersandhotel.com
Afternoon tea served:
Monday to Friday 2.30pm–5.30pm, including bank holidays; weekends 12.30pm–5.30pm
Set teas: Science Afternoon Tea, Vegetarian Science Afternoon Tea. A gluten free alternative is available on request on the day.
Nearest underground stations: South Kensington
Places of interest nearby: Royal Albert Hall, Albert Memorial, Kensington Gardens, Hyde Park, Serpentine Gallery, Victoria and Albert Museum, Science Museum, Natural History Museum, Christie's Fine Art and Antiques, Harrods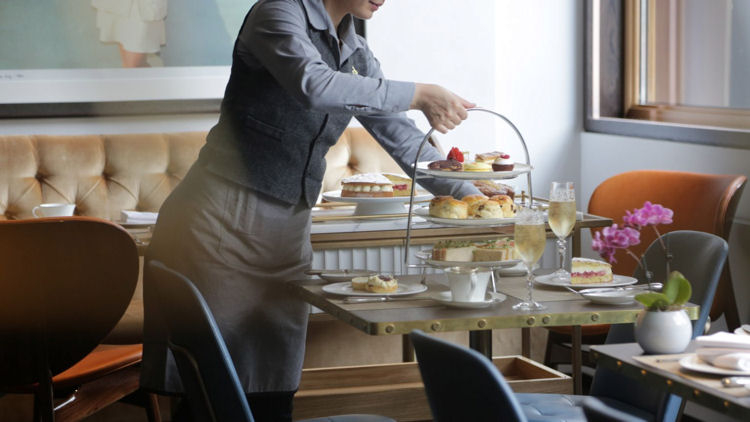 The Athenaeum Hotel
Situated in the heart of Mayfair, opposite Green Park, the Athenaeum Hotel is one of London's few family-run five-star hotels, and a complete refurbishment has transformed it into an elegant, modern hotel that retains a home-away-from-home atmosphere. The famed Living Wall on the corner of the building has been extended, and the Michelin-starred Galvin brothers, Chris and Jeff, now head the kitchens.
Address: 116 Piccadilly, Mayfair, London W1J 7BJ
Tel: +44 (0)20 7640 3333
Email: galvin@athenaeumhotel.com
Web: www.athenaeumhotel.com
Offers: see www.afternoontea.co.uk/uk/london
Afternoon tea served:
Monday to Saturday 12.30 noon–4.30pm, Sunday 12.30 noon–5.30pm. Advance booking advised, especially for the Gentleman's Tea.
Set teas: classic, gluten and dairy free, Royal, Gentleman's, occasional seasonal themed afternoon teas
Nearest underground stations: Green Park, Hyde Park Corner
Places of interest nearby: Buckingham Palace, Hyde Park, Green Park, Admiralty Arch, Royal Academy, Burlington Arcade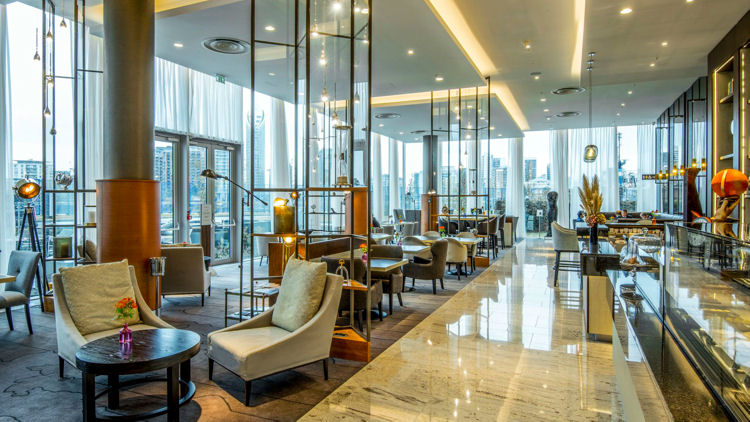 InterContinental London, The O2
Shiny and new, the ultra-modern InterContinental is perched on the edge of the Greenwich Peninsula, facing the O2 arena across the River Thames. The area is steeped in history, for the East India Company operated from near here, plying their increasingly successful trade in silk, porcelain, and especially tea. Tea owed its growing popularity as a fashionable drink to Catherine of Braganza, the Portuguese wife of King Charles II, and the company placed their first order for tea – 100 lbs (45kg) of China tea to be imported from Java to Britain – in 1664.
Address: 1 Waterview Drive, Greenwich Peninsula, London SE10 0TW
Tel: +44 (0)20 8463 6868
Email: meridianlounge@iclondon-theo2.com
Web: www.iclondon-theo2.com
Afternoon tea served: daily 1.00pm–5.00pm (last seating 4.30pm)
Set teas: traditional, champagne, themed teas including Wimbledon, Easter, Mother's Day (please check the website). Special dietary requirements can be accommodated upon request. Bespoke afternoon tea master classes in partnership with East India Tea Company can be arranged upon request.
Nearest underground stations: North Greenwich. Also available: river transport at Thames Clipper.
Places of interest nearby: The O2 arena (there is direct access from the hotel between 9.00am and 1.00am), Canary Wharf, Royal Observatory, Royal Museums Greenwich, Cutty Sark, Riverboat service, Emirates Airline Cable Car, ExCel, Eltham Palace

Article by Susan Cohen, Author of London's Afternoon Teas