This year, Greece is back in the spotlight with a variety of new openings and extensive renovations. Here are five new, and must-see luxury Greek resorts:
The Royal Blue
Set on Cretan's northern coast between the picturesque towns of Rethymnon & Heraklion, The Royal Blue due to reopen in April has recently benefited from a very swish renovation with muted tones, natural woods, clean lines and crisp whites. The perfect balance of sophistication and natural elegance the five-star hotel has 190 elegant rooms, luxurious waterfront suites and exclusive villas offering mesmerising views of the stunning coastline. With a pure luxury and sophisticated character, which also maintains the authenticity of local Cretan culture and heritage, The Royal Blue is the ideal setting for guests to relax, unwind and enjoy the ultimate serenity in a home away from home. Offering its own small private beach with a panoramic view over the Cretan north coast and exceptional dining; with chefs delivering great tasting food based on local Cretan fare. Locally sourced meat, vegetables and olive oil make everything taste good. Restaurant wise there are two standouts.
Rates start from £141 for a Superior Sea Facing Room and £202 for a Luxury Sea Facing Room with a private pool.
http://www.royalblueresort.com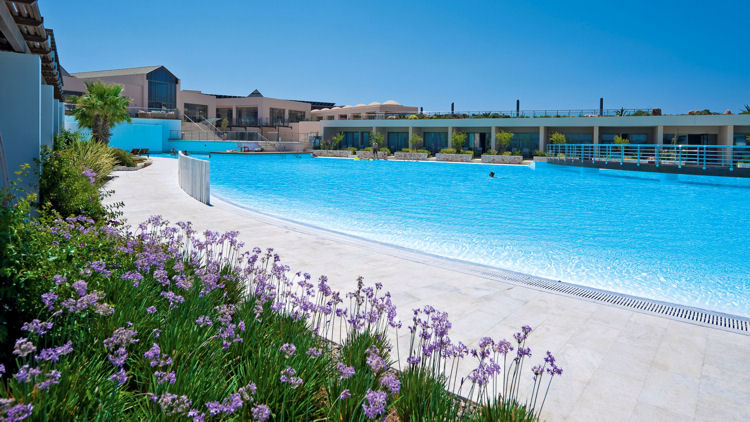 Cavo Spada Resort & Spa
Following renovations and a complete redecoration, the stylish wellness resort, Cavo Spada Resort & Spa is an extraordinary destination, set to be one of Crete's most exciting hotel's this year. Stepping inside this 5-star beachfront resort, the buzzy atmosphere and chic surroundings make strong first impressions. Sporting clean lines and a striking, minimalistic design, the bright and airy rooms of this 150 room resort exudes a cool and calming feel. Room options range from Deluxe Doubles to family suites with pools, all offering spectacular views onto the wide swath of a milky white beachfront. And learning holiday seekers will find nirvana. Holding weekly wine and olive oil tasting classes, cooking lessons and cultural concerts, every stay at Cavo Spada is an immersion into the spectacular Cretan culture. The resort's wellness facilities are also a big part of the appeal. On top of the tranquil spa, with its hydro-massage facilities, Turkish Bath and extensive range of 'Ultimate Facial' treatments for both men and women, the beautiful seaside and the evergreen gardens are ideal for private yoga lessons.
Rooms start from €120 (approx. £107) per night for a Deluxe Double Room with sea view.
http://www.cavospada.gr/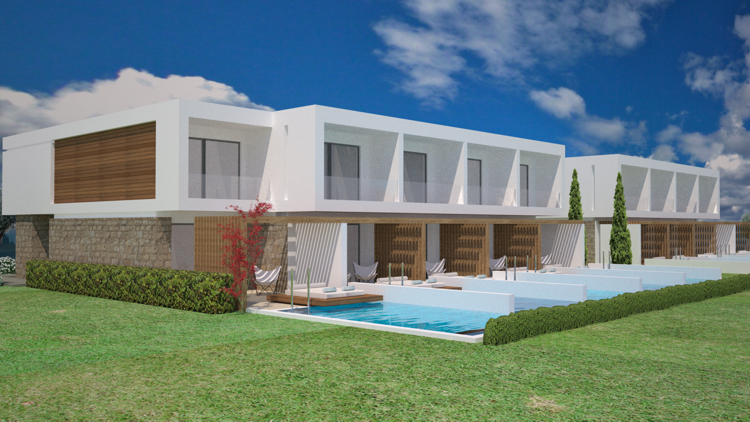 Gennadi Grand Resort
A new design resort set on the coastline overlooking the Aegean, Gennadi Grand Resort opens in May 2018 and will set a new standard for five-star hospitality in the Greek islands. Part of Lindos Hotel Group, this environmentally sensitive resort redefines modern luxury. With 266 stunning rooms and suites, most with equal space outside and in, each room offers sophistication and tranquil beauty and creates a holistic hideaway experience. Blending into its surroundings, the resort will feature a sloped sustainable green roof; this eco-friendly green roof will not only welcome in the natural elements of the landscape, minimise the sunlight reflection and improve the overall microclimate but will also be used as an open air public space for walking, yoga, and jogging with views of the island beyond.
Rates at Gennadi Grand Resort start at €250 (approx. £223) per night.
http://www.gennadigrandresort.com/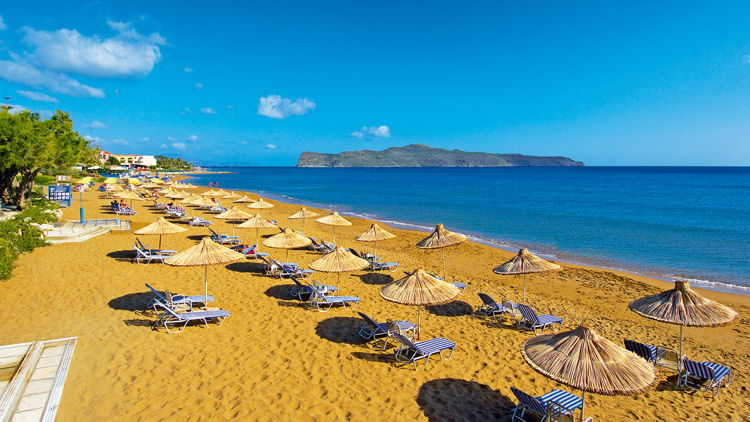 Santa Marina Beach Resort
A picturesque, modern resort, located on the Cretan coast, East of Chania, Santa Marina Beach Resort is perfect for those that like to mix a bit of adventure into their holiday. The resort's location allows for a variety of experiences, utilising some of the islands areas of natural beauty. With diving in the warm Mediterranean Sea on offer, guests can chance a meeting with one of the area's local turtle population. For those that prefer land-based activities, breathtaking trekking and cycling routes are available to explore the mountainous, local countryside, even to the UNESCO protected Samaria Gorge – the longest and most impressive gorge in Europe. With 212 rooms, including those in the brand-new luxury 'Pearl Wing', 4 restaurants and two pools to choose from, the Bright and airy resort exudes a relaxed and calming feel, perfect to kick back and relax after exploring the local area.
Rooms start from €120 (approx. £107) per night for a Deluxe Double Room with sea view.
http://www.santamarinabeach.gr/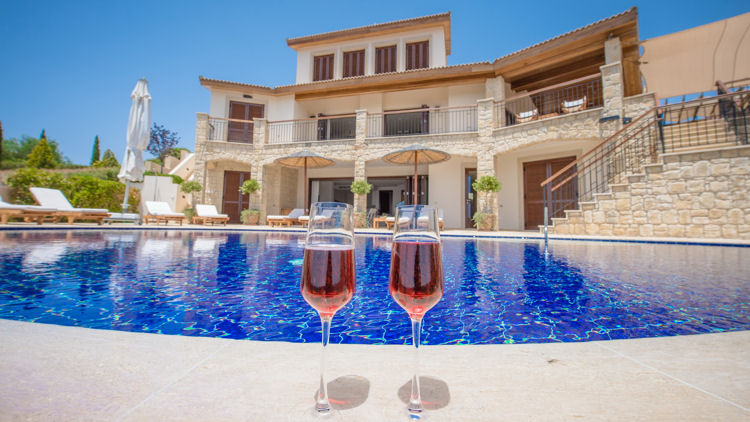 Aphrodite Hills Resort is a quintessential, luxury warm weather getaway which caters for everyone from golf and tennis so beach and spa lovers.
Having recently undergone a complete renovation of the golf course, making it the PGA National for Cyprus, a holiday at Aphrodite Hills is like visiting in a vibrant town. A must-visit destination itself, the resort houses an unparalleled array of amenities. A children's club with numerous outdoor activities and sporting events (i.e. tennis soccer, archery, crafts, pony rides), shops and restaurants, a car rental office, a supermarket, a pharmacy, a health centre and a beautiful St' Catherine's chapel gives guests a feeling of unparalleled convenience as well as extensive convention destination and banqueting center for those in need.
Exuding a modern elegance, the residences at Aphrodite Hills are utterly stunning. Luxury villas boast breath-taking views, and private pools, with spectacular sunset panoramas over the Mediterranean Sea.