Thailand is renowned for its lavish resorts nestled beside dreamy white sands and dazzling waters, but the country has so much more to offer. Those who venture beyond the beaches are rewarded with a world of unique, luxurious experiences.
Take a journey through the 'Land of Smiles' to discover exclusive jungle retreats, intimate floating villas, magical national parks and tranquil islands away from the crowds.
From Bangkok to Phuket, we've put together four of the best luxury travel experiences in Thailand.
1. Sky high luxury in Bangkok
Touch down in Bangkok and tumble into the lap of luxury with lavish hotels, world-class dining, and decadent shopping. Amidst the hustle and bustle, you'll discover pockets of opulence in decadent spas, chartered helicopter flights over the soaring skyscrapers, and exclusive river cruises along the glimmering Chao Phraya River.
Escape the frantic, fast-paced streets and take to the skies with a visit to a rooftop bar. The famous Sky Bar is a popular option, but there are plenty of luxe rooftops where you can sip champagne and watch the sun set over the city.
Indulge your taste buds in Bangkok's acclaimed fine dining scene, with authentic Thai food and gourmet international cuisine served at some of the best Michelin star restaurants in the world.
Where to stay: Hotel Muse Bangkok
Hotel Muse is a multi-award winning luxury hotel set in Bangkok's exclusive Langsuan area. With two fine dining restaurants, an infinity pool overlooking towering skyscrapers, and a lavish sky bar boasting panoramic views of the city and an in-house mixologist, this is Bangkok luxury at it's best.
2. Historical sites and enchanting waterfalls in Kanchanaburi
Less than three hours south of Bangkok lies the town of Kanchanaburi, known for its dark war history and fantastic museums and memorials. It's also the gateway to an array of luxury riverside retreats and pristine national parks with exquisite waterfalls and lush forests.
Begin by visiting the Kanchanaburi War Cemetery where thousands of Allied soldiers are buried, then see the infamous Bridge over the River Kwai.
Board a train along the Death Railway, stopping at the Thailand-Burma Railway Centre and a section of the Burma Death Railway. This sobering experience offers an excellent insight into the horrors faced by prisoners of war.
Take a longtail boat down the River Kwai to your exclusive floating resort, a peaceful sanctuary surrounded by lush greenery.
The next day, take a trip to nearby Erawan National Park. Take a dip in the beautiful waterfalls, kayak on the glistening lakes, walk along the forest trails, explore the mystical caves and rock paintings, and breathe in the magic of the place.
For an extra touch of luxury, arrange a private tour to ensure you swim under the most spectacular waterfalls before the crowds arrive, including Erawan Waterfall, a cascading, seven-tiered waterfall.
Where to stay: The Floathouse River Kwai
The Floathouse River Kwai is a breathtaking, boutique hideaway, only accessible by boat along the historic river. It's made up of luxury floating villas and a charming onsite floating restaurant and bar. Each elegant villa has a private balcony and pier where you can bask in the tranquil ambience of the surrounding jungle.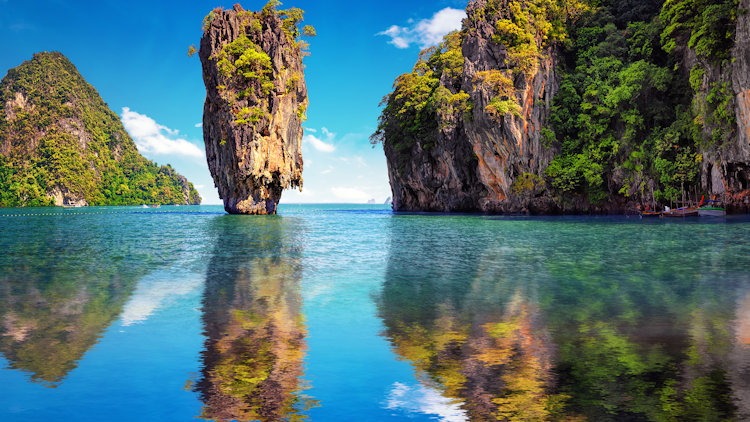 3. Unspoiled nature in Khao Sok National Park
Venture south to Khao Sok National Park, a spellbinding nature reserve and a luxury adventure playground in southern Thailand. Spend your days rafting, kayaking, tubing and canoeing along the turquoise rivers and lakes.
Trek through ethereal rainforest to see ancient limestone formations, vibrant wildlife, and rare plant species such as the giant Rafflesia flower. You can head out on a jungle safari in search of tigers, gibbons and elephants, or even go on a thrilling night safari to spot leopard cats, dazzling insects, and the world's smallest deer.
Where to stay: Our Jungle House
Set on 25 acres of privately owned rainforest, Our Jungle House is an incredible luxury eco-resort and the only place where you can stay in a tree-house in the Khao Sok rainforest. You'll be immersed in pristine jungle and may even spot Great Hornbill birds and gibbon monkeys from your private deck.
4. Blissful beach paradise in Phuket
Continue further south to the picturesque shores of Phuket. The city itself is dripping in luxurious spas, restaurants, resorts and shopping malls, but we recommend escaping the crowds for a truly special experience in the surrounding islands.
Take a sea canoe journey around the captivating islands of Phang Nga Bay. You'll spend the afternoon kayaking through limestone sea caves, exploring hidden lagoons, enjoying refreshing dips in the crystal waters, and dining on delicious Thai food.
Gaze out over the spectacular sunset, then release your Loy Krathong (lantern) into the night sky. As you paddle under the stars, you'll see the bay light up with the mesmerizing dance of bioluminescent plankton.
Where to stay: The Vijitt Resort Phuket
Hidden away on a tranquil stretch of beach in Phuket, the Vijitt Resort is one of the most desirable tropical retreats in Thailand. You'll enter a private haven of luxury with lavish seafront villas boasting private pools and stunning views over the palm-fringed white sands and sparkling waters.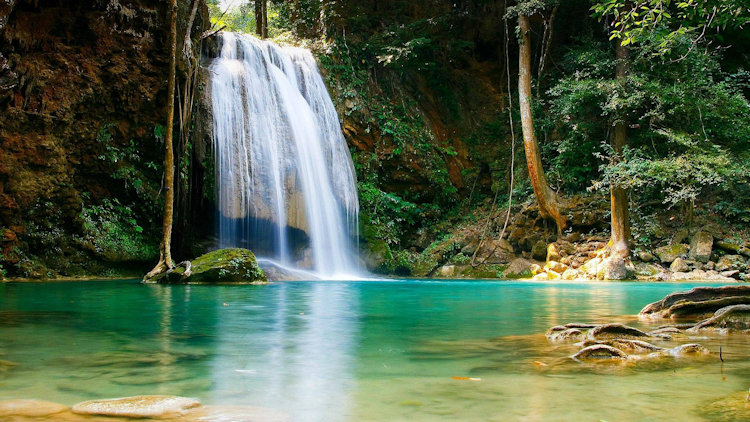 5. Lavish island living in Koh Samui
Head further south to Koh Samui, an idyllic island escape brimming with luxurious experiences. This is a place of true relaxation, with exquisite beaches, crystal waters, sumptuous spas and delicious food.
Enjoy a romantic dinner on the beach, sinking your toes into sugary white sand as you enjoy the fresh local produce. Take it one step further with an intimate dinner on a floating deck, surrounded by sea and stars. Go in search of the many gorgeous waterfalls on the island, or simply lounge on the beach and enjoy a massage.
Where to stay: Melati Beach Resort & Spa
Melati Beach Resort offers the ultimate island escape, boasting its own private stretch of beach along the pristine Thongson Bay. Stay in beachfront villas with private pools or retreat to the luxurious rooms enveloped in lush rainforest. Be sure to indulge in a pampering at the award-winning Melati Spa.