Here is some inspiration for future bucket list trips, from rare pink diamonds to natural phenomena like pink lakes and horizontal waterfalls, these experiences help uncover a little more of the beautiful wilderness that is Western Australia:
See the Rarest Diamonds in the World: More than 90% of the global pink diamond supply comes from Rio Tinto's Argyle Diamond Mine in the East Kimberley region of Western Australia. Although the mine is closing at the end of 2020, visitors can still see some of these rare diamonds at Kimberley Fine Diamondsthanks to Owner Frauke Bolten-Boshammer who started collecting these precious jewels almost 30 years ago.
Take an Insta-Worthy Shot Next to WA's Picture Perfect Pink Lakes:Visitors can also marvel at the colorful Hutt Lagoon, which ranges from bubblegum pink to lilac and even red. It's the extremely high level of salinity that gives the lagoon its unusual hue, and its vibrancy changes with the seasons and time of day. There are a number of places to stop and view this natural phenomenon along Port Gregory Road.
"Ride" One of the Biggest Waves in the Country, on Land: One of Australia's biggest waves is also the furthest from any ocean - Wave Rock rises nearly 50 feet above the outback plain. Approximately three to four hours from Perth, this 360-foot-long multi-colored granite cliff is shaped remarkably like a huge wave about to crash onto the bush.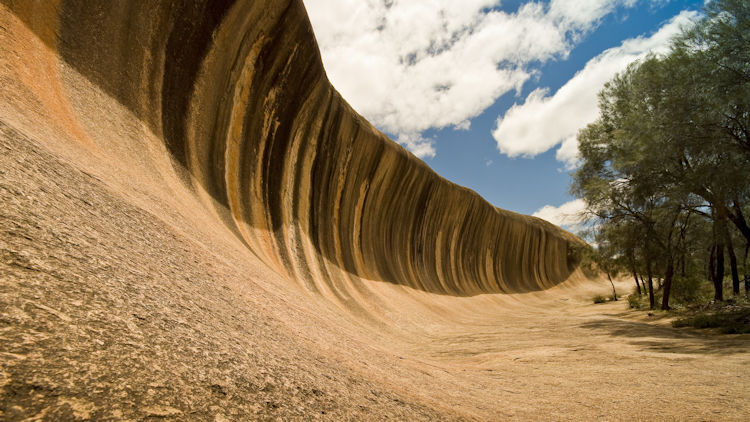 Walk in the Footsteps of Dinosaurs: The world's biggest dinosaur footprints can be found along Broome's Gantheaume Point and to James Price Point on the Dampier Peninsula in WA's North West. Here, preserved in the reef rock for over 125 million years, are the footprints of long-extinct dinosaurs and a few plant fossils too, making it one of the best paleontological sites in the world. The tracks of up to seven different dinosaur species from the Cretaceous period have been verified, and the world's biggest print is that of a sauropod, measuring over 5 feet.
Cruise Across Horizontal Waterfalls: The Horizontal Waterfalls in WA's North West are one of the greatest natural wonders of the world. There are two horizontal waterfalls in WA and both can be found in Talbot Bay in the Buccaneer Archipelago. The white waters are thrilling to ride by boat and awe-inspiring from the air – with a number of tour companies offering scenic flights or boat tours. These incredible natural wonders are the work of some of the largest tidal movements in the world. As the tide rises and falls, a huge volume of water is forced through two narrow cliff passages, creating a variation in ocean level of up to 13 feet and a unique waterfall effect.
Image credit: Tourism Western Australia