The island of Ibiza has a reputation for being a party destination but there is so much more to the White Island than nightclubs. Ibiza is a firm favorite with some of the top celebrities, with Katy Perry and Christina Aguilera choosing to holiday there in recent years. Here are the top reasons for putting Ibiza on your list of travel destinations to visit.
There are many stunning luxury villas to rent
There are lots of luxury villas ranging from quaint, smaller ones to huge villas to suit your budget. Most of the villas are in the quieter areas of Ibiza, so you can completely relax in luxurious tranquility but still be able to visit the restaurants and beaches easily. There are villas with swimming pools, outdoor cooking and eating areas, beautiful gardens and views and some even have tennis courts! Whatever type of villa you are looking for, Ibiza has plenty to choose from across the island.
Top restaurants to choose from
If you enjoy going out for a really good meal then Ibiza is ideal for your holiday, with the Hard Rock Hotel's Sublimotion boasting five chefs who share 8 Michelin stars amongst them. There are over 15 other Michelin star restaurants to dine at, including Mirador de Dalt Vila, La Gaia and Eden. If you like healthy eating, there are also lots of cafes that are based around providing healthy meals, snacks and drinks. Also, if you like fine dining with a great view, there are plenty of restaurants with higher vantage points and if you time it right, you can watch the sun set whilst you eat.
The best beach clubs
You are spoiled for choice for great beach clubs in Ibiza and you can choose from the really lively ones such as O Beach right in the heart of San Antonio, or the more secluded ones like five-star Nikki Beach just outside of Santa Eularia. If your kind of holiday involves chilling in the sunshine, listening to live musicians or DJs and food and drink of the highest quality, a beach club should be on your holiday itinerary in Ibiza.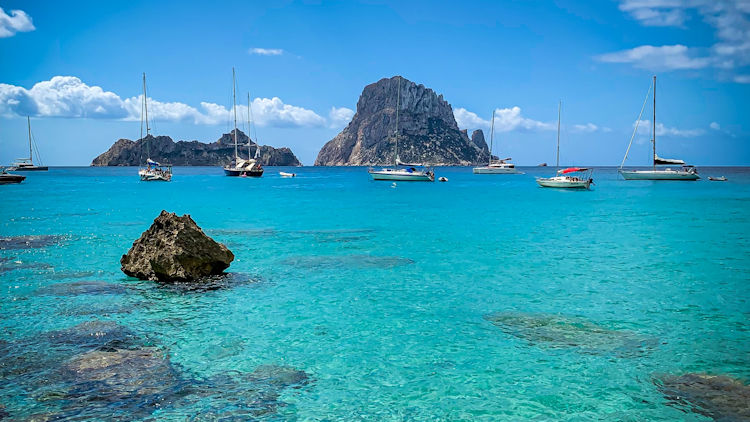 Stunning beaches
Ibiza has a long list of good beaches, ranging from the smaller, less populated ones like Cala Llonga, to the larger and busier ones like Playa d'en Bossa that spans 3km. Ibiza enjoys good weather throughout the majority of the summer months, making it the perfect destination for sun-seekers. There are also lots of opportunities for watersports and boat trips, whilst surfers are also keen on Ibiza for the good waves that are usually available.
There are plenty more reasons people head to Ibiza for their holidays each year, including good weather, the beautiful Old Town and of course the nightlife. However, if it is a luxury holiday you are after, Ibiza has everything you need.
Transfer from the airport is short
If you hate the part of a holiday that is spent traveling from the airport to your accommodation, then a small island like Ibiza is ideal as your travel from the airport will be short. The airport is also quite small, so you can usually quickly get your luggage and get going.
Offers greater protection as flying from EU
When you are traveling within the EU, you are covered under the EU Passenger Rights Regulation, which entitles you to a full reimbursement of the ticket price, or alternative transportation. Flightright UK informs passengers about their rights in such situations. At the site, you can read about how, if you are informed of the flight cancellation less than 14 days prior to departure, each person is entitled to a compensation claim of between €250 and €600. You can also read up on what you might be entitled to if your flight is delayed or canceled after you arrive at the airport.