Are you planning a holiday in South Africa? We have a list of the most unforgettable and magnificent luxury hotels South Africa has to offer. If 5-star luxury is what you fancy, then each of these hotels will blow you away.
Enjoy an extravagant stay at any one of these luxurious hotels, and pamper yourself with sheer excellence! Whether you want breathtaking ocean views, world-class facilities or impeccable service - you will find all of the above on our list!
Each of the excellent hotels we have listed offer lavish comfort, extraordinary facilities and a level of luxury that will have you feeling as if you are in heaven and on the holiday of a lifetime!
Find the best hotels in South Africa on our list of the most outstandingly prominent and luxury hotels.
Beverly Hills Hotel, Durban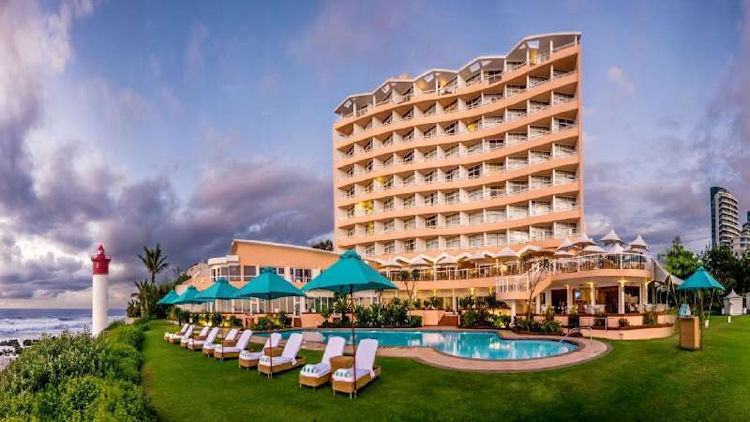 Found in the bustling and beautiful Umhlanga, the Beverly Hills Hotel is world-renowned. The hotel has since captured the hearts of many, and won awards for its excellence as a 5-star rated hotel.
Experience the height of elegance and enjoy the many glamorous facilities, such as a fitness center, heated pool, a business center, two on-site restaurants, valet service, a DVD library and poolside massage therapy performed by specialists. Indulge yourself in all of this, whilst staying in the most luxuriously decorated rooms at what could be the biggest hotel in South Africa.
Enjoy an unforgettable holiday and lounge out on your private balcony with a view overlooking the majestic Indian Ocean.
Four Seasons Hotel The Westcliff, Johannesburg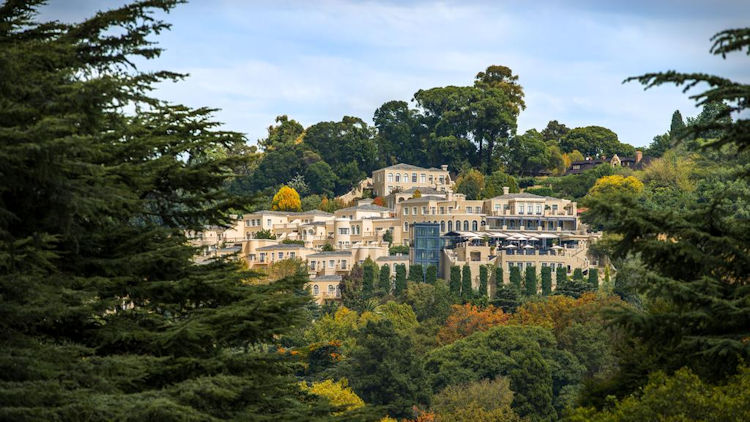 When staying in Johannesburg, the most prestigious hotel is found on the rocky high mountains of the Witwatersrand ( fondly called, 'The Rand' by Jozi locals). If you fly from Cape Town to Johannesburg, you will be able to see some of the mountain range along the way.
You will feel a sense of serenity as you are far away from the center of South Africa's largest city, and surrounded by breathtaking landscapes with lush trees and thriving wildlife at the Four Seasons Hotel The Westcliff, Johannesburg.
This is one of the best hotels in South Africa and boasts some impressive features, such as a glass elevator, many country-chic entertainment areas, an on-site spa, a family pool, and a fitness center. Each room is decorated with Africa themed decor, bringing a vibrant energy to the elegant rooms!
The Oyster Box Hotel, Durban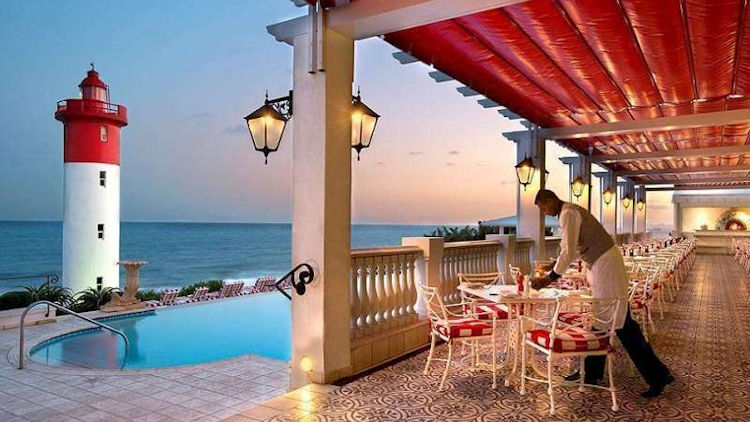 When looking at the best 5-star hotels in South Africa, The Oyster Box Hotel just simply pops to mind! This astoundingly beautiful, extremely luxurious 5-star hotel offers the finest of everything.
Not only are you surrounded in extravagance at one of the top hotels in South Africa, but you are also spoilt with magnificent views of Umhlanga's iconic lighthouse, and the vast horizon of the Indian Ocean.
You can enjoy meals at the world-class and convenient on-site restaurants, or treat yourself to a massage at the award-winning spa that is located in the hotel's tropical gardens. This is one of the five-star hotels in South Africa that has won a myriad of awards for its sheer excellence, and will not disappoint you!
Belmond Mount Nelson Hotel, Cape Town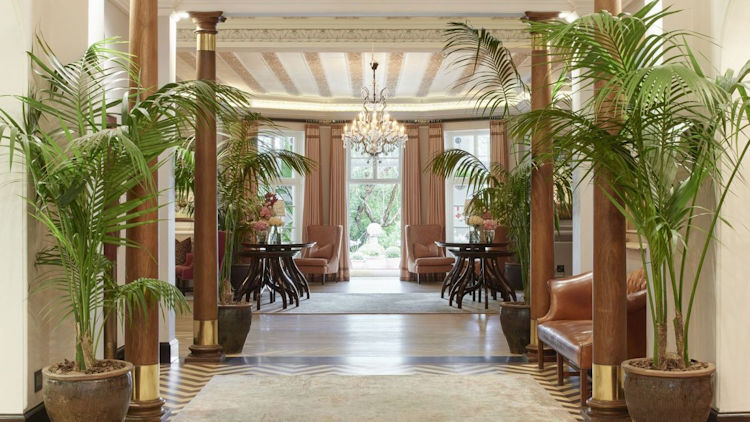 Cape Town is considered South Africa's 'Mother City' and provides an unending amount of fun activities! You can enjoy things like Table Mountain cable car rides, a penguins tour, beachside escapes and a world-class shopping spree whilst staying at one of the best 5-star hotels in South Africa.
Enjoy luxury accommodation at Belmond Mount Nelson Hotel, a hotel with a stellar reputation, that also happens to be at the foot of Table Mountain. The hotel was painted pink in 1918 to represent peace, and you'll see that the inside preserved the remarkable bygone era.
Indulge in fine wining and dining, spa facilities, luxurious lounges, an outdoor pool, a tennis court, a beautiful nine-acre garden, and let your kids run wild in the children's center. You will also find scheduled shuttles to the V&A Waterfront in Cape Town!
Royal Malewane, Kruger National Park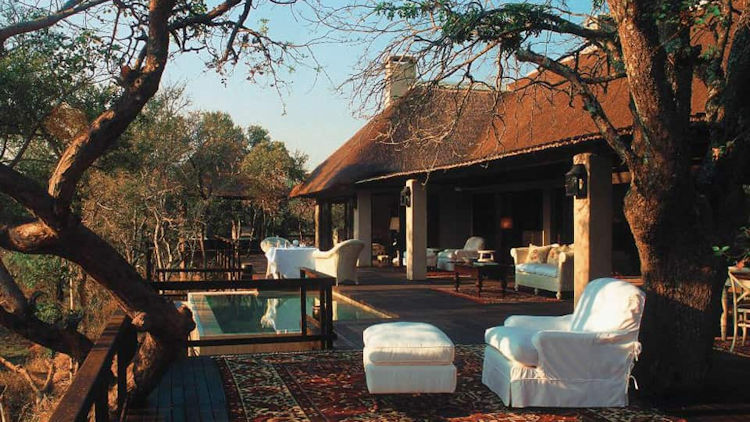 As suggested in the name, the Royal Malewane will have you feeling like a blue-blooded king or queen! Located in the Kruger National Park, you will enjoy all the perks of one of the best luxury resorts in South Africa at a world-renowned safari lodge.
Enjoy expansive views of wildlife from a luxurious lounge deck, or from your suite's private pool. To see the big 5, be sure to head out on a tour guided by the most qualified guiding team in Africa! Treat yourself to feasts served at the on-site restaurant, a relaxing massage, or enjoy a mesmerizing sunset from the sleekly decorated deck.
Enjoy the most luxurious holiday and bask in the magical spirit of Africa!
Luxury Hotels in South Africa
South Africa is home to some of the most beautiful and mesmerizing hotels, so when you visit the astounding natural landscapes, you can enjoy them from the balconies of high-class luxury suites.
All across the country, you will find unforgettably amazing accommodation spots, and whether you are staying in 5-star luxury or a 3-star hotel, you are bound to love your stay! A holiday in South Africa provides a one-of-a-kind experience, and memories that will last your whole life.
However, the 5-star hotels in South Africa we have listed will ensure that you are treated like royalty during your thrilling vacation, ensuring a luxury travel experience.