Millennials are turning the luxury market on its head, where wealth is defined by a broader version of happiness and experiences are valued above goods.
Indeed, wealthy millennials are utilizing the new luxury market to not simply consume luxury goods, but rather to define who they are. Gone are the days of mindless consumerism and brand loyalty. Today's new age audience are redefining the new luxury market, seeking a more personalized and relaxed experience that allows them to enjoy life to the fullest.
Here are five ways millennials are creating a world of new luxury


1: Custom experiences
Millennials value experiences above things and will often pay more for a heightened experience, from prime seats at a music concert, enhanced comfort at an event to match their luxurious lifestyles, or a VIP customized destination experience during a holiday abroad a luxury sailing yacht. Millennials are increasingly seeking experiences that are unique and specifically tailored to them as they shift their focus purely from goods and the world of consumerism.
2: Design at the forefront
Today's wealthy millennials are savvier than ever, and that translates into their desire for cutting-edge design. Nowhere is this seen more evidently than in the luxury yacht market where superyacht design has seen a shift in what users now desire.
Large vacuous formal spaces, such as dining rooms and salons, are now no longer in demand, with millennials favoring a more relaxed superyacht design, encompassing spaces that are conducive to informal socializing, including spacious open-air decks.
Tapping into the trend for luxury wellness, superyacht design now needs to include a raft of wellness focused amenities to appeal to millennials in search of new luxury, including state-of-the art gyms and sumptuous spas.
Water sports are also desired by today's high net-worth individuals, tapping into millennials desire to enjoy experiences over and above anything else. According to Business Insider, millennials are also saying goodbye to offices when custom-ordering superyachts, instead preferring to completely switch-off during a luxury charter and focus on enjoying life to the fullest.
One such yacht which embodies millennials' desire for new luxury is Sailing Yacht A, a striking yacht built by German shipyard Nobiskrug. Currently the largest sailing yacht in the world it includes an underwater observation pod and smooth lustrous metallic surfaces for a futuristic look.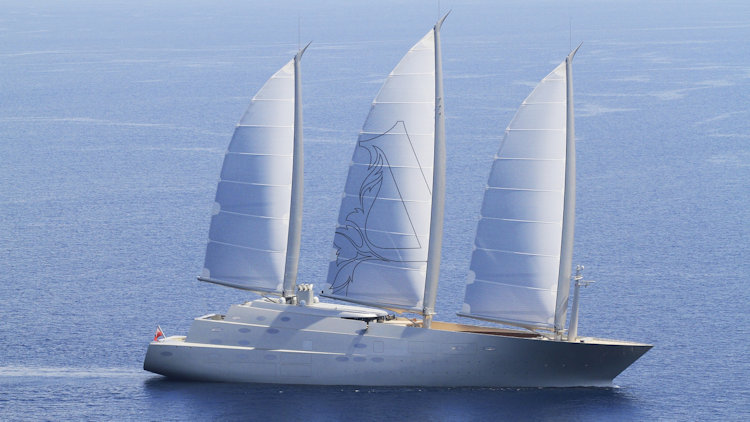 Sailing yacht A. Copyright Peter Seyfferth
3: Yacht Holidays A Must
With so many VIP experiences to enjoy, millennials view luxury yachts as just one part of their fast-moving new luxury lifestyle, making holidaying on a sailing yacht a popular option with the jet-set. And, with this comes the freedom to travel wherever and whenever they choose, without being tied to just one physical yacht. Indeed, sailing yacht holidays can allow those with enough cash to splash to be in the Mediterranean one week, the Caribbean the next.
4: Diverse investment portfolios
Wealthy millennials are far more likely to have diverse investment portfolios, shunning traditional financial investments and instead plumping for trendy investments, from tech start-ups to cryptocurrencies such as Bitcoin. Indeed, according to a report by Edelman, up to a quarter of affluent millennials invest in cryptocurrency.
5: Social media driving change
Social media is driving change in the modern new luxury market, as millennials embrace social media channels to share their luxury experiences across popular channels such as Instagram, SnapChat, and Facebook. Popular "Influencers" also profoundly influence the buying habits of millennials, with luxury brands now having to redefine their marketing strategies and become increasingly innovative to reach this new generation of millennials consumers who are redefining the new luxury market.
Article by Joanna Lewis