After a year as stressful as 2020, all of us deserve a few luxury vacations to relax and unwind. Maybe you've even spent the past year researching the best hotels and luxury travel ideas for after the pandemic subsides.
We're here to provide more inspiration for your luxury travel wish list. From the Caribbean to the Mediterranean to Asia, here are some of the world's top hotels to consider for your next holiday.
1. OKU Ibiza (Sant Antoni de Portmany, Spain)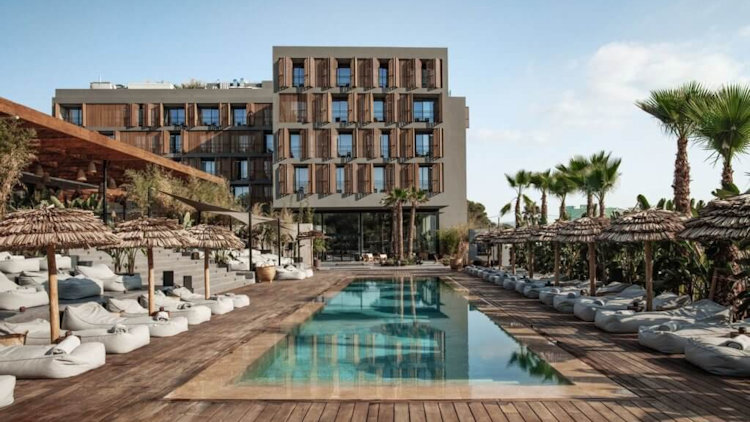 Spain continues to be a major holiday spot for UK tourists. OKU Ibiza is a luxury Balearic retreat in its simplest form. Located on the West of the island, just moments from the beautiful Cala Gracióbay, OKU Ibiza is both vibrant and tranquil, reflecting the spirit of the White Isle itself.
The bohemian setting brings the outdoors in, with the island's largest swimming pool, plus and a second pool offering the space and seclusion for guests to unwind.
Showcasing the best of local culture, OKU Ibiza invites guests to savor delectable fusion cuisine with the destination OKU Restaurant, sip a freshly-shaken cocktail at the pool or restore mind and body in the spa and wellness areas. Our soulful Ibizan hideaway invites you to discover your inner space, whatever that means to you.
2. Lopud 1483 (Lopud Island, Croatia)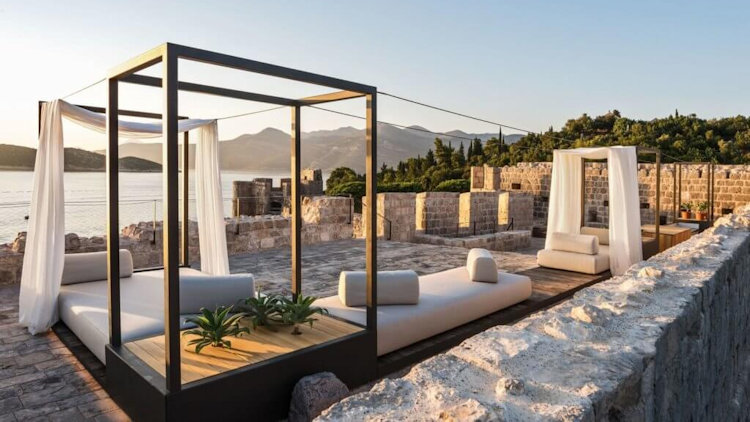 Does your idea of luxury travel include sleeping in a 15h-century oceanfront monastery in Croatia? If so, hop a flight to Lopud island in Croatia and book a stay at Lopud 1483.
This historic building located at the northern tip of the island Lopud has been restored in the past 20 years to embrace the tranquillity and sanctity of the grounds it was built.
Old monastery cells have been transformed into exquisite suites, with thoughtful interplay between renaissance wood and modern elements giving this safe haven a vibrant, yet timeless, flair. With UNESCO world heritage sites, wellness experiences, and the coast only a stone throw away, there are plenty of activities to undertake to recharge your batteries and satisfy your wanderlust.
3. Kalesma Mykonos (Mykonos, Greece)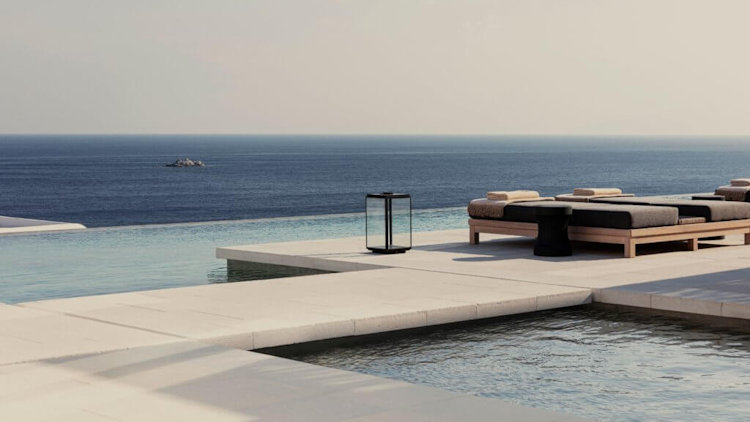 No list of the world's top hotels would be complete with a visit to the Greek isles. Kalesma Mykonos is one of the newest luxury travel hotels ready to welcome visitors in 2021.
The resort features 25 suites and two villas nestled on a hillside high above the Aegean Sea. Book a massage, yoga session, or other luxury treatments at the resort's wellness center. At the end of the day, settle in at the pool bar to watch an iconic Mykonos sunset.
When you're ready to explore the island, the concierge will be happy to arrange scuba diving lessons, a private boat rental, or a tour of the famous windmills.
4. NIHI Sumba (Indonesia)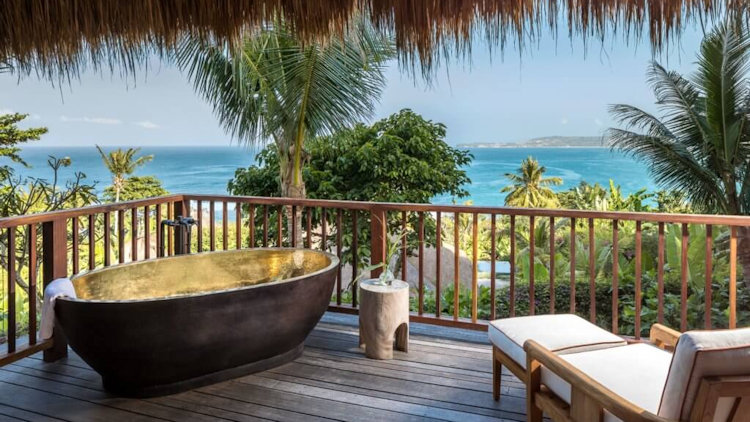 For the ultimate "Bali" experience, look no further than the luxurious NIHI Sumba resort. The property boasts 28 private villas (each with a private pool), surrounded by over 500 acres of untouched Balinese rainforest.
Among the resort's offerings, you'll find a yoga pavilion, a chocolate factory, organic gardens, and nature trails. Book a tour at the resort's stables and experience your dream of riding a horse on a tropical beach.
Sign up for an Indonesian cooking class or chocolate making class. Then enjoy a massage or a facial in your private cliffside "Bale" hut as the sound of the ocean gently lulls you to sleep.
5. Silversands Grenada (St. Georges, Grenada)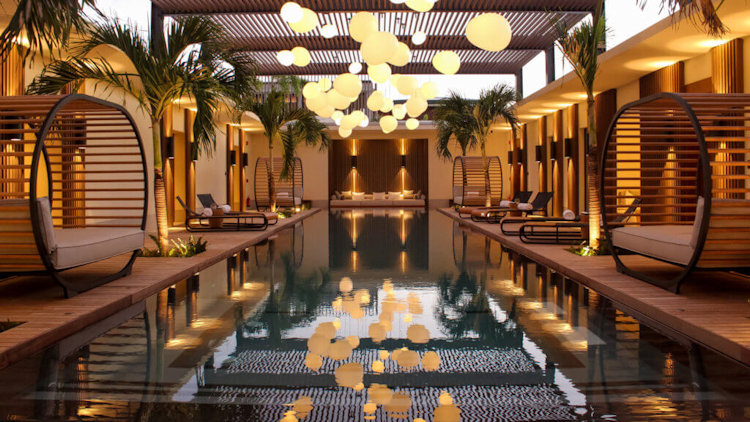 One of the newest luxury resorts on the Caribbean island of Grenada is the aptly-named Silversands. This oasis of relaxation features 43 rooms and suites as well as eight private villas.
Lounge around the longest infinity pool in the Caribbean — over 100 meters! Visit the spa for their signature Hot Sand Therapy or ice cave experience. Enjoy a delicious meal at Asiatique, the resort's elegant Asian-themed restaurant.
Then, when you're ready to call it a night, cozy up at the lounge-style bar to sample some fine small-batch rums and globally sourced cigars.
6. Royal Champagne Hotel & Spa (Champillon, France)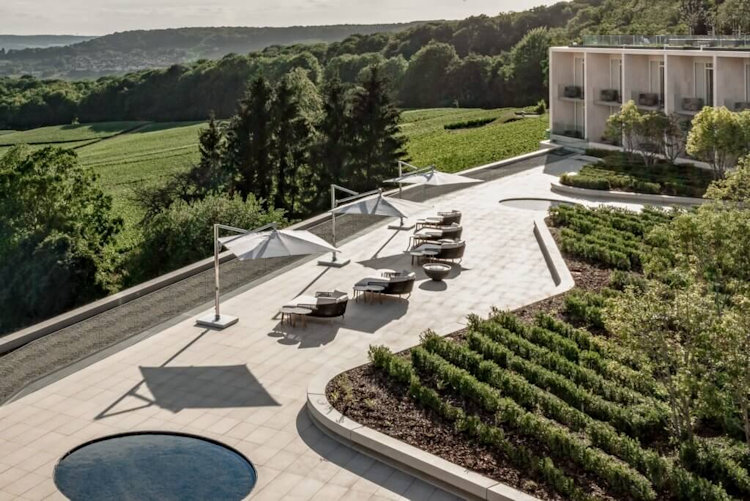 Wine aficionados should book their next luxury travel holiday at the Royal Champagne Hotel & Spa, just a short two-hour drive from Paris. Each of the hotel's 47 rooms overlooks the rolling green vineyards of Montagne de Reims.
Expect understated elegance in your luxurious guest room, decorated with natural, hand-crafted oak and muted shades of blue and yellow. Spend the day relaxing by the hotel pool or exploring the fragrant herb garden.
In the evening, learn about the hotel bar's 200+ bottles of champagne from the head sommelier. Then enjoy an unforgettable meal at the property's Michelin-starred Le Royal restaurant.
7. Bethlen Estates (Transylvania, Romania)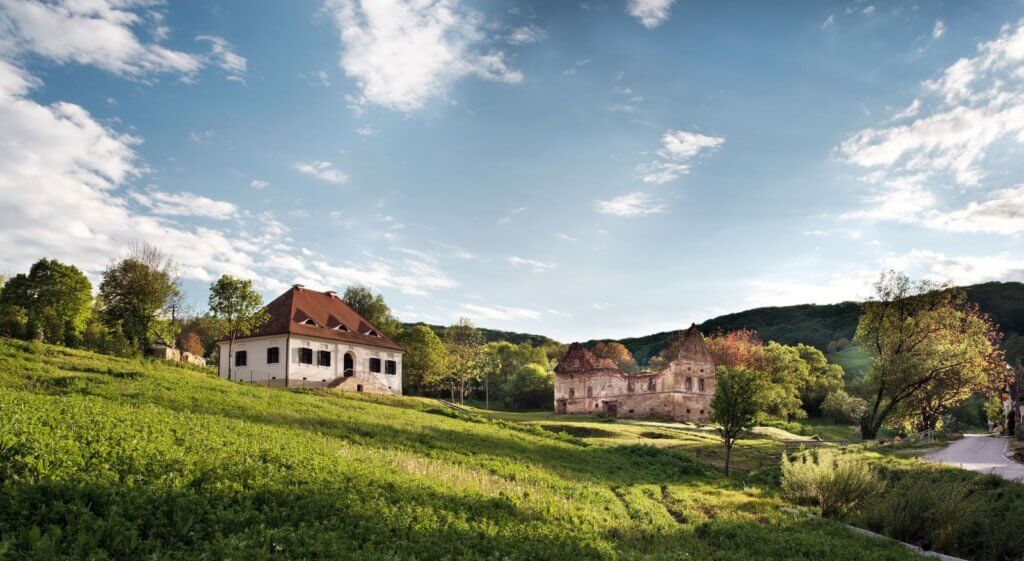 Set in the remote northern reaches of Romania's still relatively unknown region of Transylvania, Bethlen Estates is a family legacy project strongly rooted in the preservation of local heritage. A collection of beautifully restored Saxon village houses, this remarkable endeavor presents a unique and authentic way to explore Europe's last remaining wilderness in the utmost style and comfort.
With two beautiful houses to choose from harboring luxury suites with nothing to be desired, spend the days with activities such as learning horse riding, wine tasting, or exploring nearby UNESCO world heritage sites.