Examining the specimen carefully with our guide, a lively discussion broke out as they tried to determine its age and figure out which direction the animals were moving in. Adjusting our pace to the capabilities of our youngest son, we carefully followed the path of the herd. The beauty of this walking adventure was that it had been created just for us and carefully planned according to how much the kids could handle.
Of course, it also helped that we had waited until we thought they were old enough to get the most out of their African adventure.
Our guide judged that the elephants we were following had crossed the river and we were planning to catch up with them in time to stop for lunch in the shade of the riverside thickets and watch them safely as they grazed on the opposite bank. Later that night, after we had reached the spot where the tents had been set up, we would re-live every moment of the elephant encounter as we sat around a blazing fire and talked about the adventures encountered on each day of our walking safari.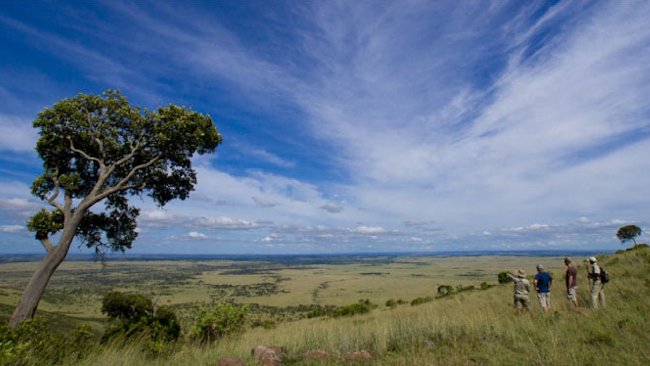 My heart swelled with pride as I listened to my children discuss all they had seen and done. How much they had learned on this African journey. I thought of how quickly they managed to bridge the differences of language and culture with the children of the Mayoka village near Lake Manyara, in neighbouring Tanzania, where our adventure had been. Cycling through that magnificent Rift Valley landscape, we found ourselves greeted by a friendly circle of local villagers, dressed in their traditional animal skin cloaks and colourful beads.
As a swarm of laughing children surrounded us I watched my two instantly absorbed into village life, drawn by the hand by their new friends to admire their baby goats and calves, giving each youngster a quick ride on their bicycles in return. As warmed as I was by their instant acceptance of this different way of life, I was equally impressed by their restraint later, when we stopped by the lakeshore to admire the bright pink flocks of flamingo wading in the shallows. Donning their gumboots, they crept out to the water's edge along with our guide, stepping carefully and stifling their cries of excitement so as not to startle the birdlife.
It's been so easy, this journey through Africa with my children and so infinitely rewarding too. I can't believe I was ever worried about bringing them here. Deep in my heart, I'm convinced we'll be returning soon, perhaps to explore the remote landscapes of Kenya on a horseback safari or maybe to gaze on the effervescent sight of a lunar rainbow, seen only at Victoria Falls at full moon when the waters of the Zambezi are running high. Whatever it will be, I can't wait to begin our next African adventure together.
More information:
www.andbeyondafrica.com