It was pitch black on the river. Streetlights glimmered on the bank ahead of us, reflecting in the still water of the Nam Khan river, as we made our way steadily across, accompanied only by the sound of our little wooden boat's motor. Steep steps on the riverside led up to the road and Paste Laos, the new fine dining restaurant just opened by Michelin-starred Thai chef Bee Satongun of Paste Bangkok.
Paste is a major new addition to Luang Prabang, Laos' former Royal capital, and confirmation that Laotian cuisine is on the rise. Though far less famous than the food of neighboring Thailand and Vietnam, there's plenty in this South-east Asian country for foodie travellers to discover, from fresh, intriguing dishes at the recently opened Botanical Garden's to canapes and cocktails on stylish Mekong river cruises. Across the city, you find not only Thai, Vietnamese, Chinese and Laotian restaurants, but everything from Scandinavian bakeries and French bistros, a reflection of the diverse cultures that have fed into Luang Prabang over the centuries.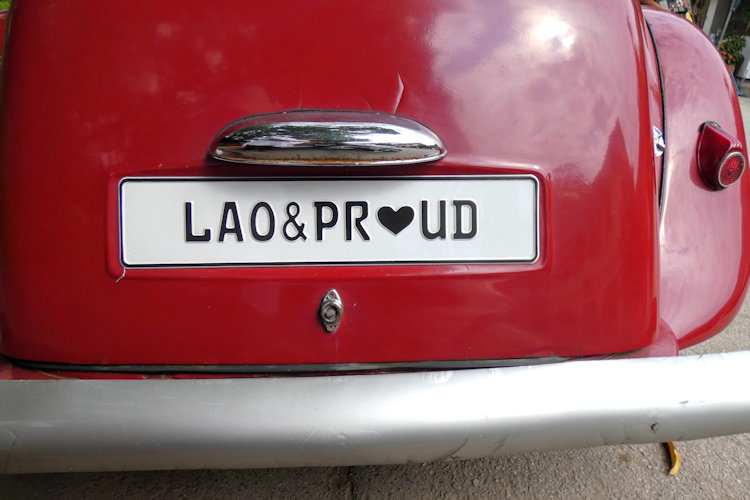 We started the trip with a simple taste of local life, watching pétanque, a game similar to French boules, in the evening on one of the city's backstreet courts. Teams of men played against each other, concentrating hard, each taking their turn to throw the heavy metal balls down the court and, with surprising accuracy, striking close to the small red target ball. "We won," a friendly local man exclaimed after a match, placing two Beerlao bottles on our table as a gift. "In Laos, food and drink are meant to be shared," he added with a smile.
Pétanque is just one of many French influences in Luang Prabang. The city has been a protected UNESCO World Heritage site since 1995. Walking through the streets, we came across saffron-clad Buddhist monks, temples, stupas, monasteries and palaces, as well as 'old world' architecture from the French colonial era and stands selling French baguettes. We visited the former Royal Palace, built in 1904, which combines French and Lao architecture. Inside, there are wall displays and glass cabinets with exquisite artworks, including a glass mosaic gifted by Japan in 1940. We also visited Wat Ho Pha Bang, which contains Phra Bang, the 83cm-tall gold Buddha statue that gave the city its name.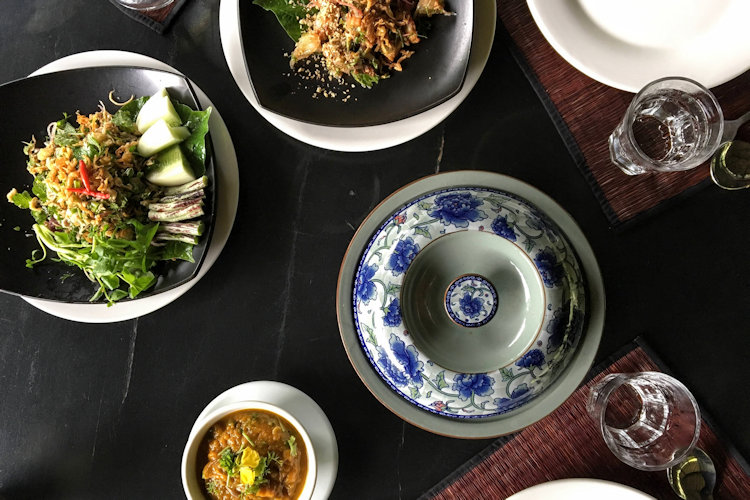 For lunch, we took a longtail boat 30 minutes up the Mekong River to Pha Tad Ke Botanic Gardens, the first botanical gardens in Laos, which opened in November 2016. After walking the trails around this verdant escape, checking out orchids, ferns and bamboos, we tried the menu at the café, next to a lily pond. We started with tofu laap, a salad made with banana flower, garlic, fish sauce, lemongrass, spring onion and toasted rice, then continued with deep-fried tilapia fish with pomelo and betel leaves, a dish with subtle layers of flavour.
"Some of our food looks similar to other countries, like Thailand, but when you taste it, the taste is not the same," said the chef Nuanchan Khantisouk. "Lao food is very healthy. We get everything here from the gardens, the river and local farms. We grow our own herbs. Lao food can also be spicy. But we like combinations of flavours: not too sour, not too sweet, and just a little bit spicy."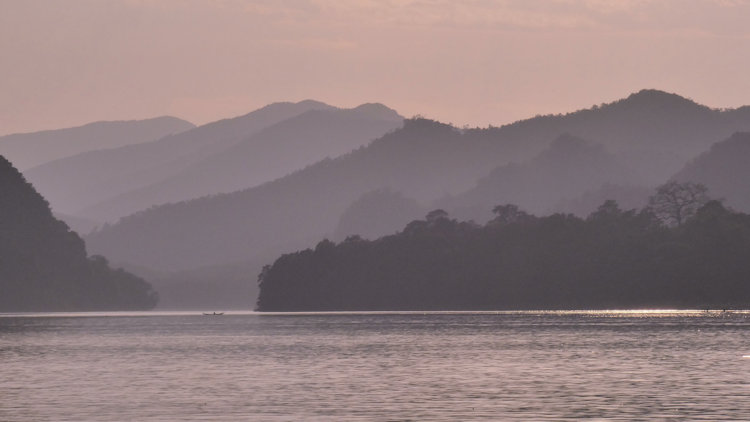 Later in the day, after visiting the riverside temple of Wat Long Khoun, we boarded the Monsoon boat from Mekong Kingdoms for a sunset river cruise. A former transport boat, the long vessel had been decked out with plush, colourful daybeds and cushions. After a cup of lemongrass tea with tamarind and ginger, we enjoyed little salads and spring rolls as we meandered down the Mekong river, heading south, against the flow of the other boats on the river. As the sun started to hide, the mountains ahead of us turned purple, showing off the shapes of the tamarind trees on the ridges. Silhouettes of fishermen stood out against the light on the horizon.
Next morning, we drove to a farm outside the city in Ban Thinsom village, on the road towards Kuang Si waterfall. As we approached, a healthy-looking young man greeted us with a smile. "I am Number 7. Good to meet you," Laut Lee smiled.
"Our farm is called Lee7Farm because there are seven brothers from our family working here," Laut explained as he showed us around his crops of basil, oregano, beetroot, spring onion and more, growing on the side of two hectares of rice paddies. "Everyone grows lettuce and some vegetables, but I think herbs are important. We use them a lot in our local food. We have 24 family members eating food from this farm. Even kids come and help on the weekends."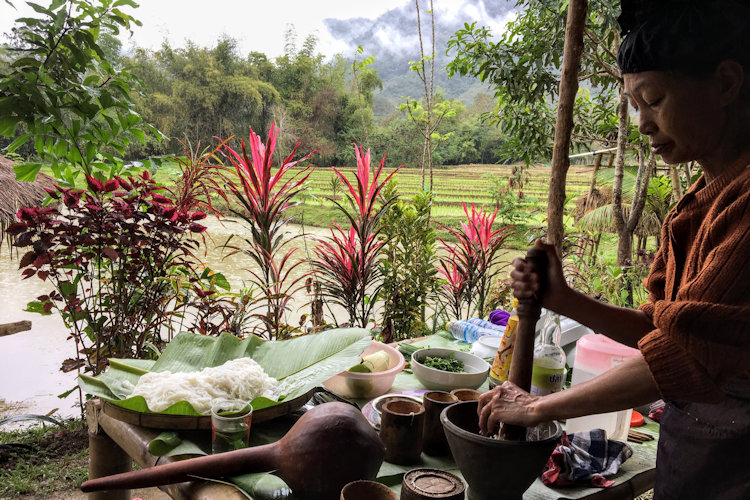 75 per cent of Laos' people are farmers, most of them producing rice, a staple in the country's diet, often eaten with jeow, a fiery chilli paste that provides flavor. "Rice is our main food here," Laut told us. "We produce four tons with every crop and our family eats it all in six months."
We learned how rice noodles are produced from scratch, including the ploughing of the rice paddies using a water buffalo and embedding the young rice plants. Laut demonstrated the threshing of the rice, then ground the grains using a traditional stone mill that was more than 100 years old. Water was added to the rice flour to form a ball of white paste, which was then squeezed through a tool to form noodles that solidified in boiling water.
We all sat at a ground level table inside a bamboo hut and ate the dishes we'd helped to produce, including a spicy papaya salad and a generous bowl of noodles with morning glory, beetroot and coriander, all untouched by technology or chemicals. Laos has 49 recognized ethnic groups. "When you know the food people eat, you know how they live," Laut explained, as rain fell on the paddy fields. "We can sometimes know where someone is from by what they eat. Hmong people, like us, usually eat very simple types of food."
We made our way back to the city and our hotel, The Apsara Rive Droite, a luxurious nine-room, boutique hotel on the banks of the Nam Khan river, our spacious, elegantly furnished room looking out onto the pool and lovely garden. Next morning, we enjoyed fresh pastries, good coffee and a Laotian omelette made with chillies, onions and tomato, then passed our time reading novels by the pool, surrounded by bright pink bougainvilleas.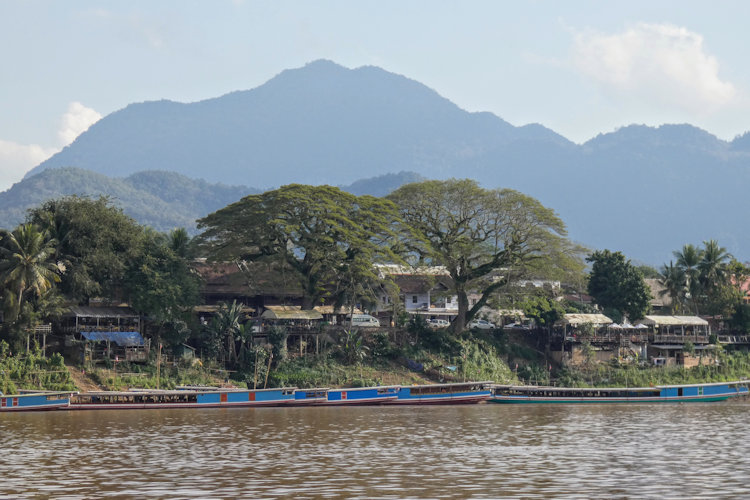 We walked the city in the afternoon and climbed the steep steps to Wat Phousi, the city's iconic hilltop temple with views over the Mekong and Nam Khan rivers. For our final evening, we had a reservation at Paste at The Apsara, the sister property of the hotel we stayed in. The restaurant, which opened in November 2018, has a pristine white venue with delicate paintings of peacocks on the walls and an exposed wine cellar behind glass, with bottles from around the world, Australia to Chile to South Africa, not something you find at many Luang Prabang restaurants.
The menu offers high end Lao food, a sophisticated take on traditional Lao dishes, with chef couple Jason Bailey and Bee Satongun (voted Asia´s best female chef in 2018 by 'Asia´s 50 Best Restaurants') taking inspiration from a book of recipes published by Phia Sing, a former chef and physician at Laos' Royal court, recognized as the 'Godfather of Lao Food.'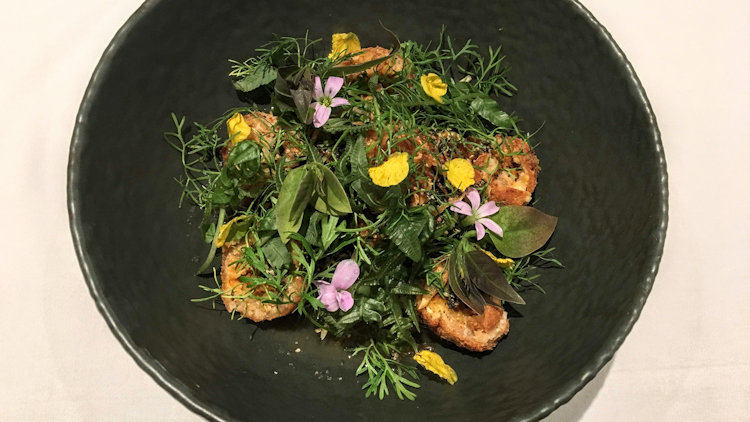 "In Lao food, there are a number of ingredients that you don´t see in other countries, certain leaves, herbs or ferns, and the food is earthier and less sweet," explained Ivan Scholte, owner of The Apsara, who chats with us before our meal. "Lao food used to be under the Thai umbrella, but now you more Lao restaurants opening in London and New York. People are very surprised when they come here and find a sophisticated take on Lao food." Many of the dishes on the menu are created using fermentation, smoking, dehydration and other techniques, combining a surprising number of ingredients.
We shared crunchy cured rice balls to start, ornamented with edible flowers, then a colorful Luang Prabang salad with Asian watercress, salted quail egg, cured fish eggs and a jicama cracker, a creamy sauce on the base giving a subtle shrimp taste to every mouthful. For mains, we ordered a crab curry and a coal-grilled pork loin. But the standout dish was a delicate tilapia fish soup made with lemongrass, monk fruit, shrimp paste and fermented fish sauce, finished with young tamarind leaves and pink peacock flower petals for decoration. It tasted like a soup that has probably taken hours to prepare, with deep layers of flavor. But despite the refinement, it was still a very Laotian dish: not too sour, not too sweet, and just a little bit spicy.
The author traveled with InsideAsia (www.InsideAsiaTours.com, info@insideasiatours.com) on their 9-night 'Flavors of Laos' food and culture-focused trip, which includes luxury accommodation, breakfasts and most meals, private transfers and transport, private guiding and a variety of foodie experiences.
Andrea Moreno is a travel writer and photographer. Follow her on Instagram @tripsandcolors