After his many years of living a rambunctious life of chaos, today, for contemporary artist Louis Carreon, maintaining a constant sense of individual evolution is imperative. Following a harrowing recovery from a substance addiction on top of a prison sentence for drug trafficking, Carreon emerged from a turbulent past to become the recognized artist that he is now known as.
But today, Carreon faces a new challenge ahead as he departs from his usual medium of painting and transitions into sculpting with his very first sculpture titled "David Reincarnated." Inspired by the renowned Italian Baroque era sculptor Gian Lorenzo Bernini, Carreon reintroduces the classic artist's larger than life-sized David sculpture, but with a modern spin.
Though Bernini's original David is portrayed true to the biblical figure, holding a sling and a stone in his hands, as he prepares to take on Goliath, Carreon's David is a variation of David's character, reinterpreted through a modern lens. His David grips a Glock in his right hand, representing the weapon of the modern age. In his left hand, an iPhone, another novelty of today's modern times that indicates the obsession with technology and how accessible resources and knowledge are. Carreon permeates the sculpture with other cultural references by placing modern commodities around his David like, a money counting machine, a Louis Vuitton duffle bag, a Rolex watch around his wrist, Nike Air Max sneakers on his feet and a Hoorsenbuhs chain around his neck. Different from Bernini's David, David Reincarnated carries modernized tools that are nuanced with cultural and street references, both of which are personal references to Carreon's life experiences and influences.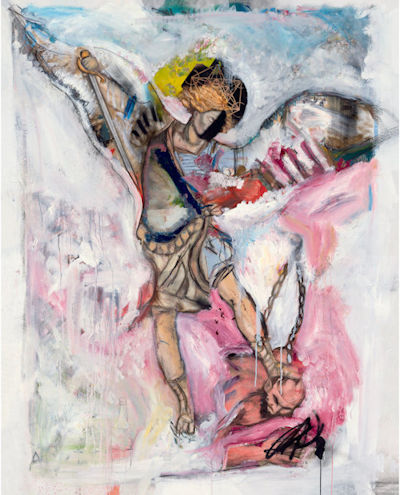 Original Work St Hustle 52"w X 60"h oils, charcoal, aerosol, on linens
Through a collaborative experience and conceptual input from Dr. Ori Z Soltes, a professor at Georgetown University with expertise in biblical narratives and art history, Carreon aims to complete a modern take on the classic statue of David with a solid nine-foot tall marble replica from stone quarried in Mexico. In reinventing the statue of David, Carreon will maintain the traditional overarching themes of the religious sculpture and juxtapose it with themes of modernism, materialism and pop culture.
Littered with modern day cultural references, Carreon's David Reincarnated samples music's hip-hop culture, fashion, technology and more. Though in the Bible, David's oppressor is Goliath, Carreon's David faces cultural oppression. His version of David begs the question: Who is your oppressor? Despite how significant the nuances of the sculpture are to himself as an individual, Carreon hopes that his own personal spiritual journey through David Reincarnated will urge others to interpret the meaning of the sculpture for themselves. In a sense, we are all like David, each with our own varying Goliath, whether social media, cash culture, technology, etc. Through David Reincarnated, Louis aims to reintroduce this history to a contemporary culture so that one can see themself in David ask consider their own Goliath.
"The modern David is in all of us," Carreon says. "We all have to fight for our internal and external peace."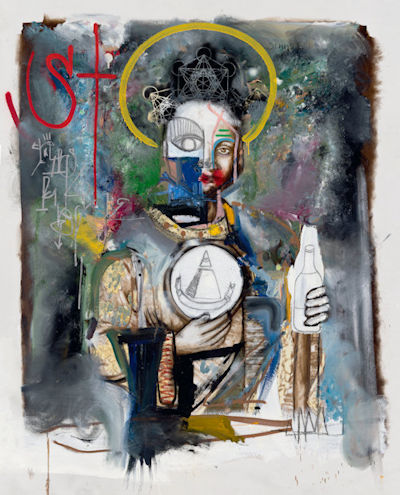 Original Work St Hustle 52"w X 60"h oils, charcoal, aerosol, on linens
These days, whether a painting or sculpture, Carreon's oeuvre echoes his past as he focuses on perpetually recreating himself by changing his narrative as a contemporary artist. Recently, his narrative has had a heavy emphasis on religious iconography through the history of art—hence his David Reincarnated. Through much of his work, Carreon marries academically and historically inspired paintings and works with modernity and contemporary themes, or "flirting with the masters," as he likes to call it. After seeing how, these days, art history has little to no cultural relevance and how schools are focusing less and less on art history, Carreon's fear of a lost world of art further fueled his inspiration for David Reincarnated.
"I'm painting for the youth, for the future," Carreon says. "Urban kids don't know who Caravaggio is. You don't know who Bernini is. Kids never learn about that. As time goes on, unless you go to museums, these artists will become irrelevant. I'm reintroducing and reeducating the younger generation with the classics by adding tools of the modern age."
But where Carreon's art differs from the standards of most traditional gallery artists is in how each and every piece he creates is a call back to his core values. From a religious upbringing to an education to which he credits to the streets where he grew up, Carreon suffuses every piece with meaning. His use of bright colors and bold lines evokes a childlike feel, though after close examination, dark religious undertones elicit a sense of hurt and pain.
"I seek through art the same as I seek through God everlasting life eternal. Unless you go back to God as a man, you only have what your parents have imparted to you as a child," Carreon says. "I went against religion for a long time. At some point as a teen, religion isn't cool, especially if you're a rebel. But until you go deeper, you don't understand it. The reason I say 'religious iconography' is because that's what it's been called for lifetimes. I feel like the word 'religious' itself is offensive and controversial."
And with such stark uniqueness throughout his work, Carreon has attracted an elite group of collectors over the years. Despite his first auctioned pieces only selling for $12,000 in 2015, one of his works would now sell for nearly quadruple the price. Even with a narrative that continuously evolves with Carreon as an individual, his devoted clientele remains loyal, as most identify with the art's values of redemption and progress.
"To me, exploring the value of redemption is everything," Carreon says. "Most human beings feel bad when they do something bad and that alone in itself shows you that there's something bigger than us or else we wouldn't care."
To learn more about Louis Carreon, visit his website or follow him on Instagram.
Article by Magdalena Munao