The U.S. is undoubtedly one of the most visited countries in the world. It is a diverse nation that is home to numerous landmarks and attractions, often making it difficult for travelers to choose where to vacation.
A U.S. state that is sometimes overlooked by tourists is Texas. The Lone Star State is a crossroads of many cultures which offers something that no other state in the country does. From its delicious food and warm temperatures to its historical sites and cowboy culture, there are plenty of reasons why Texas should be on everyone's bucket list.
Besides this, the state is home to several world-class cities, with its capital Austin being the most popular one. The city's vibrant entertainment, amusing art and culture, inspiring cuisine and stunning outdoor experiences are just some of the things that draw people to visit it.
So, if you are planning a trip to Austin, here is a pocket guide to help you experience the city like a local.
Look for accommodation in Downtown Austin
If you truly want to get a taste of what it is like to be a Texan in Austin, then you should consider looking for accommodation in Downtown Austin. This is a great place to stay for first-time visitors as you can be close to the city's most famous landmarks, fine-dining restaurants and best bars.
You can rent one of those cozy and affordable studio apartments in Austin which often feature a lovely outdoor area and are just a few steps away from the city's attractions.
Experience the city's high-end nightlife
Austin's splendid nightlife exists all over the city, from cozy neighborhood bars to some of the most exclusive lounges in town. Depending on what your preferences are, there is a place that suits everyone's taste.
For example, Codependent is a gorgeous space that is inspired by Italian luxury and is a chameleon for any occasion. Its beautifully and elegantly designed interior creates a sophisticated setting that is perfect for a glass of wine with friends while wearing a sleek black dress and a timeless pearl necklace to match the bar's classy ambiance.
Spend a day at Zilker Park
Zilker Park is often referred to as the jewel in the heart of Austin and it is easy to see why. This is a massive park where you can engage in plenty of outdoor activities, including strolling the stunning Zilker Botanical Garden, renting a canoe or kayaking the tranquil waterways of Lady Bird Lake and cooling off in the Barton Springs Pool.
If you don't feel like doing any of this, you can simply pack a picnic basket and spend your day relaxing, enjoying the sunshine and admiring the park's wonders.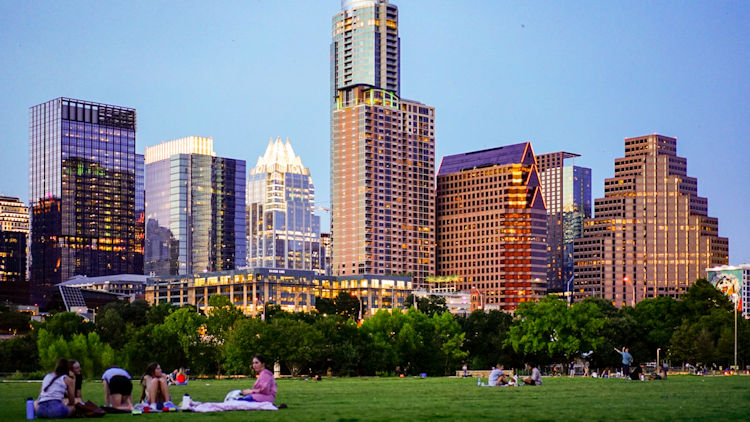 Tour the Texas Capitol Building
You simply cannot visit Austin without checking out the Texas State Capitol building. This is the state's most important seat of government that is actually bigger than the famous capitol building of Washington DC.
The Texas Capitol offers free tours which are a great way to learn about the history of the building and see its ornate architecture and gorgeous grounds. The grounds comprise about 22 acres in the heart of downtown Austin where you can see beautiful monuments and landscaped lawns that are perfect for enjoying a picnic.
Go to Rodeo Austin carnival
Because Texas is known as the rodeo capital of the world, it is only right that you go to the Rodeo Austin carnival. It is an event that is held annually each year in March where you can have an authentic rodeo experience by listening to live music concerts and watching traditional livestock shows.
Besides this, the event offers plenty of other things to do, from going on different rides and petting zoos to checking out the Beer and Wine Garden. To fully blend in, don't forget to put on your cowboy boots and hat.
Indulge in the delicious Austin cuisine
Your trip to Austin cannot be complete without trying the city's best and most delicious foods. From the traditional breakfast tacos, brisket and kolaches to the mouth-watering Tex-Mex barbecue dishes, there are plenty of foods that will simply enhance your traveling experience to this city.
Also, don't forget to check out the food trucks parks all over town to fight your hunger while exploring Austin. Each food truck offers a variety of options sure to satisfy every need, all with a side of sunny, outdoor dining bliss.
Final thoughts
Austin is undoubtedly one of the most popular vacation destinations for people traveling to Texas and it is no wonder why. The city is home to some of the world's most famous attractions, historic landmarks, cocktails bars and lounges and delicious food, all of which provide tourists with an authentic Texan experience.
Therefore, if you are planning a trip to Austin soon, be sure to use our post as a guide in order to have the best time visiting one of the nation's jewels like a local.