One can't help but compare Jade Mountain to heaven. The ultra-luxury retreat sits high on a lofty perch on the 600-acre Anse Chastanet resort overlooking St. Lucia's awe-inspiring, World Heritage Piton mountains. Jade Mountain is the only hotel in St. Lucia with a helipad and arriving by helicopter affords us a spectacular first introduction to St.Lucia's stunning lush tropical beauty from above. Our personal butler, Christus, meets us to show us to our Galaxy Suite. Individual bridges lead to each of 24 "infinity pool sanctuaries," divided into Star, Moon, Sun, and Galaxy categories depending on size.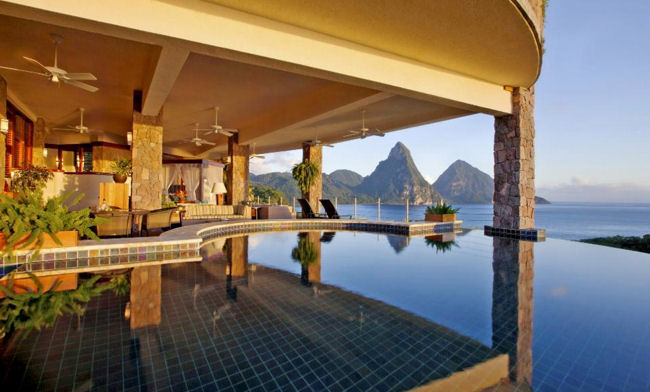 The feeling I got when entering our "sanctuary" was as if I had just learned I was accepted into heaven. An overwhelming feeling of emotion swept over me and brought me tears of joy. It was such an intense feeling of pleasure -- I was completely awestruck.
It took a few minutes to regain my composure so Christus could show us around and check us in. He told us that our suite was named "the most beautiful hotel room in the world" by a major publication. I believe it, because we've been to so many incredible luxury hotels around the world, but this is the first time I've had this kind of reaction to anything ever!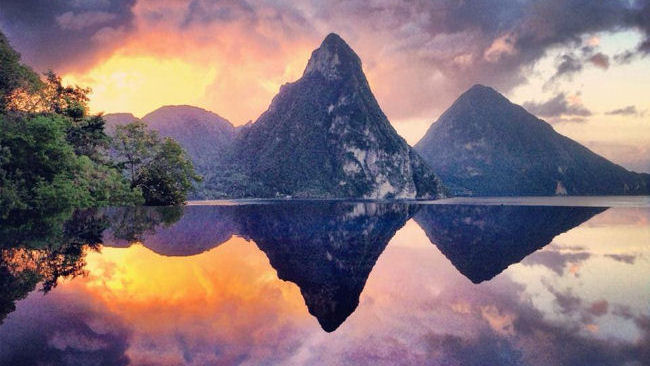 Photo credit: Pinterest
Jade Mountain is the culmination of a dream for owner/architect Nick Troubetzkoy and it becomes a dream come true for his privileged guests. It is fitting that jade is known in China as the "stone of heaven." Nick's story is an amazing one because he had been an avid collector of antique carved jade mountains from China before he even came to St. Lucia. The strong affinity he felt when he first laid eyes on the Pitons was no doubt partly due to his love for his carved jade mountains. He was fortunate to be able to purchase these 600 acres of paradise in the early 1970's before tourism even existed in St. Lucia. So this is truly his place in the world!
They call Jade Mountain "a resort within a resort" but it is really "a resort above a resort." Anse Chastanet, opened in 1974, as a charming, romantic Caribbean haven with a jungle treehouse atmosphere, but Jade Mountain is arguably the most beautiful resort in the world. Even though Anse Chastanet's accommodations are built on a steep hillside, it feels like coming down to earth from Jade Mountain. To me, Anse Chastanet symbolizes earthly delights, while Jade Mountain is all about heavenly delights.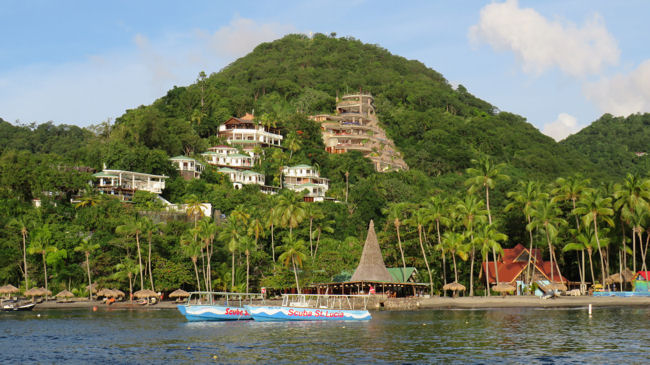 Nick began building Jade Mountain as an extension of Anse Chastanet nearly 30 years later, but it became evident to his wife Karolin that the project was so different it needed its own name. It was she who actually suggested the property be called Jade Mountain. She says that it appeared to her that Nick was finally carving his own jade mountain, albeit on a much larger scale than his beloved sculptures. Finished in 2006, the visionary design is a sculptural masterpiece of organic architecture and a monumental achievement.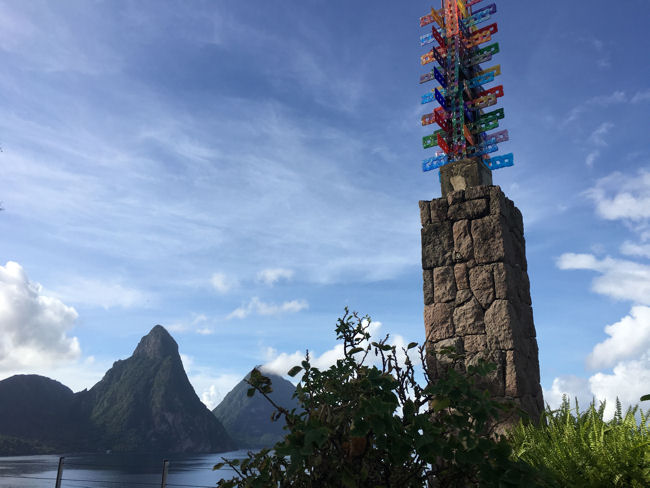 The architect left rebar poking out of the towering columns to symbolize "never stop reaching for your dreams." I think the idea is pretty cool, but most people wondered why the columns appeared unfinished, so he was persuaded to adorn the rebar with colorful glass tile sculptures adding to the fanciful atmosphere of the multiple bridges leading to the sanctuaries.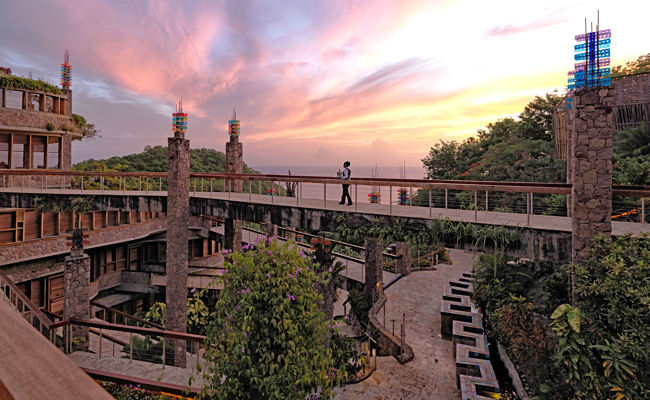 The entry hall of our "Galaxy Suite" is curvy and sexy, and we get a first view of the circular infinity pool with iridescent glass tiles shimmering in the sunlight and the view of the Pitons –- it is a grand sweeping space with bedroom, living area, and raised bathroom all open. We have a feeling of being suspended in space and floating on air (just like in heaven).
The Pitons, cloaked in lush green, are mesmerizing dramatic jade mountains rising up from the sea. Our view is constantly changing throughout the day with differing light and clouds from sunrise to sunset. A passing shower brings a mystical atmosphere and afterward a beautiful rainbow! Sleeping in our Galaxy Suite is heavenly. At night we could see the Milky Way galaxy before climbing into our luxurious four poster bed wrapped in romantic white netting that literally felt like sleeping on a cloud.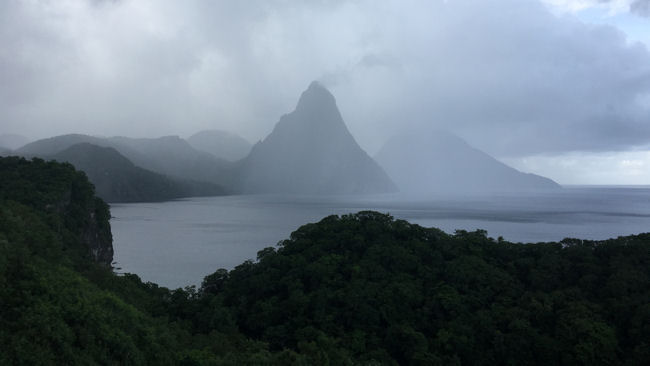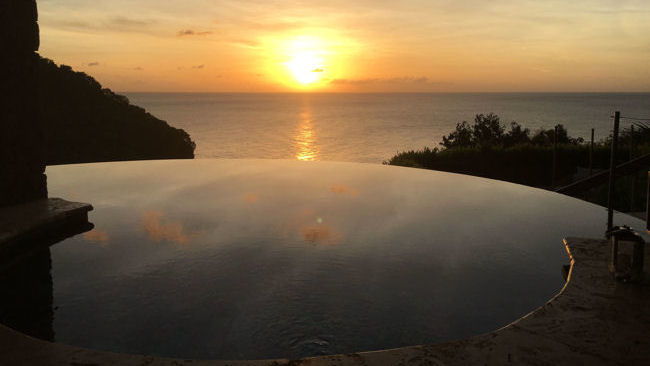 How could Jade Mountain get any better you ask? It is the only hotel in the world to grow and process its own chocolate right on the property! Their Emerald Estate chocolate is made from only two organic ingredients – cocoa beans and sugar cane. The taste is so pure, so much better than mass produced chocolate. It is available to buy exclusively at the resort and they also use it in heavenly chocolate desserts and drinks. We took a tour of the 40-acre Emerald Estate farm that is truly a Garden of Eden, producing much more than just cocoa beans. We walked among a couple hundred varieties of plants and trees from the familiar to the exotic. Wonderful fruits, herbs, spices, greens, root vegetables, and much more grow here and are used for the freshest farm to table experience at the resort.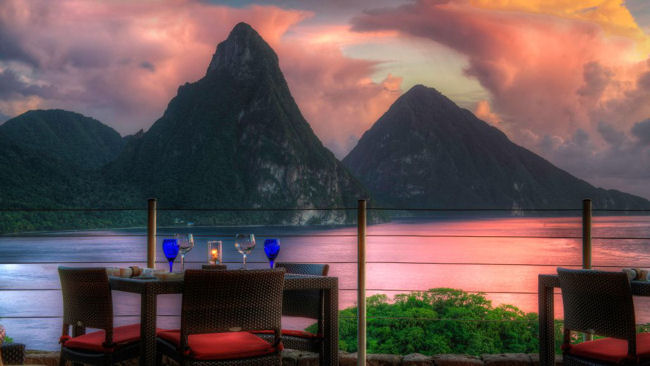 My favorite thing to do in the evenings after dinner is to enjoy the local entertainment featured at either Anse Chastanet or Jade Mountain and sip on a creamy cocktail laced with nutmeg they call "Stairway to Heaven." It is also a treat to be able to choose from many dining options, from Apsara on the Beach to the Treehouse Restaurant at Anse Chastanet to the Jade Mountain Club high in the sky. Being vegan, I especially appreciate their full vegetarian menu that is offered in all the restaurants.
The 600 acre Anse Chastanet resort offers endless activities to keep you occupied, but activities are really beside the point at Jade Mountain where you are tempted never to leave your sanctuary. You can enjoy in-room spa treatments and butlers, called Major Domos, service all sanctuaries around the clock to fulfill your every whim.
If you venture out, Jade Mountain includes the Kai En Ciel Spa and fitness room at the bottom level, a library and a superb boutique for shopping, and the Jade Mountain Club and Celestial Terrace on the highest levels. The Celestial Terrace is a wonderful place to start your day with peaceful yoga and also to end your day sipping a cocktail and watching the sunset.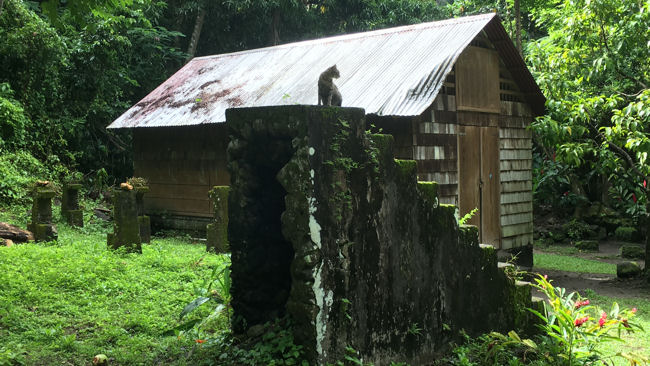 If you wish to come down to earth, my next favorite place on the property is their "hidden" second beach called 'Anse Mamin.' It is a beautiful silver sand beach with palapas for shade and a beach restaurant and bar. Behind the beach are ruins from an 18th century sugar plantation where you can hike or bike amidst the lush jungle. I came across a picturesque scene of a cat sitting on a stairway to nowhere. For more active types than me, Anse Chastanet offers endless possibilities for adventure including being a 5 star SCUBA resort, plus snorkeling, kayaking, tennis, bird watching…or sailing into the sunset.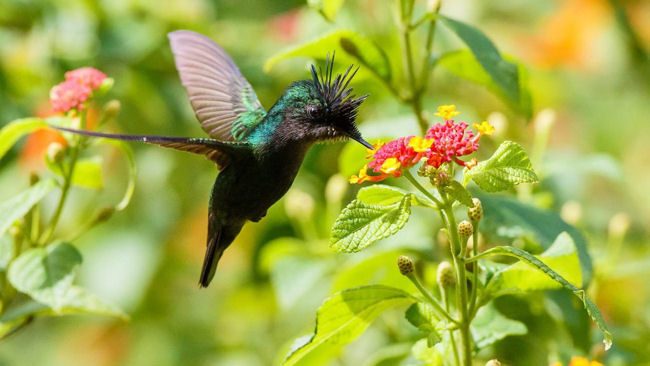 From the outset, Nick Troubetzkoy was determined to create a unique living experience that would not only take full advantage of the unforgettable views of St. Lucia's Piton mountains but to essentially allow guests to become one with them. He definitely succeeded. The other-worldly, heavenly experience at Jade Mountain and Anse Chastanet is addictive, so we will definitely be back!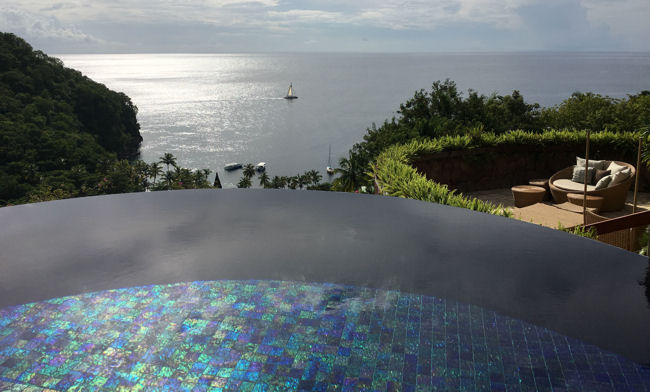 VISIT WEBSITES
http://www.jademountainstlucia.com
http://www.ansechastanet.com
http://www.scubastlucia.com
http://www.bikestlucia.com
http://www.kayakstlucia.com
http://www.elopetoparadiseweddings.com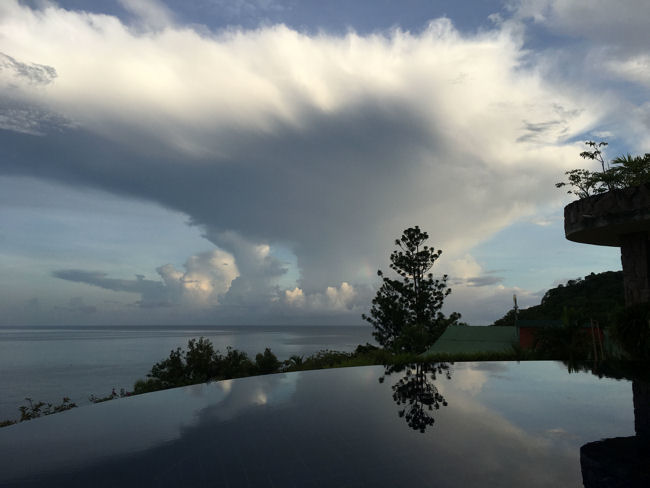 SOCIAL MEDIA
Facebook
http://www.facebook.com/JADEMOUNTAINSTLUCIA
http://www.facebook.com/ANSECHASTANET
Twitter
https://twitter.com/JADEMOUNTAIN
https://twitter.com/ANSECHASTANET
Instagram
www.instagram.com/jademountainstlucia/
www.instagram.com/ansechastanet
YouTube
http://www.youtube.com/jademountainstlucia
http://www.youtube.com/ansechastanetStLucia