Throughout the duration of the current pandemic, the migration to South Florida has gained national attention as affecting every element of the market, from residential, to hospitality, to commercial real estate, and has shown no signs of slowing down. With this migration, remote work and living flexibilities, it comes as no surprise that the Palm Beach real estate market is on fire due to its premier location on Florida's quieter coastal land.
Located in the heart of Palm Beach County Florida is Amrit Ocean Resort & Residences, an oceanfront, all inclusive wellness destination situated on the sands of the exclusive Singer Island. As both a luxury residential and hotel development, Amrit, which translates from Sanskrit to "elixir of life," is putting the health of its residents and guests at the forefront and upping the ante in the new wave of wellness real estate. Prospective buyers are looking to their real estate investments to provide them with a sense of overall security and wellbeing that goes deeper than the traditional sense of the word "wellness."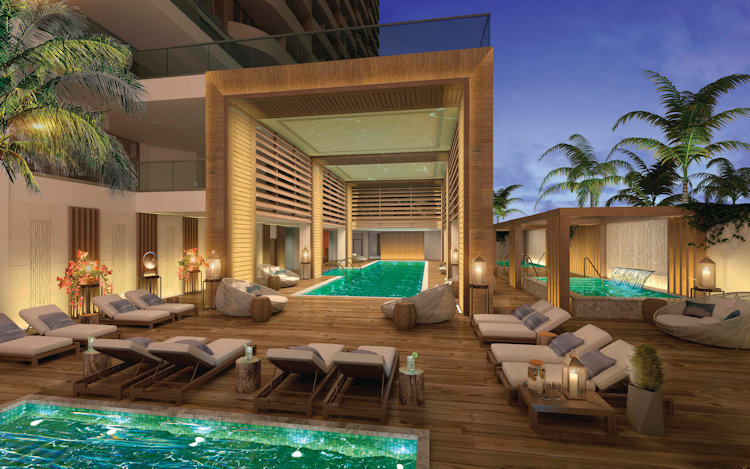 This year, the demand for this type of revolutionary real estate products stronger than ever, and the proof is in the numbers. Compass, the exclusive sales team at Amrit, has already signed almost three times as many deals in 2021 than all of 2020.
Indian-born real estate developer Dilip Barot has spent years perfecting Amrit's never-been-done-before, health-centric concept and bringing it to life through the property's two towers, residential Tower P for Peace and hospitality Tower H for Happiness. For the project, he fused his Eastern principles and combined them with Western technology to create personalized journeys for each guest and resident. With well being expressed from the inside out, Amrit is conceptualized around the Five Pillars of Wellness: Nutrition, Fitness, Mindfulness, Relaxation and Sleep, all of which are rooted in the wellness blueprint of extensive services and modalities.
Stand out health amenities at Amrit Ocean Resort & Residences include:
Aayush Hydrothermal Circuit - The only indoor/outdoor hydrothermal experience in Florida spanning 40,000 square feet and featuring heat therapy, cryotherapy and hydrotherapy through a sequence of hot and cold bathing pools, a Hydro-Reflexology Path, lap pool, steam and sauna, Inhalation Salt Therapy Chamber, Arctic Chill Fountains (cold therapy has been shown to decrease inflammation and increase circulation) and an EffusionShower.
The Restorative Bed by Bryte - Amrit wil give buyers the option to own a Bryte bed in their individual residences. Bryte, maker of the first science-based, purpose-built sleep experience, was founded to solve the modern crisis of sleep. To ease sleepers into a peaceful mental state, Bryte creates a quiet, head-to-toe motion beneath the body. Directing attention to the breathlike movement gives the mind a soothing focal point, while the spalike sensation gently comforts the body. These beds will be offered at a discount to buyers and will be available to hotel guests for an additional charge.
Somodome, the world's first technology-enabled meditation pod - Residents at Amrit will have access and the option to own their very own revolutionary Somadome, and can opt to add a Somadome in their condo or purchase Somadome sessions can also be a spa service add on in the wellness center. Somadome uses light and color therapy to transform our body's state at the cellular level. It transforms EMF frequencies that are out of harmony with our bodies' natural electromagnetic signals. Somadome uses binaural beats in guided and unguided tracks to achieve beneficial states associated with your session goals. In a time where mental health is at an all time high, options like the Somodome are giving buyers a phone-free way to meditate, and has been hugely appealing to prospective buyers.
Nightly Satsang - Amrit's complimentary daily signature social yoga experience, Satsang is a word which comes from Sanskrit meaning "in the company of truth." To be held every evening, this gathering welcomes all to join a like-minded community coming together to share experiences, reflect on the day, immerse in laughter and the healing experience of knowing we are all connected with peace and joy.