Located at 1 Kensington High Street, the reincarnation of Zaika comes by popular demand and it is a sister restaurant to Tamarind of Mayfair, the first ever Indian restaurant to be awarded with a Michelin star. Tamarind Collection is firmly taking the reins on the new restaurant, assuring the level of service and epicurean experience parallels the Tamarind restaurants.
Mumbai-born Sanjay Gour has joined Zaika as executive chef having previously cooked in Dubai at Verre, under Jason Atherton, before moving to The Connaught, Maze London, the Savoy Grill and Murano; working under Angela Hartnett. Sanjay is supported by head chef Dayashankar Sharma, who has been with the Tamarind Collection for eleven years.
At Zaika, Sanjay returns to his culinary roots, with a menu inspired by the techniques and flavors of Northern India's Awadhi cuisine which is traditionally influenced by the middle-east and uses cooking methods resembling European techniques. The menu features appetizers such as Papdi Chaat (spiced chickpeas, wheat crisps, yoghurt, blueberries, tamarind chutney) and Khasta Jhinga (Tiger prawns in a gram flour batter, ginger, paprika, curry leaves). Dishes from the Tandoor and grill include mushroom and edamame seekh kebab, Ajwaini Macchi (monkfish chunks marinated with ginger, yoghurt, ajwain, turmeric) and Kakori kebab (fine ground lamb with saffron, cardamom, mace).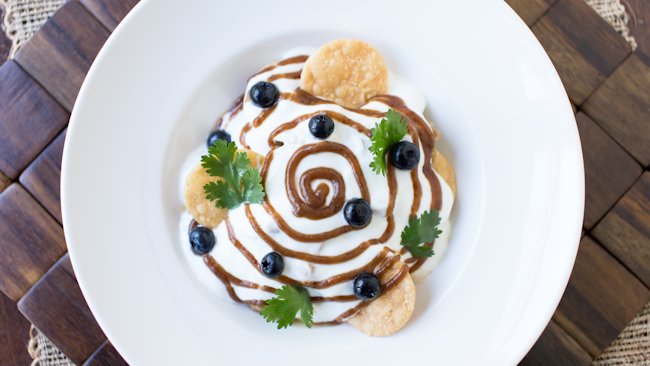 Signature main dishes on the menu are Mahi Mussallam (oven baked fillet of sea bass, spinach, Awadhi sauce), Methi Murgh (chicken with ginger, onion, fresh fenugreek leaves), and Gosh Dum Biryani (goat biryani with Bhurrani raita). In addition to the a la carte menu, notable side dishes and accompaniments include Truffle naan, fig and mint stuffed naan, Shahi Paneer (paneer with melon seed, onion, dried fenugreek leaf sauce), and Khumb kofta (mixed mushroom dumplings).
Owing to Sanjay's refined expertise as a pastry chef, the desserts are a highlight of Zaika with unique dishes such as 'Old Monk' Rum Baba, Chocolate Bounty Bar (a gluten free 'bounty' with nougat, apricot and popcorn) and Poached Winter Fruits (in a spiced Xylitol syrup with nuts and frozen yoghurt).
The drinks list at Zaika includes a wine collection popular amongst the loyal customer base of the original restaurant and has been designed to complement the bold flavors, spices and aromatics of Indian cuisine. A selection of innovative signature cocktails are also available including The Bonfire (Bombay Sapphire gin, lychee juice, lychee liquor, red chilis: flamed, on the rocks), Khira Martini (Hendricks gin, fresh cucumber, crushed black peppercorns) and Winter Berries (Old Monk rum, blackberries, apple juice, manzana, red chilis, gingerbread syrup: served tall).
A designated bar area, seating 12, accommodates drinkers, and a bar menu of Indian snacks is be available including Kakori Kabab (ground lamb skewers), Bhindi Jaipuri (crispy fried okra) and Gosht Kurkure (pulled lamb rolls).
Rahul Khanna, who is responsible for business development within the group, comments; "It is a very exciting time for the Tamarind Collection to be launching the re-imagined Zaika. Sanjay is an extremely talented chef and brings so much life to his cooking and the project as a whole. Alongside Tamarind, the original Zaika was the first Indian restaurant to gain a Michelin star, we hope to recapture its popularity and work towards regaining such accolades."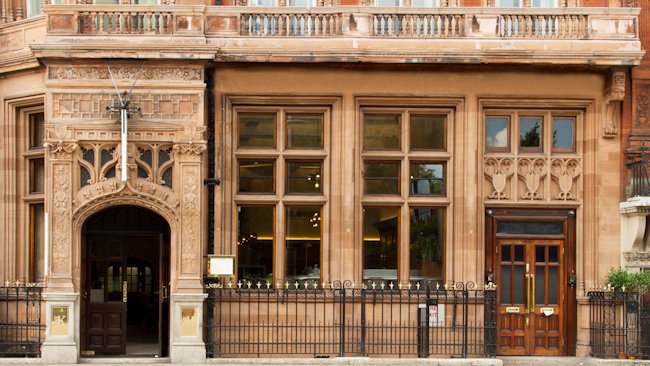 The restaurant space, a former banking hall, retains original architectural features such as wood paneled walls, high carved vaulted ceilings and double-height windows offering views over Kensington Palace Gardens. Banquet and booth seating is upholstered with taupe leather and over 150 pieces of artwork adorn the walls of Zaika. Chandeliers create focal points in the main dining area with spot lights used throughout to offer adjustable lighting from day to night. The tropics of India are reflected with an abundance of plants and fresh flowers around the room, including a living wall of greenery which screens a semi-private 20 cover dining area situated on a raised platform at the front of the restaurant.
The return of Zaika will re-introduce Indian fine-dining to the Kensington area, offering Londoners and tourists a taste of Awadhi cuisine and an introduction to dishes unseen in the Capital alongside gastronomic desserts, premium wines and opulent cocktails.
Visit website:
zaikaofkensington.com