As a travel writer specializing in luxury, spas and cruises, I never met a Ritz-Carlton I didn't love. This downtown property, at 1228 Sherbrooke Street West, is no exception. It's located in the heart of the Golden Square Mile where 19th-century mansions stand witness to an era of economic boom that included mining and banking, fur trade and timber and the all-important railroad and St. Lawrence for shipping. Steps away are upscale boutiques, art galleries, top-notch museums and flagship stores for luxury brands.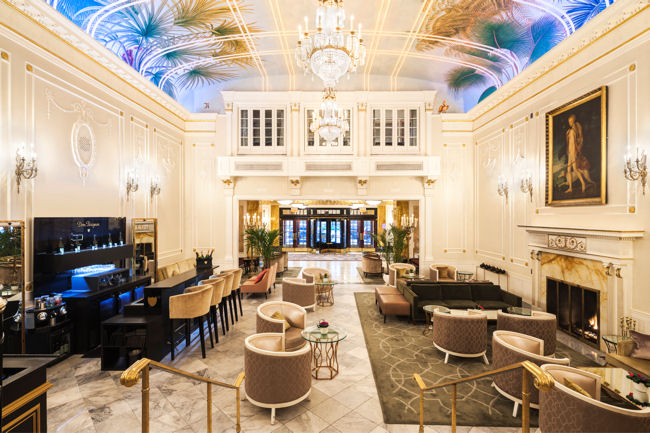 From helpful, friendly staff and perfect accommodations to superior service and a welcoming spa, my stay is memorable start to finish. Though I have only two nights here, I sample as much as I can while balancing the call of all the Montreal sees-and-dos constantly beckoning me outside the Ritz-Carlton's well-manned doors. One of those musts in a visit to the
Au Sommet Place Ville Marie
for its amazing, 360-degree Observation Deck, soaring 700 feet in the air. The 1962 structure is by the designer of the pyramid at the Louvre, Paris. You'll not only get a breathtaking view of the lay of the city, the river and beyond, but also can sip a cocktail in an urban rooftop garden or dine at Les Enfants Terribles, the "highest" restaurant in Montreal. There's also a wonderful gift shop here, plus full shopping mall within the four-office tower complex.
But back to the hotel's history, especially since this legendary property was the first in the world to bear the Ritz-Carlton name. The grand opening was New Year's Eve 1912 and what a gala that must have been for a then $3 million project. As I pass through the ornate revolving door beneath glorious art deco elements, the posh lobby and original staircase catch my eye. I imagine those long-ago partygoers decked out in their finery, champagne flowing along with the music.
Afternoon tea here started in 1913. Fast forward a century, and the tradition continues in the stylish, soaring Palm Court which retains the overhead palm frond motif of yesteryear, highlighted by glowing chandeliers. Today, it's also a grand spot after a day of shopping for a glass of champagne at the Dom Perignon Bar.
Elizabeth Taylor married Richard Burton here in 1964. The hotel remains very popular for weddings, as well as meetings, large and small. It houses the only oval meeting room in Montreal, seating 300 but accommodating 420 for receptions.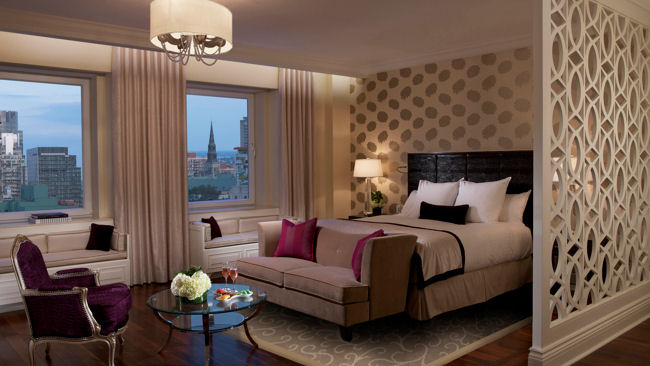 While the 96 guest rooms and 33 suites have been thoughtfully upgraded and totally modernized, the property's $200 million renovation over four years lovingly retains much of historical, such as the original, rounded, check-in desk and golden Royal Mail post box by the elevators. Additionally, the project provided a new residential wing, the 45 Ritz-Carlton Residences.
When shown my room, I comment on how wonderful it smells. The bellman explains it's the Ritz-Carlton signature fragrance. Upon checkout, I repeat the compliment to front desk staff, and soon my own take-home bottle is presented as a farewell.
My spacious junior suite features luscious bedding that seems to envelope me. Lights and electronic window shades are controlled at the touch of buttons both bedside and near the door.
There's every convenience from large, flat-screen TV to work desk with office supplies, a huge walk-in closet plus a high-tech Toto toilet. Ever since first discovering this brand in Phuket, I've been a fan of this toilet/bidet with heat, fan, cleansing cycles, air dryer and deodorizer. This model automatically opens its lid when approached and of course, auto-flushes.
Garden Ducks; Celebrity Chef Menu
The hotel opened its garden in 1950, popular with diners thanks to the cutest of drawing cards – ducklings in a pond. Full-grown birds greet my arrival, and I can't resist posting an online video.
The Maison Boulud from Chef Daniel Boulud of Manhattan restaurant Daniel fame seats 130, has an open-concept kitchen and two private dining rooms. The appealing design is by the firm Super Potato. There's also terrace seating plus room for 46 in the year-round greenhouse. After a quick walk-through to check out the spaces, I opt to seek a coveted dinner reservation.
The restaurant's popularity meant they could only fit me in at the bar, which I gladly accept. I watch visitors and locals cheerfully greeted; the end-of-day mood celebratory. While bar staff are busy, as is the entire restaurant, they're efficient and attentive. The food is well prepared with great attention to presentation. My scallop dish with morel mushrooms and asparagus is delicious but takes nearly an hour to arrive, with apologies from staff both times I enquire on its whereabouts. Later, I learn there was a very large party being served.
Returning from dinner, my spirits lift when I see that the room attendant has thoughtfully prepared the tub with rose petals; all I have to do is turn on the faucet. Turndown service features a single rose between his-and-her pillowcases, plus rose petals. I add the rose to the desk where I'll be making notes from my next day's outings.
The next morning, the complimentary robe and slippers are perfect attire for room service breakfast delivered with the local paper and in a timely fashion.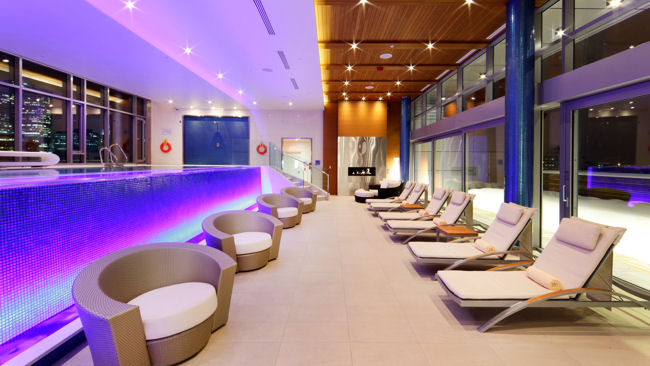 Saltwater Pool, Lovely Spa
The uppermost floor features a saltwater pool heated with reclaimed energy from the hotel kitchen, part of the hotel's extensive energy conservation efforts. There's a great skyline view of Montreal from here and the adjacent outdoor terrace.
A must is a visit to the elegant St. James Spa. I'd spent the morning at Montreal's floating outdoor
Bota Bota Spa
, reveling in the bubbly warmth of its various outdoor pools, one of which is elevated over water. The day's clouds and sprinkles could not dampen my mood, but the news of no available massage appointments did disappoint. However, the very welcoming St. James Spa accommodated me the same afternoon day with an exceptional therapist who eased my muscles following my daylong touring schedule. (Grueling, I know, morning spa, sightseeing, afternoon spa. Lucky me.)
Contemporary St. James Spa's 5,500-square-feet encompass warm brown and beige tones of marble, stone and plank flooring. I await the masseuse in the cozy, co-ed area with gauzy curtains and comfy loungers. Low lighting and a unique fireplace add to the ambience. There's a lovely, waterfall wall feature in reception. The spa offers 12 treatment rooms, a large mani-pedi suite plus hair salon, and the owner is a delight.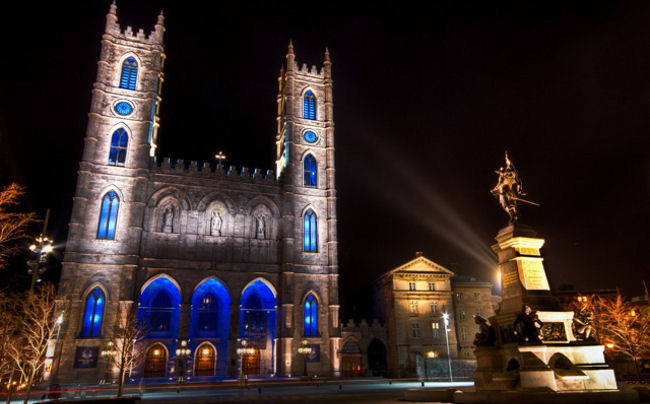 Notre Dame Basilica. Photo credit: Montreal Tourism
Must-Sees for the City's 375th
Throughout my many comings and goings, the front desk staff greet me warmly, always asking where I'm off too or welcoming me back with a "How was it?"
My answer's always the same: "Fantastic." There are so many must-sees their glorious city has on hand for its yearlong 375th birthday celebration. This list is huge at
http://www.375mtl.com
, but a few of my favorites include:
• The show
Aura
inside historic Notre-Dame Basilica was scheduled to end in 2017 but has been renewed for an additional three years. The spectacular luminous, musical experience designed by Moment Factory pairs the 188-year-old basilica's architectural grandeur with new age digital multimedia. I'm considering a return visit just to share this with my husband.
•
The Museum of Fine Arts'
addition of the
Michal and Renata Hornstein Pavilion for Peace
further enhances the world-class facility with the ability to house 600 works of art from the museum's international collections. On my visit, 50,000 people had already viewed the museum's temporary exhibit
Revolution
(ends 10/9/17), which explores everything 1960s, including a half-surround wall projecting the iconic Woodstock concert, plus posters, concert costumes and groovy music played on vinyl LPs. Key connections are also made to Montreal's hosting of Expo 67. Mod fashions from that world's fair are featured at McCord Museum of Social History's
Fashioning Expo 67
(ends 10/1/17).
• A special 375th creation is the impressive
Montréal Avudo
multimedia presentation in Old Montreal, where images and are projected on rippling water walls to tell the story of those native to here, others who arrived on the St. Lawrence and who built and innovated to link Montreal to the rest of the world. (Ends 9/2/2017)
• Also mind-popping is the
Cité Mémoire
project inspired by Montreal's history. Visitors download a free phone app to hear historical narration (in French, English, Spanish or Mandarin) set to music as told by a host of characters who witnessed the city's evolution first-hand. Scenarios come to life as video projections around the city — on multi-story walls, the ground and even the trees.
• The city's glow can be experienced first-hand nightly through a key project for the celebrating both the 150th anniversary of Canadian Confederation and Montreal's 375th. The new, avant-garde illumination of the
Jacques-Cartier Bridge
changes according to the season and the mood of the city. Lights can turn 365 different shades of color, depending on what's happening at that very moment in Montreal.
Bottom line: There's so much to see and do in Montreal, known for its festivals in all seasons, but be sure to allow plenty of time to luxuriate at the renowned Ritz-Carlton Montreal.
Kathy M. Newbern and husband J.S. Fletcher are award-winning freelance travel journalists based in Raleigh, NC, who have visited 74 countries, all seven continents and reported on 71 cruises. They often incorporate their travels into their other business, www.YourNovel.com, where they put you and your sweetie in your own personalized romance novel "wild" or "mild."
Photos courtesy of Ritz-Carlton Montreal and Montreal Tourism