By far one of the most exhilarating travel experiences I have had the pleasure to embark is my recent trip to the iconic volcanic archipelago of the Galapagos Islands.
Less vacation and more an adventurous "journey of discovery", I was in sensory overload taking in its magnificent landscape for six incredible days aboard the luxury cruise the Sea Star Journey Yacht, which in my opinion is the best way to see the Galapagos.
When initially deciding how best to experience the locale either "by land or by sea", I was expertly guided by my travel advisor at Voyagers Travel that sea was most definitely the way to go and the Sea Star Journey luxury cruise was among its most stylish and preferred way to explore.


The Galapagos Sea Star Journey Yacht features seven spacious Suites (about 270 sq.ft.) to accommodate up to 16 passengers, each equipped large stateroom with full amenities and panoramic windows to enjoy the wonderful landscapes while island-hopping. A blur of delectable dining offerings enjoyed both al fresco or inside the main social area with nightly happy hours learning of the next day's itinerary over a glass of chardonnay.
Each day brought new excitement as we left our ship and boarded Zodiacs bound for various excursions—kayaking, hiking, swimming, snorkeling, and more.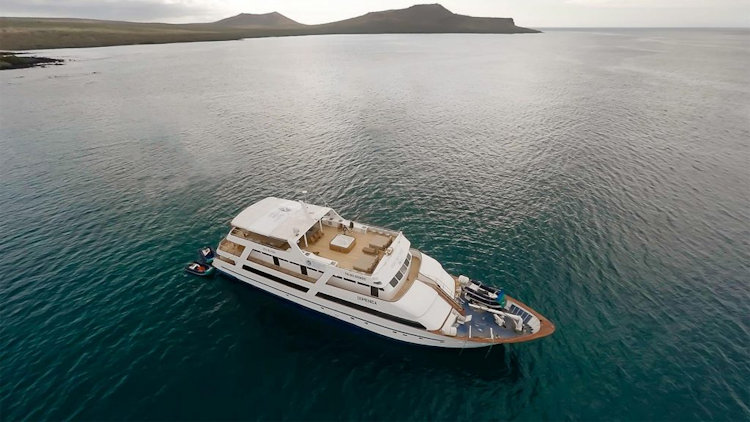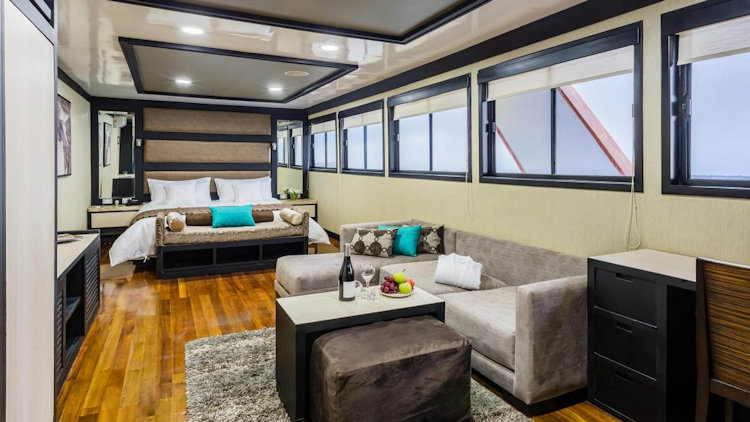 My first lesson in this "paradise of animals" was to carefully watch my step exploring as I may inadvertently step on one of its inhabitants. Such was the case on multiple days island-hopping nearly missing spiky masses of iguanas who blended amongst the terrain.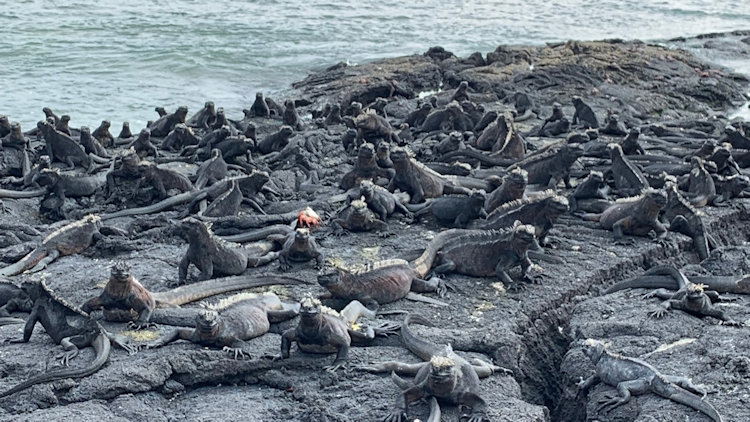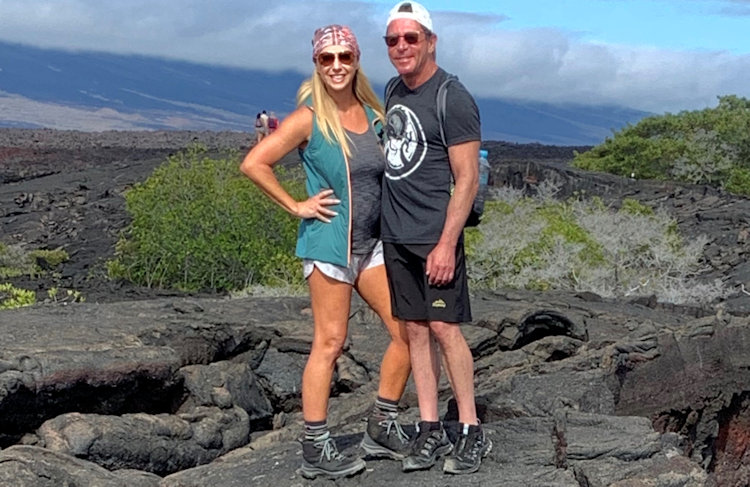 What a strange phenomenon to encounter this suppressed "fight or flight" instinct in all the Galapagos wildlife. It was surreal their reckless lack of fear regarding human interaction; "friendly wildlife" doesn't nearly describe it.
One such encounter was my greeting with a Sea Lion who we came across our first day lounging lazily across a bench as we stepped off our zodiac. As I timidly sat down adjacent him for a closer look, he responded loudly with a rumbling bark hello and snorted water at me.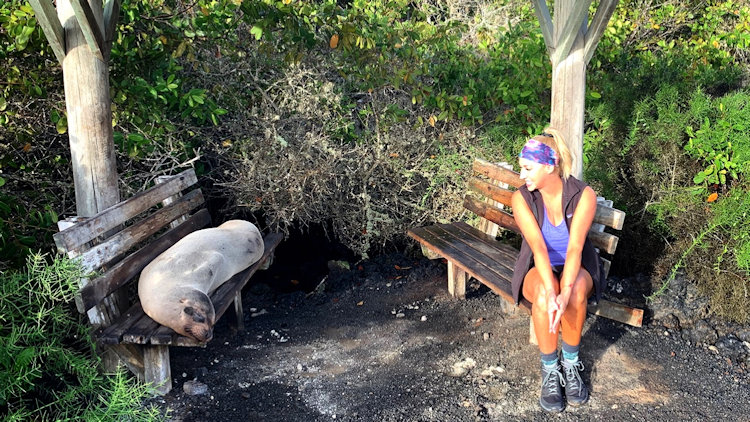 As an avid snorkeler over the years I've been blessed to witness unbelievable underwater utopias in such exotic locales as the Great Barrier Reef in Australia and numerous marine playgrounds of the Caribbean while filming my travel show, but nothing prepared me for the intimate encounters with the marine life of the Galapagos.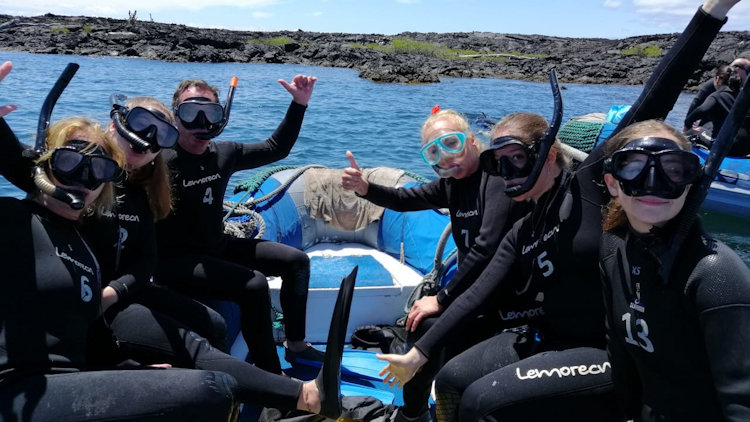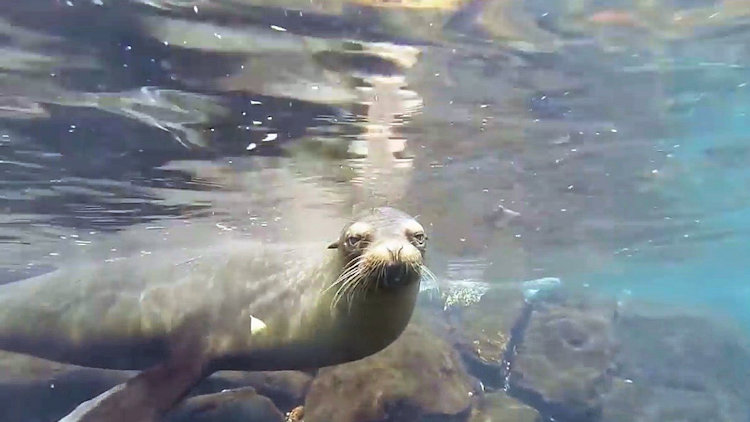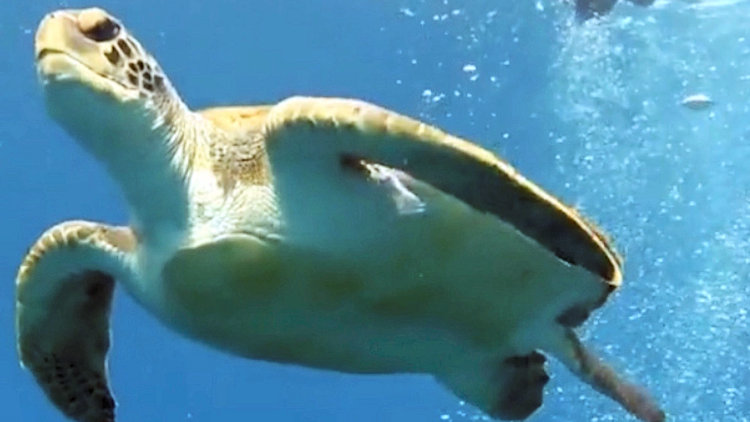 Donning a wetsuit, each day I anxiously dove into the wildlife rich waters, excited to swim side-by-side with darting penguins and playful seals taunting me to do tricks with them.
Marine tortoise sightings were a regular occurrence as we swam past them grazing, while rays glided directly below. Perhaps the most special memory of all was swimming in unison with a giant sea turtle for what felt like an eternity. I slowed my pace to a languid breast stroke to stay directly above him as he casually purveyed his surroundings, our distance less than a foot at times, I consciously made room to accommodate as he occasionally came up for air. It was magical….
With so many bucket-list "snapshot moments" to treasure it's no wonder this double World Heritage site served as the inspiration for Charles Darwin's Theory of Evolution. I often share that "Travel is the only thing you can buy that makes you richer" and there's no greater example than a visit to the prehistoric world of the Galapagos Islands.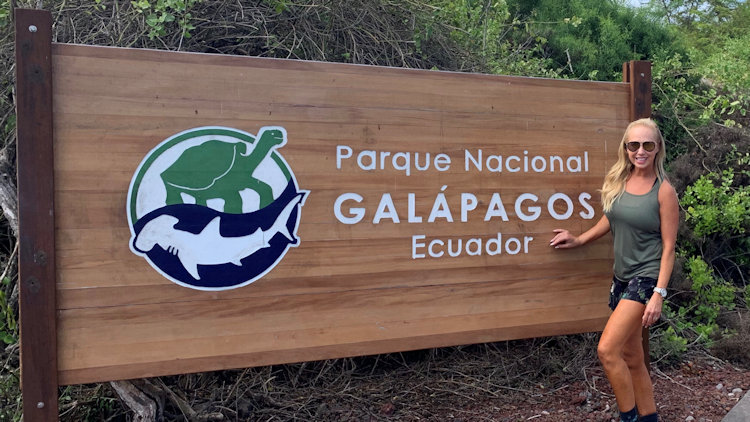 Contributing Writer
Linda Cooper is an award-winning TV Host, Producer and Writer serving as a brand ambassador to worldwide travel on her national luxury lifestyle series "Travel Time with Linda" and as a contributor to several lifestyle and travel publications. Her specialties include television and in lifestyle publications include the travel; lifestyle; luxury; tourism; hotels; restaurants; food/wine; fitness; spas; and retail shopping industries. Season One of 'Travel Time with Linda' aired nationally on AXS TV Network winning a 2018 Telly Award and is now available on Amazon Prime Video. Season Two featuring "Bucket-List Destinations" airs nationally Sunday mornings 8am ET on AXS TV Network and soon available on Amazon Prime.