As many of our summer travel plans have been put on hold or reimagined, we are still dreaming of amazing getaways. If distance and time were not an obstacle, here are some ultimate outdoor 24-hour itineraries for a perfect summer day across the globe.
See the sun rise floating over the Sonoran Desert in a hot air balloon (Scottsdale, Arizona)
What better way to experience the beauty of the desert than right as it begins to come alive. Witness the magnificent colors of the sun rise, spot sleepy critters scurrying about and breath in the fresh cool Scottsdale air for a perfect start to the day. Rainbow Ryders Hot Air Balloon Company boasts 37 years of experience offering hot-air balloon rides. Sunrise flights are available every morning year-round, an experience to remember. Take in views of the Sonoran Desert while floating in the sky and sending greetings to earthbound folks below. After landing, celebrate the flight with champagne and mimosas and a traditional toast.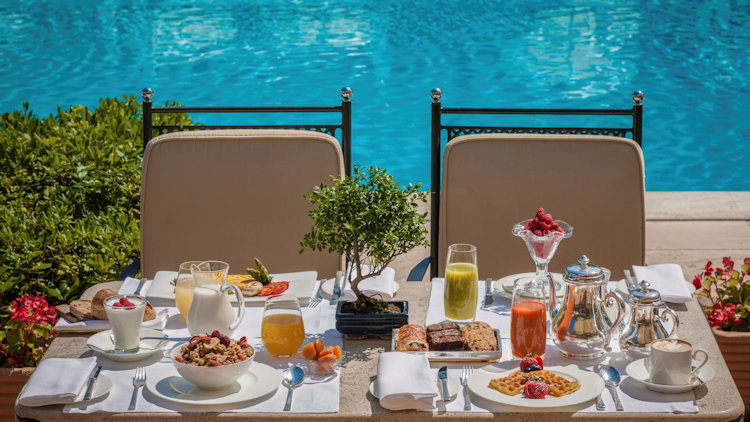 Savor a poolside breakfast at Rome Cavalieri, A Waldorf Astoria Hotel (Rome, Italy)
At Rome Cavalieri, A Waldorf Astoria Hotel, Uliveto restaurant presents a glorious start to the day, with its delectable poolside breakfast. Enjoy a selection of fresh-baked pastries, Italian meats and cheeses and breakfast staples, all made from locally sourced and seasonal ingredients, while admiring Rome Cavalieri's private Mediterranean parkland, and picturesque views.
Relax and renew at The Spa at La Mamounia (Marrakesh, Morocco)
Experience the ultimate in the Moroccan art of living with a visit to La Mamounia'​s Spa. In the very heart of Marrakesh, this space is dedicated to guests well-being: enjoy the ancient rituals of the hammam, combined with contemporary techniques and natural products. Tradition meets modernity in an incredibly intimate setting. La Mamounia's Spa in Marrakesh is the perfect way to get away from it all as you relax and unwind.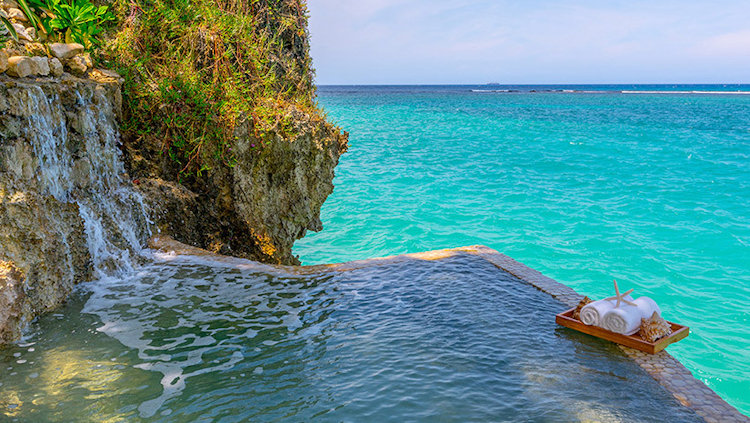 Soak in a saltwater sea bath at Jamaica Inn, (Ocho Rios, Jamaica)
Continue rejuvenating in a cliffside sea bath in a tropical Jamaican oasis. Jamaica Inn's naturally healing saltwater sea bath offers the perfect serene outdoor setting from which to admire breathtaking Caribbean views. Your body, mind and soul will thank you for this change to relax and renew.
Enjoy a picnic lunch at Troutbeck (Amenia, New York)
Relax, renew and immerse yourself in nature at Troutbeck, an Estate Hotel in Amenia, New York, just 2 hours from Manhattan. Offering a variety of new outdoor spaces, a total of 11 thoughtfully designed hammock, picnic, and campfire sites have been set up across the property for reservation and picnic service. These predesignated outdoor spaces provide an opportunity to reside in your own secluded retreat, while enjoying the delicious local fare prepared by five-time Michelin-starred Chef Gabe McMackin and his team. Each space offers desirable features such as access to the property's free-flowing natural spring and wading areas​.
Work up a sweat and get back to nature with a Overton Hike at CIVANA (Carefree, Arizona)
CIVANA wellness resort inspires you to deepen your relationship with Mother Earth on this hike classified as moderate to difficult. Explore the wonders of the Sonoran Desert as temperatures rise throughout the day on this high intensity 2.5 hour excursion. With a 524-foot elevation gain, this 3.5 mile loop offers 360 degree views as you circle the mountain.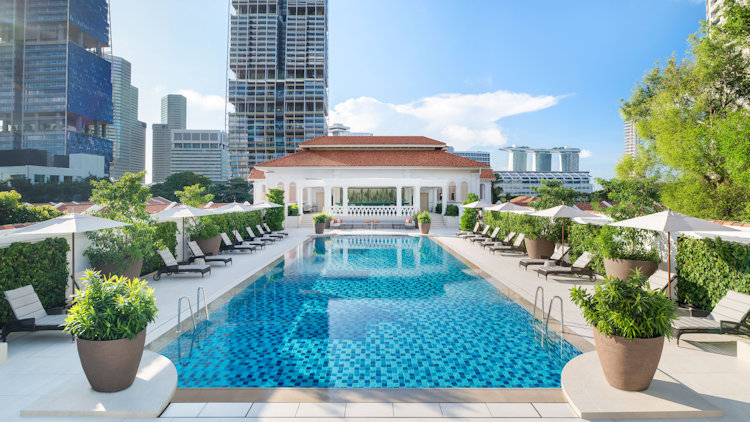 Cool off in Raffles Singapore's luxurious rooftop pool (Singapore)
The newly restored iconic Raffles Singapore offers a new luxurious rooftop hideaway, where you can take a dip in the beautiful pool, sunbathe poolside in serenity, and sidle up to the poolside bar. While taking a moment to swim and lounge, make sure to admire the surrounding views of Singapore's skyline.
Hit the green at Dorado Beach, a Ritz-Carlton Reserve
Dorado Beach, a Ritz-Carlton Reserve has partnered with Embark Beyond offering private luxury camp experiences for families with children. Located on Puerto Rico's Atlantic coast with 1,400 acres of lush jungle and pristine beachfront along with biking trails, Dorado Beach makes for an idyllic summer playground. Choose to participate in an abundance of activities from sailing, fishing and biking, to hitting the green for a round of golf at one of the two world-class golf courses.
​Indulge in a seaside dinner at Oilver's at Spice Island Beach Resort (The Lime, Grenada)
Located seaside, Oliver's open air restaurant at Spice Island Beach Resort features excellent Creole and international cuisine, including vegetarian selections. Savor the authentic local specialties in a fine dining atmosphere, while enjoying the very best of Grenada's calypso, reggae and steel bands. With or without the accompaniment of sweet island sounds, every meal is a delight, crafted with local produce and spices and beautifully presented to the highest standards.
Listen to the sounds of the sunset bagpiper at The Ritz-Carlton, Half Moon Bay (Half Moon Bay, California)
Perched atop a rugged ocean bluff overlooking 50 miles of pristine Northern California coastline, The Ritz-Carlton, Half Moon Bay's evening Sunset Bagpiper experience is the perfect al fresco summer activity. Held outdoors on the spacious Ocean Terrace overlooking the Pacific Ocean, sip on a glass of fine local wine while taking in the fresh coastal air, soothing melodies of the bagpipes, and breathtaking ocean views. The Sunset Bagpiper has been a signature experience since the resort's inception 2001 and was inspired by the property's coastal setting, which is said to look like Scotland.
Marvel at feeding whale sharks during a night snorkel at COMO Maalifushi (Thaa Atoll, Maldives)
From the coast of the Maldives Thaa Atoll, a boat will take you from COMO Maalifushi to find the largest fish in the sea, where you can choose to join them under the waves or simply watch them from the deck. The clear Maldivian waters allow for an aquarium-like view of the gentle giants, allowing you to observe them closely as they feed and effortlessly float around the sea.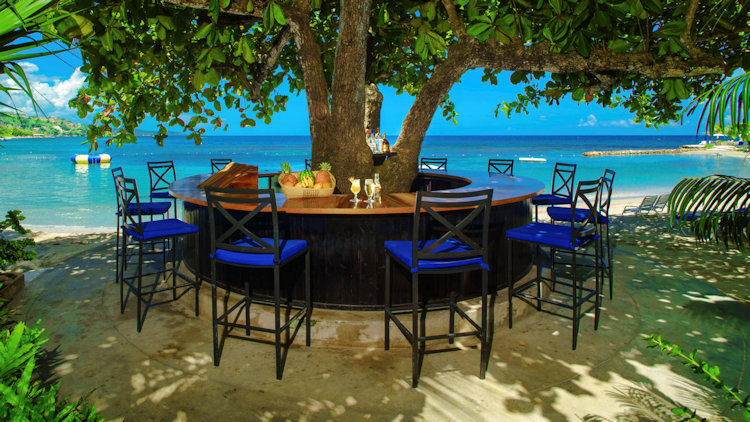 Happy hour with a classic Rum Punch at Round Hill Hotel and Villas (Montego Bay, Jamaica)
Located on the beach, mere steps from the resort's private stretch of the gorgeous Caribbean Sea, Round Hill's 360-degree shady beach bar provides the perfect al fresco respite for any summer day. Conveniently tucked under a bountiful tree, the beach bar offers a quiet shady nook to enjoy a signature Liz's Rum Punch or another drink of choice.
Unwind with an outdoor movie at Kulm Hotel St. Moritz (St. Moritz, Switzerland)
Located on the field in front of Kulm Country Club, Kulm Hotel boasts a new drive-in cinema. The cinema will be open to the public every weekend between July 4 and August 30. The silver screen between the Kulm Park and the stunning mountain backdrop of the Engadin is set to come alive with classic films screened at the St. Moritz Drive-In.