The seller is an Australian collector, who spent 30 years amassing this exceptional collection, which includes works by such notable graphic artists as Ludwig Hohlwein, Edward Penfield, Tom Purvis, and Roger Broders. Several date to the late 19th century.
"People who are looking for a tennis poster often have to look far and wide because they are few and far between," notes Nicholas d. Lowry, President of Swann Galleries and Director of Swann's Vintage Poster Department. "This is the biggest collection of tennis posters that has ever come on the market at one time."
Broadly speaking, tennis posters fall into four categories: travel, events, tennis gear, and general merchandise marketed using tennis as a theme. (You can view the online catalog at
http://bit.ly/1o1jwck
.) Among the standouts in travel is a 1935 poster for Le Royal Hotel (Lot 154 - pictured at top). It shows a man and a woman playing tennis on a red-clay court adjacent to the palatial hotel. Graphically arresting, it is nonetheless most distinctive for its size: it measures more than 5 feet wide and 4 feet tall. It's expected to fetch $1,500 to $2,000.
Unsurprisingly, there are numerous posters for tennis events around the world. Particularly stunning is a 1930 affiche for Monte Carlo by Roger Broders (Lot 198). "He's famous for his languid, F. Scott Fitzgerald-like figures and beautiful Art Deco graphics," Lowry told me. "He's as close to a household name as you can come." It is estimated to command $15,000 to $20,000. Also in this vein is an 1896 poster for a lawn tennis event in Chicago (Lot 158). According to Lowry, this is perhaps the earliest American tennis poster ever, an exceptional depiction of fashion, architecture, perspective, and sport by a very famous American artist Edward Penfield. Other examples of this poster have sold for $9,000, but this one's flawed condition (overpainting in the margins and repaired tears) is priced at just $700-$1,000.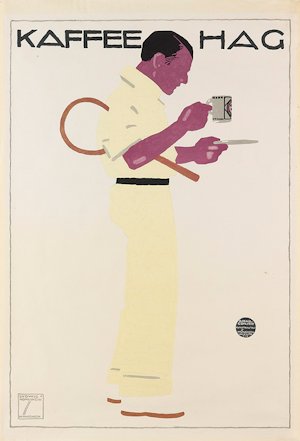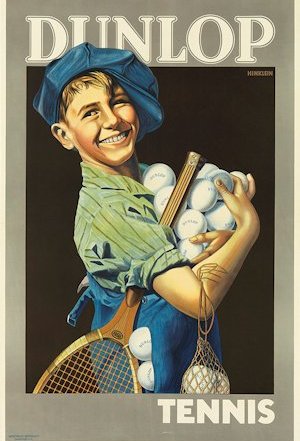 Fans of old racquets and balls will be drawn to posters for Slazenger and Dunlop. There are several from unknown designers priced at $400-$600. However, one Dunlop poster (Lot 209) by Franz Jacob Heinlein from 1926 shows a smiling fresh-faced boy, his cap askew and laden with tennis balls and a racquet, and it could command $2,000 or more.
The final group of posters uses tennis as a theme to promote other products. A case in point is the arresting poster for Kaffee Hag (Lot 164) by German artist Ludwig Hohlwein. He is one of the most famous of all 20th-century poster designers. According to the catalog, its simplicity belies its sophistication. "The artistry seems simple, as the figure is depicted with only the barest of forms and strokes and without any outlining, yet it is one of Hohlwein's most impressive, tour-de-forces of graphism."
"This is one of the most valuable pieces that we're offering," Lowry told me. "This is a situation where any tennis person who likes it is going to be competing against collectors of graphic design" and may have to shell out $20,000 or more to add it to a collection.
Ultimately, the price a poster can command depends on a number of factors: the artist, the condition (which is clearly indicated on the auction site), the graphic appeal, and one's own sense of taste. Lowry stresses, however, that tennis posters are rare in general. When you find something you like, Lowry advises looking for one in the best condition possible, but recognize that because they are rare you may have to settle for a few flaws in order to have the poster at all.
This collection goes on display at the Swann Auction Galleries on July 31. Lowry encourages those who can go visit in person, for two reasons: First, he says, you will never see so many tennis posters in one place at one time, and second because it is some much more impressive to view them close up, and full size, especially the larger posters.
You do not, however, have to attend the auction to bid. There are several options including bidding by phone, via the Internet (the auction is live-streamed), or in advance (auctioneers will bid for you up to the maximum you specify).
Roger Cox is the editor of www.TennisResortsOnline.com, the Web's leading source of tennis-travel information.
©Roger Cox