Flying low over the remote Lower Zambezi National Park in Zambia - in a six seater Proflight Zambia Britten-Norman Islander 2A - the mighty river with its riparian vegetation is impressive. Along the river margins this fringing area extends to flood plains, in an 1250 acre wilderness renowned for exceptional game sightings, a UNESCO World Heritage Site. An escarpment lines the valley floor, forming a barrier for the sizeable elephant and buffalo herds, waterbuck families and ranging leopards. Set in this nature nirvana is Lolebezi, of African Bush Camps.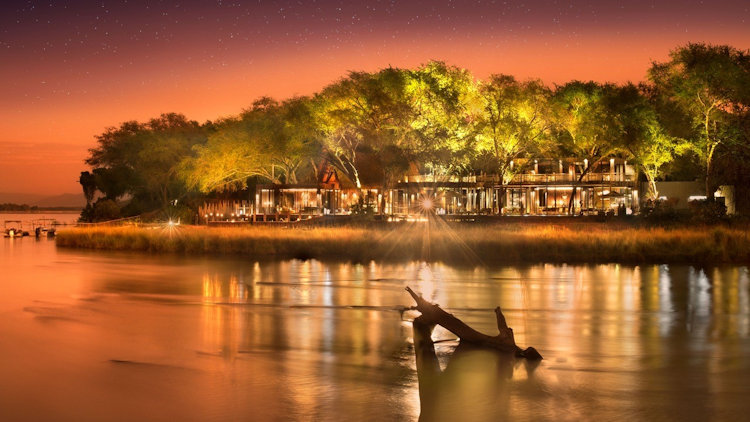 Image by Lolebezi
Opened in July 2022, Lolebezi comprises four stand-alone superior suites and two double family units, each being ultra-luxurious, with state of the art facilities and a sublime view over the Zambezi River. From my extra-long king-sized bed, I look out over my private infinity pool, past a Winter thorn tree to the river, where a bull elephant is sporting in the water. Carefully and thoughtfully executed, the architecture and design are by Fox Browne Creative. My suite has a circular straw canopy above the bed with an illuminated rim, like a halo, or the bottom of a hand-woven basket. This was custom made using wooden discs, imfabinga beads and copper. Colours of the natural fabrics on all furnishings are contemporary in hues of green, cream or grey, with accents in a terracotta shade. My bed throw has a printed design of a resembles the herbarium specimen of Winter thorn seedpods. Black steel and glass form the floor to ceiling doors and windows.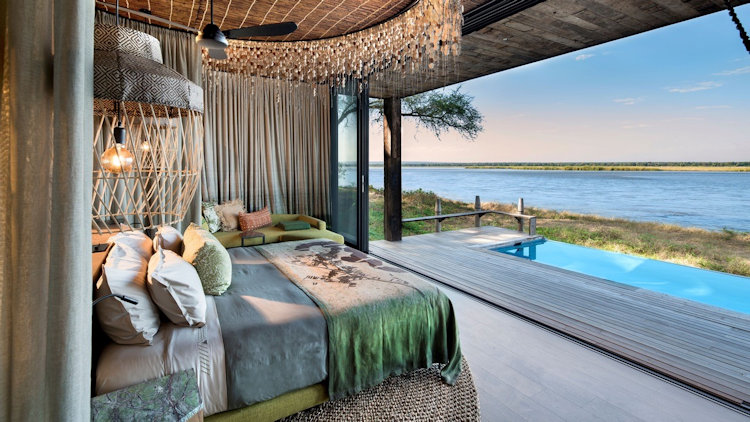 Image by Lolebezi
Considerate touches include a butler's hatch where my guide places a ginger and orange shot each morning, a pair of Bushnell 10x50 binoculars, a bar fridge with top quality South African wines, olives and feta cheese, plus fresh milk. The array of light switches are annotated. My bathroom has a marble island with duel basins and a rotating mirror, mottled green stone bath and indoor shower pipe like a raised elephant trunk. Spacious cupboards have rattan doors. A wall sized mirror reflects the panorama outside the bathroom. The fully private zone outside my suite includes an outdoor shower and a thatched sala with chairs and scatter cushions.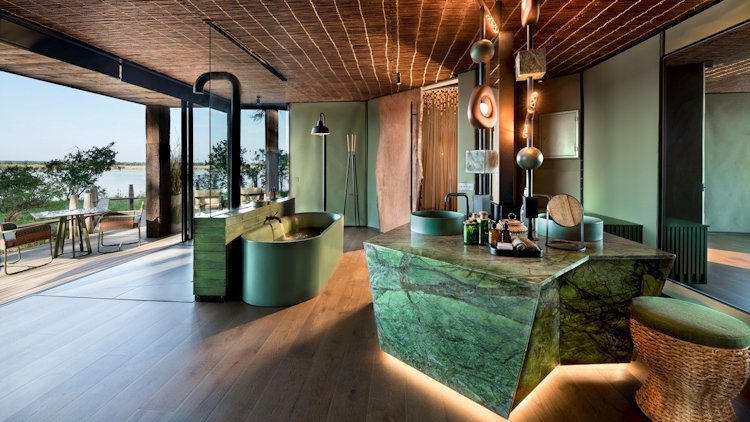 Image by Lolebezi
A gravel pathway from the communal area of Lolebezi leads to the entrance of each suite, with a door constructed from reclaimed railway sleepers, in beautiful heavy wood. Walking back from the communal dining area each night, I see animals including a large spotted genet, two honey badgers and three lionesses. Just as well it is compulsory to be escorted by a guard that is experienced in dealing with big game! When the lions make a kill in the lodge grounds - next to the spa and gym area - my guide, Elijah, fetches me to drive to the spectacle. As the big cats tear into their prey, crocodiles walk out of the lagoon, onto the grassy area, to try to snatch some food. Finding nothing left, they slink back into the water.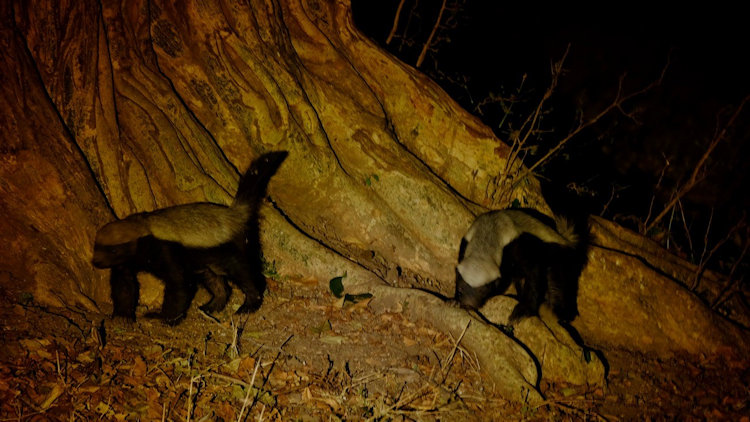 Image by Gillian McLaren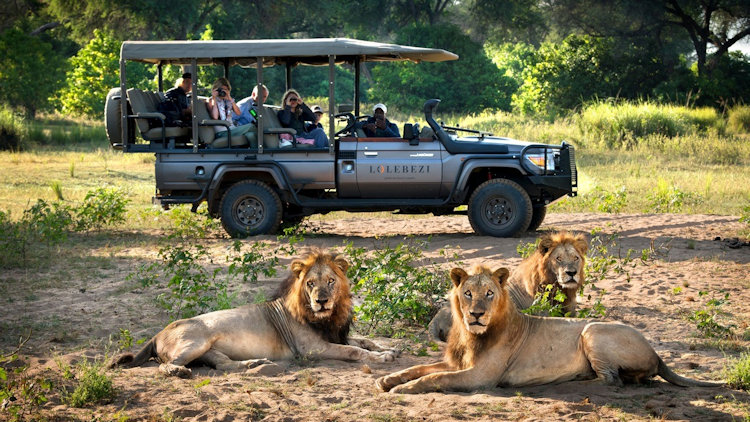 Image by Lolebezi
One of these lionesses has cubs. During the morning game drive, we watch them suckling, so close to the game vehicle that we hear the satisfied smacking and grunting. After they are sated, the two cubs fall asleep. Elephants stretch up on their hind legs, with trunks extended, to eat the branches and leaves of trees which fashions a high browse line. The oxbow lakes and lagoons each seem to have a resident hippo that presides over the space, submerging itself below vivid green Nile lettuce.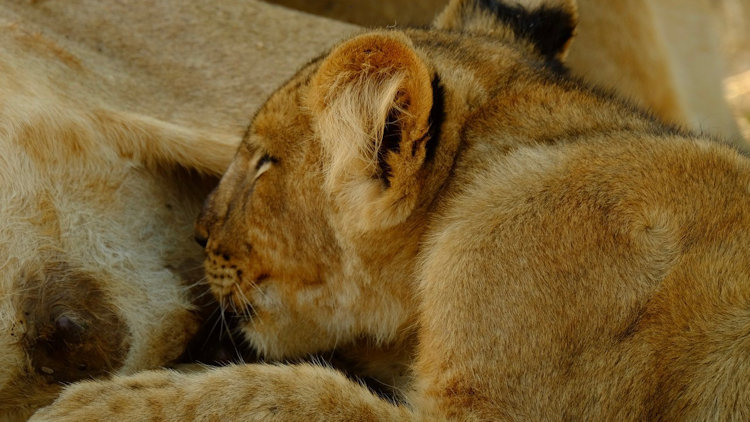 Image by Gillian McLaren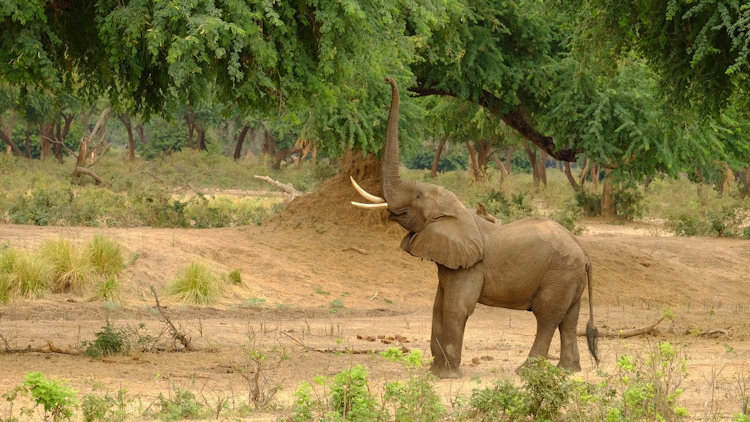 Image by Gillian McLaren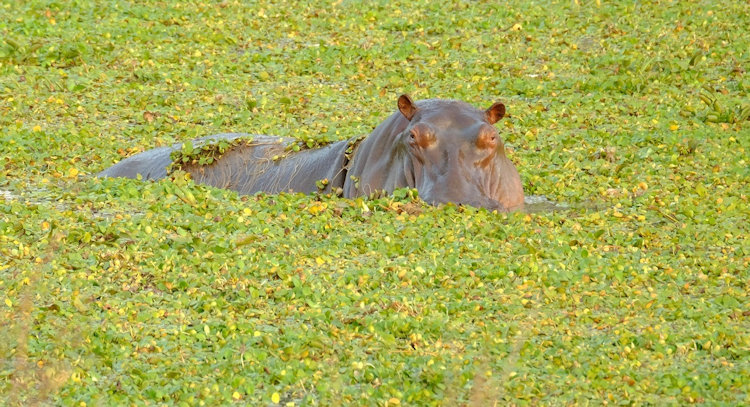 Image by Gillian McLaren
There is no set schedule, definitely no boot camp here, so I am free to choose my daily activities as I please. As well as morning, afternoon and night drives, with informed guides, there are walking safaris, speedboat cruises, canoeing excursions, plus recreational catch and release fishing trips.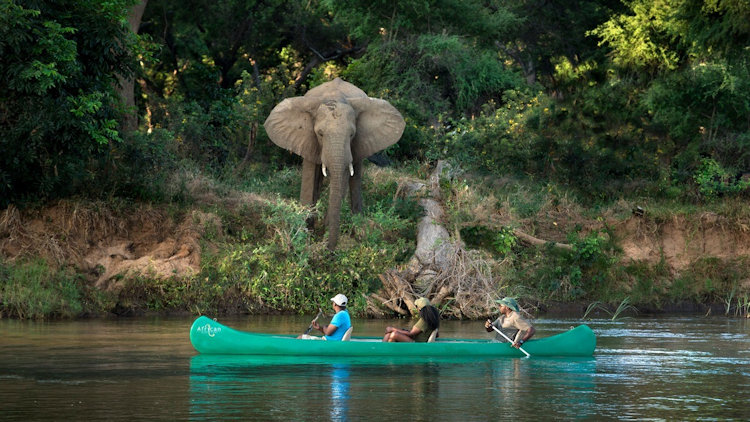 Image by Lolebezi
During an easy 5km bush walk one morning, Elijah teaches me to recognise animal, bird and snake tracks, the names of dominant trees in the region and to identify the scat of various animals. We are accompanied by an armed guard from the Lower Zambezi National Park, who alerts us to alarm calls by the Chacma baboon, lest we are nearing one of the resident leopards. Back at our vehicle, we are served cups of Zambian coffee and cookies.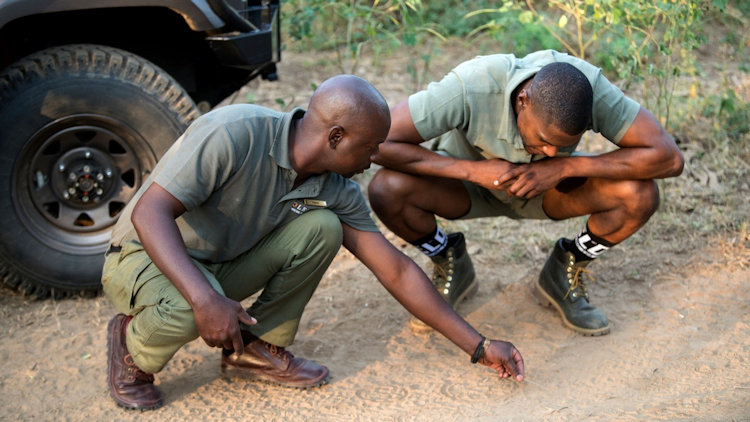 Image by Lolebezi
Sunrise and sunset cruises on lightweight aluminum speedboats on the Zambezi- the 4th largest river in Africa - are a tranquil way to view mammals like elephants and antelope as they drink at the banks. We carefully pass hippos and massive crocodiles, for an up close and personal look, spotting various species of iridescent kingfishers and water birds. I take pleasure in the crisp air of the wilderness, and savor my dry white wine and snacks, as the water reflects vibrant colors from the rays of the African sun.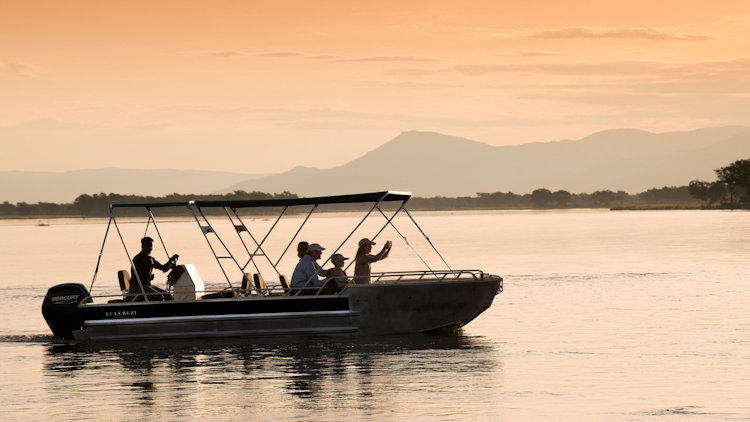 Image by Lolebezi
Family is important at Lolebezi, so children and teenagers are warmly welcomed, learning about nature and conservation in fun-filled ways. Up a spiral staircase, above the lounge, leads to a games room with a snooker table, table football, big TV, cards and books. A communal lap pool next to the ground level verandah has a view of the bush and Zambezi River, so animals are regularly seen. An open-air cinema can be organised, sited in the Winter Thorn tree forest. Lolebezi is unfenced, so youngsters need close supervision.The all-day dining café and pizza oven is a big attraction, as is the luscious high tea spread, with savoury items and delectable freshly baked cakes. Popcorn is made on demand and homemade ice cream is always available. All food served at the lodge is halal.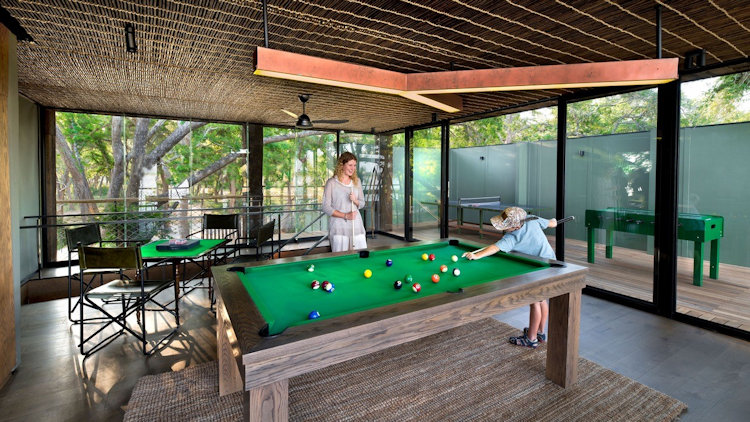 Image by Lolebezi
For each meal, I am seated in a different spot in the public spaces, either in the dining pavilion, on the pool verandah, in one of the private dining pods with sand floors and a fire pit, on an upstairs outdoor deck, or in my suite, each with an exhilarating view of river and the pristine bush. My table is covered in a cloth of pure linen, often with patterns that represent the flow of water, or Winter thorn seed pods. Circular place mats are of woven rattan or straw, with some in delicate copper, to represent one of Zambia's prime mining industries. The cuisine is delectable, heathy and creatively presented, sometimes in bowls in baskets. These items have been crafted by Zambian artisans, using natural materials, sourced locally.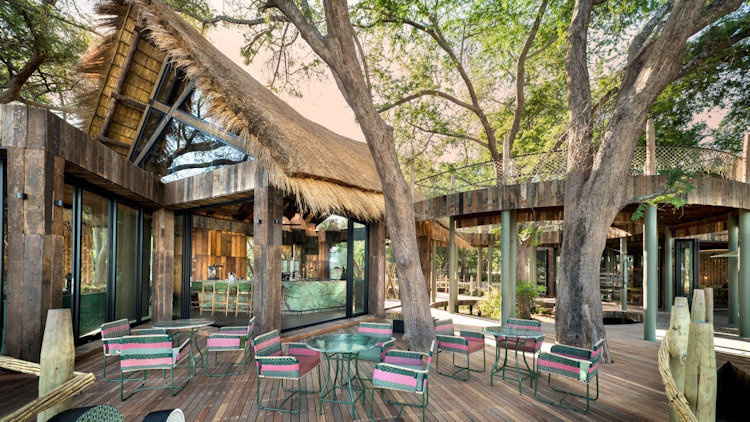 Image by Lolebezi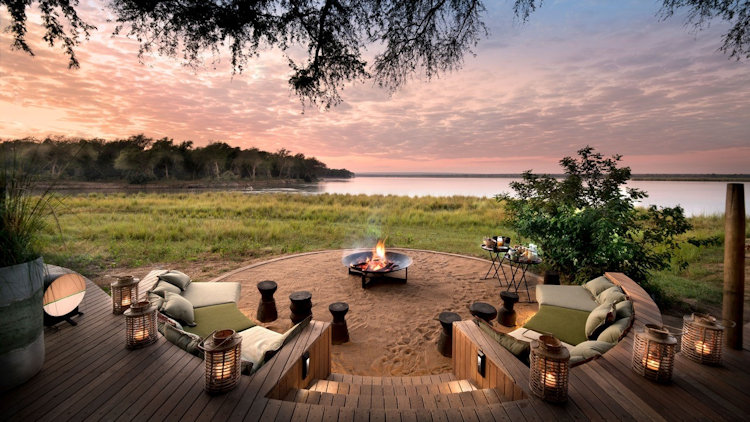 Image by Lolebezi
The Lolebezi experience is an immersion in the natural beauty of this remote area, as well as an introduction to aspects of Zambian culture and tradition.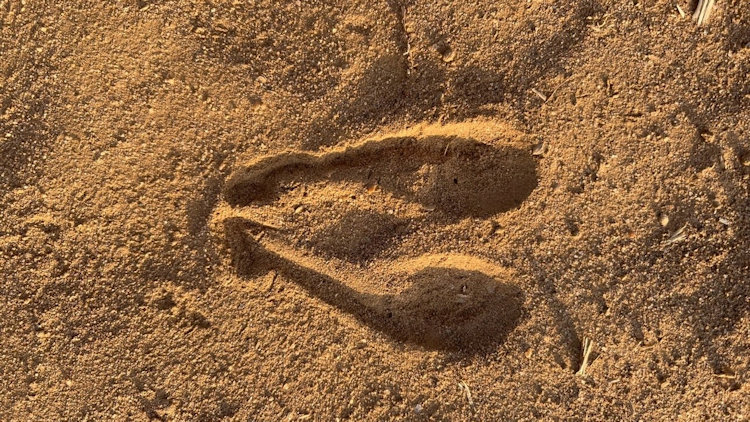 Image by Gillian McLaren
Sitting in the co-pilot's seat of a King Air C90 with Proflight Zambia, I am turbopropped from the endearing Jeki Airstrip,10 minutes from Lolebezi - over the alluvial plains of the Zambezi River, decorated with African ebony, Natal mahogany and Zambezi fig trees - to Lusaka.
https://africanbushcamps.com/lolebezi-the-gem-of-the-lower-zambezi/
Getting There
Lolebezi provides pickup and transport from the small Jeki Airport, which is easily accessible from Lusaka and the South Luangwa National Park, with Proflight Zambia. The journey is 10 minutes in an open game vehicle. Have your binoculars ready, as the game viewing begins immediately.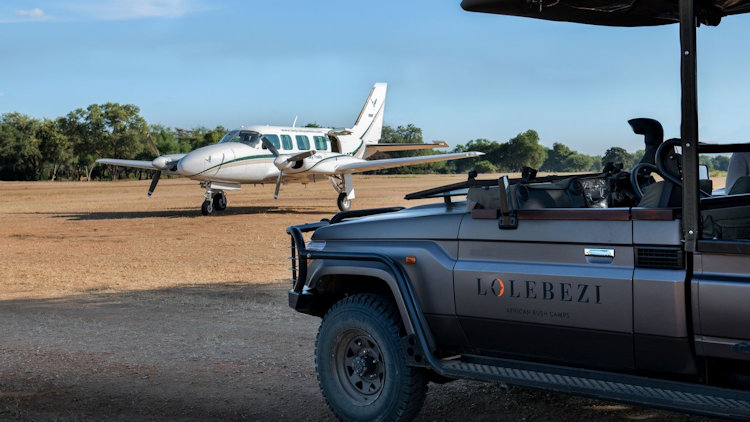 Image by Lolebezi
From Oliver Tambo International Airport in Johannesburg, CemAir - in codeshare with Proflight Zambia - offers a two hour flight to Kenneth Kaunda International Airport. The Bombardier CRJ 100/200 is comfortable, with ample leg room, overhead stowage and space below the seat to store my backpack with cameras. A light, cold in-flight meal is served on china plates, with a choice of fruit juice, coffee, tea, water or beer. All food is halal.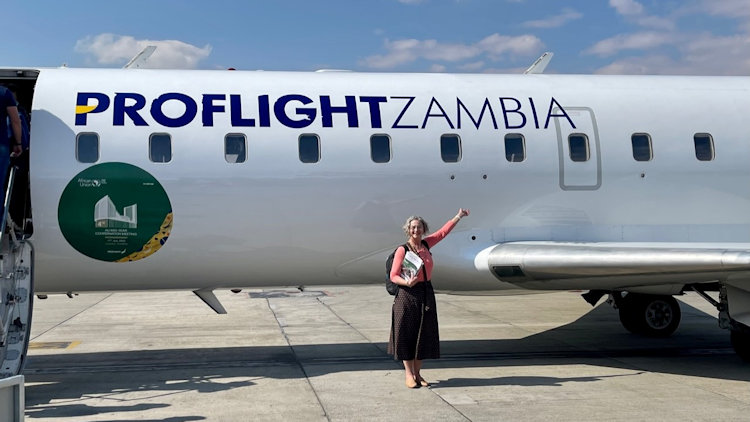 https://www.flyzambia.com
The Urban Lusaka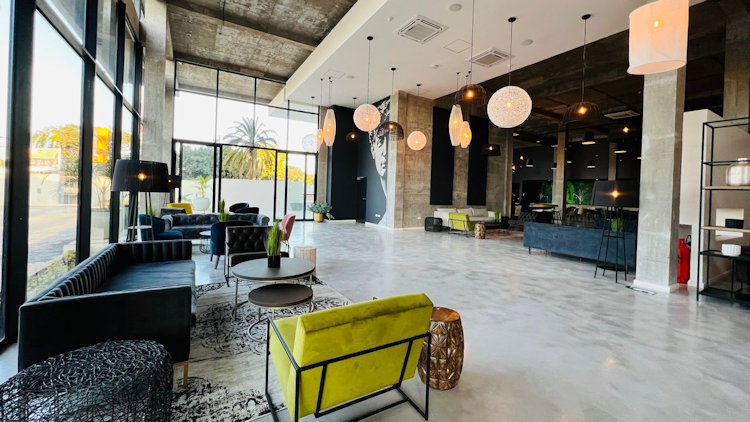 Image by The Urban Lusaka
For an overnight stay in Lusaka, during your trip to Zambia, consider newly opened The Urban Lusaka. This sophisticated hotel is sited in the pretty diplomatic area, 30 minutes from Kenneth Kaunda International Airport, within walking distance from two shopping centers. Minimalist rooms with a shower - in pencil-carbon black, charcoal and white hues- have views of the cityscape.
https://theurbanhotelgroup.com/lusaka_home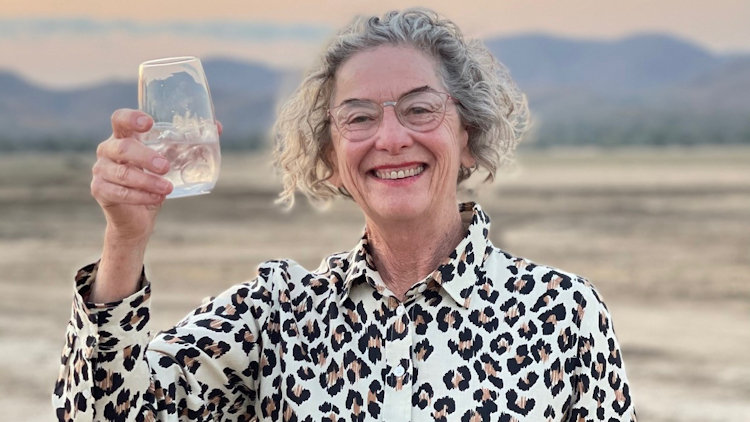 For more travel features by Gillian McLaren (@Jetset_Gillian): www.gillianmclaren.blogspot.com