An intimate camp, with six old-fashioned rondavels - the traditional African dwellings with conical thatched roofs - Nsefu Camp is steeped in charm. A camp in the Robin Pope Safaris stable, the beauty of simplicity is part of the experience here, with everything you need, but nothing you don't. Built in the 1950s, Nsefu was the first Safari Camp in Zambia, so bagged the best position on a curve of the ancient Luangwa River. Each rondavel has a sublime view of trees and their reflections, of wallowing hippo, elephants swimming across the water, flashes of iridescent blue of kingfisher wings, plus the ever-changing light during the day.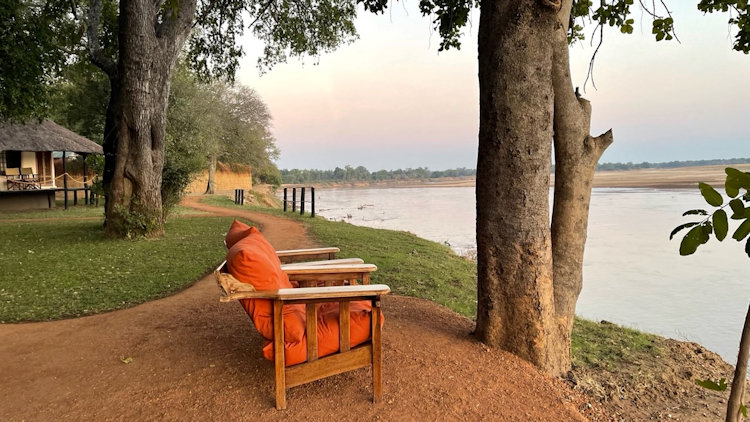 Image by Gillian McLaren
With no panes on the windows, only metal struts, the gentle wind off the water flows through the room, cooling it pleasantly. With silent Evening Breeze air-conditioners within the mosquito net, I feel closer to the natural world. I become sensitive to fragrances from the vegetation, the sounds of grunting hippos and calling nightjars, the sight of the moon shimmering in the night sky.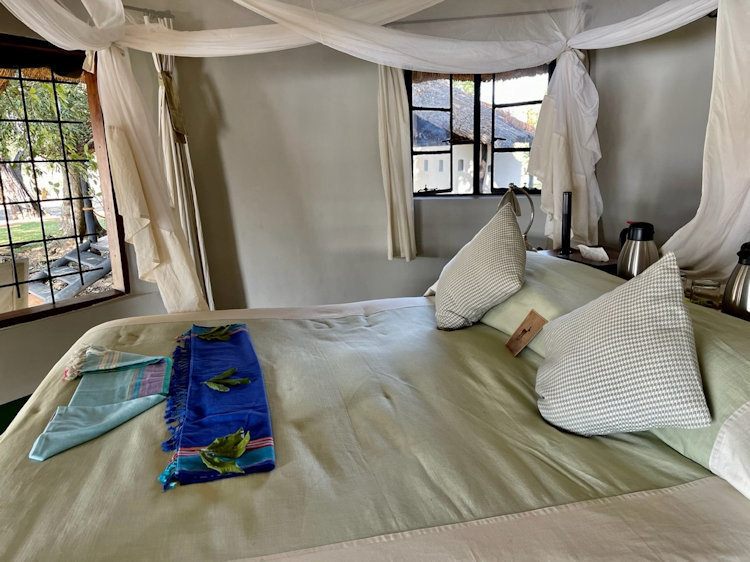 Image by Gillian McLaren
Waking in time to watch the sunrise from a director's chair on the river's edge, Chef Stanley Mphasi serves hot oatmeal porridge that has been cooked in a cast iron pot over a wood fire on the sand. With my hands around a mug of quality tea, I watch the sky as my eggs of choice are cooked, and toast is grilled over a smaller fire.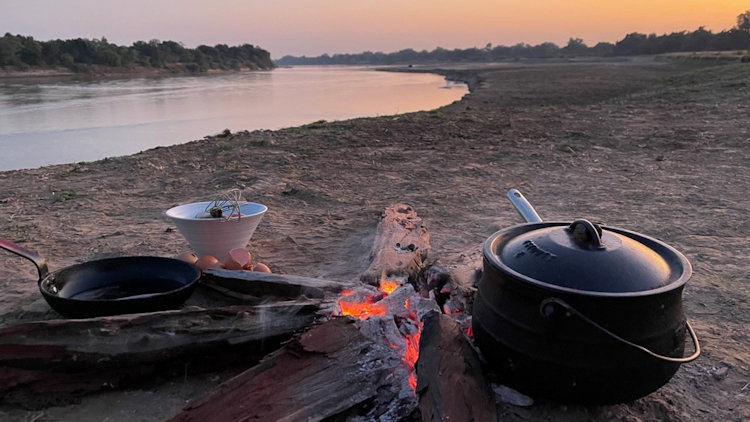 Image by Gillian McLaren
Alone on the game vehicle with my guide, Willie Shuma, I sit with camera in hand, ready to capture some of our sightings. This primordial area, this pre-historic river valley, is rich with game. As well as an astounding variety of species, the numbers within each group are often huge. We spot over 500 Cape buffalo slaking their thirst. Hundreds of Yellow-billed storks roost in a cluster of ancient ebony trees, presumably exhausted after furiously fishing during the day to feed their demanding chicks that beg and plead and perform and manipulate, until the mother regurgitates into their open beaks. Several leopard sightings a day is not unusual and lion prides roam the area, killing their prey within easy viewing. It is terrible and wonderful to see - from start to finish - a lion catch a puku and devour it completely, leaving only bones for Spotted hyena and morsels for the Black-backed jackal.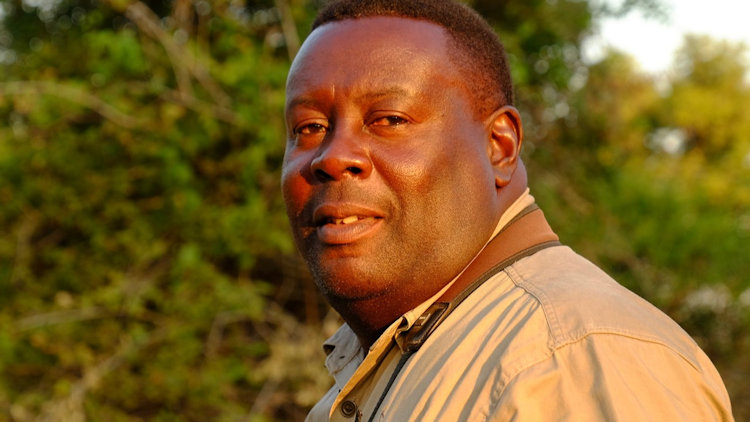 Image by Gillian McLaren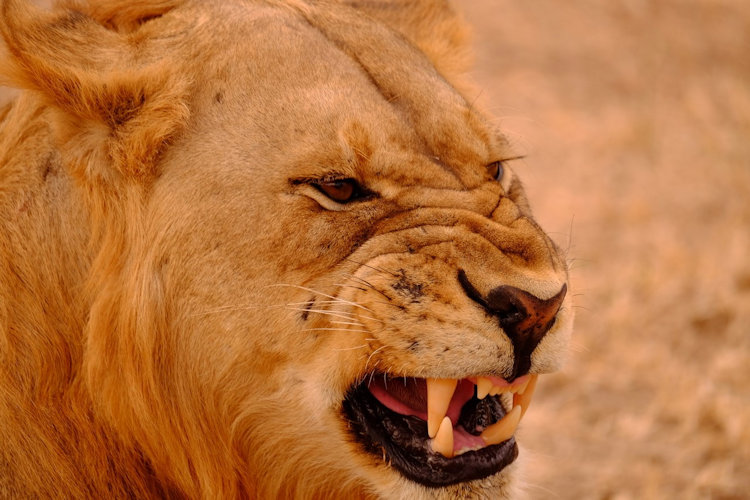 Image by Gillian McLaren
A pack of 24 African wild dogs has recently denned, so we do not venture too close to the den site, lest we disturb the peace of the Alpha Female that is nursing her cubs. As we sit in silence, we hear the wild dogs moving around us, greeting one another with chirp and squeaks, socialising and gathering together to touch one another, snoozing, grooming themselves, much like the behaviour of domestic dogs. An immature Hooded vulture struts around in the hopes of finding a scrap to eat. The dogs mostly ignore this interloper, but now and then one makes a half-hearted attempt to chase the bird away.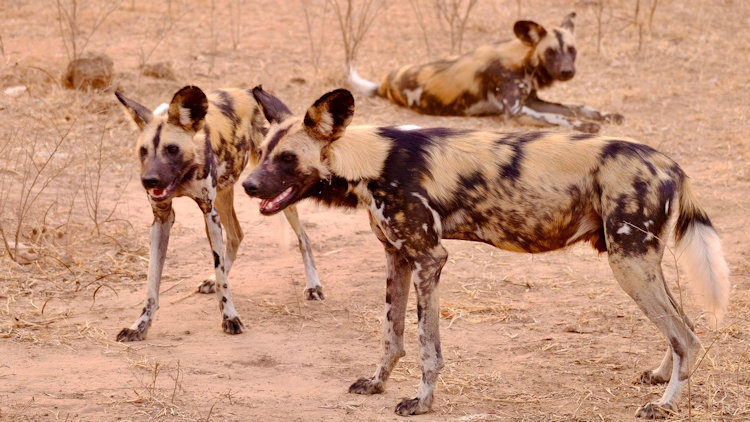 Image by Gillian McLaren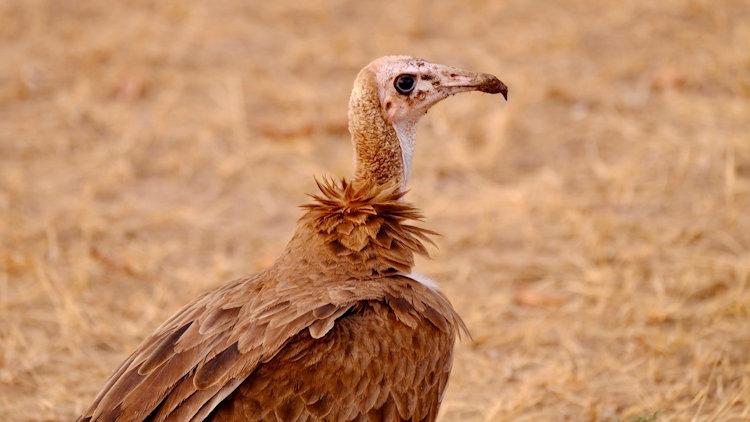 Image by Gillian McLaren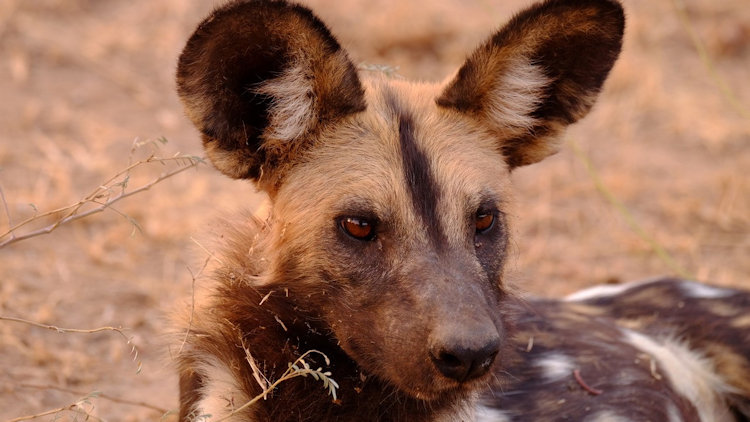 Image by Gillian McLaren
Willie is considerate about how he stops the vehicle at our sightings, ensuring that I get clear angles for my images. He gives me enough information to educate me, but not tire or bore me, taking the lead from my questions, not just commenting with a set patter. As I am from South Africa, there are many new species that he finds for me here, including Thornicroft's giraffe, Crawshay's zebra and Yellow baboon, with their slim body and long limbs. For our morning stops in the wilderness, finds sites of eye-watering beauty, then sets up a table for coffee and freshly baked cake. These daily cakes are a specialty on Robin Pope Safaris! To my joy, when we return to Nsefu Camp, Chef Stanley shares his recipe for my favorite, the cherry and nut loaf.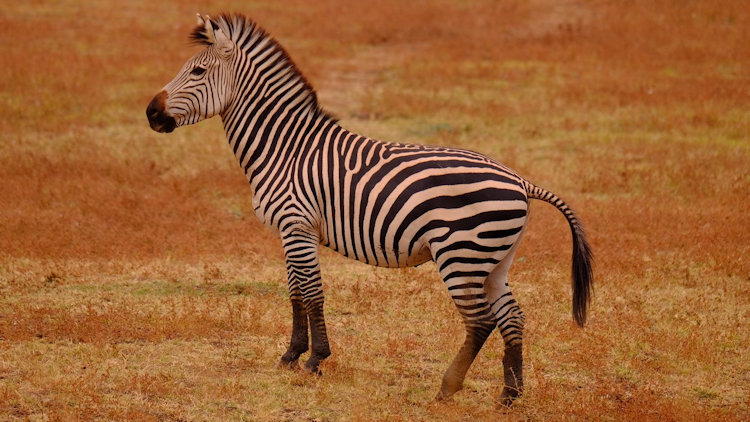 Image by Gillian McLaren
Lunch with fellow guests, next to the flowing Luangwa River, under a tarpaulin, is a festive occasion where we enjoy the healthy buffet of salads, vegetarian and meat dishes and - true to tradition here - fabulous home-made bread. We chatter about our game viewing and marvel together at the astounding experiences we have had. Post lunch is a time to rest, relax, read, have a sweet snooze, or sit on the easy chairs beneath a spreading tree canopy, to gaze at the panorama and meditate on the privilege of being in this nature nirvana.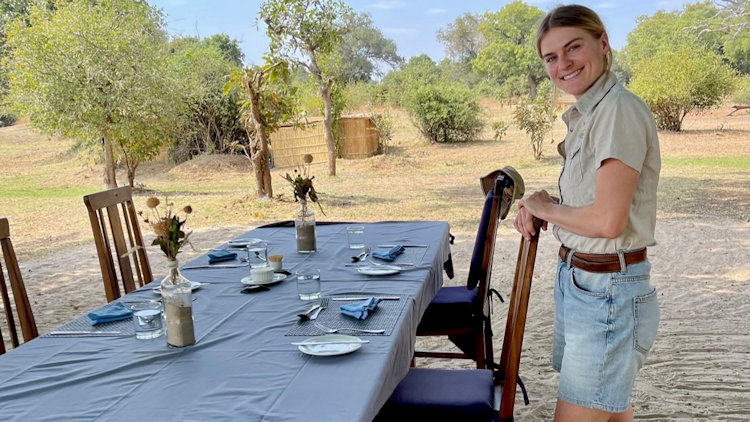 Image by Gillian McLaren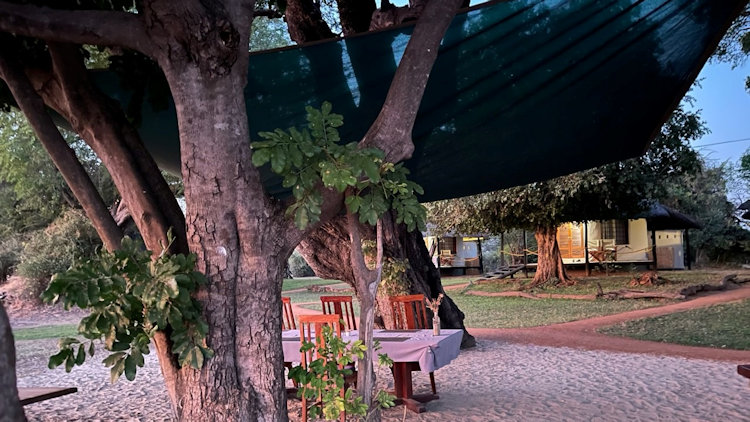 Image by Gillian McLaren
During our evening drive, hippos lumber out of the river to forage for nutritional grasses. Our sunset stop includes the quintessential African bush drink, a gin and tonic, with savoury snacks. On a bend in the Luangwa River, we discover a pod of hippos with several tiny babies, as well as herds of waterbuck. Sizeable Crocodiles bask on the riverbank, luxuriating in the last rays of the sun. Hundreds of carmine bee-eaters emerge from their nests in the river bank. African skimmers fly low over the water, trailing their red beaks to locate small fish. It's an edenic scene.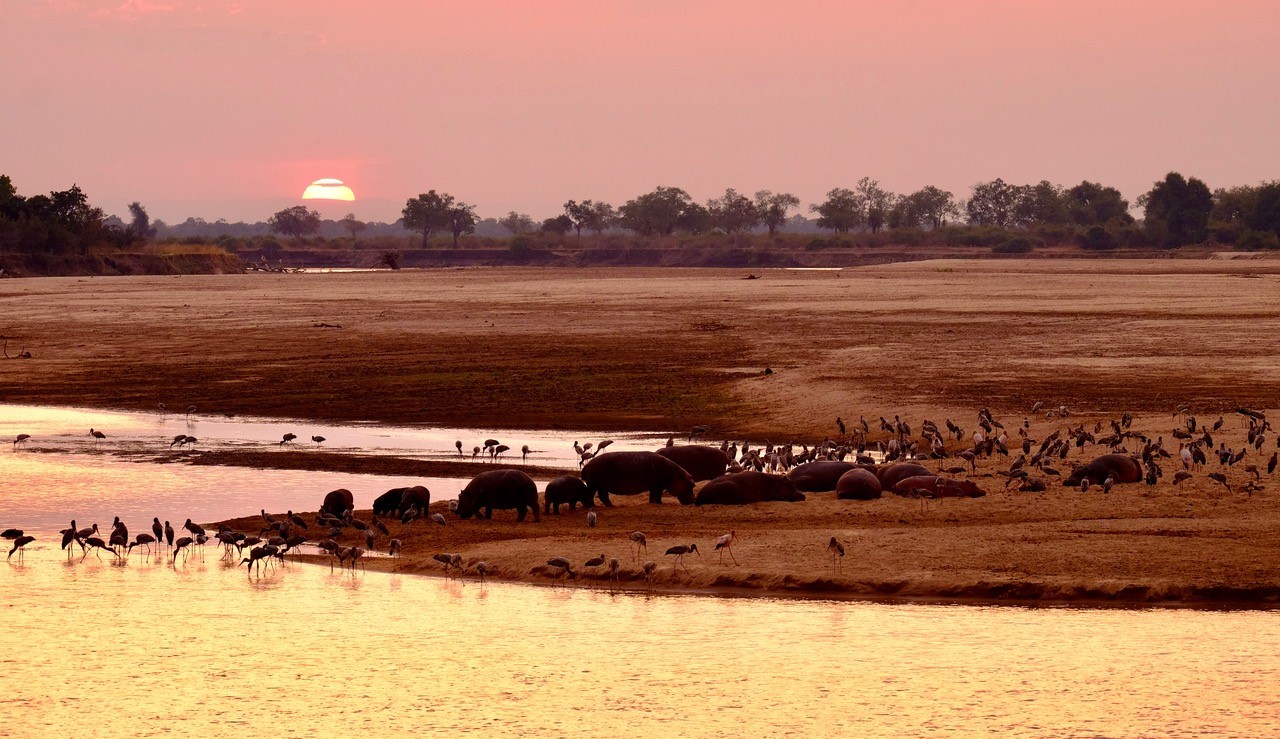 Image by Gillian McLaren
Back on the vehicle, alarm calls alert us to the presence of a predator. Picking up the reflection of his eyes in the spotlight, we watch a male leopard, with particularly thick neck muscles, walking through the bush. To my surprise and joy, a Pel's fishing Owl lands on the ground near to us! Turning off our lights, we gaze up at the scintillating Milky Way, astounded by the clarity of the stars and the vastness of our universe.
For dinner, our tables are set up in separate spaces, covered with a cotton cloth, surrounded by lanterns. Scops owls call nearby, night jars add music to the scene and I hear the mournful notes of a pair of Water thick-knees. The three-course repas is simple, enjoyable, paired with a South African wine. I stroll to my rondavel for a hot shower. Beneath the mosquito net canopy, I reflect on the day's activities and the abundant wildlife in the sanctuary of this Nsefu Sector, then peacefully fall asleep.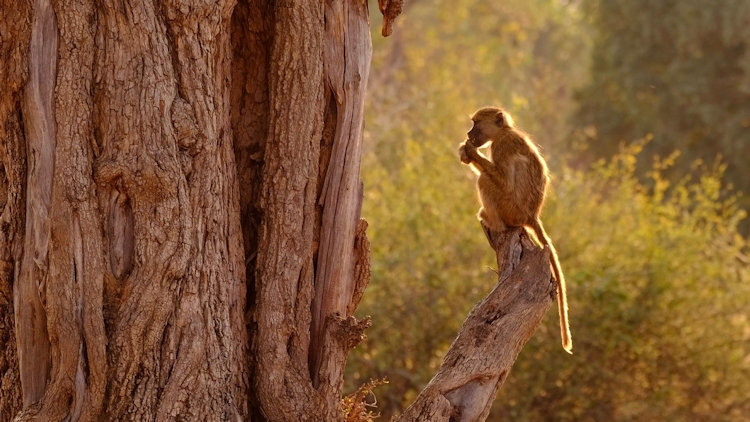 Image by Gillian McLaren
https://www.robinpopesafaris.net/camps-lodges/nsefu-camp/
Getting There
Nsefu provides pickup and transport from the small Mfuwe International Airport, which is easily accessible from Lusaka and the Lower Zambezi, with Proflight Zambia. The journey in an open game vehicle, through Mfuwe village and the rural area, provides an opportunity to see a slice of local life, before entering the South Luangwa National Park. Have your binoculars ready, as the game viewing begins immediately.
From Oliver Tambo International Airport in Johannesburg, CemAir - in codeshare with Proflight Zambia - offers a two hour flight to Kenneth Kaunda International Airport. The Bombardier CRJ 100/200 is comfortable, with ample leg room, overhead stowage and space below the seat to store my backpack with cameras. A light, cold in-flight meal is served on china plates, with a choice of fruit juice, coffee, tea, water or beer. All food is halal.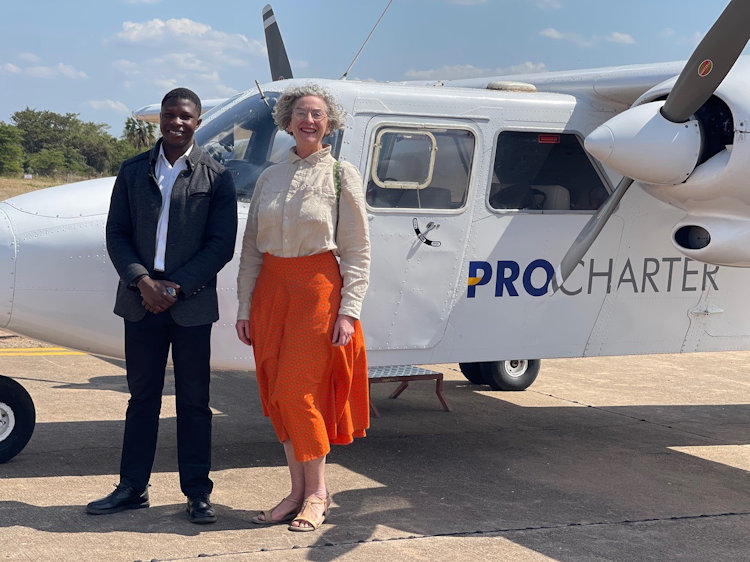 https://www.flycemair.co.za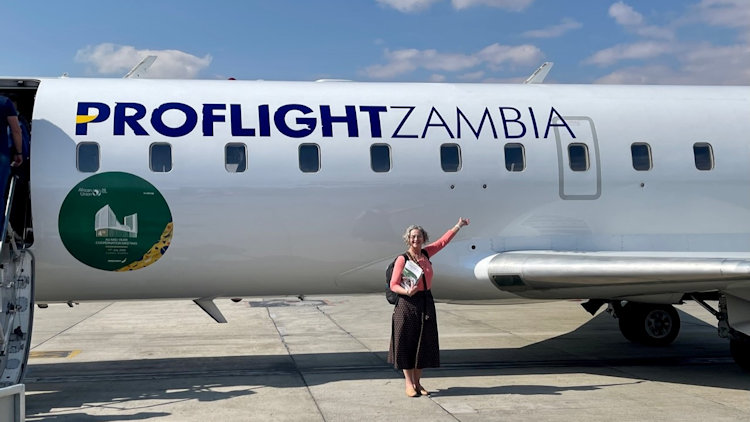 https://www.flyzambia.com
The Urban Lusaka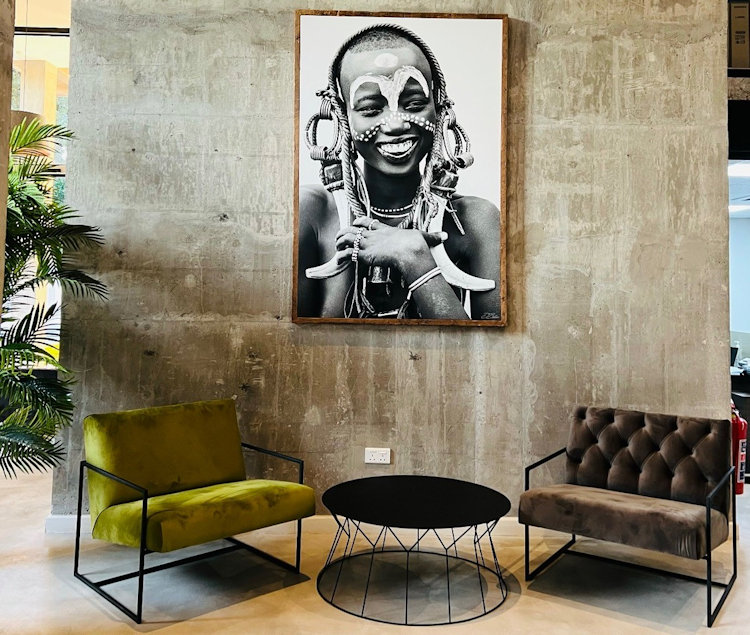 Image by The Urban Lusaka
For an overnight stay in Lusaka, during your trip to Zambia, consider newly opened The Urban Lusaka. This sophisticated hotel is sited in the pretty diplomatic area, 30 minutes from Kenneth Kaunda International Airport, within walking distance from two shopping centres. Minimalist rooms with a shower - in pencil-carbon black, charcoal and white hues- have views of the cityscape.
https://theurbanhotelgroup.com/lusaka_home
For more travel features by Gillian McLaren (@Jetset_Gillian): www.gillianmclaren.blogspot.com